12 Best Personality Development Apps for Android and iOS
For success, you don't just need talent but also a good personality. A good personality makes a positive impression. Personality is what makes a person unique and personality development is basically self-improvement in a positive way. Personality development includes physical, mental, and emotional development. If you want to improve your personality, you need to learn how to control your anger and improve your mental and physical strength. You should start by understanding your strengths and weaknesses. The start works on your weakness and focuses on learning better things to improve yourself.
Personality development apps can be helpful in improving personality in a number of ways Several personality development apps offer self-assessment tools, which can help individuals understand their strengths, weaknesses, and areas for improvement. These apps also offer many courses or modules focused on developing specific skills such as communication, emotional intelligence, and leadership. Personality development apps can help individuals set specific goals for personal development, such as improving public speaking or reducing anxiety. Several personality development apps also offer mindfulness exercises and relaxation techniques that can help reduce stress, improve emotional regulation, and promote overall well-being.
If you are unsure how to start, this article is here to help. In this article, I am listing several personality development apps that will give you self-improvement tips. These apps will help you in working on your mental strength and learn personality improvement tips.
Also, see:
Best Personality Development Apps
These are the best self-improvement apps to use in the year 2023. These apps train your brain and develop a good personality.
1. Bestify Me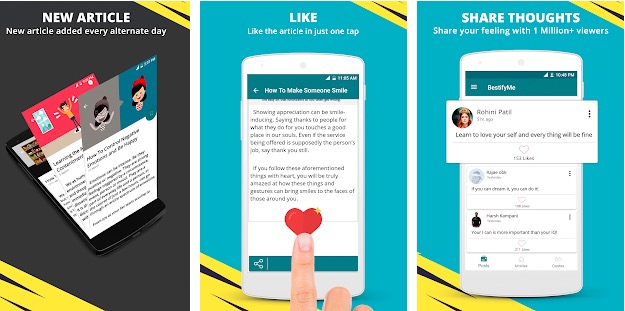 Bestify Me is the best self-improvement app that you shouldn't miss. This personality development app has been designed to improve your personality through tons of useful tips, training, skill-sharing, and quotes. The app includes a personality development training guide along with expert advice to help you in real life. It also comes with personal development tools, Inspirational quotes, and more. It has easy-to-understand content for several personal development tools.
2. Lumosity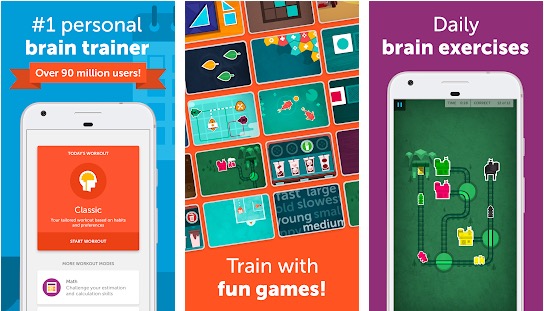 Lumosity is an interesting app that helps you in improving your problem-solving skill. It is basically an educational game app that is designed to improve your critical thinking, memory, and problem-solving skills. There are over 40 games in the app. These games require immense focus to master. It also includes word and vocabulary games that help you in mastering the language.
You can also analyze your gameplay and learn your strengths, weaknesses, and cognitive patterns to improve yourself. The app also includes mindfulness training to keep your mind centered with meditation techniques.
3. Elevate – Brain Training Games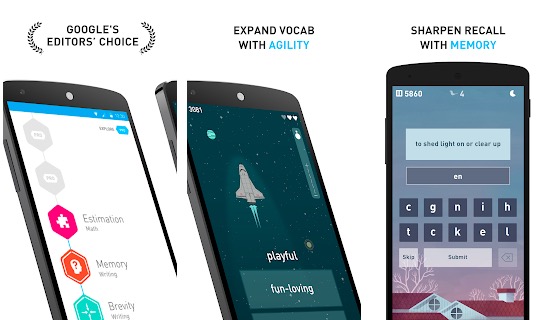 Elevate is a brain training program that is designed to improve speaking skills, attention, memory, math skills, and more. This is one of the best and one that I personally use to boost productivity, earning power, and self-confidence. These apps are to improve your life. The app includes 35+ brain games for working on your focus, memory, processing, math, precision, and comprehension skills. The app also includes performance tracking. It also gives personalized daily workouts that include the skills you need most.
4. SuperBetter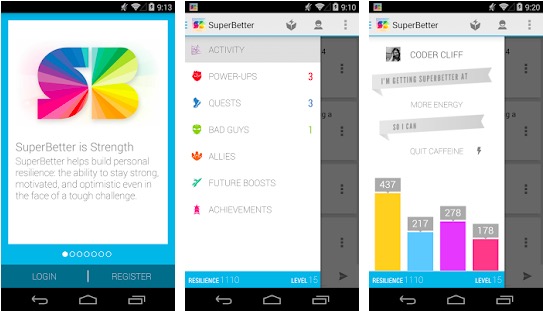 SuperBetter helps you in working on your physical fitness. The helps you in staying strong, motivated, and optimistic even in tough times. The app helps you in adopting a new habit, developing a talent, and learning or improving a skill. You can take the help of the app to beat depression, overcome anxiety, cope with chronic illness or chronic pain, and recover from post-traumatic stress. This app helps in gaining the ability to stay strong, motivated, and optimistic even in the face of change and difficult obstacles.
5. ThinkUp
ThinkUp is another good personality development app to develop a positive mindset and improve your personality. The app lets you build your own self-improvement program and find inspiration. It gives daily motivation, Health, Self Esteem, and Stress Relief Tips. It also helps you in overcoming Anxiety and Depression. The app also includes Inspiring music. The app is really helpful in getting mental strength and inspiration to work in a positive direction.
6. Loop – Habit Tracker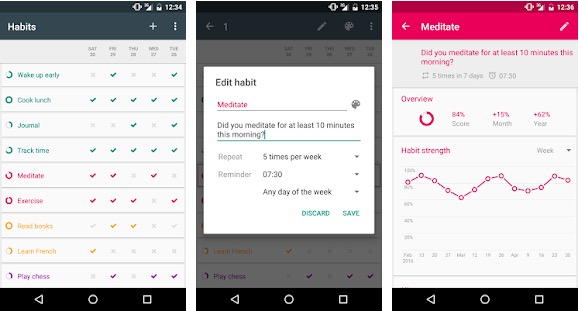 This app is only available for Android devices. It helps you understand your habits and improve your overall personality. The app lets you create and maintain good habits along with imprinting your habits over time. The app comes with a minimalistic interface. It shows you detailed graphs and statistics. It also lets you create an individual reminder for each. The app is also optimized for smartwatches to check notifications directly on your Android Wear watch.
Download: Android
7. Habit Factor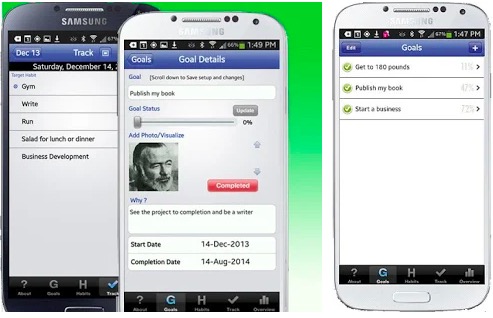 Habit Factor is also a good app for behavior analysis and works on improving your habits. The app helps in getting positive behavior change and habit development. It claims to offer Habit Alignment Technology that helps users in learning in a better way. The app comes for a few but there is a paid version for getting the full potential of the app. The only reason why people less prefer this app is the price of the paid version.
8. Simply Being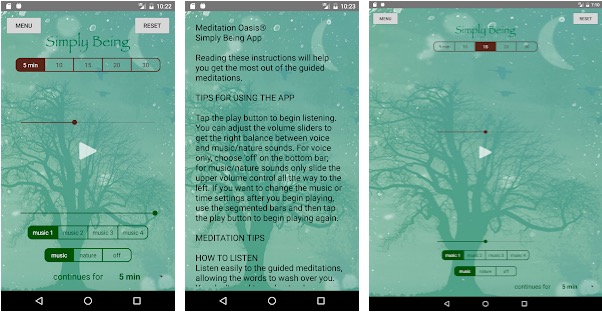 Simply Being is basically a meditation app that helps in being relax and improving positive energy within you. The app helps in deep relaxation and stress relief. The app comes with voice-guided steps. You can choose the meditation length of 5, 10, 15, or 20 minutes. You can also choose whether you want to listen to meditation with or without music/nature sounds.
9. Goal Tracker & Habit list & workout calendar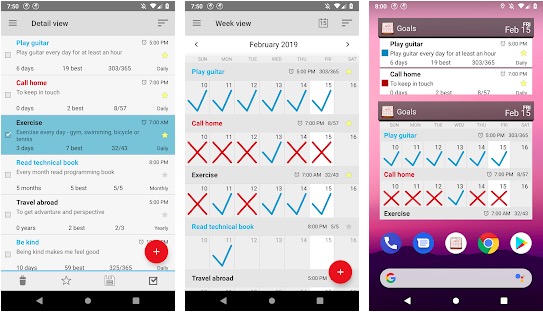 This is also an Android-only app. As the name suggests, this app helps in goal tracking and tracking your habits. The tool lets you track your goals and habits and get notifications so that you don't miss taking action. You can make a daily plan for your work, and tasks. This app will keep notifying you. With a properly managed daily routine, you will surely see positive effects on your personality.
Download: Android
10. Headspace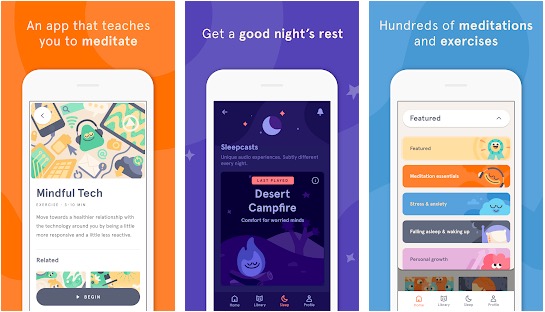 Headspace is a meditation app that guides you to get health and happiness. The app gives you easy ways to remove stress and get a better night's rest. You can use this app to meditate to bring calm, wellness, and balance to your life.
The app brings different kinds of courses designed for Stress & anxiety meditation, Falling asleep & waking up meditation, Personal growth meditation, and productivity meditation. Depending on your need, you can select courses.
11. Coach me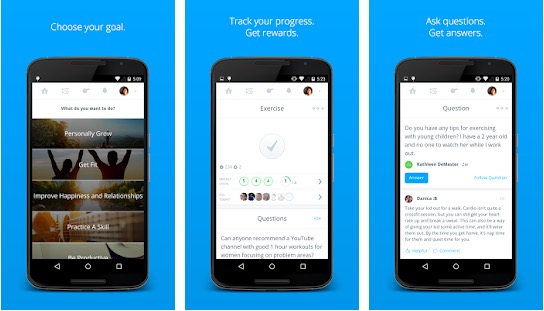 Coach me is a goal tracking app similar to other goal-tracking apps I have already added to this list. The aim of this app is to completely change your life in a positive way. The app shows you your progress, celebrates your milestones, and answers your questions. So, download the app and get started with habit tracking.
12. Peak – Brain Games & Training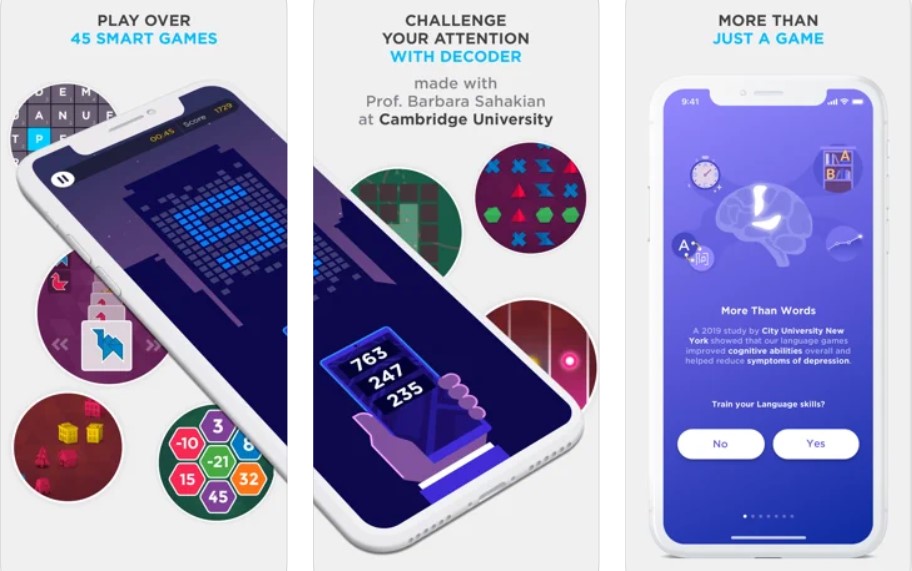 Peak personality development app has 45+ games covering six categories that are developed by keeping your personality development in mind. It has free brain games and puzzles to challenge your Memory, Attention, Math, Problem-Solving, Mental Agility, Language, Coordination, Creativity, and Emotion Control. You can choose from the catalog of games or challenges and include them in Daily Workouts. You can compete with friends by comparing your brain map and brain game performance.
Read more; Best Free Language Learning Apps for Android and iOS
Final Words
We have listed all the best self-improvement apps that can help you in getting positive changes to your personality and remove anxiety from your life. These apps will help you in learning new habits, meditate, relieve stress, and track your goals. Few apps do similar things. So, you need to read the description of the app before downloading it.
I have tried to list most of the good Personality Development Apps, but there could be better apps. If you have any such app that can be a part of the list, let me know using the comments section below.