10 Best Bodybuilding Apps For Android And iOS | 2019
Bodybuilding is not an easy task and it is not something you can do with an Android app. It needs a physical workout, dedication, hard work, discipline, and a proper meal. It is not just about working out on a machine but having proper posture and diet as well. Apps cannot help you with pumping iron but can surely guide you for diet and posture. Bodybuilding Apps can help you in learning what kind of workout is needed for what kind of shape. These apps come with video tutorials and guides. So, you don't need a trainer to work out. There are lots of apps that can give you your workout schedule, workout guide, and diet details. If you are looking for some good bodybuilding apps, you are at the right place.
Here is the list of best bodybuilding apps for Android and iOS. Depending on your device, download any of these apps and start working out.
Also see: Best Free Fitness Apps For Android
Bodybuilding Apps For Android And iOS
1. AtletIQ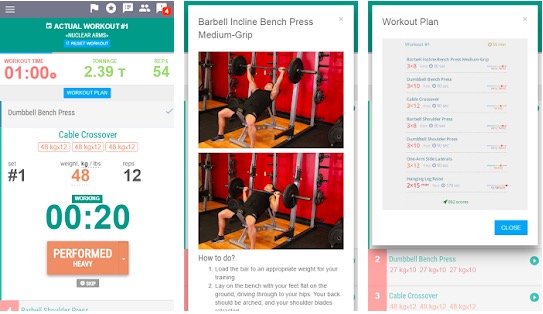 AtletIQ is one of the best bodybuilding apps that helps you in getting a perfect body shape. The app also connects you with a community of almost 50 thousand like-minded people working out hard to get their body in shape.
The app comes with 600+ weight loss and weight gain exercises that you can do depending on what you want to achieve. It also has 100+ verified training programs. It has programs for training at home or the gym. It shows videos and photos, so you can better understand how to do an exercise properly.
All programs in the app are divided into three different groups: beginners, advanced and professional. So, choose wisely.
2. GymBoom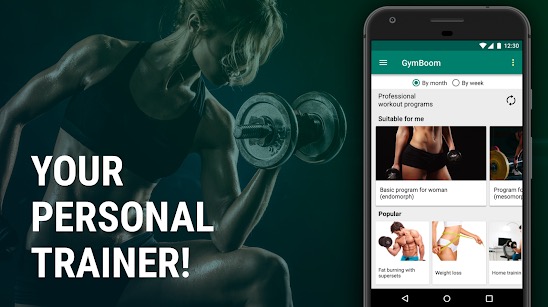 GymBoom is your personal bodybuilding coach that helps you in having a proper workout program at home or at the gym. It comes with workout plans for women for getting perfect shape and men for having perfect abs. It brings fitness Challenges to keep you busy.
The app shows a calendar on home screen along with training statistics and quotes from famous athletes for motivation. The calendar automatically displays the completed and planned training. So, you know what you have done and what is today's task. It shows properly planned training sessions. You can create exercises and start working out.
The app has courses like posture exercises, endurance training, weight loss exercises, workouts and meals, bodybuilding workout log. You get exercises for buttocks, abs workout, weight loss, push-ups workout, belly fat exercises to show how to get rid of belly fat, sit up the challenge, fitness workouts, home workout, dumbbell exercises.
Also see: Automatic call recorder apps
3. JEFIT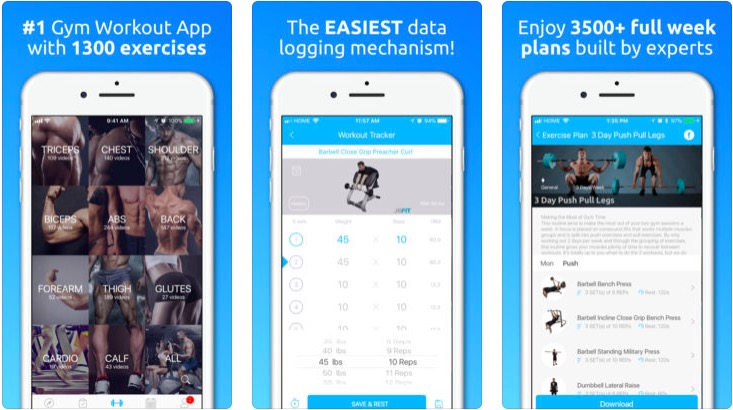 JEFIT is another similar kind of bodybuilding app that helps you in managing your workout. This app tracks routines. You can Set your exercises, track weights and reps. The app brings over 1300+ HD videos from experts showing you how to do an excursive. It has several notable tools that help you in your bodybuilding task.
The app has several training programs made for 3, 4 or 5 day splits. You have programs for fat loss, stronglifts, strength, bodybuilding, weightlifting, powerlifting and more. These programs are categorized into Beginner, Advanced and target programs. You also get routines built by your personal trainer.
It also brings monthly fitness challenge with cash prizes to keep you motivated. Along with the app, there is also an option to access the data from the web.
4. Fitness Trainer FitProSport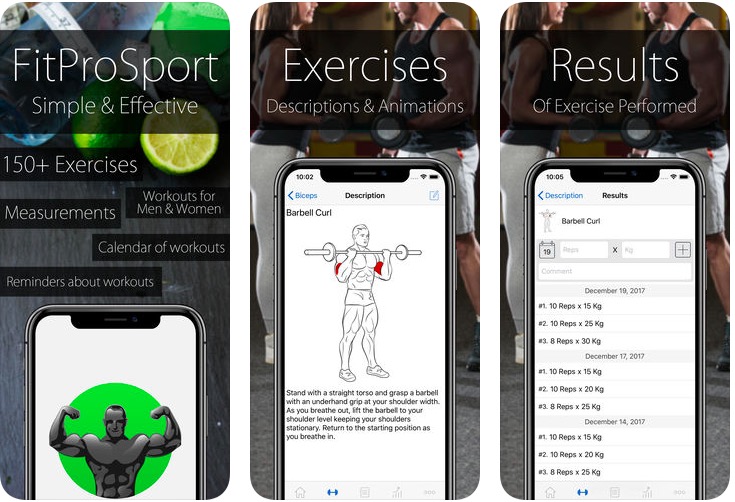 This is another good app for those looking for a good bodybuilding app. The ap is easy to sue and does not ask you to enter any personal data. It brings more than 150 exercises grouped by the involved muscles for both men and women. It shows description and animation for each exercise to give you an idea how to do it right. It also shows videos for some exercises that cannot be explained with photos or animated GIFs.
You can add as many workout plans of your own as you wish. It shows Calendar of workouts to give you proper routine. You can save a completed exercise or a separate exercise in the log. All the data can also sync with the cloud.
The app shows advertisement in the free version of the app. The pro version removes the ads and adds more exercises, additional training programs, and more features.
5. Fitness Point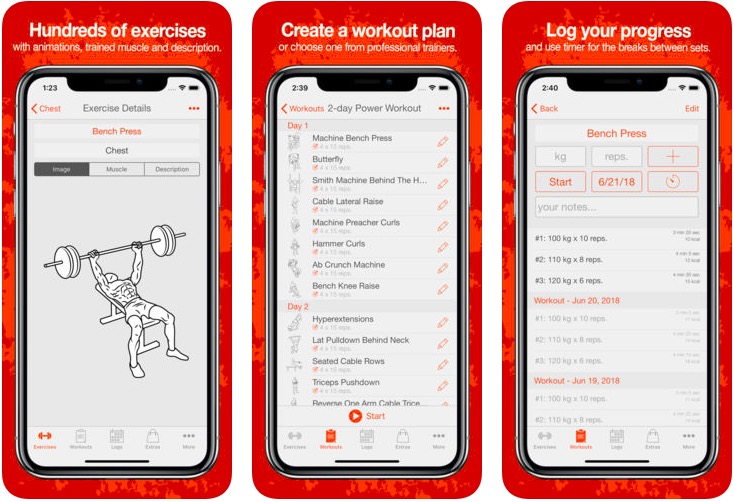 Fitness Point is also a good bodybuilding app available for both Android and iOS. You can use it to help in setting up a personal training plan for a gym or at home. The app shows a large number of exercises that you can include in your training. There are already prepared programs to use. It shows you a proper graph of your progress.
It shows a huge set of exercises for different muscle groups. You can check all and make your own plan for training. You can also enter your target sets and reps. There are also workout plans created by professional trainers, but you need to buy that via in-app purchase.
In the pro version of the app, you get hundreds of additional exercises with description, animations and trained muscle. It also removes ads and ads more features.
6. Fitness Buddy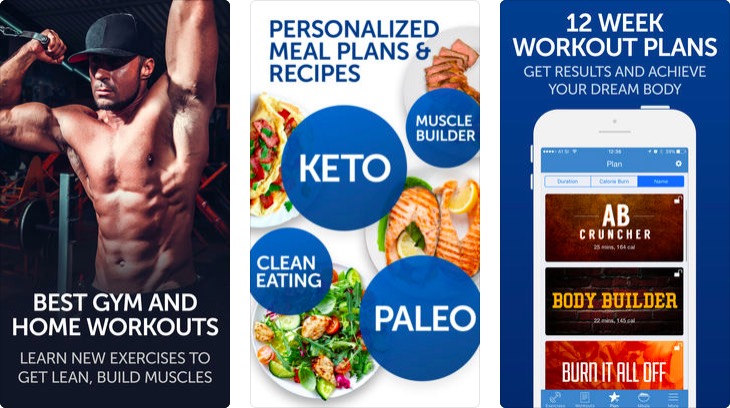 Fitness Buddy is for those looking for workout goals like bodybuilding, Beachbody, summer body, six pack, belly fat, abs, stronglifts, pft, army, powerlifting, etc. The app provides exercises with proper form. You can use it for home or gym workout sessions.
The app even brings HD videos for exercises. All exercises have been decided into categories including core, abs, lower body, leg, chest, shoulder, back, arm, biceps and more. Exercises also have animations to show you how to do it right. Each exercise is also written step by step.
There are training programs including stronglift, 5×5, starting strength, bodybuilding, 531, weightlifting and powerlifting. The app lets you track body weight, metrics like core, abs, lower body, leg, chest, shoulder, back, arm, biceps, and cardio.
7. Strong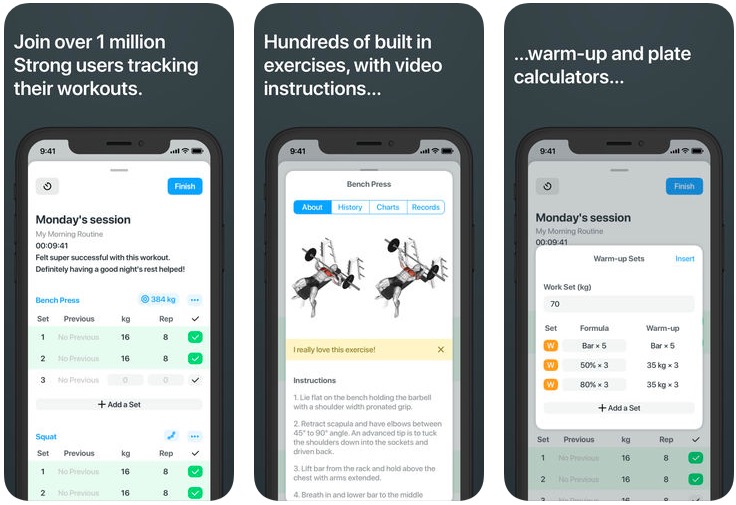 Strong is basically a Workout Tracker Gym Log app. It basically for Starting Strength, Stronglifts, 5X5, 531 and is adaptable to any other workout routine. It has a simple interface that stores a full history of training and records for the full history of training,
It has a workout calculator that tells you what weight you should choose for warming up your muscles before training. The library of the app comes with over 200 exercises and movements includes everything you can think of.
All your workout data is backed up in the cloud. So, you have all your data even after you switch your device.
Also see: Best Ringtone Cutter Apps
8. Fitness Point Pro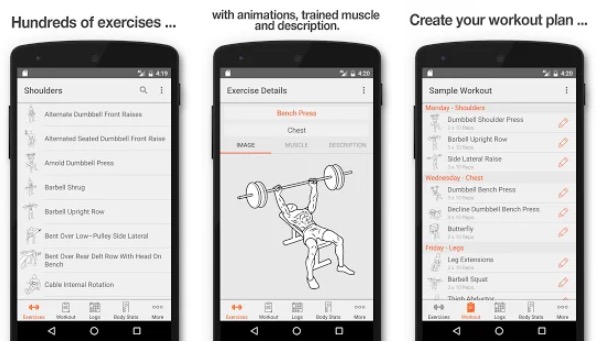 Fitness Point Pro is another great bodybuilding app for Android and iOS. The helps you in setting your personal training plan for exercise at a gym or home. It includes a large number of training programs. The app also shows you how to do, and control the rest time between the approaches.
It has exercises for different muscle groups. Everything is presented in an understandable manner. You can also create your own plan according to your need.
The developer behind the app keeps on pushing updates to and useful function and more data to give you better advice and training plans. The app comes in both free and paid version but you need to use paid version for getting all features and more data.
9. Fitness Coach FitProSport
Fitness Coach FitProSport is also one of the best bodybuilding apps that help in keeping the muscles and body in shape. You can directly start using the app as it doesn't ask for any registration. It comes with more than 100 exercises grouped by the involved muscles. All exercises have a proper description and detailed animation that help you in understanding how to properly do that exercise.
You can save a completed exercise and all the data will be displayed in the Results section.
The app comes in both free and paid version. But the issue with the free version is ads and it also has less exercise as compared to the paid version.
10. Freeletics Bodyweight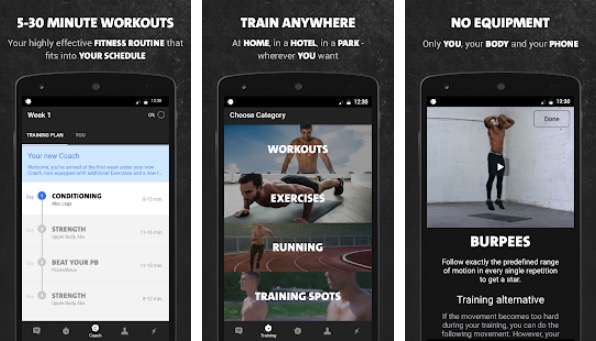 This is another notable bodybuilding app available for both Android and iOS. The app offers several levels of exercises depending on the level of your physical fitness and activity. You will have to do a simple registration and answer a few questions about your goals for using the app.
In the Coach's paid mode, you get weekly personal training according to an individual plan, over 900 training sessions for long-term class planning and more features. You also get an instructor who visually shows you the techniques of exercises.
In this app, you can also check how much time you have spent on a particular activity, and save the results. Your level on the app developers from points received and time. If you are regular in the app, you get higher in the rating.
Final Words
These were some of the best bodybuilding apps for Android and iOS both. These apps have a proper workout plan, diet plan, videos to help you and a personalized training program. Depending on your choice, you can download any of these best workout apps for bodybuilding and start pumping iron to have a muscular body and perfect shape.
I wish you a good luck.