5 Best True Wireless Earbuds under 1000 INR
Earbuds are now getting popular because they are easier to use and manage. Now earbuds are cheap, so people prefer them over other Bluetooth earphones. I have already posted several articles about earbuds in the different price segments. But people usually ask me about True wireless earbuds under Rs. 1000. Before I start talking about available options, I want to make it clear that TWS in the cheaper price segment isn't a good choice. It is still better to go with a good Bluetooth earphone. When a company is making earbuds at a low price, there could be several compromises. Most companies compromise with music quality. Music could be loud but will surely not up to the mark. Some earbuds take time to pair and some also come with the really ordinary build quality. So, not a good fit. If you still want to go with an earbud by paying less than Rs. 1000, keep reading. In this article, I will be talking about the best earbuds under 1000 INR available in the Indian market.
Also see
Best Earbuds under 1000 INR
1. pTron Bassbuds Vista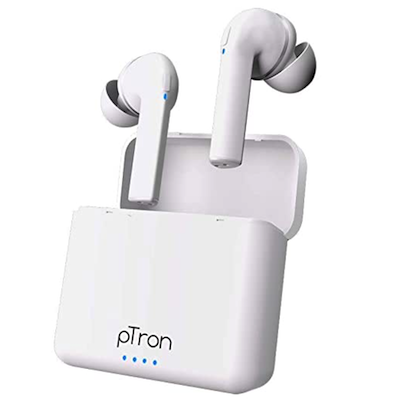 pTron Bassbuds Vista is the best earbuds you can buy for less than Rs. 1000. Buds look somewhere similar to AirPods Pro, but the company could only match the design. pTron Bassbuds Vista buds are IPX4 rated to be splash and sweatproof. The company also promises passive noise cancellation, so noise around you cannot disturb you when you are listening to music. Buds feature Bluetooth 5.1 for quick pairing and also promises low latency streaming to reduce the lag between video and audio.
pTron promises good quality sound with crystal crisp treble and deep bass. Buds have easy controls to change tracks, control voile and also control voice assistant. There is also a built-in HD mic for calling. It also features mono mode, so you can keep using just one bud.
Fully charged buds can offer 4 hours of music playback. You can get additional 8 hours from the case. So, you get a Toal of 12 house of music playback.
Buy Here: Amazon
2. Tecno Hipods H2
Tecno Hipods H2 is another pair of budget Bluetooth earbuds you can get for less than Rs. 1000. Tecno Hipods H2 features a good design and buds are IPX4 Water Resistant. Buds also have smart touch controls for controlling tracks, changing volume, and even activating Voice Assistant. Buds promise real stereo sound effects with AAC and feature environmental noise cancellation for offering no disturbance music. Buds also have super-low latency for excellent gaming and movie watching Buds feature Bluetooth 5 for faster pairing.
Both the buds pack microphones and promise ENC dual-microphone noise reduction technology to offer a clear calling experience.
Full charged buds offer 6 hours of music playback and up to 24 hours with the charging case. Just 15 minuts of charging in the case can offer up to 2 hours of music playback.
Buy Here: Amazon
3. Coolpad Cool Bass
Coolpad was once a popular smartphone brand that lost its charm and market share. Recently the company released low-cost earbuds to offer people cheap but quality options in budget segment. Coolpad Cool Bass look good and charging case also features premium design. But several people found that buds aren't fitting properly. Buds offer good music with 13mm Dynamic Driver Speakers that boast clear sound and deep bass. Buds also have touch controls for calls, volume and tracks. You can also access Google Assistant and Siri by tapping left earbud button twice.
Each but packs 40 mAh battery and offers 4.5 hrs of Non Stop music playback. Charing case packs 400 mAh battery that extends music playback up to 20 hours. Just 15 minutes charging promises 3 hours of playback and it takes 30 minutes in fully charging.
Buy Here: Amazon
4. pTron Bassbuds
pTron Bassbuds is another good option in this segment. pTron Bassbuds also feature Bluetooth 5 for fast and stable pairing. Buds have an ergonomic design for offering good fitting to most people. Buds also promise stereo sound. The company claims that you will get cutting-edge Hi-Fi stereo sound and distortion-free bass from different genres. Each but features a multi-function button that lets you control calls and music. You can also access your phone's voice assistant.
Buds also come with a built-in microphone. So you can also accept calls and have a hands-free calling experience. pTron Bassbuds promises 6 hours of music playback that can be extended to 20 hours using the case. It takes 1.5 hours to fully charging it.
Buy Here: Amazon
5. WeCool Moonwalk Mini
WeCool isn't much popular brand but I liked the WeCool Moonwalk Mini considering its price. WeCool Moonwalk Mini also features Bluetooth 5 to offer a fast and stable connection. As soon as you open the charging case, it will connect to the phone. If I talk about the music, it is really good considering it to be a budget pair of earbuds. It offers crystal clear sound and excellent noise cancellation.
Buds also have a multi-function button to change tracks, control volume, accept cans and activate Assistant and Siri depending on your phone. Buds also provide good fitting. IPX5 rating makes buds splashproof. Buds also have a built-in microphone for hands-free calling. You get 4 hours of music playback and up to 12 hours of music playback with the charging case.
Buy Here: Amazon
Wrap Up
As I already said, these buds are good enough considering the price. You shouldn't expect premium quality sound. I also recommend you to check for a warranty before purchasing the products. Some products require you to register within a week of purchasing to avail warranty. So, don't forget to check these things. If you were looking for AirPods under 1000, now you have a list. If you call these products AirPods, you should know that AirPods are actually Apple products. These products are called earbuds or TWS.