12 Best Yoga Apps for Android and iOS | 2023
If you are here on this page then this is for sure that you are interested in learning Yoga by yourself. Instead of spending huge sums of money on yoga studios, you can use Yoga apps to practice yoga wherever you want and whenever you want.
Practicing Yoga is not an easy task. You have to know about the right pose, the right posture, and the time to hold that posture. The yoga at-home app can help you in learning yoga methods. But choosing the right and best yoga app for weight loss, meditation or flexibility is a big task.
Yoga has many benefits if you do it regularly. Yoga improves flexibility and gives strength to your hamstrings, back, thigh, shoulders, arms, and hips. This improved flexibility and strength can help in preventing injuries and help in reducing back pain. It is good for reducing stress and helps you relax. Yoga meditation practices can help in focusing on your breath and disengaging from your thoughts. Another important benefit of yoga is that it improves balance.
Yoga also helps you in losing weight while getting stronger. Yoga helps in shaping muscles in your legs, back, shoulder, arms, back, and abdomen.
Therefore, we have made this list of the best free yoga apps (with an in-app purchase option) so that you can get the best yoga videos and tutorials for practice. You can try any of these top yoga apps for Android and iOS and become a yoga master. But remember, Yoga needs your patience.
Here are the Best Bodybuilding Apps For Android And iOS if you have an interest in bodybuilding.
Best Yoga App for Android and iOS
If you are also searching for how to get good at yoga by yourself then these best yoga apps for Android and iOS are for you. These are the free and best yoga apps for beginners, intermediates, and advanced. Most of these yoga apps contain hot yoga, yoga for runners, power yoga, Bikram yoga, and more. You can choose as per your need.
1. Daily Yoga App: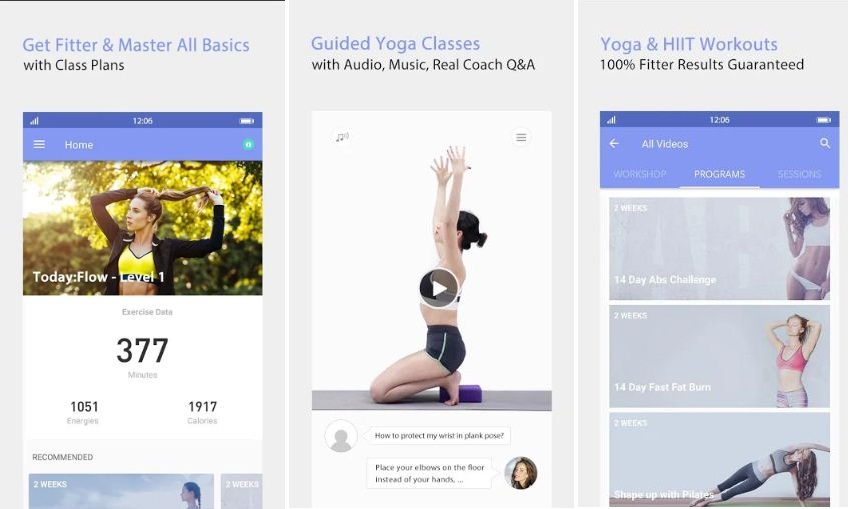 The Yoga Daily app is for all people, whether you are a beginner or advanced. This yoga app has more than 200 yoga classes and 500+ poses with detailed voice instructions. If you are searching for a yoga app for weight loss, this app is for you. The app has scheduled plans for boot camp, body toning, weight loss, strength, flexibility, relaxation, balance, menstruation, body detox, meditation, etc. Here you will get step-by-step instructions for all yoga asanas.
The app is available worldwide in 7 languages that are English, Japanese, Korean, Spanish, Chinese, German, and French. The app offers in-app purchases but some classes are available for free.
Download Now:
2. Down Dog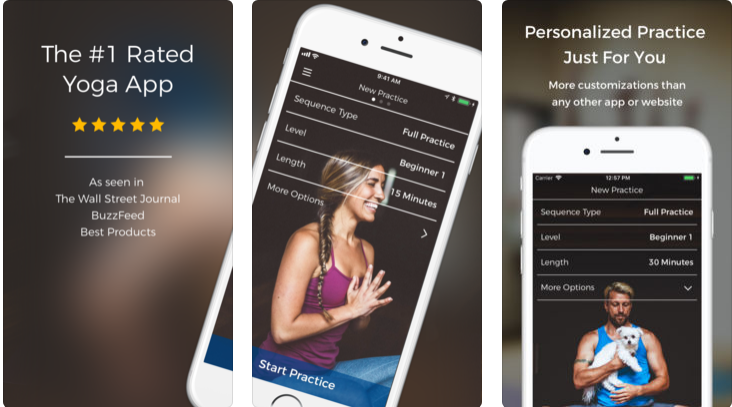 Down Dog is another yoga app in this list that is made by Editor's choice. The first one is the Daily Yoga App. This app has videos that can help you to learn yoga in a very easy way. You can learn yoga anywhere and at any time with the help of this app as it has 60,000 different configurations of yoga poses. This app has some free videos but you have to pay for the full subscription.
Download Now:
3. Pocket Yoga App:
The Pocket Yoga app has more than 200 beautifully illustrated yoga pose images with correct posture and alignment. It has 27 different sessions based on the duration and difficulty of yoga. You can even play music from your music library in place of the default music on this app. The app tracks your practices and calories in order to track progress.
The app is not available for free. You have to pay to use this app but the app is worth it.
Download Now:
4. Yoga Studio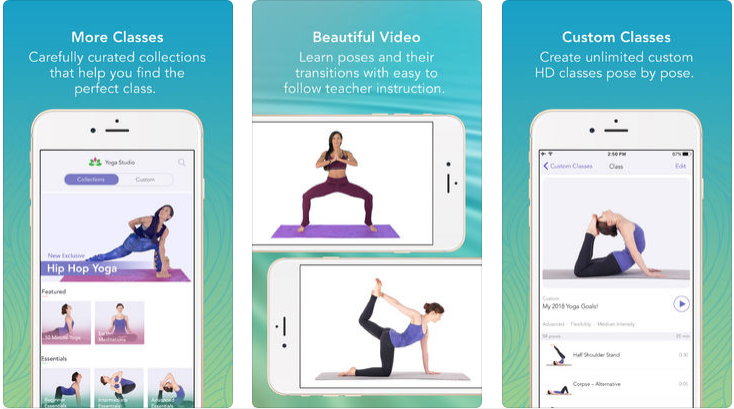 The yoga studio app is for all including beginners, intermediate, and advanced. It has more than 80 Ready-made yoga & meditation classes in full HD video. You can create your own list of yoga and track your fitness growth with daily, and weekly class scheduling. With this app, you can focus on your strength, flexibility, relaxation, balance, or a combination of all four.
The app offers in-app purchases. Some videos are available for free but you have to pay for full access.
Download Now:
5. Yoga for Weight Loss by Nexoft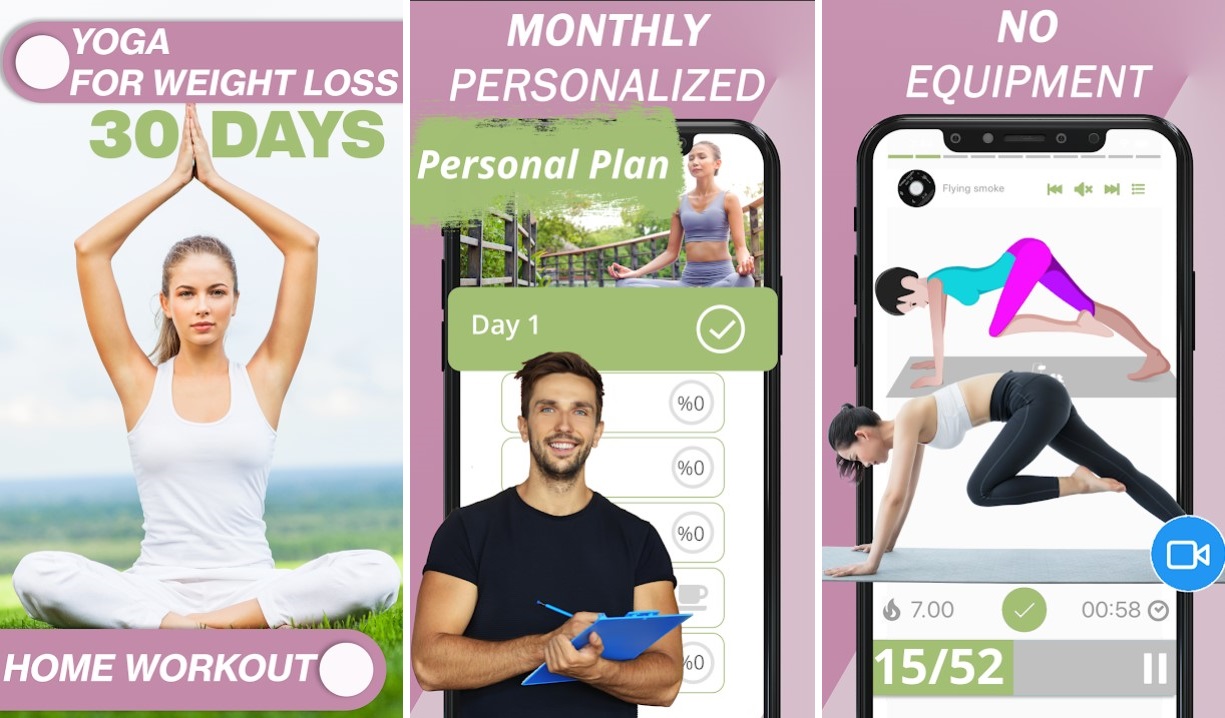 Yoga for Weight Loss by Nexoft app has different yoga asanas for weight loss. These free, easy, and efficient full-body yoga exercises will burn those belly fat and give you a flat belly in 30 days. You can customize your own daily yoga routine and practice morning yoga or yoga before bed to get flexible and burn fat. You don't need any equipment to tone the body, just use body weight.
Download Now:
6. Yoga – Track Yog

Track Yoga app is another good yoga app that can help you to maintain good health and a flexible body. All yoga classes in this app are tailored by yoga experts. You can get classes to lose weight, gain flexibility, fight depression, or get a great workout in this app.
This app also has an in-app purchase option.
Download Now:
7. Simply Yoga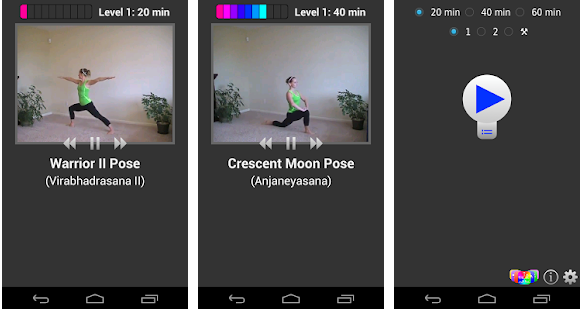 The Simply Yoga app contains a 20, 40, and 60 minutes yoga routine with a step-by-step explanation of each pose. The first level of this app is free for everyone. When you are ready to move to the next level, you can opt to purchase the full version of the app. The next level includes the second level of workouts, the ability to create custom routines, landscape mode, and no more ads.
Download now:
8. 5-minute yoga app: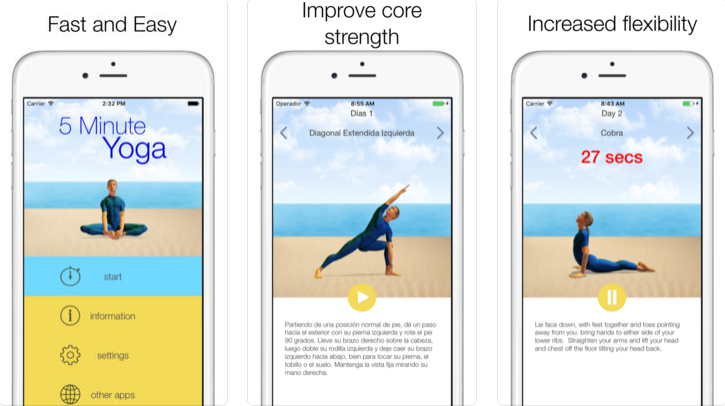 If you don't have much time to practice yoga daily, this app has 5 minutes sessions of yoga for you. The app has quick and easy daily yoga workouts that you can perform in less time with maximum benefits. Every pose features clear images and detailed instructions ensuring all poses are performed correctly. This yoga app also has an in-app purchase option.
Download Now:
Read More: Best Weight Loss Apps for Android and iPhone
9. FitStar Yoga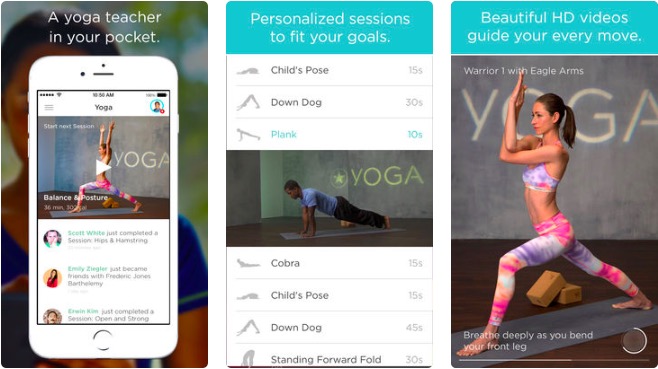 FitStar Yoga is available only for iOS. This Yoga app helps you in working out on your fitness goals and become fit. The app offers HD videos of Yogas showing you the proper way of doing different kinds of Yogas. You can choose the duration and intensity of each session. You can also track your progress and milestones with achievements. With time, you can unlock new poses and badges.
They can also connect your Fitbit, Jawbone UP, or MyFitnessPal account to automatically sync your weight and fitness activity.
Download Now:
10. YogaGlo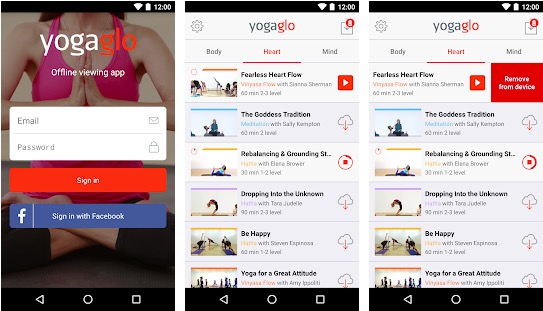 YogaGlo app brings yoga and meditation classes offline. You can use the app to access YogaGlo videos and download them on your phone. So, you can practice different yoga at home. All videos are in HD and deliver high-caliber yoga classes. You also have access to the global community. The app has over 3,000 classes in a variety of styles, levels, and durations. You can start with a 5-minute practice for stress reduction to a 90-minute energizing class depending on your choice.
Download Now:
11. Universal Breathing: Pranayama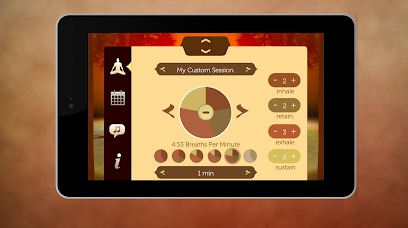 Pranayama is a collection of breathing exercises to keep the body healthy and prevent several diseases. But it is really important to know how to properly do Pranayama. The app helps you in mastering the correct breathing techniques. If you do Pranayama regularly, it will help you in getting better sleep, greater stamina, lower blood pressure, and much more. You can also get rid of headaches and migraines.
Download Now:
12. Daily Yoga by Fivestars Studio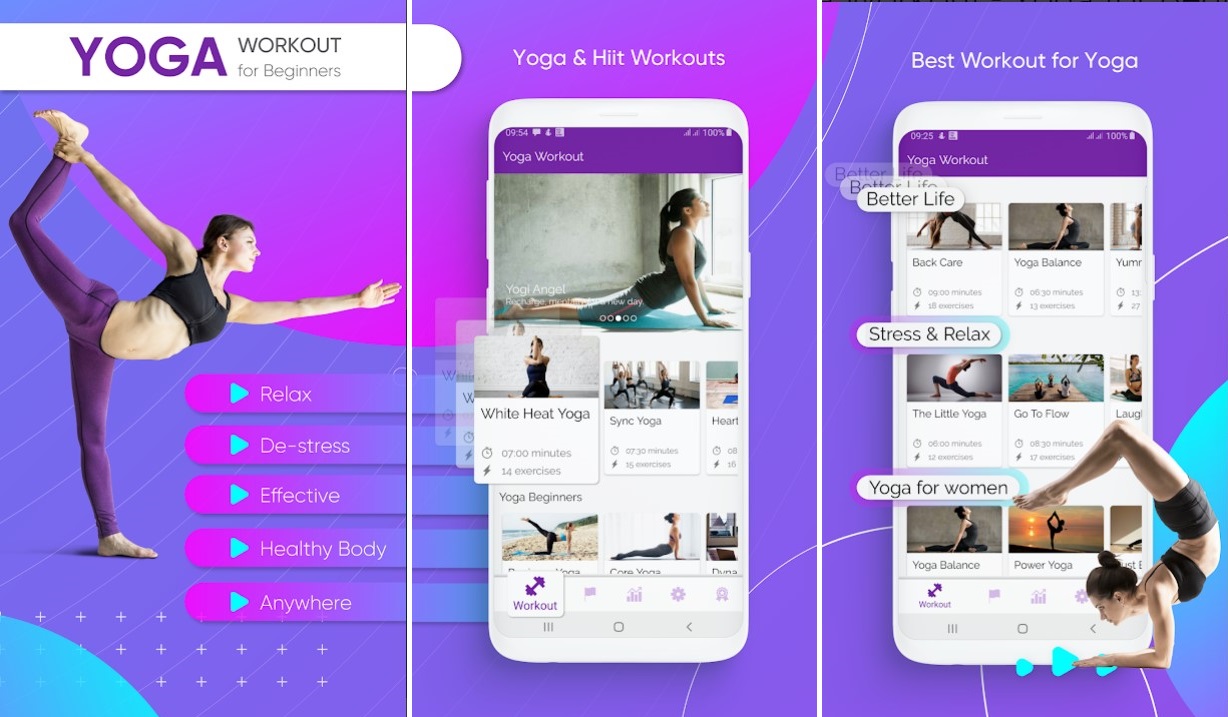 Daily Yoga by Fivestars Studio is the best yoga workout app for Beginners that has free Yoga workout videos and classes. Yoga classes include basic yoga practices such as basic asanas, Yoga poses, and meditation. It helps you to relax, de-stress, and keep you healthy. It has intuitive 3D videos that make it easy to understand yoga poses right. You don't need any equipment to practice yoga therefore, you can do it anywhere and anytime.
Download Now:
Read More, Best Free Fitness Apps For Android
These are the best yoga apps for beginners, intermediates, or advanced. Most of them include all types of yoga-like power yoga, hot yoga, Yoga for weight loss, Bikram yoga, and more. So, you don't have to worry about installing different apps for every kind of yoga. Do share your experiences with us after using any of these yoga apps.
Stay Healthy. Stay Fit.