5 Best Tripods for mobile phones
Mobile phone cameras have improved in such a way they have replaced cameras. Not people prefer smartphones for capturing photos and recording videos. Smartphones with decent cameras are also cheaper than an entry-level DSLR. Smartphones are also easy to carry. I know several YouTubers who record and edit their videos on smartphones. Smartphones can also capture excellent photos. Now when you are thinking to use a smartphone for your photos and videos, getting a tripod for it is really important. It helps in keeping the phone stable for steady shots. Obviously, you need a tripod if you want to shoot your videos for Reels or YouTube. In this article, I am listing the best tripods for mobile phones.
Before you buy a tripod for your videos, you need to first analyze your requirement. You can either buy a full-size tripod or a mini tripod that can be used by keeping it over a table. In this article, I will list different options. Check all these and see what is good enough for your use.
Best Tripods for smartphones
1. Mi Selfie Stick Tripod
The reason for putting it at the top is because it is ultra-portable and can be carried even in a pocket. It acts as a tripod and selfie stick. So, this multi-purpose smartphone tripod is a good option if you are looking for a tripod for mobile. It has a solid build quality and its feet offer a good grip. There is also a Bluetooth shutter button. So, you can control photos and videos from a distance. This Bluetooth shutter button work with both Android and iOS. This collapsible smartphone tripod is 19 cm long when collapsed. You can extend the length to 51 cm.
Price: Rs. 1099
Buy Here: Mi.com
2. realme Bluetooth Selfie Stick
realme Bluetooth Selfie Stick is a similar product. It is also a selfie stick that can act as a tripod. It holds the phone securely and a non-slippery stand offers a stable placement. You get a remote shutter button that connects with the smartphone over Bluetooth. So, you can control the camera shutter from a distance. It is compatible with both Android and iOS. The head of this selfie stick cum tripod offers 360-degree rotation. It is also made of Oxidised Aluminum Alloy for a solid build/ The folded length is 20 cm and the extended length is 60cm.
Price: Rs. 1299
3. DIGITEK DTR 200 MT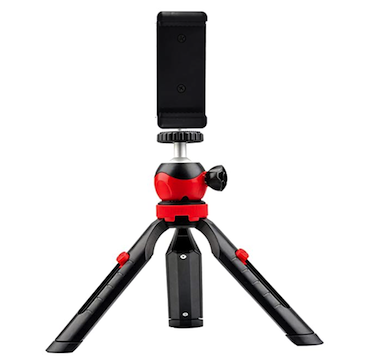 If you are buying a smartphone tripod for indoor usage, check DIGITEK DTR 200 MT. If you will be recording yourself by putting a tripod and phone on the table, this mini tripod can be a good option. It is compact and features a 360-degree ball head. It also comes with a smartphone holler but you can also use it with cameras. It can bear a lot of up to 1 KG and the max height could be 7.87-inch. So, it won't be much useful for outdoor usage due to height rescription. It is also suitable for vloggers.
Price: Rs. 399
4. Photron STEDY PRO 550
This is a full-size tripod suitable for both cameras and smartphones. It is for photographers and video bloggers who need ultimate stability in any condition. Head movement makes it ideal for videography.  The only issue with the tripod is its size as compared to other tripods in this list. This tripod has metallic legs and a head offering 3-way movement. The company also offers a smartphone holder for adjusting smartphones on this torpid. It has a maximum height of 136.5 cm and folded height is 42.5 cm.
Price: Rs. 895
Buy Here: Amazon
5. DIGITEK DTR 455 LT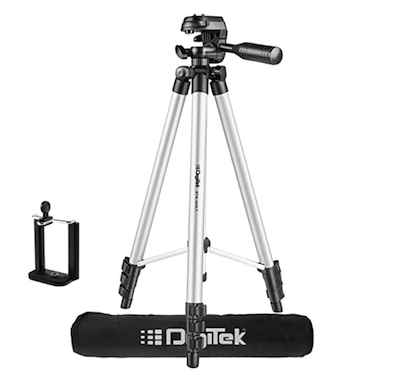 DIGITEK DTR 455 LT is also a full-size tripod for smartphones and cameras. The company also sells a mobile phone holder with the tripod for adjusting smartphones on the tripod. This tripod has a 3-way head with an adjustable PAN. The tripod has Aluminium alloy legs and rubberized legs. It promises good stability and smooth head movement. The tripod has a maximum height of 4.26 feet & a foldable height of 1.47 feet. It can also bead a weight of up to 3KG.
Price: Rs. 699
Buy Here: Amazon
Wrap Up
These are the best tripods for mobile phones. I have also added links to buy. If you need a tripod for making long-form videos that need camera movement, get the full-size tripod. If you will just shoot yourself for making videos for reels and other social media platforms, get the selfie stick cum tripod. You have the best smartphone tripods option on this list. Check all and get one.