7 Best Time Management Apps for Boosting Your Productivity | 2020
Have you ever thought of how some people seem to be able to do lots of tasks on time while your time slips through your fingers? These time punctual people do all the tasks in an organized manner and complete all the given tasks on time. The answer to your question is that these people have a very intellectual and organized distribution of time. They use strong routines in their life and stick to that. This healthy routine allows them to squeeze every available minute of the day, create good habits and do everything in their schedule.
Don't Worry, you can also do the same. You just need a little bit of punctuality, willpower and a time management app. The apps for time management are very helpful in completing any task on time. They have reminders so that you never miss any important task and complete it on time.
Here, we made a list of best time management apps after doing research on every timetable app and time management app. These Time Management Apps will help you in performing better in life.
Best apps for Time Management
Below is the list of best time management apps to organized your daily, weekly or monthly routine. These apps will manage your time table and help you to perform any task on time.
1. Any.do: To-do list, Calendar, Reminders & Planner
The main idea to built Any.do is to keep life under control and get work done on time. With this one app, you can able to complete more tasks as it is all in one app. It has to-to-list, calendar, reminders and daily planner in one app. You can sync your all devices like mobile, desktop, web and tablet and get a reminder for the task you saved.
This app also supports voice entry to save the task. You can share your lists between family members, assign tasks to each other, chat and much more with this app. All these features make this app the best app for time management.
Download Now:
2. SplenDO – To Do List:
Splendo is the task management app that helps you to complete your task on time. In this app, you can add your task via voice. Notifications in the app use sounds, vibrations, and built-in speech. It has smart home widgets that show you instantly what to do. It also has Bidirectional synchronization with Google Tasks.
Download Now:
3. Trello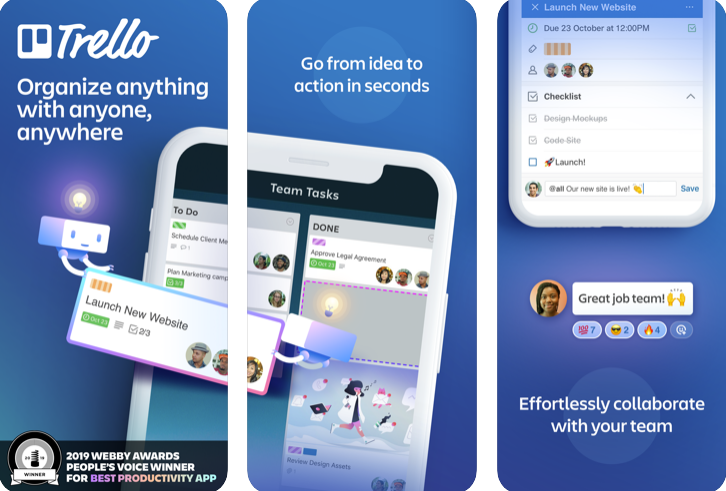 Trello is a visual tool that you can use for organizing your work and life. Whether you are planning an office project, vacation, dinner, startup or company off-site, this time management app helps you with all of that.
It has customizable but simple boards, lists, and cards which helps you in managing all the stuff that you want. You can add checklists, labels, and due dates of the tasks and this app will help you in organizing your time by keeping track.
Download Now:
4. Todoist by Doist: To-Do List, Task List
It is a simple task management app or time management app basically built for modern life. Whether you need to collaborate with your team, keep track of your most important projects, or just remember to pay the rent, Todoist is there to help you perform any task on time. You can use this app in offline mode. Add, complete, and reschedule any tasks from your phone, tablet, desktop, browser, email, and smartwatch.
You can Use Todoist Karma to set weekly/monthly goals, accumulate points, and track your progress with beautiful graphs color-coded by the project. Also, integrate this time management app with Google Drive, Newton by Cloud Magic, Toggl, IFTTT, and Zapier for more productivity.
Download Now:
5. TimeTune – Optimize Your Time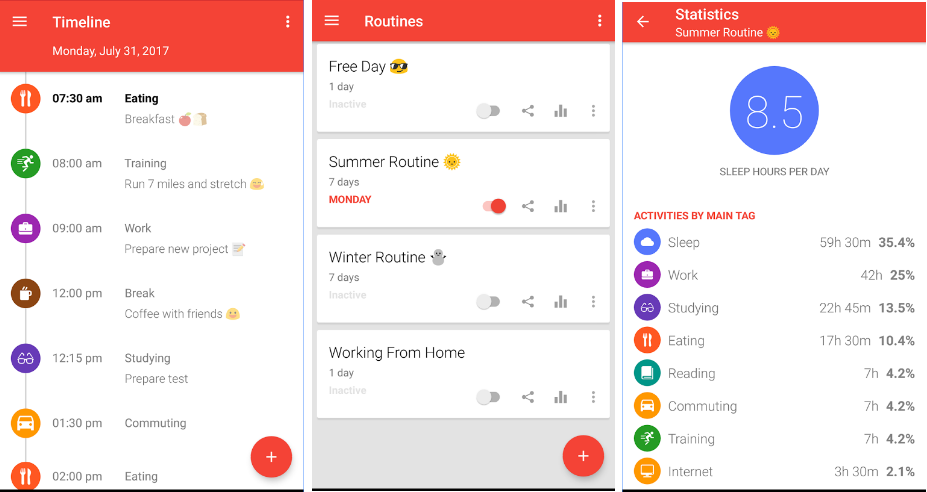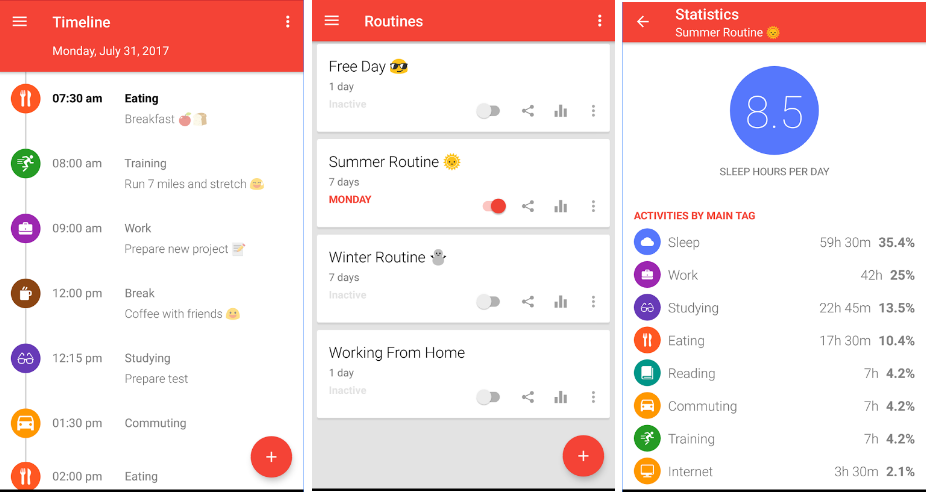 TimeTune is the best time table app that helps in keeping you organized and perform the task on time. With the help of this app, you can perform plenty of things in a single day by good time distribution. You can use TimeTune as a daily task reminder, student calendar, timetable planner, routine schedule organizer, productivity habit tool, daily time manager or daily planner.
The Routine statistics in this time management app is to analyze and improve your distribution of time so that you can increase your productivity and can do everything on your time schedule.
Download Now:
6. Fabulous: Motivate Me!
Fabulous is the time management app that helps to increase your energy, feel vibrant health, lose weight and sleep better. It sets the healthy habit and routine goals in your life. It has a step-by-step program for Health & Productivity goals.
If you are one of those people who struggle to wake-up in the morning and Want to build an indestructible Morning Routine, this app is for you. It is your free personal trainer that helps in keeping you organized. If you are going through with a tough time and feeling depress, I recommend you to use this app. The app will show you how to fall asleep fast if you can't sleep.
Download Now:
7. Timesheet – Time Tracker

Timesheet is one of the best apps for managing time. It allows you to record the work hours by pushing a single button. By this process, you can record the breaks, expenses, and notes. It also shows progress by using statistics. you can easily take Backup and Restore to SD-Card or Dropbox/Drive.
Download Now:
If you want to track your expenses and want to avoid unnecessary expenses, Read about these 5 Money management apps for android.
These are some Time Management Apps or you can say the best timetable apps to manage your time and perform any task on time in an organized way. All the time management apps mentioned here have their own specialty. So, choose the best app for yourself and manage your time to gain maximum output.