10 Best Money Management Apps for Android and iOS
Tracking your expenses and saving on a weekly or monthly basis is really a good idea. Tracking money is beneficial to maintain good financial conditions and to avoid unnecessary expenses. But it takes time and effort to track every single spending manually. Also, sometimes we forgot about some of the expenses. If you are facing the same problem then no need to worry. There are some best money management apps that can help you to track your expenses successfully.
Earlier money was all about cash and cheques but with the advent of apps such as Paytm, Freecharge, PhonePe, etc it has now become more convenient to pay or receive. Similarly, there are apps that help one to manage the expenditure monthly. Such apps keep a track of the money that you are spending. Isn't it cool? You simply need a mobile phone with an internet connection.
Points to consider before downloading any Money Management app:
Since it is the digital era, the app should not charge the users, or it may provide the premium version at a reasonable cost
A non-technical person should be able to use it without any worries
Good features
Must not consume heavy battery
Should be credible with no data leak
If you are looking for an expense and budget tool to manage your money, you are on the very right page. Here is the list of the best Android and iOS apps for money management. With the help of these money manager apps, you can track your expenses successfully. So, what are you waiting for? Download the best money management app right now and start managing, tracking, and planning your budget, expenses, and personal finances.
Best Money Management Apps
Here is the list of best money management apps to track your expenses successfully. Choose the one that fulfills your requirement.
1. Walnut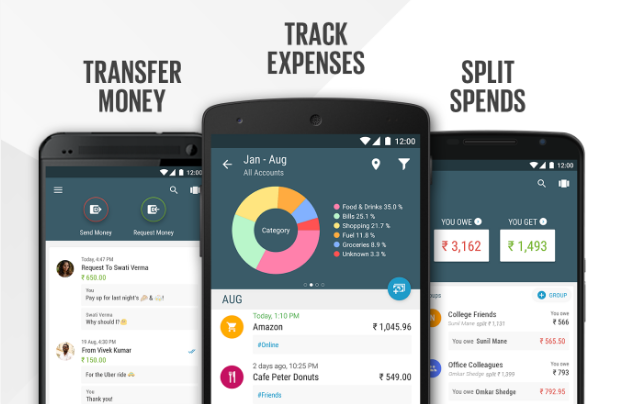 Walnut is one of the best money management apps for both Android as well as iOS that takes control of your money and saving. It automatically and securely tracks your monthly spending & pays bills on time. You can enter manually or it automatically finds out your spending on categories such as food, travel, shopping, etc. This money manager app shows how your expense patterns have changed over time. The Walnut money management app keeps track of your monthly ATM withdrawals. It also analyses your SMS inbox on your phone and detects important information related to spends, bills, and tickets. The wallet also tracks credit card dues so that you have control over your expenses.
2. Goodbudget: Budget & Finance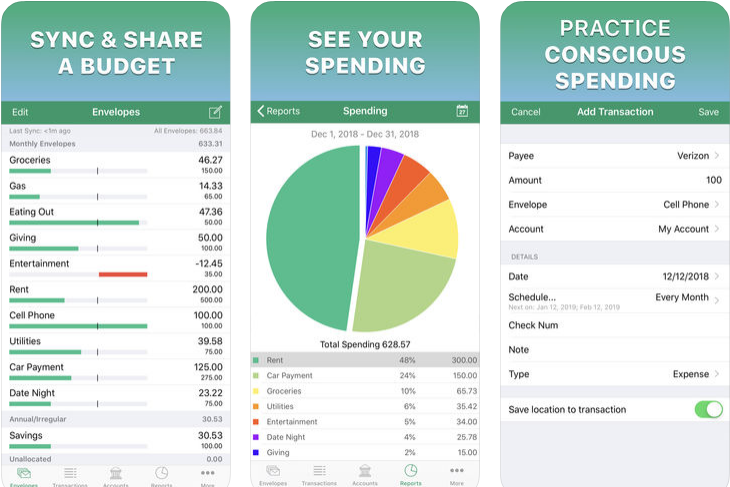 The Goodbudget app is like a personal finance manager which helps you stay on top of your bills and finances. It is formerly known as the Easy Envelope Budget Aid (EEBA) that built for easy, real-time tracking. It is one of the best income and expense tracking tools. This app automatically syncs across Android, iPhone, and the web.
3. EZ Financial Calculators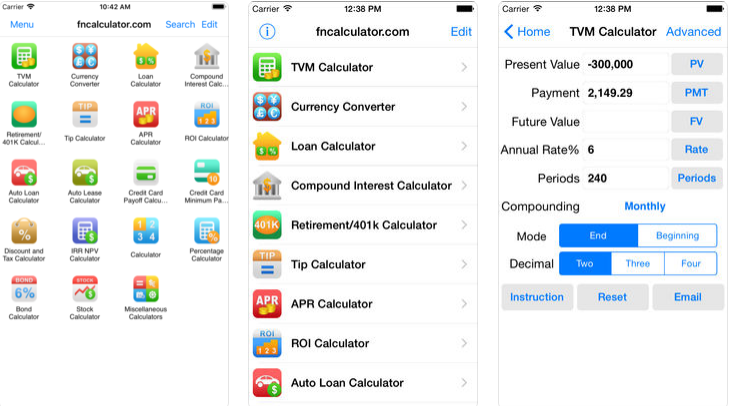 This is the money management app that calculates your Finance and Investment. You can calculate any kind of loan, tax, investments, retirement plan, and more. You can send your calculation results to others via Email. Also, Financial Professionals can email the details to their clients.
4. CRED: Credit Card Bills
CRED is the best app to check credit score free, pay credit card bill payment & monthly rent online. You can also pay education free using a credit card on CRED. There are many exclusive shopping offers and cashback on CRED App. After every bill payment, you get CRED Coins that you can use to win exclusive rewards, big prizes, offers, and unlock access to products at member-exclusive prices & rewards.
5. Money view money manager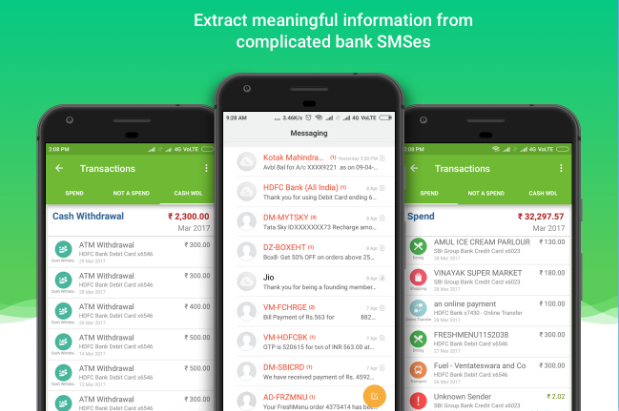 Money View money management app keeps you updated about your financial situation. It is only available for Android. It helps people to be more aware of their finances and to pro-actively do better with their money. With the help of this money manager, you can track your spending, view your bank account balance, get bill reminders & pay bills on time and grow money faster using the Savings+ feature. This money management can also track PayTM and Freecharge transactions. The TaxSaver+ helps you to save tax. You can set the monthly budget & follow it.
Download for Android
6. Money Manager Expense & Budget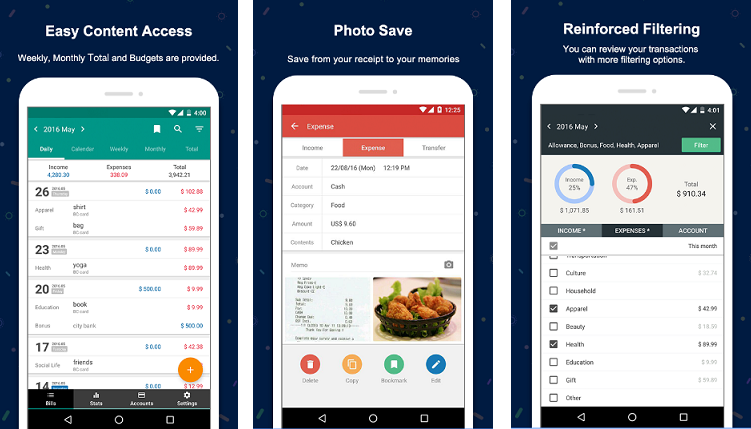 This Money Manager app for Android and iOS helps in financial planning, review, expense tracking, and personal asset management. With the help of this android app, you can record your personal and business financial transactions, review your daily, weekly and monthly financial data and generate spending reports. You can manage your assets with the Money Manager's spending tracker and budget planner.
Also Read, Best time management apps to boost your productivity.
Money Manager app shows your budget and expenses data with the help of a graph.  You can see the amount of your expense against your budget quickly and make suitable financial inferences. You can easily input your frequent expenses all at once by bookmarking them.
7. Monefy – Money Manager
The Monefy money management app for Android and iOS is my personal favorite app for tracking and saving money. In this app, you have to just add new transactions when you are buying anything or taking a cab, or spending on food. It is very simple to input data in this app as you just need to enter the expense amount. You can safely synchronize data between your mobile, tablet, or laptop using your own Dropbox account. You can track your spending distribution with the help of a chart or graph.
There is an option in this app to select your currency and language. This app is ads-free.
8. Expense Manager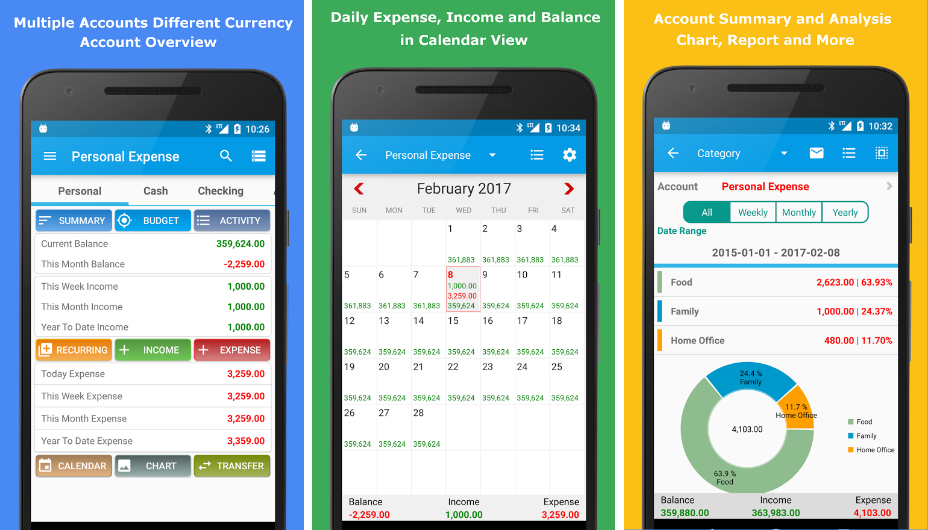 Expense Manager is a 100% free and simple money management app. It can manage the expenditures, checkbook, and budgets and can track expenses and incomes. No need to enter data manually, you can enter data by just taking a picture of receipts. You can track tax, mileage, and debts by the expense manager.  It is available in many languages and also has a money converter, loan calculator, credit card payoff calculator, and interest calculator
It organizes bills by week, month and year as well as by categories. You can schedule the payments and recurring payments The reports will be available in HTML, CSV, Excel, and PDF. This money management app can take automatic backup on Dropbox, Google Drive, and SD Card.
9. mTrakr Money Manager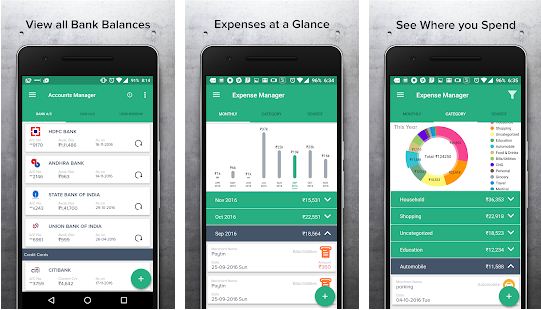 It collects all your financial information through an SMS inbox detecting all expenses done through your debit and credit card and other expenses. Mtrakr automatically classifies all your expenses into various categories like entertainment, food, travel bills, bank transfer, etc a feature that is currently not available in walnut where you manually need to categorize the bills. Also, this app gives suggestions on reducing expenses. Some other features are document manager, setting budgets, payment reminders, tax calculators, etc.
Other interesting features involve uploading memos or receipts of small daily expenses and Mtrakr will automatically categorize and include them in the expenditure. This is interesting since many of the money management apps lack this feature.
Download for iOS
10. ETMoney Expense Manager
This app, backed by Times of India group organizes all parts of your money be it the expenses, investments, receipts, insurance, and offers. It is also for Mutual Fund Investment in Direct Mutual Funds. It has a new feature called a paperless investing solution which the users are loving since it is completely paperless which means it does not require verification for KYC, simply a 2-minute process. Also, they provide insurance options like health insurance, life, car, etc.
Other features are bill reminders, daily budget, manual and automatic detection of expenses.
Read more, Best Time Management Apps for Boosting Your Productivity
These are the best apps for money management to keep track of your finance. These apps are really helpful in tracking expenses and savings.
All the money management apps for Android and iOS that are mentioned above are highly secure as they don't read any of your personal messages or any sensitive data like full bank account numbers, OTP, and net banking passwords. Such apps work by reading the last four digits and are hence fully credible and secure.