10+ Best Football Games for Android
October 15, 2018

in

Games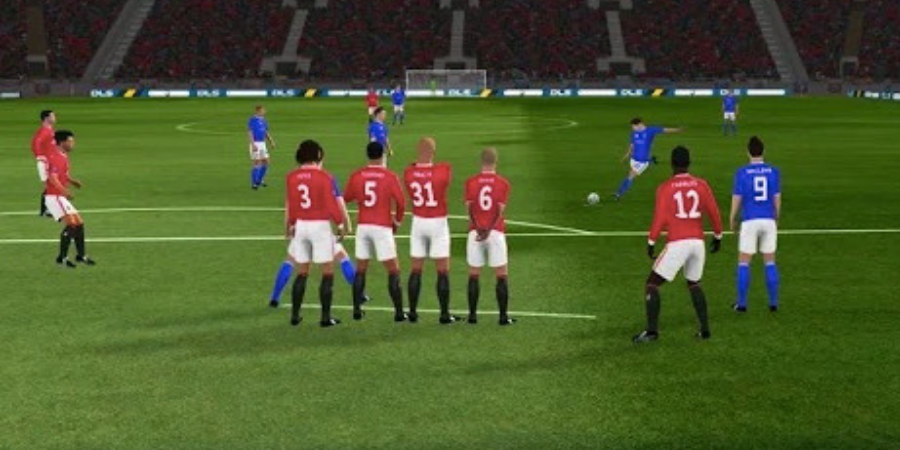 Football (or soccer) is the most popular sports. Not just in the real world, the game is equally popular in the virtual world. Football video game is popular on all major gaming platforms including Android. If you own an Android device and looking for a good Football game, we have a list you always wanted. Here, we are listing the best football games for Android. You can check any of these games, install and enjoy football on your Android phone.
Also see: Best Racing Games for Android
Best Football games for Android
1. Dream League Soccer 2018
Dream League Soccer 2018 is on elf the best football games for Android. The game lets you manage your own team, control your players and enjoy the football game. The gameplay is similar to FIFA's career mode but lacks player contracts or club transfers like things. You can collect coin by playing and winning matches. Other ways of collecting coins are completing achievements, or watching advertisements. Then you can use those coins to sign any player from the transfer market.
This game also saves your progress on the cloud. So, you will not have to start from scratch if you ever switch your phone.
2. FIFA Soccer
How could I miss the EA Sports' FIFA if I am making a list of the best football games? FIFA Soccer is one of the most feature-rich mobile football games for Android. This game features licensed players from over 550 real teams. So, you will get an amazing feeling. You will have to make your own dream team, compete with players worldwide and progress the game.
You can test your skill in single-player Campaign mode and then challenge yourself in different themed Events.
3. PES 2018 Pro Evolution Soccer
PES 2018 is one of the best soccer games for Android with amazing graphics and nice gameplay. This is a complete football game where you will have to manage your team and control your players. You can play with computer payers, compete against your friends and even join the online multiplayer battles.
4. Score Hero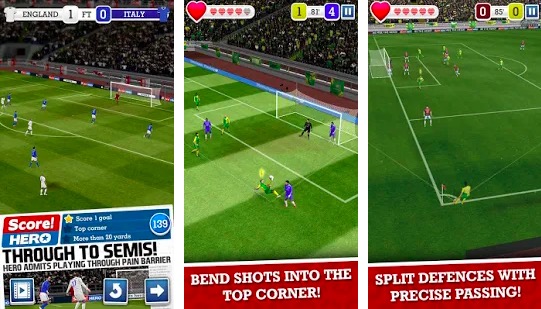 Score Hero is a 3D gesture-based football game. The user players from a young footballer's perspective who tries to become a star of the football world. So, you will have to play different challenges in different levels and succeed. There are over 600 levels with amazing 3D graphics. You can also play against other players in online multiplayer mode. The game also syncs progress on the cloud. So, you will not lose your game progress.
5. Real World Soccer League
It is also one of the most notable football games for Android. It offers smooth gameplay and an amazing gaming experience. You will have to curare your team and play against national soccer teams with your favorite players. You will have to show your football skill and win.
6. Top Eleven 2018
This game wants you to play the role of Football Manager. In the game, you will be making your own ultimate dream team from the available 5000 real players having the same abilities and attributes as their real-life counterparts. Then you will buy them and play the matches. You will also have to deal with losses and injuries of players.
Also see: Offline Shooting Games for Android
7. Real Football
Real Football is another good football game for Android that comes with licensed football players and teams. The game has wide range of game modes where you will be showing your football skill. The game offers good graphics and allows you to customize your team, form a team and upgrade your stadiums. You can also interact with other players by sharing videos and photos.
8. Football Strike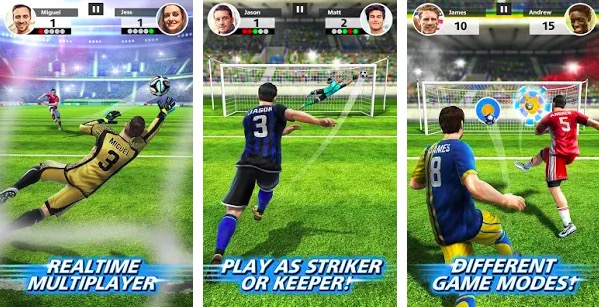 Football Strike is another football game loved by millions of people out there. The game boasts different online game modes including hitting the targets in a fast-paced, time-limited battle or take turns as both striker and goalkeeper in one on one kick mode. Even if it offers short challenges but it is still good enough for your enjoyment. You can play solo in career mode of challenge friends.
9. Ultimate Soccer
Ultimate Soccer is also a similar football game for Android that lets you build a team with footballers of your choice and play the game. There are different modes such as League or World Cup tournament where you can participate and win. You can also buy or sell players in the transfer marketplace.
10. World Soccer League
World Soccer League is also a good football game for Android similar to PES and FIFA. The game offers 60 national teams, 60 clubs and a total of 2000 players. You also have 4 gaming modes that are Exhibition, Cup, League, and Training. The only disappointment is the lack of licensed players. But there is no disappointment in the gaming experience. You can play games and share your success with your friends.
11. Soccer Kicks
Soccer Kicks is a free kick game with 3D graphics. You just have to flick the ball to kick it out. You can adjust the direction of the gall using the swipe gestures. The game offers three modes including Target, Tournament and Timed, & Practice, along with a 2 Player Mode as well. The game is easy to play with on-screen controls.
Final Words
Here are some good games Football Games for Android. If you want to enjoy football on your mobile device, you can install any of these games and start playing. Get ready to kick the ball and celebrate your win.
If you know any other good football games for Android, you can let me know. I will try those games and will see if that is worth to include in the list.