10 Best Android Launchers
Most of us love Android, don't we? Well, I am not counting iPhone fans who just want a phone to show off and have no idea of what really a phone can do. The main reason behind such a massive fan following of Android is its one-click customization features. Every Android smartphone comes with an in-built default launcher that is very boring to use again and again, repeatedly. With the availability of many Android Launchers on the Play Store, it has become a very easy task to totally change the software outlook and theme of your device.
Also see: Best icon packs for Android
Launchers give a fresh and new feel to your Android device; let it be a smartphone or a tablet. With the wide variety of options to choose from, it becomes difficult to pick the right Launcher for your device, thus we have pointed out a few of the best Launchers available on the Google Play Store so that you can get the right one.
Best Launchers for Android
Here is the list of top 10 Android Launchers you can try. You can install any of these launchers for Android and see if it suits you.
1. Nova Launcher
Nova Launcher is the best Android launcher on the play store. It is fast, customizable, and sleek. Nova makes your phone appear and work better without any lag and slowing down the performance of the device. Various options are there to work with like, changing color themes, changing icon packs, options for customizing docks and app drawers. This launcher supports thousands of icons available on the play store. It also comes with a dark theme if you prefer dark mode on your phone. It has several gestures, color schemes, and more. You can also hide apps from the app drawer without uninstalling them. Folder settings and infinite scrolling can also be changed. Nova Launcher is the best launcher in the market to tune up your phone or tablet.
Price- Free/Paid (Pro version)
2. Apex Launcher
Apex Launcher is one more excellent Android launcher with excellent features and really good performance. Its main features include abilities to customize the home screen grid size, more than 9 screens, and scrollable docks with more than 5 pages. Infinite scrolling, numerous folder styles, transition animations, and multiple app drawers increase the customizability. The paid version unlocks many more options like more drawer options, more additional gestures, and better theme support.
Price- Free/Paid (Pro version)
3. Action Launcher
Action launcher is also one of the best launchers for Android devices. It brings customization and several unique features. This launcher comes with an app drawer and supports folders on the home screen. it also has a fully customizable dock search box and widgets support. It comes with an inbuilt weather widget and has Google discover integration. The app also supports themes and icons. This Android launcher supports all Android devices including smartphones and tablers.
Price- Free
4. Microsoft Launcher
Microsoft had come out with its own Android launcher named- Arrow, which keeps all your information and apps in compact and context-sensitive pages. Now the launcher has been renamed to Microsoft Launcher. It lets you personalize the look and feel of your device. You can add wallpaper, themes, icon packs, gestures, and more. Apps get sorted according to their frequency of use, while left and right swipes let you quickly access things like contacts, recent app activity, a widgets page, and a reminders page. System settings can be changed very easily too.
This launcher is useful for those who own a Windows PC as it allows you easily transfer files and pictures between both devices. There is also a universal search that lets you search for files, apps, docs, messages, and the web.
If you want something interesting but lightweight, you should try this.
Price- Free
5. Pixel Launcher
Pixel Launcher is the most minimalist launcher that also brings in powerful features and searches functions. If you are looking for a simple to use launcher, then Pixel launcher is exactly what you are looking for. This launcher comes pre-installed on Pixel devices that are made by Google. You can swipe right on the phone's home screen to see a list of Google cards with information relevant to your internet behavior. You can also use Google Assistant and give voice commands to get your tasks done such as sending a message, playing music, and looking up contacts without even touching your device. It supports app suggestions has an app drawer and supprts app shortcuts.
Price- Free
6. Yahoo Aviate Launcher
Yahoo's Aviate Launcher is better than most of the other launcher apps in the competition. Aviate has a simple home screen and an app drawer that is automatically categorized. Aviate adjusts what info to provide on the display need right now as the day proceeds. We can easily check the weather, news, and traffic in the morning, get driving directions while we are going to work or home automatically. It also opens the music app when you plug in your earphones/headphones.
Price- Free
7. Smart Launcher 6
Smart launcher is also one of the notable launches for Android. This app is one of the oldest but developers stopped updating it and it went out from many devices. Recently, the developers launched the new version of the launcher dubbed Smart Launcher 6 with features like the ambient theme, adaptive icons, automatic app sorting, built-in clock and weather widget, and more. It features an ambient mode that automatically changes theme colors to match your wallpapers. This launcher also supports adaptive icons. You can also hide apps or keep the password protected.
It supports gestures and hotkeys for making navigation easy and the overall experience good. It also brings an option to hide apps and protect your sensitive information. It has several built-in themes and options to customize them.
Price: Free
Also see: Best iPhone launchers for Android
8. Evie Launcher
Evie Launcher is for those who focus on simplicity and speed. This launcher gives your device a clean look. It brings a permanent dock at the bottom and a search bar at the top. You can customize the layout, wallpaper, icons, icon size, and more. It has fluid animations that you will surely love. It lets you swipe down anywhere on the home screen to invoke the search. The search can find anything including contacts, apps, files, songs, and more.
Price: Free
9. Niagara Launcher
Niagara Launcher is also a good launch for Android. If you are looking for a minimalistic launcher that doesn't come with clutter or too many options, this one should be your choice. It is fast and doesn't come with many settings or options. There is also no bloatware or sponsored ads. It is also very small in size. It comes with an adaptive list that adapts to your need. It also lets you respond to notifications directly from the notifications.
Price: Free
10. POCO Launcher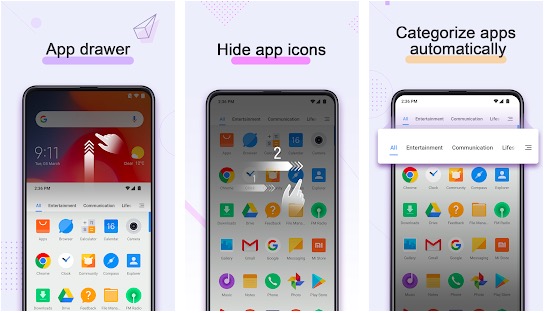 Xiaomi's POCO Launcher is one of the fastest and lightweight launchers for Android. It comes with a minimalist design. All your apps will be in the App drawer, so the home screen will be clean. You can Resize the Home screen layout and app icons. There are options for changing wallpapers, themes, and animations. You can also use third-party icon packs if you want. Apps are grouped automatically by category. It also has a dark mode in case you want that.
Price: Free
Final Words
There are many other free and paid Android launchers available in Play Store. The list I made in this article contains the best Android launchers you should try. So, read about all these launchers, check their Play Store listing for user reviews, and decide what Android launcher you should try on your phone. What Android launcher do you use on your phone? Do not forget to share it with us via comments.