Trace Phone Numbers With These 7 Best Mobile Number Tracker Apps
Unknown calls are now becoming a big problem for mobile users in India. There are many companies that randomly call people to sell their products. Most girls also get unknown calls or missed calls that irritate them. To solve these problems by not attending those unknown calls, we always want to trace the mobile number details and caller location. It's hard to get this information only by a mobile number. But few Android apps can help you to solve this problem.
There are few Android apps that can tell you the approx location of the caller, name, and mobile number operator. So, that you can guess about the caller. By using mobile number tracker apps, you can top telemarketing & spam calls.
We made this list of the best mobile number tracker apps for tracking the numbers' details. You can use any of these phone number tracker apps and know about the approx location of callers and operator names. Truecaller mobile number tracker app even tells you about the name of the caller as it has very vast data.
Also see: Phone Number Tracker Websites
Best Phone Number Tracker App for Android and iOS
These are the top, genuine, and best mobile number tracker apps that help users to get details of a call number.
1. TrueCaller:
Trucaller is the best and most used mobile number tracker app or you can say the Caller ID app. It not only traces the mobile numbers but also synchronizes the contacts of phones to make a database of phone numbers and their owners. In this way, it also tries to display the owner name (if in the database). With the increasing use of this phone number tracker app, it has millions of phone numbers and owners' databases, which makes it the best mobile number tracker app. The app also allows you to block unwanted calls.
Install Now: 
2. Eyecon:
Eyecon caller ID app protects you from spam and anonymous phone calls with its caller ID.  It syncs with Facebook and other social media channels to identify your contact's true photos to create a photo-based address book and dialer. You can see names and photos instead of numbers for unknown callers and your contacts when you are dialing or receiving calls.
Install Now:
3. Showcaller: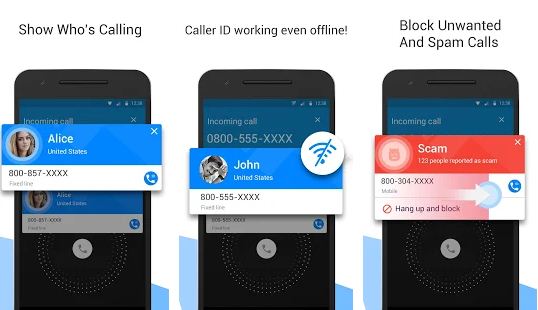 Showcaller is a powerful mobile phone number tracker, call blocker, telephone number dialer, quick number book, phone number lookup, and call recorder. It identifies unknown (fake caller id) incoming calls and avoids spam, scam, telemarketing, and robocalls. This phone number finder searches all phone numbers within its Smart Search and performs a reverse phone number lookup on an incoming call.
Install Now:
4. Whoscall:
The Whoscall caller ID App identifies unknown calls and blocks annoying spam, robocall & telemarketing.  It has over 1 billion numbers of data (incl. yellow page, website info as well as public information) from the global community. With this app, You can know about the caller's info immediately.
Install Now:
5. Phone 2 Location
Phone 2 Location is a nice Android app that helps users to find who is calling. You can get the location of incoming and outgoing calls up to the city level. It allows you to search, track and block any mobile number or fixed line (landline) phone number from the USA, India, Canada, UK, China, and other countries. This app also allows you to block unwanted calls like telemarketers, spam callers, fraud callers, etc.
Install Now: 
6. CallApp
Callapp Caller ID app is an all-in-one app where you can get Caller ID, Block numbers feature, Call Recording, and Phone number lookup. This app helps in identifying and blocking unwanted and spam calls. The Caller ID has more than 3.5 billion numbers in its database.
Install Now:
7. Caller ID by Ayamote
Caller ID app help in identifying and blocking unwanted calls, telemarketing calls, and spam calls. It is a global phone number community that can display true caller id names when you receive unknown calls just like the Trucaller app. You can also search for any phone number with its smart search system.
Install Now:
Read More, Best Fake Incoming Call Apps for Android
There are also some other mobile number tracking apps like Hiya, Mr. Number, and TrapCall which are also good. You can choose any one of the above India mobile number trackers app and find out the numbers with the owner's name and location. The mobile number tracker app can not show the name with the full address.
These are the best mobile number location tracker apps that you can use to know about callers and block spam numbers. In our opinion, Truecaller is the best mobile number tracker app but if you want to see photos of the caller you can use the Eyecon caller ID app. Do share with us your views on these mobile number tracker apps in the comment section.