10 Best iPhone Launchers for Android | 2020
Android devices are most widely used but most people want to own Apple's iPhone. If you are one of those who likes the iPhone but cannot afford one, you can start using an iPhone launcher on your Android phone to make it look like an iPhone. Android comes with options to customize the UI by using several launchers. Some of these launchers can bring iPhone like interface on your phone. The iPhone launcher for Android gives a similar look by adding the same kind of wallpaper and icons.
Also see: Best VPN apps for iPhone
We have made this list of best iPhone launchers. These iPhone launchers for Android mobiles are best to make Android just like an iPhone in terms of UI. They give your Android device the appearance of an Apple iOS operating system. 
Also read: How to get iPhone X notch in an Android phone
Best iPhone Launchers for Android
Here is the list of best iPhone launchers for Android to give your Android phone a look like iPhone.
1. iLauncher – OS
iLauncher gives the iPhone theme for Android and is a powerful home screen launcher. You can experience the super speedy and smooth operation by using this iPhone launcher. There are good customization options in this launcher with accurate transition effects and gestures.
This iOS launcher for Android is available on all devices with Android 4.1 (Jelly Bean) or higher. It is free to use but there are some features like 'unread badge count' which are available in the paid version.
2. Phone 11 Launcher
Phone X Launcher is the exact copy of iOS 11 with the same iPhone UI and wallpaper. You can feel your Android phone look like a real iPhone X. You have to give permission to read your notification to show you notifications on the lock screen. It can give you a similar experience as you get on the iPhone with this iPhone launcher.
Not just the interface, it also copes the notch. So, your Android phone will also feature a top-notch. Similar to the iPhone, it also brings a Spotlight search that works well and you can perform a similar search for finding apps and contacts.
If you are looking for a good iPhone launcher for your Android phone, why not try to copy the latest iPhone X.
3. Launcher iOS 13
Launcher iOS 13 is a new iPhone launcher app that brings iOS 13 like look and feel to Android smartphones. In case your phone has a wide notch similar to Phone 11 models, it will look exactly like the new iPhone. It brings the same kind of wallpapers, icons, and animations. It also brings iOS features like Control Center, Assistive Touch, and other options.
Launcher iOS 13 works really good and is also a highly-rated iPhone launcher available on the play store. In case you want your new Android phone feels like the latest iPhone, you can download this iPhone launcher on your phone.
4. Launcher iPhone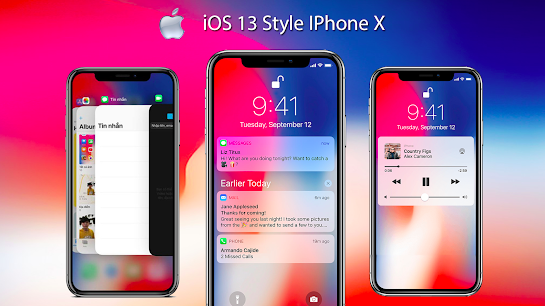 Launcher iPhone also has an ability to turn the software experience of your Android into iOS. It changes the style of your phone to iOS in one click. Soon after you enable this launcher, it will add Smart search, Smart group, iOS theme, iOS icons and iOS -like gestures. You can Swipe down to display a notification bar like iPhone X and more.
This launcher supports thousands of icon themes on play store and icons. You can set up lots of gestures and home button actions. It also lets you personalize several other things as per your own wish.
5. IPhone X Launcher
IPhone X Launcher is also a similar kind of iOS launcher for your Android phone. This iOS launcher can also bring iOS like feel to any Android phone. This is basically an iPhone X launcher that aims to add iPhone X like fee. This iPhone launcher combines Android and OS11 using a flat design style and iOS-like interface. It brings Abstract themes, 3D themes, 3D special effects, 3D weather widget and more. It also brings bunches of gestures including swipe up, swipe down and home catch activities. You can customize several things as per your own needs.
6. Launcher iOS 13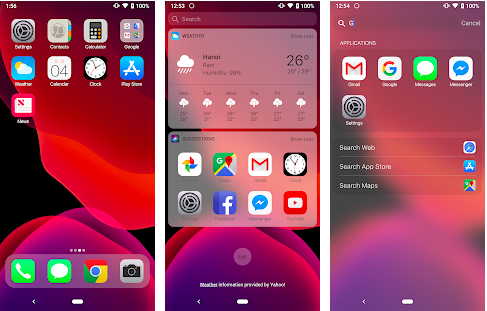 Launcher iOS 13 is also a notable iPhone launcher app for Android that brings most of the visual features you could see in iOS 13 based iPhone models. It brings dark mode and light mode similar to iOS 13. It makes the look and feel of your Android phone similar to what you see in the iPhone. It has the same kind of icons, notification bar, spotlight search, and gestures. The launcher also lets you change icons if you want and also brings Weather and Suggestion widget.
7. xOS Launcher (Discontinued)
The xOS launcher is another iPhone launcher for Android that gives iPhone like feeling while using Android devices.  It is easy to use, light and smooth launcher. The best thing about this launcher is that it does not hog memory resources, not even uses much CPU cycles. This lets the user experience, the super speedy and smooth operation.
It brings Smart widgets, Effects, Flexible theme options, and Customizable home screen. It replicates the iOS-like theme and converts the overall interface similar to the iPhone.
8. OS10 Launcher for Phone 7 (Discontinued)
OS10 is another cool iPhone launcher for Android. Soon after installing this, you can get iOS 10 like interface on your Android phone. You can also personalize your launcher by adding the icons, themes or wallpapers of your choice. It also includes a 3D Touch icon by adding a long press context menu.
OS10 launcher also comes with several features like Hide App, OS search, OS booster ad OS master. OS booster cleans memory to boost the performance. OS search is similar to the Spotlight search of iOS.
9. iLauncher OS 12 (Discontinued)
This is also one of the best iPhone launchers that bring iOS 12 like interface on your Android phone. You can also customize it by applying themes, wallpapers, and icons. It also brings iOS-like notification and lock screen. It also includes 3D Touch like function. It also brings iOS like the control panel.
You can also create a folder to arrange icons. It also brings the option to quickly uninstall apps. It also smartly arrange apps into categories based on functionality.
10. One Launcher (Discontinued)
One Launcher is one of the best iPhone launchers that let you apply iOS-like interface on the Android phone to get iPhone like a look. It is an easy-to-use launcher for Android that does not hog your memory resources and not uses up your CPU cycles.
It is not an exact copy of iOS but gives a similar look and feel. It is also able to deliver the same iOS transition effects, along with displaying icon packs and system icons. One launcher lets you choose from various transition effects. There are also several effects to use. The launcher lets you use different themes from launcher's theme store. It also features SingleHandMode. You can customize the home screen with lots of theme options.
The One launcher for Android is available for free to download. And this is how you can make an Android phone look like an iPhone.  Just install the launcher and activate it.
Final Words
These are some best iPhone launchers for Android devices. You can use any of them to make your Android device just like an iPhone. Your android device will have iPhones like wallpapers, transition effects, and icons. There are so many other iPhone launchers but not all are worthy of your time. So, you can use any of the given in this list. We will keep updating this list when we have some new good iPhone launchers for Android. There have been a few good iPhone launchers in the past but the companies behind those discontinued the apps. Now we have fewer options, but the given iPhone Launchers for Android work well.
Do share your experiences with us after using these launchers for Android.