The ability to customize your phone is the most important thing I like about an Android phone. You can personalize your phone by adding wallpaper, themes, fonts, icons, transition effects, and more. There are lots of Android launchers, lock screen replacements, widgets, and icons to try. This article is about the icons.
Also see: Best Wallpaper apps for Android
In this article, I am listing the best icon packs to download and customize your phone. Most of these icon packs require you to download and install a launcher before you download the icon. It is because the launcher gives you the ability to change the icons. Some icons pack just come with an app to allow the customization. And the good thing is that you do not need to root your phone to enjoy any of these icons pack. So, without wasting the time, let's see the list of best icon packs for Android.
Best icon packs for Android Phone
1. Minimal O – Icon Pack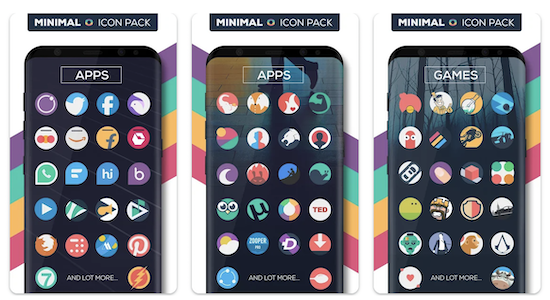 Minimal O – Icon Pack is one of the most beautiful icon packs available for Android smartphones. This icon pack replaces the existing icons of your phone with beautiful new icons. The icons pack includes more than 6450 icons. Even if there is no replacement icon for an app, you find several choices to choose from. The app has a category-based icons grid. It also includes more than 0 unique and supreme wallpapers.
2. Moonshine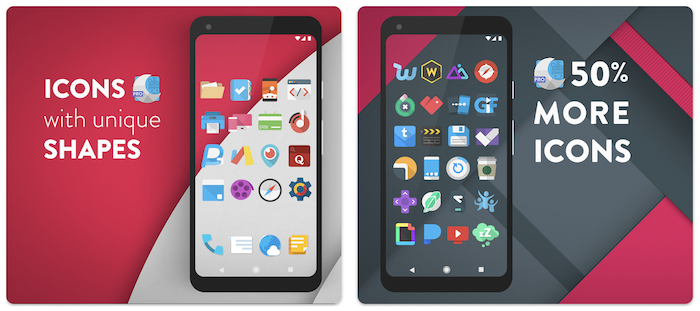 Moonshine is also one of the best icons pack for Android. For using this icon pack, you need to download a custom Android launcher. After that, the app automatically replaces icons. These icons have sharp edges and bright colors to give your Android device a good look and feel. The app also has a premium version with more than 500 additional icons and 100+ Material Design-inspired HD wallpapers. It also comes with 2 battery widgets.
3. Rondo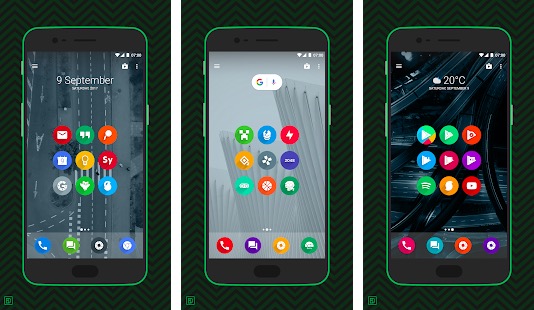 Rondo brings flat-style icons to Android smartphones. The pack comes with more than 5000+ high-quality icons across 25 different categories to give your phone a better look. The app gets regular updates and new icons are added regularly. Along with icons, you also get 20 wallpapers. The app keeps getting regular updates and support.
4. Pix UI Icon Pack 2
Pix UI Icon Pack 2 is the best Material Design themed icon pack for Android. It comes with more than 6100 icons along with an icon masking feature. So, you can even theme the icons of apps that are not supported. This icon pack requires a custom android launcher like apex, nova, etc. to work. It won't work with the Google Now Launcher, Pixel Launcher, and a few more default launchers
5. Whicons
I personally love Whicons because it gives your Android phone a minimal look. The app brings white icons to give your phone a minimally-themed home screen. It brings 7606 icons that cover more than 33100 apps. It also has dynamic calendar icon support. You can also request an icon if you want. The app supports most of the popular Android launchers. So, it is a good choice for Android users who want to customize the look of their smartphone.
6. 7-Bit – Retro Theme
This beautiful icon pack includes retro-themed pixelized icons and custom HD wallpapers. Each icon has been designed to create a retro 80s look. The icon pack has 2,500+ hand-crafted icons. The app also includes a Wallpaper picker.
7. Zwart – Black Icon Pack
Zwart is a black icons pack that comes with more than 7600 icons and wallpapers. The app claims that icons cover more than 33100 apps. It supports most of the popular Android launchers available for Android. The icons pack also supports Dynamic Calendar Icon.
8. Viral Icon Pack
Viral Icon Pack is also one of the best icons pack for Android. The icons pack has Over 6000 dark stylized icons. Icons have an ultra HD filter color design with beautiful glow effects. Like several other icons pack, it also has dynamic calendar support. Icons have several alternate colors and icon styles. You can also send missing icon requests.
9. Delta
Delta brings icons that feature muted colors. This makes Delta different from others. This pack includes 4000 hand-designed Icons and supports 20+ Android launchers. This icon pack is really popular and received appreciation from several publications.
10. CandyCons
CandyCons come with 690 carefully crafted icons. These icons are colorful and come in different shapes. Some icons even have an alternative to choose from. This icon pack supports 27 popular Android Launchers including ADW, Apex, Go, Holo, Epic, Aviate, Atom, KitKat, and CyanogenMod Theme Engine.
11. Gel Icons
Gel Icons pack offers just white icons. As the icons come with a transparent background, it works fine on both dark and light background. These icons are simple, round, and look minimalist on your Android home screen. There are 1000 icons in this icon pack. This icon pack also supports a wide range of Android launchers including Smart, Nova, Apex, Aviate, Action, Holo, and more.
Also see: Call Recording Apps for Android
Final Words
This list has more than 10 beautiful icons pack to give your Android phone's UI a makeover. All these icons pack are used by millions of users and have a good rating. So, you can check this list and install one that suits you. Android has lots of other icon packs on the Google Play Store. If you are not satisfied with the icons, I added to this list, you can look for others on Google Play Store and see if you get any good icons other. If you use any other beautiful icon packs that I didn't mention in this list, do not forget to mention that in the comment.
Also see: Smartphone Wallpapers