12 Most Useful Apps for Android in Your Daily Life
The recent decade has witnessed an evolution of technology. Apps have magically simplified our life. They are no doubt developed to upgrade our way of living. There are apps for education, information, business, communication, navigation, entertainment, and whatnot. But then there are few such applications that are must-haves in your smartphone. They help us with the day-to-day activities and ease our work.
The apps have become such an important part of life that we even can't imagine life without it. We have depended on apps for almost every task.
Therefore, we have done research on useful apps and made this list of must-have apps for Android. Here are the best and most important android apps that support us every day. You can install all of them and make your life easy.
Most useful apps for android
Below are the most useful apps for android for daily life that can help you in your daily routine:
1. Money Management App
If you are not tensed and can't keep your money record, the money management apps are for you. These apps help you by keeping all your spending and help you in managing your money. There are many apps out there but our personal favorite is Walnut. You can also install the Goodbudget app and Money View.
Here is the list of best money management apps if you want more options: Best Money Management Apps for Android and iOS
Walnut: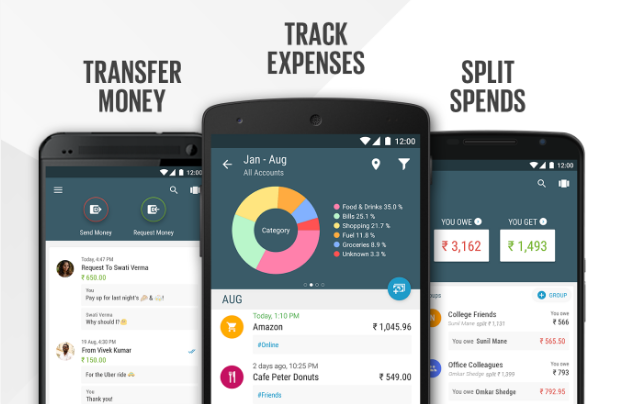 Walnut is the money management app that helps you in keeping an eye on your money and savings. It automatically but securely tracks your all monthly spending & pay bills. This useful app keeps track of your monthly ATM withdrawals, analyses your SMS inbox on your phone, add notes, tags, and bill/receipt photos to transactions, and detects important information related to spending, bills, and tickets. The wallet also tracks credit card dues so that you have control over your expenses.
2. Note Taking App:
Almost all smartphones have pre-installed note-taking apps. But most of the time they are not good enough to fulfill all the needs. So, there is more good Note-taking apps in the app store that you can use instead of pre-installed apps. Our personal favorite one is Evernote.
Here is the list of other best apps for taking notes: Best Note-taking Apps for Android
Evernote:
Evernote, a cloud-based software service is a note-taking app. It stores all the data in a systematic and well-organized manner. The app is meant for multiple platforms. The features include creating notes and to-do lists in various formats. One can attach sketches, audio photos, videos, PDFs etcetera. Documents can be captured and scanned to be attached. The web Clipper helps the user to extend the web browser and capture anything. Similarly, Skitch allows users to add shapes and texts to an image. The list does not end here; Atlas feature is meant to geocode one's notes for them on interactive apps. There are enough options for everyone; the free version, Evernote Plus, and Evernote Premium are meant to suit the varied demands. One can connect with other Evernote users and share their ideas. The app is free for Android users.
Read More: 5 Best Document Scanner Apps for smartphones
3. Time Management Apps
The time management apps help in managing your daily task so that you have managed time to do every task. These apps also remind you about the important work that you have to do. The time management apps boost your productivity and make you smart.
Our personal favorite app for managing time is Any.do. Here is the list of others: Best Time Management Apps for Boosting Your Productivity
Any.do: To-do list, Calendar, Reminders & Planner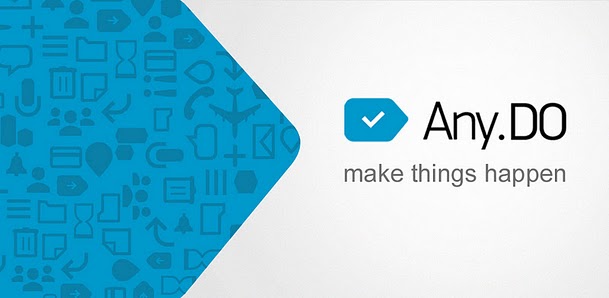 Any.do is a must-have app that keeps your life under control and gets work done on time. It is all in one app which is able to complete many tasks. It has to-to-list, calendar, reminders and daily planner in one app. You can sync your all devices like mobile, desktop, web and tablet and get a reminder for the task you saved.
This app also supports voice entry to save the task. You can share your lists with family members, assign tasks to each other, chat and much more with this app. All these features make this app the best app for time management.
4. Connect your PC to Mobile
There are apps that can transfer your files from your mobile to your PC and vice-versa. These apps transfer data very fast and are very easy to use. Airdroid is famous and our favorite app to transfer files from android to PC.
This is a must-have app for your smartphone if you regularly need to transfer files from phone to PC and vice versa.
Here are a few more Android apps to transfer files from Android to PC quickly
Airdroid:
AirDroid is a popular and useful app for Android that you can use to access your smartphone remotely from your PC. You don't need to connect your smartphone to a PC to transfer files. With the help of this app, you can remotely transfer files from your PC to phone or phone to PC.
Airdroid also lets you use your smartphone's camera remotely. You can also call or send SMS from your smartphone remotely using the Airdroid app. If you have any new notification on your smartphone, it will show you on the desktop.
5. Fitness App
Fitness is very necessary for day-to-day life. There are many apps out there in the app store that are free and have the best fitness training sessions. These fitness apps track your number of steps, weight, calories, and weight. They also have fitness trainers who can help you to achieve your target.
Healthify me is my personal favorite app but there are many other good fitness apps also. You can find them here: Best Free Fitness Apps For Android
HealthifyMe
Health is wealth. Our hectic lifestyle does not give us the liberty be punctual to the gym. But HealthifyMe app makes it possible to take care of our health and fitness. The app is specially designed for home workouts. The user is asked to enter their height and weight followed by which, they can set goals for themselves. You can track your daily meals in this app and check the calories consumed on daily basis. This app is definitely a fantastic alternative and aimed to keep everyone physically fit.
6. Photo Editing Apps
The photo editing apps became more popular after the popularity of cameras on smartphone. You can edit any image with the help of a photo editing app and enhance the color, quality, add filters and effects. Our favorite app is Snapseed and Lightroom. Here is the list of some other photo editing must-have apps:  Best Photo Filter and Effects Apps for Android
Snapseed: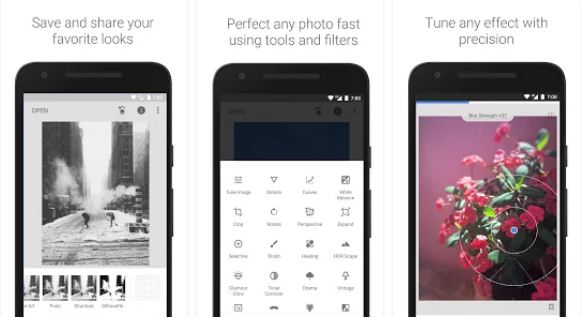 Though we can't freeze the passing moment, we can always frame it. Snapseed is the most preferred app by Photography enthusiasts. Originally developed for iPad, the app was later designed for iPhones, Windows and finally Android. This photo editing app has countless features. Right from filters to lighting effects, tonal contrasts, curves, double exposure, frames etcetera. To make the whole experience lot simpler there are online tutorials available. This is not only meant for professionals but also meant for everyone who has believed in the beauty of pictures. Snapseed is available free of cost on Google Play.
7. File Sharing Apps
Transferring files with Bluetooth takes too much time. If you want to transfer a file from one mobile other, there are a few good and fast apps. These apps can send large files in a few seconds. This app is very important and should be on everybody's phone for sharing files.
SHAREit is the most popular file-sharing app for Android. But this app has too many ads that can irritate you. So, you can use XENDER. Xender has a faster file sharing speed than SHAREit and it has no ads.
SHAREit: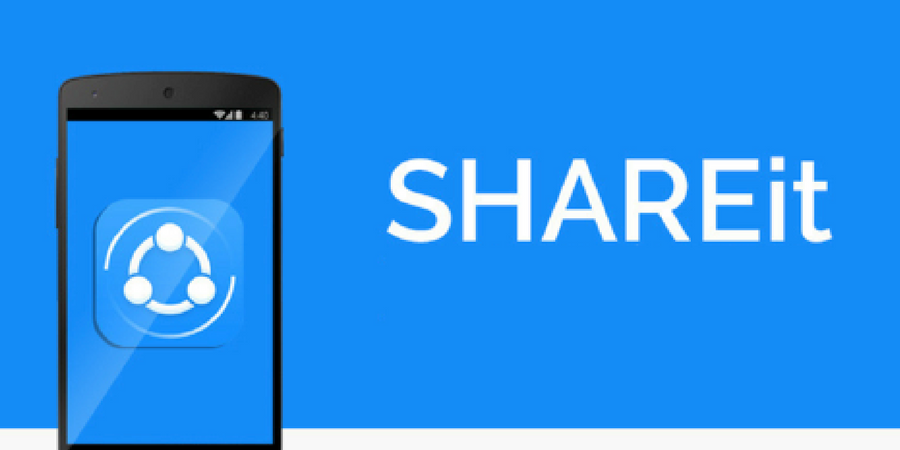 SHAREit is a cross-platform file-sharing app. It is available for Android, iOS, Windows Phone, Windows and Mac platforms. So, you can transfer files between any devices running on supported platforms. If you combine users of all platforms, SHAREit boasts of having over 1 billion users.
It is very fast at transferring data. Even, you can transfer a movie of 1GB in just a few seconds.
Read this before installing: SHAREit Review: A Must-have app on your android mobile phone
8. Language Learning App
These apps might be helpful for you if you want to learn a new language or want to refine your language. Duolingo is our favorite but you can choose others from here: Best Free Language Learning apps
Duolingo:
Duolingo is a language learning app that helps you learn a new language. You can learn Spanish, French, German, Italian, Portuguese, Dutch, Irish, Danish, Swedish, Russian, Ukrainian, Esperanto, Polish, Turkish, and English through this app. The best part about this app is that it doesn't give all information at once.  It tailors the information and caters to you through mini-games and classes.
9. TV Apps
If you are a college student or don't have a TV in your place, then these apps are the best and must-have for you. You can watch any serials or movies at any time. Even the live matches are there in these apps. We recommend you Hotstar, but the choice is yours. Here is the list of best TV apps: Best TV Apps for watching your favorite shows on smartphone
Hotstar: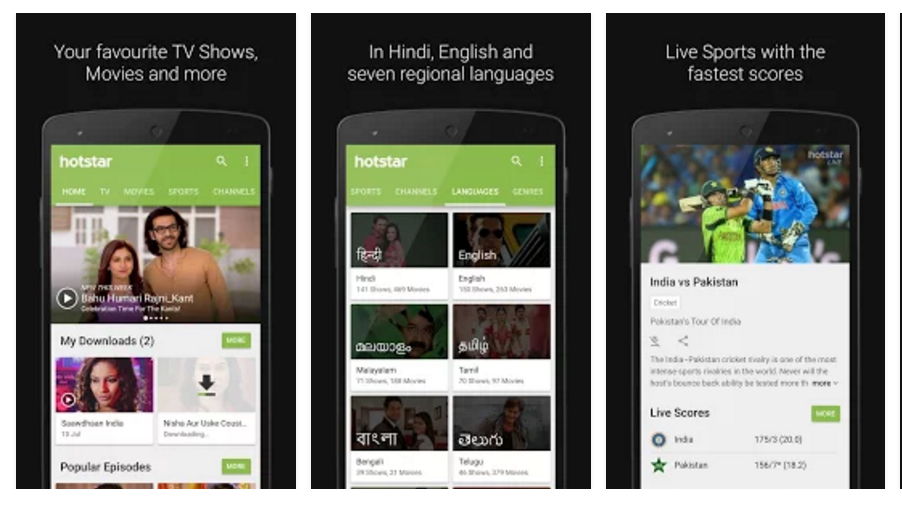 If you don't have access to television, this app keeps you entertained without a television. This app has almost all the tv serials and movies. You can even watch live sports on this app. The monthly subscription of this app is also very low. If you want an app other than Youtube to keep yourself entertained, do keep this app on your smartphone. This is the best app for entertainment.
Also, Read Best TV Apps for watching your favorite shows on your smartphone
10. Cab Booking Apps
This app is a very important and necessary app on your smartphone. You can book a cab from anywhere in the city and at any time. No need to have a personal car. These cab services are economical and safe. We recommend you to install Ola or Uber as per your choice.
Ola: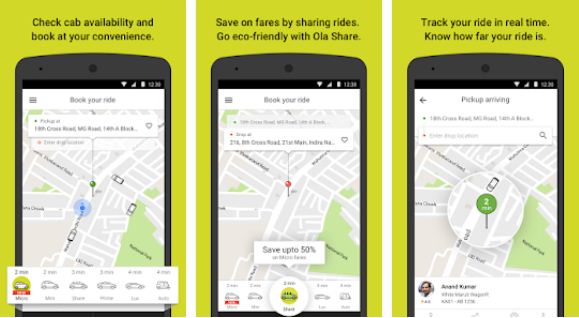 The Ola is Taxi, Auto, Car Booking app that you can use if you want a personal vehicle for rent. It is the best and most popular app in India because of its easy availability. Ola cabs app offers the easiest & fastest way to book a ride. It has all ranges from cheapest AC taxi to top-of-the-line luxury cars
You can also go for Uber if you want. It also has good car rental services.
11. Food Delivery Apps
This list will incomplete if we don't add a food delivery app to this list of must-have apps. Nowadays, people are preferring to order online and eat at home instead of going out after the office. They don't want to stick in traffic or spend time going to the restaurant.
Swiggy, Foodpanda, Ubereatsare few examples of food delivery apps. You can use any of them that has good reach in your area. I am listing Swiggy here as it is my personal favorite.
Swiggy: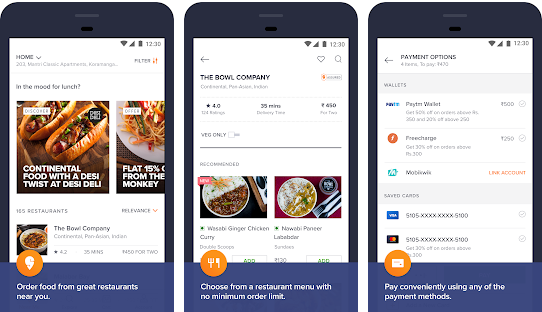 Swiggy is a food delivery app. You can order food & beverages online from restaurants near you. The delivery service is fast and good. You can even live track the delivery person in this app.
Also see: Best Food Delivery Apps to Order Food Online in India
12. Music Apps
Listen to your favorite music online via the music app. The music apps have all the latest songs' playlists and radios. You can your music anywhere and anytime by using these apps. I personally use Saavn and Gaana music app.
Gaana: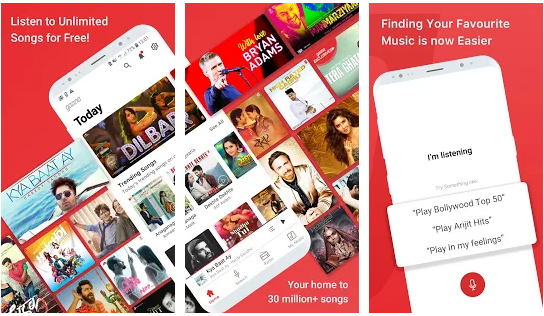 The Gaana is one-stop music streaming app that has all your favorite songs. Gaana offers you free and unlimited online access to all your favorite Hollywood songs, Hindi Songs, Bollywood Music, Regional Music & Radio.
Read More, Best Free Android Music Player Apps
These are the most useful apps for android that you can use daily on your smartphone. These are very helpful in making your daily life very easy. Do share your experiences with us after using these useful apps on your android device. You can share with us about other useful apps for android that you think are very useful.