12 Best Horoscope Apps for Android and iOS
Everyone goes through a phase in life, where they require some motivation and positivity to move forward with their lives, it happens to all of us, doesn't it? Just one sign or some words of encouragement to assure you that your day might be amazing or the odds might be in your favor. Even if you are not much into astrology, it's not as gimmicky and superficial as it sounds.  If daily horoscope readings entice you or you simply want to know what your day has in store for you then these horoscope apps can be your one-stop.
The horoscope app gives detailed information on each of your planetary positions and their positive and negative effects with easy-to-understand summary sections. It focuses on the path of the Moon and how it is affecting your birth planets. You can check your daily, weekly, monthly, or yearly horoscope in the best horoscope apps.
There are lots of horoscope apps available for both Android n and iOS platforms. We have tested a few and made a list of the best horoscope apps. We are not sure if the prediction they made is true. So, we have prepared the list based on user experience. If you are looking for good horoscope apps, check out our list of best horoscope apps.
Also see: Best Shopping Apps
Best Horoscope Apps
Here are the best Horoscope apps for Android and iOS. I have also added the download links along with the description. Check the horoscope app for free.
1. Daily Horoscope by

Comitic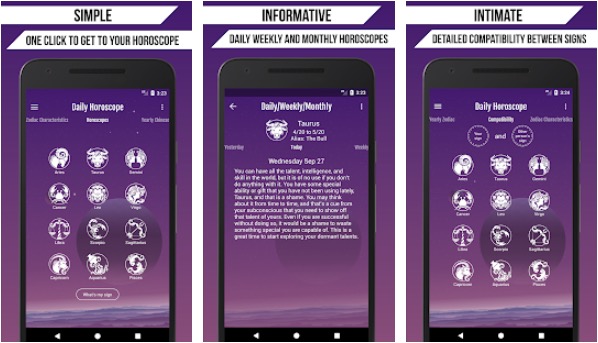 Probably the most popular horoscope application on Android. It is highly rated and has over a million users. It is equally popular on iOS as well.
Daily Horoscope covers all the zodiac sun signs with daily, weekly, and monthly horoscope, and offer extensive compatibility readings for any two zodiac signs. The compatibility section covers friendship, love, family aspects, and business for every combination of any two signs. This application doesn't ask for any permission and is safe to use. Moreover, this application will daily remind you to go through your horoscope every day.
2. Yodha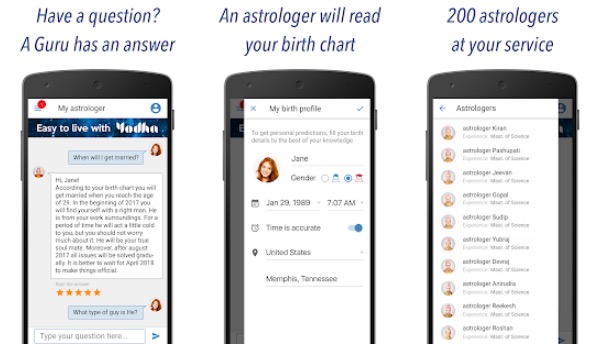 Yodha is another good Astrology app with a really nice concept. This app has several astrologers on board who gives you advice and answers to your queries. The app is free to download but you will be charged for asking personal questions. The app offers free weekly horoscopes and predictions. You also get Gifts and promotional bonuses with time.
3. AstroSage Kundli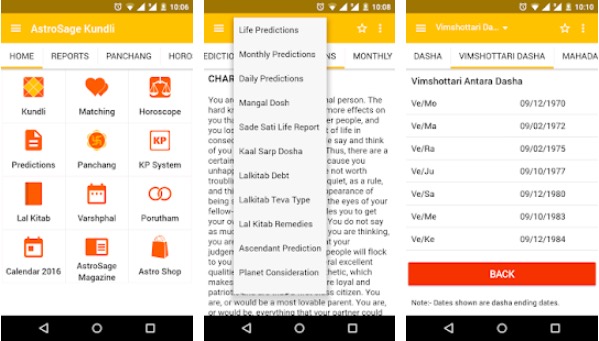 This is an all-in-one application consisting of Kundli, astrology, horoscope matching, and the Hindu calendar all in one. It is specially designed keeping in mind the diverse nature o Indian astrology comprising Hindu astrology and Vedic astrology. For instant calculations and for features like exporting charts this application could work for you.
Also see: Fake GPS Apps
4. iHoroscope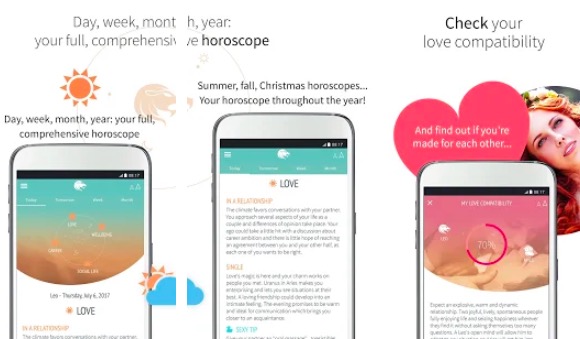 Read your horoscope for free of cost today, tomorrow, the week, month or even year on your phone. Its main features are seasonal horoscope, love reading, and love compatibility.
Know about the planets that govern your career, love life, friendships, and health. With the assistance of professional astrologers, this application will accurately tell you about your future.
5. My Horoscope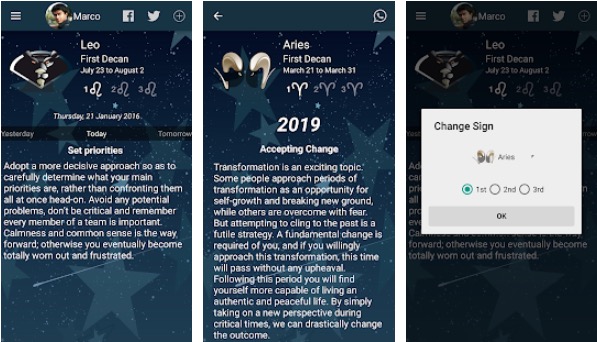 Have a look at your daily horoscope with all the insights made by astrology professionals. Its. main features include a seven-day horoscope, sharing on various social platforms, and a multilingual reading. The app provides detailed profiles for each zodiac sign, including personality traits, strengths, and weaknesses. You can enable push notifications so that you are daily reminded to have a look at the outline of your day, week, or month. The app has a user-friendly interface that allows users to easily navigate through different features and access their horoscopes.
6. Sun Signs: Horoscopes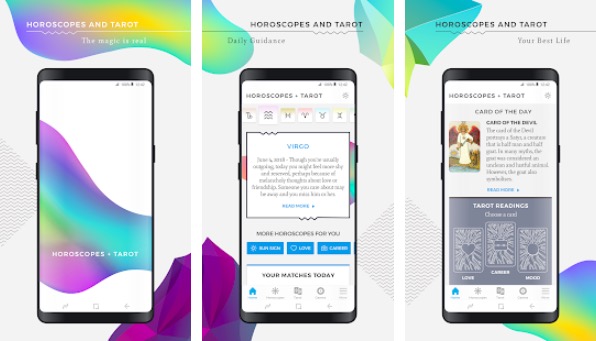 Like other apps, it gives daily horoscopes for all 12 zodiac signs and also provides insights on love, career, and other aspects of life. The app has a team of expert astrologers, psychics, and tarot card readers to provide the best advice for all zodiac signs. Tarot card reading is also available for different things. You can also use the app to evaluate your next romantic match. Users can customize the app by selecting their zodiac sign and setting custom notifications for daily horoscopes.
7. Astrolis Horoscopes and Tarot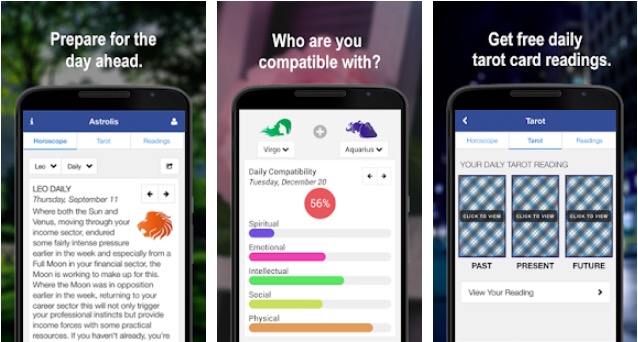 This is also an interesting horoscope app for Android and iOS devices. The app uses planetary positions to provide relevant and timely horoscopes. The app gives you quick insights into your future career and love life. You can enter your details to get personalized horoscope data. The app also provides tarot readings. The app also offers daily horoscopes based on users' zodiac signs. It provides insights on love, career, and other aspects of life. You also get free tarot readings, including three-card, love, and career readings. Users can set custom notifications for daily horoscopes and tarot readings.
8. Astro Guru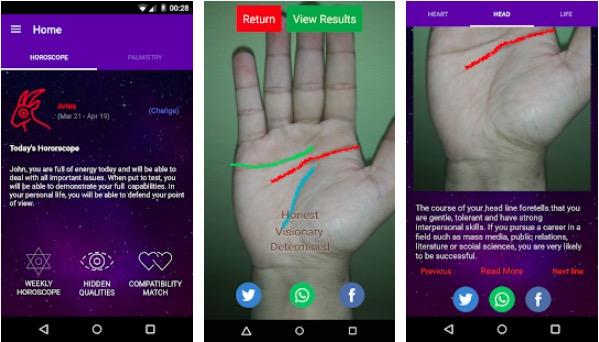 With this highly reviewed application, Astroguru you can get an insight into what is in store for you. This is a unique forecast app that provides you with predictions and readings. Astroguru is the only application that gives you accurate palmistry projections by actually first scanning and then reading your palm. With your readings available in over 20 languages including Spanish, German, Japanese, and Thai, This application makes a great choice for your requirements.
Download: Android
9. Kismet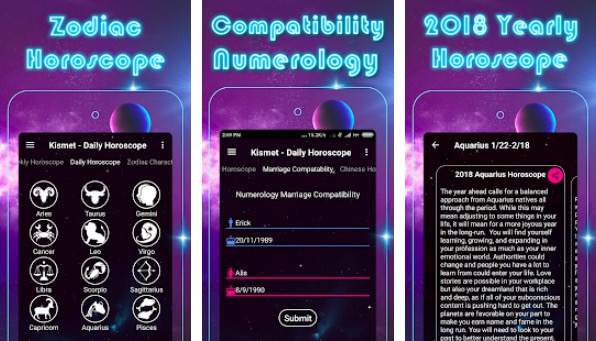 With this incredible app, you can access and through your horoscope right from your phone. It is one of the most popular astrology apps on Google Play with extremely high ratings. You can get to know what the stars have in store for your future. The daily horoscopes are made by experienced and professional astrologers using the best methods of classical astrology.
Download: Android
10. Astrology and Horoscope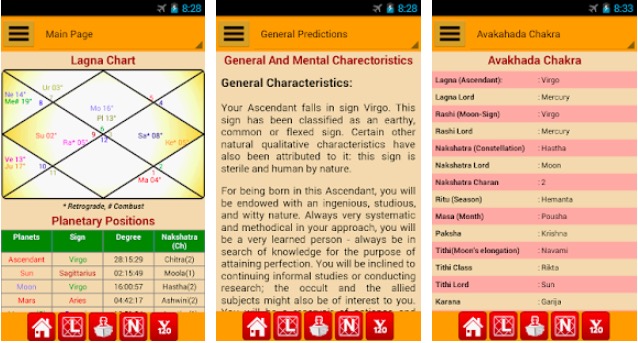 This highly reviewed and rated application features a ton of tarot card readings, horoscopes, links to psychic readings, premium games, and also so much more. If you need astrological advice and wisdom updates on your zodiac sign from astrological experts then don't forget to go through this application. Not only this but it also features in-depth Chinese horoscopes, and daily tarot card readings. You can also use the wisdom from ancient astrology to evaluate the romance in your life.
Download: Android
11. TimePassages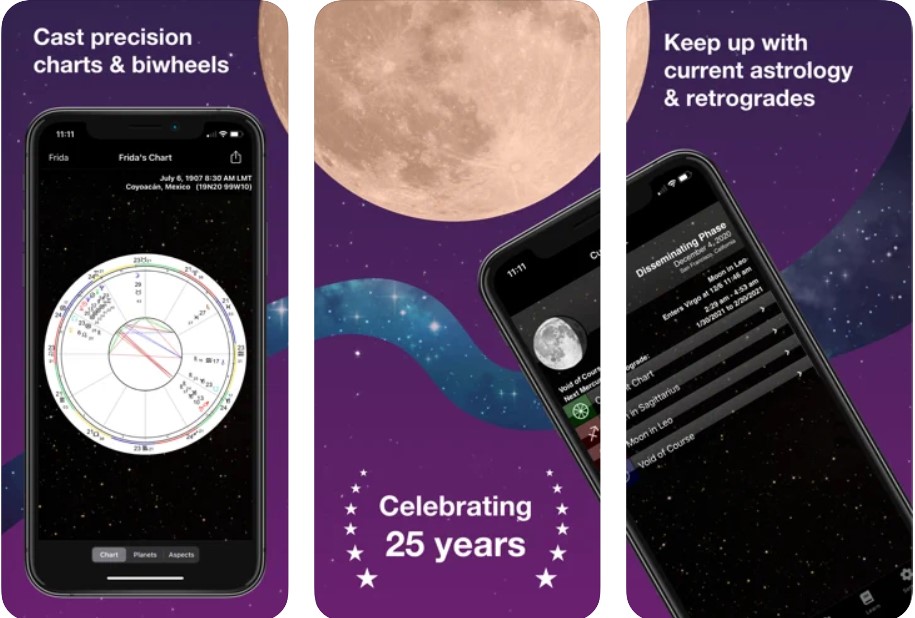 TimePassages horoscope app is for beginners as well as experienced astrologers. You can check free daily horoscopes and discover the meanings behind your Sun sign, Moon sign, and Rising sign. You can also learn even more about planetary bodies with the help of this app.
For making a profile in it, you just have to enter your birth information and the app instantly generates your personal astrology dashboard with your astrology chart and interpretations of each chart feature. To make it more personalized you can add a photo from your camera roll.
12. AstroMatrix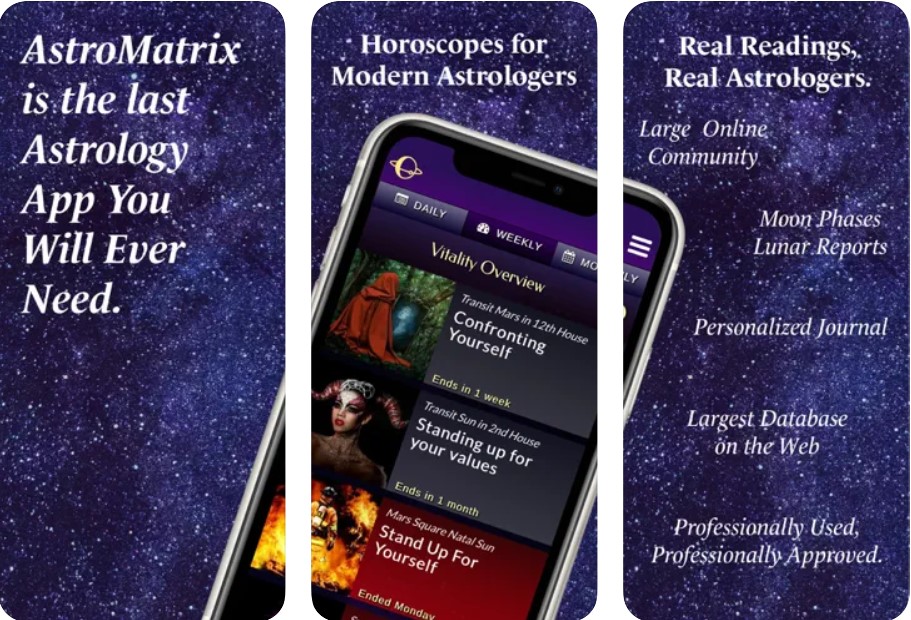 AstroMatrix is an all-in-one Astrology app for anyone who loves to check their horoscope. This app has a huge database that can create in-depth & comprehensive reports on every aspect of your horoscope. You just have to enter your date of birth, time, and place of birth and this app gives you daily tarot readings to hyper-specific & real-time Astrology Reports.
The company claimed that AstroMatrix is one of the most elaborate apps for Astrology & Horoscopes around. The app is free and has a subscription for full access for 6 months ($9.99 USD) and 1 Year ($14.99 USD) durations.
Read More, 30+ Cool and Interesting Websites that You Must Try
With this, we come to an end with the best horoscope applications available for you out there. There are many other horoscope apps on Playstore and Appstore but not all are trusted ones. Be careful to give your personal information to anyone. If you are looking for horoscope apps free, You have the list. Choose the right one, which is best suitable for your requirements.