7 Best Photo Filter and Effects Apps for Android
Smartphones are now becoming primary camera devices for most of the users. In this social media generation, people want to capture photos and share on social media to get more likes and comments. This is the reason, many photo-sharing apps are now becoming popular. Most of the people do not want to share the original photos but they add various effects to make the photo more attractive. This is why there are various photo filters and effects apps. In this post, I am adding a list of best photo filters and effects apps for Android devices.
Also see: Best Free Video editor apps for Android
Best Photo Filter Apps for Android
Here is a list of best photo filter apps to add cool filters and effects on your photos.
1. Candy Camera for Selfie
Candy Camera is a nice photo effect app for selfie crazy people. This app offers various options to capture a perfect selfie from your smartphone's camera. There are various filters to add in the selfie to make it much better than the original. You can also try beauty-related settings to beautify your face. There are various stickers to decorate your photos and you can also create a collage of your photos.
2. Snapseed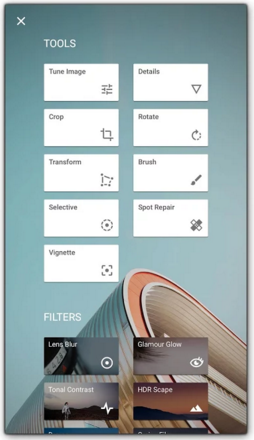 Snapseed is the app by Google which comes with various features to make your photo looks attractive but realistic. You can use lens blur, various effects, filters, and adjustments to make your photo much better. There are also various other options like tune image, crop, rotate and transform. You must try this app once.
3. Instagram
I don't think Instagram needs any kind of introduction. This is a Facebook-owned popular photo-sharing app where users can share photos by adding filters to make photos more attractive. There is also an option to share a photo with friends, add comments and also share these photos on other social networks.
4. Retrica
Retrica is a simple camera and photo-sharing app with features like live filters, editing, social sharing and more. You can capture the photo, add filters and share it with friends. There are more than 100 real-time filters in the app. You can also create a collage of existing photos. There is also a photo messenger to send photos privately to friends. With the timer, you can also capture your photos from a distance.
5. Lenka
Lenka is a simple but nice app for adding black and white filter in a photo. Yes, it is a dedicated black & white camera app for professionals & amateurs to create beautiful black & white photographs. You can crop, rotate, zoom, and adjust contrast. This app can also work as a camera app to capture black & white photos. If you love black and white photography, you will love this app.
6. Prisma
Prisma brings art filters and allows you to turn your photos into arts. You can make your photos look like paintings made by Picasso, Munch, or even Salvador Dali himself. There are over 300 filters to try and the company adds new regularly. It uses AI to implement the art filters and convert your photos into a masterpiece. So, you should not miss this app.
7. Polarr Photo Editor
Polarr is a good photo editing app with lots of editing options and filters. It has lots of artistic tools and effects to tr. You can also create your own filters. You can add dual-lens effects, custom overlays, masks and adjust depth information. Along with basic filters, there are also pro filters to try.
Final Words
Here are few best photo filters and editing apps to try. I personally use Snapseed that allows me to edit images like a pro photographer with easy to use tools. Prisma is also one of my favorite photo filter apps. If you want to add good effects on your photos to improve it and share the best of you on social media, do not forget to try these apps.