In this busy life, many people are suffering from problems related to health. With the advancement of technology, most of the work is now done by machines. So, people don't have to deal with much physical work. This is the reason most health issues are due is weight gaining. Obesity can lead to high blood pressure, Stroke, Gallbladder disease, diabetes, and many deadly diseases. This is the reason we should take care of our fitness. If you do not have time to join a gym, you can use a good fitness app to get a fitness schedule and track your fitness routine. We are here with some best fitness apps for Android that will keep you fit and healthy. These apps help you in seeing your everyday exercise and can help you think about your life in a new way. Start with small changes that can lead to a fitter lifestyle and healthier habits.
Also see:
Best fitness apps for Android
Have a look at our list of the best fitness apps for Android. I have also included the download links.
1. Pedometer (Free):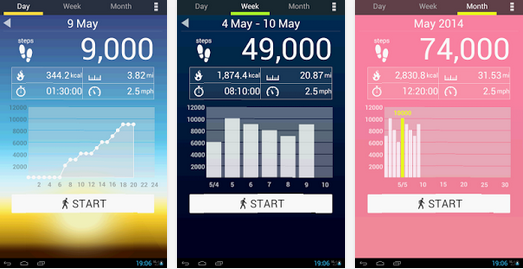 Pedometer is a fitness app that records the number of steps you have walked and display the total on the screen. Along with steps, it also shows calories burnt, walking time, and also speed per hour. For using this app you have to always hold your Smartphone so that it counts your number of steps effectively. It also asks you to enter your age, gender, weight, and step length accurately for giving you the accurate number of burned calories. A graph is also formed according to the number of steps you take per hour. Touch the graph to highlight information data for a specific time or date.
2. Google fit (Free):
With this app, you can make your art of living healthy by becoming more active, aware, and motivated. You can track your activity like walking, cycling, running, etc.  You can set your daily goals based on distances, calories burnt, and duration and see your progress of the day.
This app is compatible with all android wear devices. So, you can also track your workouts using your smartwatches.
3. MyFitnessPal
MyFitnessPal is one of the most popular workout apps and fitness apps for Android. You can use this app to track calories with the available database of over six million different foods. Enter what you eat and track how many calories you have consumed. The app also logs your exercise.
Create your goals and start working on your fitness. The app can help you in losing weight, gaining weight, and weight maintenance goals.
4. Map My Run
As the name suggests, the app tracks your running and shows it on the map. But it is not just limited to running. It logs over 600+ activities including running, cycling, walking, gym workouts, cross-training, yoga, and more. It also provides audio feedback on every GPS-tracked run and shows your running on Maps. It also allows you to control music and incoming calls directly from the app.
You can also join a community of people who are also into fitness. They can motivate you to be more active and work towards your fitness. The app also has some premium features that include audio coaching.
Also see: Best Music Downloader apps for Android
5. Runtastic Running App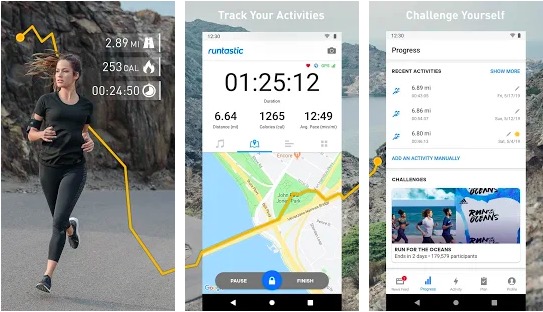 Runtastic Running App is for those who need a good app to track their running. It monitors running statistics to analyze your training patterns. The app also offers audio feedback from the Voice Coach. You can also set your running goals and try to achieve that. The app also supports Android wear and lets you share your success on Facebook and Twitter directly from the Android Wear smartwatch.
6. Workout Trainer (Free)
This app has thousands of free workout and premium training programs that can help you to achieve your fitness goals. This app basically gives you a fitness trainer who guides you through exercises with step-by-step audio, photo, and video instruction. You Geet an option to adjust the difficulty levels of workouts. This app is perfect for those who want to get in shape without using any exercise equipment.
If you are impressed with free training programs, you can also go and buy PRO+ membership that brings access to over 100 multi-week training programs, PRO-only workouts, advanced heart rate analysis, and PRO-only forums.
7. Daily yoga- Fitness On-the-Go (Free)
Daily yoga is the world's most popular yoga coaching which guards your health every day with your own yoga studio. It has 50 yoga classes, 400+ yoga poses, HD videos, a live voice guide, and music with a social community option. Yoga sessions are available for different durations varied from 5 – 70 mins. There are also few specially designed meditations with an online coach guide.
There are 7 yoga plans for beginners, fitness, weight loss, strength, flexibility, relaxation, balance, menstruation, etc. The app also has Google Fit support
8. Argus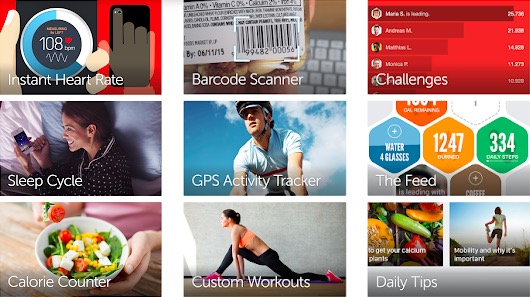 Argus is a similar kind of fitness app that monitors your sleep, heart rate, calories, and more. You also get challenges to overcome. You can create your workout plan and follow it. For counting calories you consumed, the app allows you to enter items manually or by scanning a bar code.
9. Nike Training Club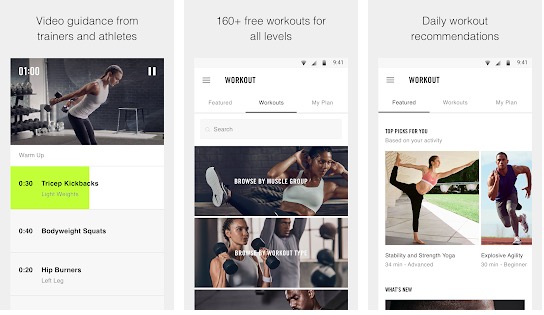 It offers several 30- to 45-minute workouts and detailed suggestions based on your own personal fitness goals. It shows proper photos and video demonstrations so that you can easily understand how to properly execute each exercise. It also offers a set of recommended workouts and expert advice to help you focus on your routine. There are several workout levels that you can select based on your need.
10. FitnessBuilder
FitnessBuilder comes with a diverse catalog of workouts designed to help you at the gym. It has hundreds of videos that are easy to understand how to do a specific workout. The app is free and offers over 400 workouts in 16 multi-week fitness plans as well as a complete body stat tracker. You need to create an account for accessing the workout or fitness plans. The good thing is that the free version of the app also doesn't show any ads. There is also a premium subscription with better options.
11. Runkeeper
Runkeeper allows you to use your phone's GPS to log your running pace and distance on a route. Set goals and follow the plan. The app offers personalized routines to fit into your busy schedule. It also has a stopwatch mode for indoor cardio (treadmill, cycling) and gym workouts. You can track different workouts including running, walking, jogging, bike, and more. The app also offers personalized routines to fit into your busy schedule. You can Alsop join challenges and share achievements with your friends.
12. FitNotes
FitNotes is a workout tracker app with a clean design and no ads. The app lets you add an exercise to the workout log and record your workout sets. You can check the workout logs anytime you want. The app also has a rest timer with sound and vibration. The app also includes an exercise database with a default selection of categories. Each category contains a list of exercises. The app also lets you create custom categories to suit your training. You can create a routine to get access to your commonly used exercises and can also assign exercises to a particular day. The app lets you create as many routines as you want. If you go to the gym, this app is one of the best fitness apps for you.
Also see: Best Fitness bands under Rs. 5000
Final Words
Hope you enjoy the article. Stay healthy and stay fit with these best fitness apps for Android. There are lots of other good fitness apps that I may not have tried. If I forgot to mention any app that you think should be on the list, do not forget to comment and let me know. We have made several interesting app lists. You should not miss those.