5 Best Mehandi Design Apps for Android
Mehndi is an art of body art which is originated in Ancient India. Mehndi is derived from the Sanskrit word Mendhika. The use of mehndi is described in the earliest Hindu Vedic ritual books. It is a temporary body art made from a paste of powdered dry leaves of the henna plant. It is a popular form of body art among the women of India, Bangladesh, Pakistan, Nepal, the Maldives, Africa, and the Middle East. Although, women like to wear Mehandi at any festival wedding season is the peak time to wear it. Wedding season is finally here, and searches for the best Mehandi designs also get increases. Everyone wants the unique and best Mehandi designs especially The Bride.
Nowadays, ready-made-cones are available in the market which helps to easily draw mehndi on her hands. They also have chemicals that make sure that your Mehandi darks every time you use them.
Selecting the best Mehendi design is a tough task because the latest trends and tastes change every now and then. Now, the design should be modern with an Indian touch. There are many apps available on Playstore that has all the latest Mehandi designs. But choosing the right one is very necessary.
If you are looking for an app that has the latest mehndi designs then you are in the very right place.
Best Mehandi Design Apps
These are the best Mehandi design apps that have some latest and popular collection of Heena designs.  You can practice and use them anytime you want.
1. Mehndi Design 2020
Mehndi Design 2020 app is a mehndi design app for your latest wedding party and festivals. If you are Looking for the latest mehndi designs then download this mehndi designs app. You can find the latest mehndi designs for mehndi loving girls and brides. It is an offline application to help those who are searching for new trending mehndi designs for 2020.
Mehndi Design 2020 contains the most recent different types of mehndi design plans for weddings or events. It also has simple mehndi designs, popular Mehandi designs, and the most recent high-resolution mehndi designs images.
This app includes Pakistani mehndi designs, Indian mehndi designs, Arabic mehndi designs, Indo-Arabic mehndi designs, African mehndi designs, Moroccan mehndi designs, Western mehndi designs, Indo-Western mehndi designs, etc.
Download:  Android
2. Mehndi Designs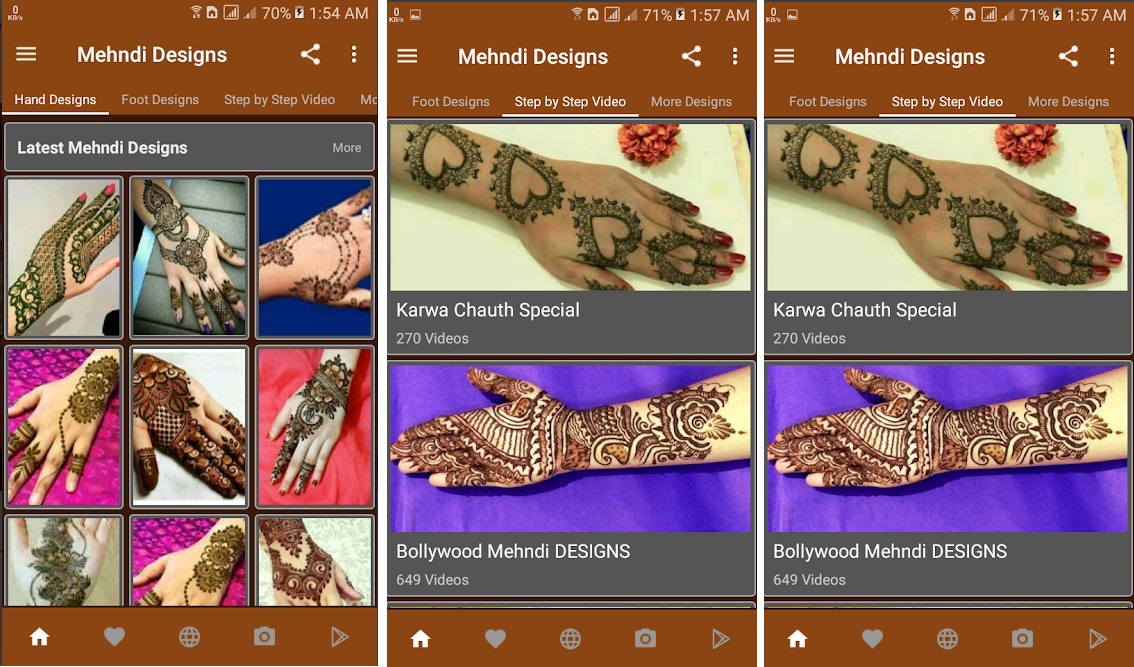 This Mehndi Designs app contains the new styles and popular designs of mehndi for every festival and wedding. It has a lot of online and offline designs. You can also save online designs for using them offline. This app also has step by step video designs with zooming facilities, swapping for navigation. You can also add/remove designs into the collection and share favorite designs with others.
Download:  Android
3. Mehndi App offline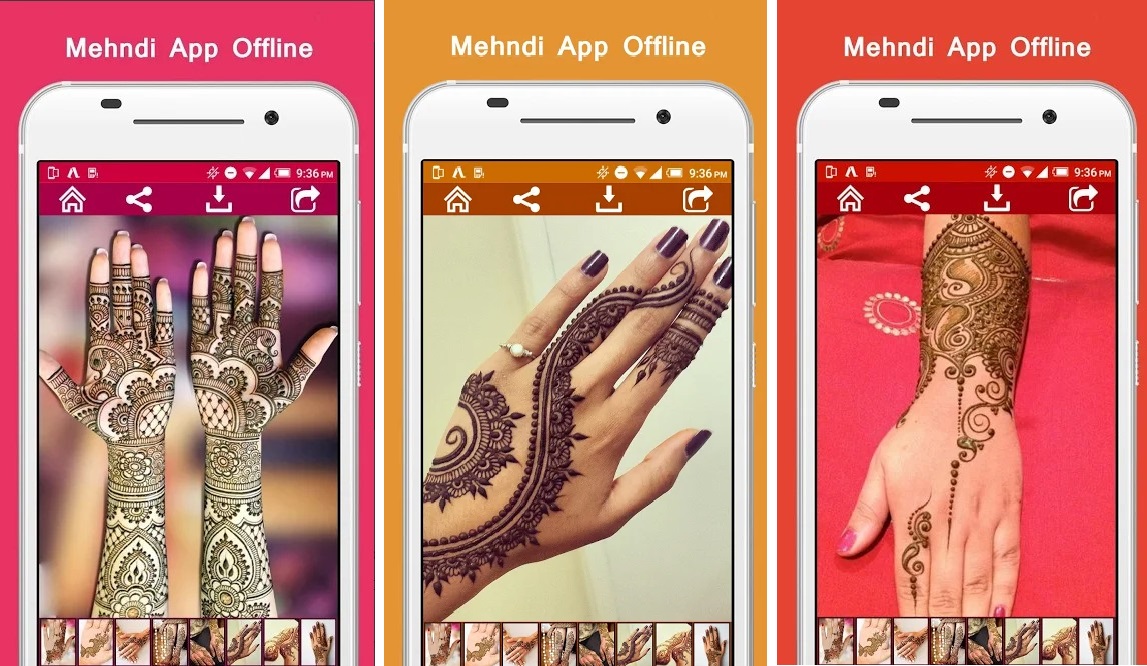 Mehndi is primarily used in countries like India, Pakistan, Bhutan, Iraq, etc.  This app has Simple as well as complicated mehndi designs of people who love to paint their palms, hands, and feet. Mehndi designs are very popular during marriage and Hindu brides love to wear Mehandi in their full arms and legs. This app contains Mehndi design for Hindus and Muslims who live in India to use mehndi in their festivals like Savan, Eid, weddings, and so on. This app has 1000+ designs so that is suitable for those who want to decorate for your body.
Download: Android
4. Mehndi Designs Offline
If you are Looking for the latest Mehandi designs for 2020 then this Mehndi Designs Offline app is good for you. This Mehndi Designs Offline application contains the most recent, simple, attractive mehndi designs and high-resolution mehndi designs images. This Mehndi Designs Offline application helps those females who don't know the latest and new trending mehndi styles and fashions.
Mehndi Designs Offline app offers the latest, popular, and different types of well-ordered and candid mehndi design that you can use for Savan, Eid, Weddings, and Parties, etc. All mehndi designs in this Mehndi Designs Offline app are simple and easy so that beginners can use these mehndi designs with ease. Download this App and made your and your friends' hands as pretty as ever.
Download: Android
5. Bridal Mehndi Designs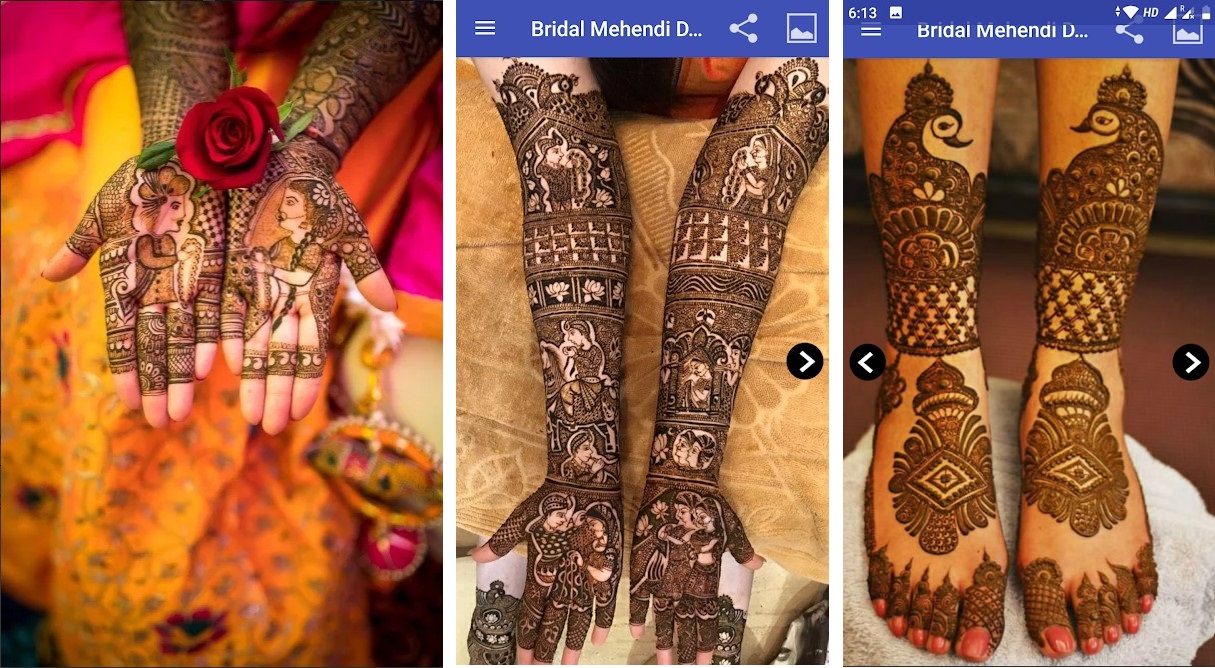 This bridal Mehendi design app has beautiful designs for your hands as well as feet to give you the perfect wedding look, any other festivals, events & party functions. All the trending Mehandi designs are here on this app that you can wear at weddings. This app can help you decide the best style for your wedding day.
This app has the most popular bridal mehndi designs, traditional designs that include extremely-filled abstract motifs like peacock motif, elephant motif, rose motif, Rajasthani Raja-Rani, etc, and latest western designs. Mehendi is applied during special Hindu festivals like Karva Chauth, Vat Purnima, Diwali, Bhai Dooj, and Teej. Some Muslims in the Indian subcontinent also wear Mehndi during festivals such as Eid-ul-Fitr and Eid-ul-Adha.
Download: Android
Read More, Cool Apps Every Girl Must Have 
These are the best Mehandi design apps that you can try for the latest and popular designs for any functions. Mehandi is very important at weddings, Savan festival, Eid, and more. Try these apps for the latest Mehandi Designs and become Mehandi queen. If you know about other popular Mehandi apps that have better designs and collections from these, do tell us.