GIFs are really popular on the internet. That's the reason most social media platforms have included GIF support natively or using third-party GIF hosting sites. You can either use Giphy or a similar GIF website to download GIFs for sharing online, you create GIFs of your own. For creating GIFs, you need good GIF maker tools. In this article, I am listing the best online GIF makers. You can use any of these GIF makers online tools for creating cool GIFs. These tools let you upload videos or images for creating GIFs. You can also add text, stickers, and other items as per your interest.
Also see:
GIF Makers Online
This is the list of best online GIF makers tools. If you were looking for the best GIF makers online, check this list and start using any of these GIF makers.
1. Giphy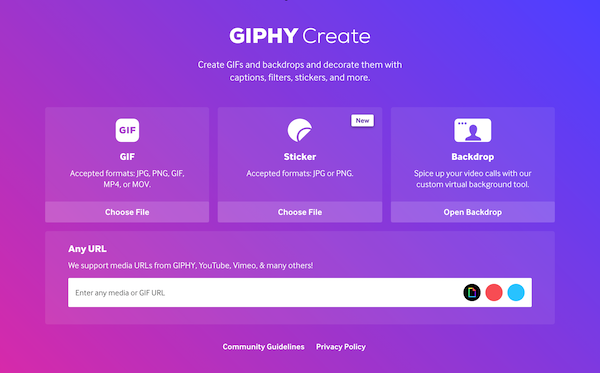 It isn't possible to talk about GIF without mentioning Giphy. Giphy is a popular GIF search engine. The website also offers an online FIF maker tool where you can create GIFs online. You can either upload a video, photos or enter the URL of a video to upload the file. You can then add stockers, filers, and text to decorate your GIF. The tool also lets you adjust the duration of each frame/image. Once you are done, you can share or download your creation. You need to create an account to use this gif maker online. You can later decide to share your creations on your GIPHY channel.
2. Makeagif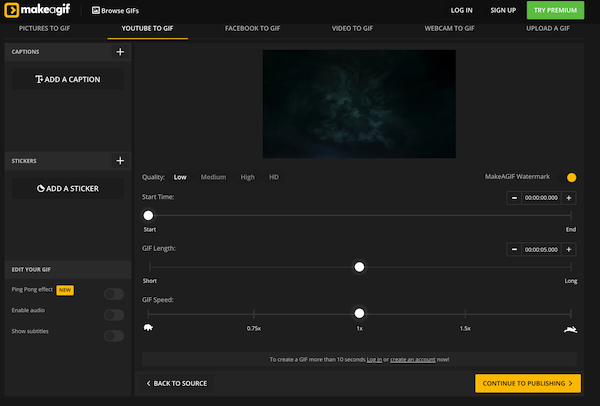 Makeagif is also one of my favorite GIF maker online tools. It lets you create GIFs in multiple ways. You can create GIFs using pictures, YouTube, Facebook videos, videos of your system, webcam recording, and GIFs on your system. You can use this tool for free but requires an account if you want to publish a GIF of more than 10 seconds. This tool offers several editing options like trim, GIF speed, stickers, caption, and more. Options depend on what way you are using for creating GIFs. This is also a GIF search engine, so you can also choose to publish your GIFs for other people to search and use.
3. Imgflip GIF Maker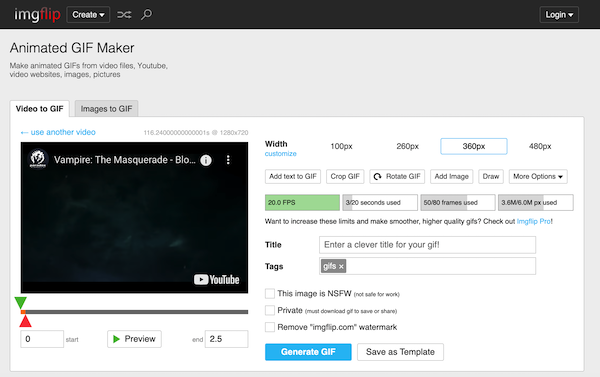 Imgflip is also an impressive GIF maker online tool. You can make GIFs from videos or images as per your need. You can tier enter the video URL (supports YouTube) or upload MP4 videos. The same goes for images. Add images using URL or upload it from your system. After uploading a video, you can trim it, select max-width, add text to GIF, crop, rotate, and draw on it. In advanced options, it lets you select speed, max FPS and more things to improve your GIF.
4. Gifmaker.me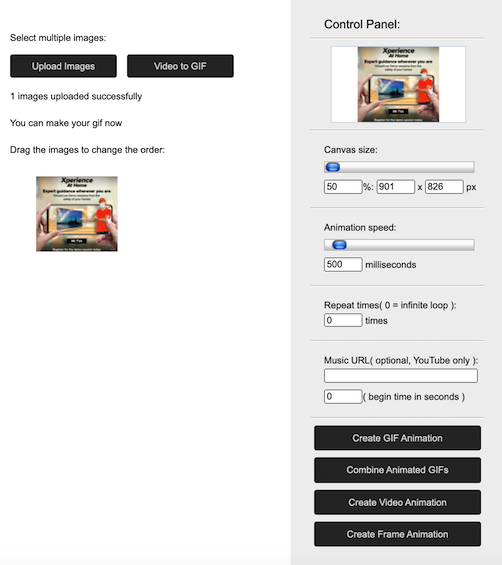 Gifmaker.me is a simple but good online GIF maker. You can upload up to 300 JPG, PNG, or GIF images or a video to create GIF. After uploading files, you can select Canvas size and animation speed. If you want video animation, you can also add a Music URL. Leave it if you just want to create GIF. You can also use this tool to reverse a GIF or merge two different GIFs.
5. imgur video to GIF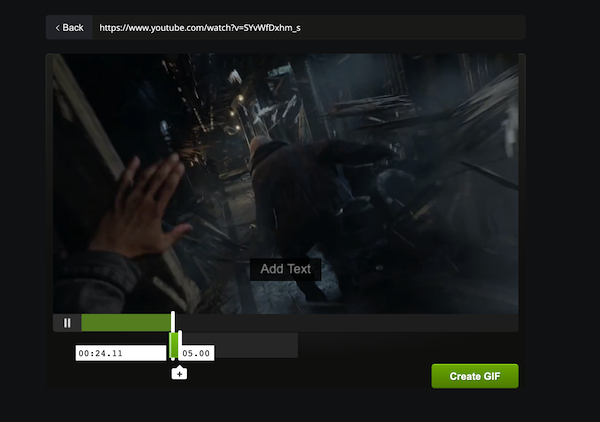 This online tool lets you make GIFs from hundreds of video sites. So, you can just paste the video URL and start editing. This tool is simple and offers basic options. You can select start and end for selecting a part of the video. Then add text overlay. Once you are done, click the "Create GIF" button.
6. Filmora FREE Online Meme Maker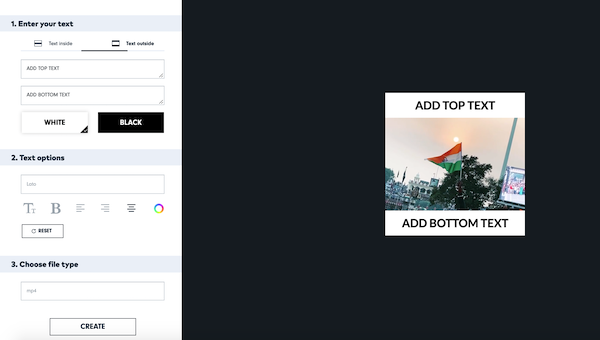 Filmora FREE Online Meme Maker is basically a meme maker tool that can be used to create cool GIFs. Just upload videos, GIFs, or images and start editing GIFs. After the video is uploaded, you can select the part of it to make GIF. If you want, you can add text at the top or bottom as per your choice. You can also change font type, size, and color. Once you are done, you can check the preview and then download it.
7. Gifmake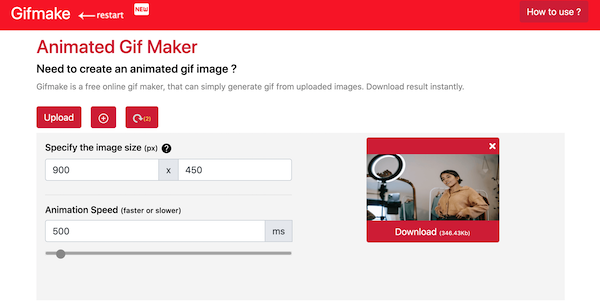 Gifmake is also a good free online gif maker that lets you create gif from uploaded images. The drawback of this tool is that it just supports images for making Gif while most GIFs are made from a video. Upload all the images you want to add to the GIF. Then specify the target GIF image size and animation speed. It also lets you edit each frame. So, you can add text and icons in each frame. Once you are done, you can download the GIF you created.
Wrap up
In this article, I added several good GIF maker tools. You can use these tools to create GIFs from videos and photos. You can select a funny part of a video and share it as GIF. Some of the tools also let you perform advanced editing but most people are comfortable with simple tools. Read about all the tools and select one based on your need. I also prefer using the online tool because I can use these tools even if I am not with my system. There is also no need to install any software.