9 Best GIF Keyboard Apps for Android
Emojis and GIFs have made the conversation on messaging apps and social media much more interesting. GIFs are a nice way to show your current emotions and it also makes the conversation interesting. Facebook, Twitter, WhatsApp, and many other social media apps support GIFs. So, GIF is now an important part of social media life. This is the reason, GIFs have been now integrated into several keyboard apps to give you one-click access to them. If your Android phone's default keyboard lacks a GIFs option, here is the list of the best GIF keyboard apps for Android. You can install any of these apps to make your conversation interesting.
In this post, I am listing the best GIF keyboard apps for Android. you can use any of these apps to have quick access to GIFs and use them in your conversations. If you are looking for a keyboard with GIF support for Android, you can pick any of the given GIF keyboard apps.
Also read: Best Keyboard Apps for iPhone and iPad
Best GIF Keyboard Apps for Android
Here is the list of best GIF Keyboard Apps for Android. If you are looking for a keyboard with GIF support for your Android phone, download any of these keyboard apps.
1. Gboard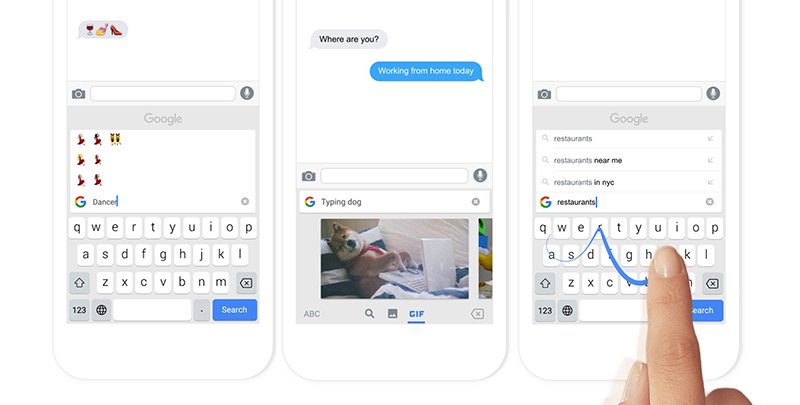 Gboard (or Google Keyboard) is the keyboard app by Google. It comes pre-installed on most Android phones that offer a stock Android experience. It comes with a dedicated section for smileys and GIFs. You can check trending GIFs or select one based on categories. There is also an option to search for more by keyword. It also allows you to record yourself as GIF to use in a conversation.
I personally use the Gboard app because it brings lots of other features along with GIFs. Google has integrated services like maps, search, translate, and voice commands. You can just tap on the mic icon and speak something to type. The app comes with a clean material design interface and supports thumbing. It also features gesture typing. This is the reason, I also included Gboard in my list of best keyboard apps for Android.
2. Fleksy Keyboard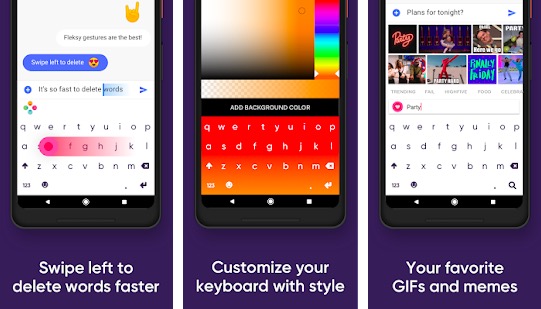 Fleksy Keyboard is also one of the best keyboard apps for Android that brings support for GIFs. The keyboard comes with extensions that allow you to add more features like GIF support and more. So, you can use the GIF extension and start using GIFs. It includes three tags for GIFs that are recently used, categories, and trending. There is also an option to search for GIFs by entering keywords.
Fleksy is an excellent keyboard app for giving you the best typing experience. It has great auto-correction features and supports a different layout. The available gesture/swipe typing makes your typing even faster. It also brings theme support with 50+ themes available to choose from.
The keyboard is available in er 40 languages. Another notable thing about this keyboard is that it does not collect any personal data.
3. SwiftKey Keyboard
SwiftKey is also one of the best keyboard apps for Android. This app brings a lot of features and it is worth replacing the native Android keyboard with this one. SwiftKey Keyboard app is known for efficient auto-correct and swipe typing. This keyboard also comes with GIF support and it brings a ton of emojis and GIFs to use. You can simply tap on the Emoji button on the keyboard to open the GIF section. Select any of the GIFs to use in the conversation. This app brings the GIF collection from GIPHY.
SwiftKey comes with more than 100+ colorful keyboard themes and also lets you make your own theme. You can customize your keyboard size and layout as per your preferences. It also supports more than 300 languages and you can enable up to five languages at once. This also makes this keyboard app one of the best ones to choose from.
4. Bobble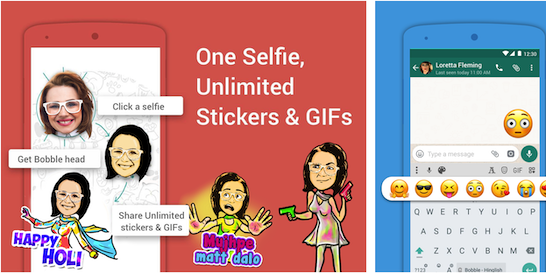 Bobble is also one of the best keyboard apps with GIF, Stickers, and Emojis integration. The most interesting thing about the keyboard is that it lets you create your Avatar and turn your face into cool GIFs and stickers. This avatar is called Bobble "head." The keyboard app offers speed typing by offering several features like glide typing, Word Correction, voice typing, and more. It comes with thousands of emojis, memes, stickers, funny GIFs, themes & fonts. So, you can chat in an interesting way. The app also features Artificial Intelligence to predict Emojis, Memes, Stickers, and GIFs you may use in your conversation. The app also leads from you and keeps adding new words in your personal dictionary.
The app also supports several regional languages including Hindi, Marathi, Tamil, Telugu, Malayalam, Kannada, Manipuri, Arabic, and more.
5. Kika Keyboard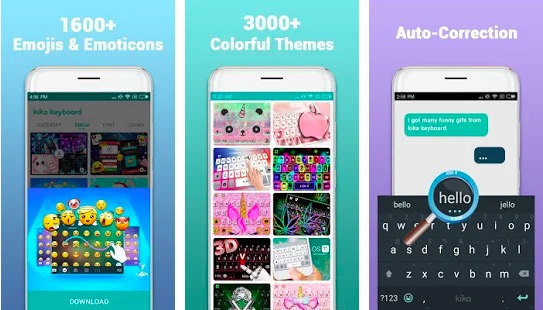 Kika Keyboard is not a well-known name, but it is an impressive keyboard app with GIF integration. It brings a cool collection of GIFs to use while typing something. Here you will find different tabs for GIFs including recently used GIFs, based on emotion, movies, and tending. You can also perform a search by typing a keyboard or emoji. So, you can quickly find out a relevant GIF for sharing in your conversations.
Along with GIF integration, this keyboard app also brings tons of features including swipe typing, split-screen layout, one-handed mode, themes, fonts, and more.
6. TouchPal Keyboard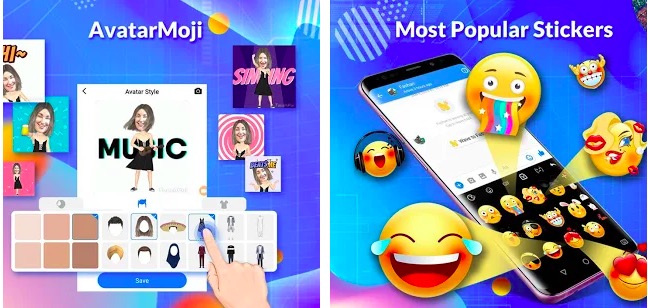 TouchPal Keyboard is also a notable keyboard app for Android with lots of features including GIF capabilities. The app offers several categories of GIFs to choose from. You can also search for GIFs and quickly interest one in your conversation. It brings 5000+ free keyboard themes, 300+ emoji, gifs, stickers, and pop smileys.
The app comes with features like customization, cloud-based suggestion, split more, contextual predictions, swipe typing, a clipboard, various themes, and more. You can also change the font, height, or width of the keyboard and even change the sound.
7. GIF Keyboard by Tenor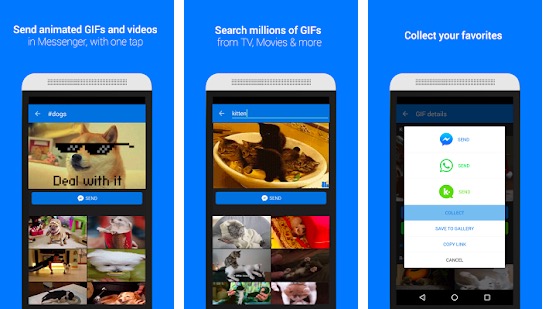 GIF Keyboard by Tenor is another interesting app to try. This app allows you to discover GIFs or videos directly from your keyboard and use it in conversation. It has millions of GIFs and videos to find one that suits your current mood. While the name says Keyboard, it is more like a GIF search and share platform. As it claims, the library of GIF is huge and it loads fast. It also offers relevant suggestions that you can share. It also brings an API for developers who want to integrate the large GIF collection into their apps.
8. Xploree AI Keyboard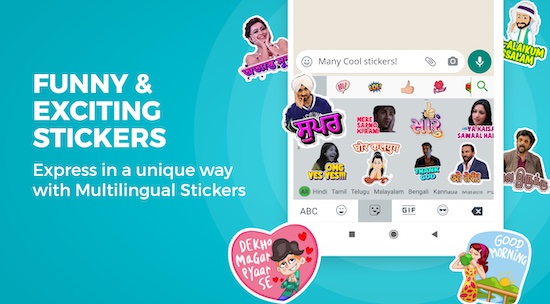 Xploree AI Keyboard is also a good keyboard app for Android. The app offers faster multilingual typing, themes, GIFs & Stickers. The app also lets you create your selfie stickers to get a personalized experience. It lets you type faster with effective auto-correct. The app also provides emoji prediction and a collection of 1200+ cute emojis, stickers & more. Xploree supports glide typing for an easier, faster, and more enjoyable typing experience. It also rides free animated themes. The app supports more than 150 global languages including 49 indic languages. You also get transliterating in more than 11 languages.
9. Facemoji Emoji Keyboard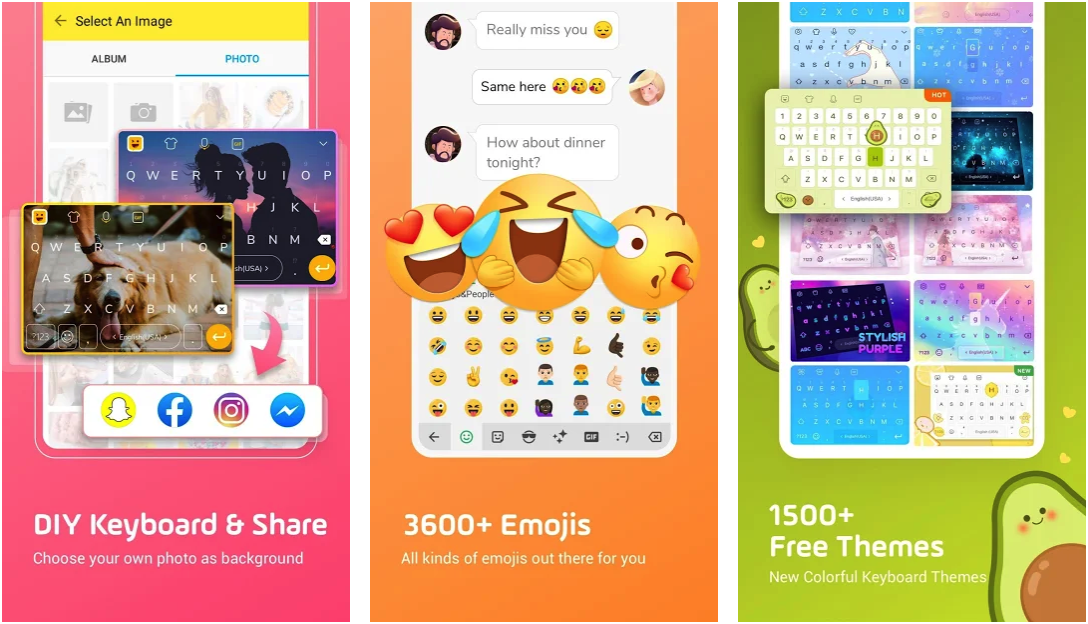 As the name says, this is an Emoji keyboard app with 3600+ emojis, emoticons, GIFs, and stickers. It helps you to improve your conversations with reactions to express your current mood. This keyboard app also lets you choose a photo from the gallery as your keyboard background. It has tapping effects and even music. Facemoji Emoji Keyboard also supports QWERTY Keyboard, QWERTZ Keyboard, and AZERTY keyboard.
This Emoji keyboard app also comes with 1500+ Emoji Keyboard themes to customize the look and feel. The company also keeps adding new themes weekly. It supports Swipe to type, Autocorrect & Word Prediction.
Final Words
I have included the best GIF keyboard apps for Android. These keyboard apps come with one-click access to GIFs to share in your conversations. You can go with any of these apps depending on your choice. I personally use GBoard because it brings Google services integration. You can quickly translate text, perform Google searches, and more. You can try others if you do not want Gboard. Fleksy and Kika are also good GIF keyboard apps