5 Best GIF maker apps for Android and iOS
GIF is really popular on social media apps and conversation apps. Now, most social media apps, messaging apps, and keyboard apps come with GIF integration. So, you can easily look for a GIF showing your current mood and share it quickly. But what if you want to make your own GIF using a photo or a video? There are several online tools, software, and apps for making GIFs. In this article, I will just focus on the best GIF maker apps for Android and iOS. So, you can quickly make GIFs on your phone and share it on social media or messaging apps.
Best GIF maker apps
1. ImgPlay – GIF Maker
ImgPlay is a popular GIF maker app available for both Android audios. The app lets you select from multiple canvas sizes including 1:1, 4:5, 9:16, and more. The app also offers different canvas styles, different shaped canvas styles, the ability to add text, change fonts. You can either use an existing video or shoot a video from your phone's camera, then edit it to make a GIF. You can also import photos and GIFs for making a GIF. There are 30 beautiful filters to apply in GIFs, crop a part of your choice, and change the frame play rate. On the iPhone, you can live photos or burst photos and turn it into a GIF.
2. GIF Toaster
GIF Toaster is another popular app for making GIFs on your Android or iOS smartphone. The app lets you select from different frame sizes if you want to create a GIF from the scratch. You can also convert an existing video or photo into an animated GIF using the GIF editing tool of the app. You just need to select a photo or video, set the encoding option, and then tap on the 'Start Encoding' button to convert it into GIF.
3. Gif Me! Camera
Gif Me! Camera is also a good app that lets you create GIF using the built-in camera or any exiting video. You can then export the video as a GIF. The app also lets you import an existing GIF or import a GIF from online services. You can then apply text, border, stickers, change the speed of animation, add filters to make the GIF more interesting. Once the GIF is ready, export it to share on different social media websites.
4. Motion Stills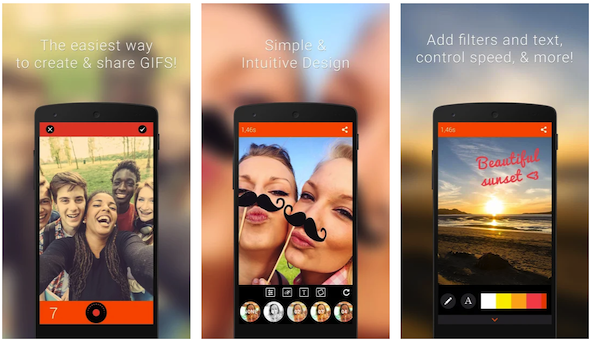 Motion Stills is Google's app that lets you capture short videos and then convert them into looping GIFs. You can use the app to capture a short 3s clip with a simple tap or condense an existing video into a short one using the Fast Forward mode. You can also add motion text and emojis to make yips GIFs even better. Then export it as a GIF and share it with your friends. This app is also available for both Android and iOS.
5. GIF Maker
GIF Maker this is an Android-only app that lets you make a new GIF, editor a GIF, convert a video into GIF, and more. This app claims to offer the easiest way of making GIFs. You can cut a video or crop a video before making a GIF. Editing tools let you add labels with text styles, stickers, and more. You can also upload GIFs directly to GIPHY and IMGUR like GIF sharing tools. It also has an option to remove background or a GIF.
Download: Android