Worldwide wearable device shipments to jump 38.2 percent in 2016 – IDC
Wearable market is now growing fast with the entry of almost all key players of smartphone segment. Reports also confirm the same for wearable industry growth. According to market research firm International Data Corp (IDC). The wearable market will grow more than we are expecting. It expects the rise of 38.2% in wearable shipments in 2016. If we talk about numbers, it will be the sale of around 110 million wearable units by the end of 2016.
IDC also confirmed the breakdown to project the numbers for smartwatches, bands and other products. Watch and wristband shipments will reach a combined total of 100 million shipments this year. It was 72.2 million in 2015. From these 100 million, smartwatches will see around 28.3 million shipments.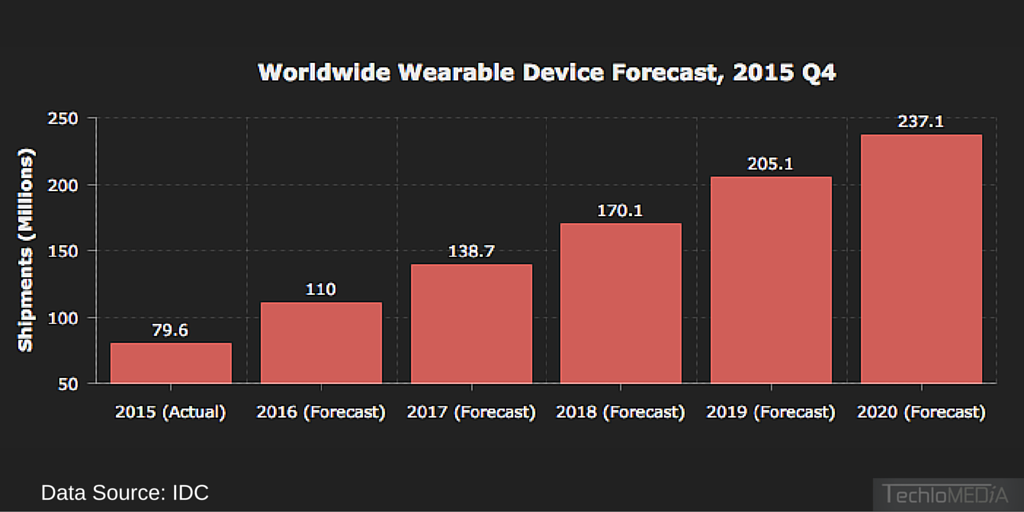 If you look at the forecast, it is expected to reach 237.1 million shipments in 2020. But this would be larger if we see some good innovative wearables in the low-cost segment.
Another report by Statista claims shipment of 24.92 million units of the smartwatch in 2015.
Other products including clothing, eyewear, and hearables, are expected to reach 9.8 million units in 2016. While these products are still in very early stage, we have doubt on these numbers. I hope to see few exciting launches in this segment this year.
If we compare this report with the report published by Gartner last month, IDC is predicting almost double growth in wearable devices sales. According to Gartner, wearable devices sales is expected to grow 18.4% in 2016. IDC comes with a totally different prediction for growth.
While Android players are trying hard, Apple seems to be winning smartwatch market. IDC said that Apple Watch will lead the market this year with around 49.4% market share. Is it? Around half of the wearable devices will be Apple watch. Apple is expected to ship around 14 million smartwatches this year, up from 11.6 million units from 2015.
Android Wear watches will manage to get around 21.4 % market share. I would say this a bad performance. It is like Android initiated a market with its full pace, Apple came and won. Android should think about this seriously to attract more customers.
IDC also predicted that Android Wear will be able to reach close to Watch OS by 2020. Android will capture market share of Pebble, Tizen and watch OS show this growth. This is an alarm for Samsung and Pebble to take this report seriously and focus on their wearable platforms.
Samsung recently shifted focus on Tizen for smartwatches. Tizen has limited app ecosystems which make it tough for the company to sell its smartwatch. If Samsung gets success in opening its app ecosystem and add more developers to bring better apps, it can be the potential threat to Android wear.
There is no doubt in the positive growth of the wearable market. With time, we see better innovations and wearables will also go cheaper. If companies get success in improving the battery backup, these devices will see the sudden rise in demand. People do want to carry one more charger for smartwatches only. But smart bands are rising because it consume less battery and last for around 3-4 days in one charge.
Wearable devices industry is growing, and we can expect some jaw-dropping inventions this year.
Source: IDC