10 Best Free Kids Games for Android and iOS
I don't recommend giving mobile phones or tablets for toddlers or kids. This age is for their body's growth. So, try to engage them in physical activities and given them physical games to play where they can use their strength and brains at the same time. I know that's not possible all the time and there are a lot of kids who like to use a smartphone or a tablet. In that case, give them only to use apps that can help them in learning. If you are not sure what kids apps you should install, this list is for you. I have tested several kids apps before making this list. This list contains games and educational apps where you kids can learn and enjoy at the same.
Even if these are educational apps and games, you must fix a maximum usage time. Smartphones are addictive, so you shouldn't allow kids to use smartphones or tablets for a longer time. Smartphones affect the quality of sleep. As per a study, kids who use smartphones for more than 7 hours a day were found to have premature thinning of the cortex that results in deterioration of memory function. Smartphone screens can also affect the eyes.  Now when you understand the cons of using smartphones for kids, keep reading to see the lost of best kids game apps.
Also see: Best tablets for Kids
Best Free Kids Games
If you were looking for the best kids games for kids to enjoy, this list can help you. In this article, I am listing the best kids games for Android and iOS. This list also contains games for toddlers.
1. PBS KIDS Games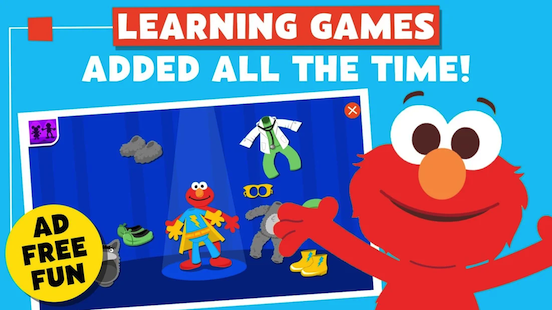 PBS KIDS Games is one of the best apps for kids.  The app is rated for kids under 8 years of age and comes with over 100 free learning games. You kind can play and explore learning on the mobile phone or tablet. The app has mazes, puzzles, coloring, maths, letters and other similar games suitable for kids. So, you kind will be playing and learning at the same time. The app runs offline, so your kid can enjoy the games on the app anytime.
PBS KIDS Games is also popular among parents and the app already has more than 5 million downloads on Android. It supports both smartphones and tablets.
Also see: Cooking Games for Girls
2. Pet Bingo by Duck Duck Moose
This is an educational math game available for free to download. It has several games that will improve the math skills of your kid. The app includes games teaching addition, subtraction, multiplication, division, measurements, and geometry. The app also has a report card section where parents can monitor the progress of their kids. This app has been developed with Educations of popular universities.
3. PJ Masks
PJ Masks is a good game where kids have to choose their favorite hero characters to play. The kid has to take the journey across the moonlit rooftops and collect as many orbs as possible. There are also pesky villains. This is a free to play game with 21 levels. The content of the app has been tailored for preschoolers and it shows no third-party advertising.
4. Budge World
Budge World is also a popular kids games app where kids can play several games from popular brands. So, your kid's favorite characters like Barbie, My Little Pony, Thomas & Friends are already in the app. The app has several games and activities with regular updates to keep content better with the time. There are also video clips to watch and quizzes. The app comes with a subscription service where your kid can access exclusive content.
5. Khan Academy Kids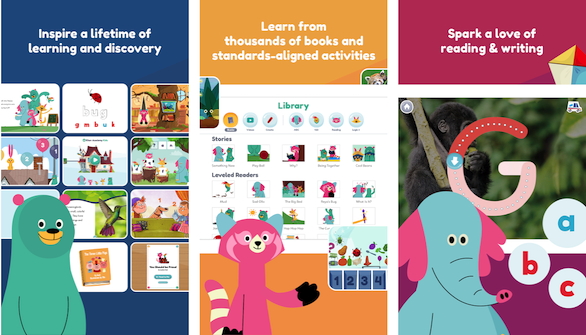 Khan Academy Kids brings educational games and books for kids. The app is for kids under 5 years of age. As the name says, the app is from the popular online learning platform Khan Academy. It has thousands of educational activities along with games for toddlers, preschoolers, kindergarteners. The app aims to teach reading, language, writing, math, social-emotional development.
6. Puzzle Kids
Puzzle Kids is also a good learning app to build a child's logic skills. The has several Puzzle games for learning purposes. Each game challenges your kid to locate and manipulate shapes to solve jigsaw puzzles. There are also number of settings for parents. The app is free and there are no third-party ads.
7. Knowledge Park
Knowledge Park is an interesting games app for toddlers. The app helps Toddlers learn colors, shapes, numbers & more in a fun and exciting way. The app comes with several interesting games including Shape games, learning games Cool Panda, Glamorous Kitty!, Toddler Puzzle and more. The game can be played by a kid of age 2 years or more. All the games are kid-friendly. If you are looking for games for toddlers, install this one.
8. Bubbu – My Virtual Pet
This is a kid-friendly game where your kid will have a virtual cute and adorable cat. The task is to take care of this pet. Your kid will be feeding, dressing, cuddling and giving this pet a bath. There are more than 30 fun mini-games that will provide food. There are also several activities like you can grow organic food in the garden and get cow mil from a farmer. Overall this is an interesting game for kids.
9. Preschool & Kindergarten Games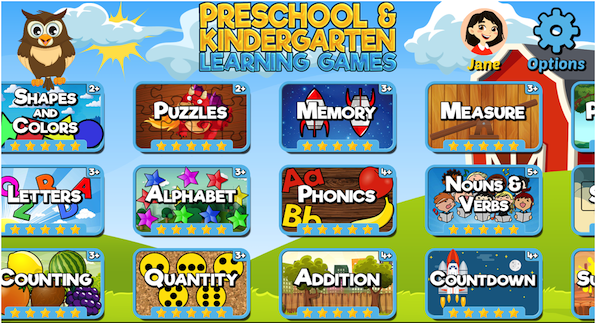 The name of the app itself suggests that the app aims kids. It is an interactive educational app for little kids. The app comes with 24 educational games including shapes, colors, counting, puzzles, spelling, vowels and more for learning purposes. The app has colorful graphics and fun sound effects. There's also voice narration to guide your kid.
10. Code-Karts Pre-coding for kids
If you want your kid to become a coder, this app is really helpful. Code-Karts comes with a series of logical puzzles that teach the fundamentals of code. There are 70 levels and two different game modes. The app also has educational content. With some logical thinking, kids can quickly sole puzzles and develop code-based thinking.