10+ Best Dating Apps in India – 2023
If you want to meet new people for casual chat or dating, there are a few good dating apps to try. Dating in India is now becoming popular and people have started using dating apps to meet people with similar interests and go on a date. Tinder has already become popular but that is not the only dating app. There are several other good dating apps in India where you can find people with similar interests. If you are not sure what dating app to install, have a look at the list of the best dating apps.
Before I talk about the best dating apps in India, let's have a quick look at the dating app market. Dating apps are one of the most profitable apps. If we exclude gaming apps and then check the overall revenue of apps, Tinder turns out to be one of the most earning apps globally. It earned more than Netflix and YouTube in Q2 2019 from Play Store and App Store. Dating apps generated more than US$ 1.6 billion in 2019. As per a report, the dating apps market was valued at 7.55 Billion USD in 2021 and is expected to grow at a CAGR of 12.65% in 2022. Match Group is the majority owner of the dating market across the globe. Tinder was the most downloaded dating app followed by Bumble.
After Jio came, the Internet is now easily accessible even in rural parts of the country. So dating apps are also growing in India. India is now one of the top 5 markets for dating apps and is ranked 4th after the US, China, and the UK. It shows that Indian people are now active on Tinder and other dating apps more than before. Dating apps are quite popular in metro cities including Delhi, Bengaluru, Hyderabad, Gurgaon, Noida, Mumbai, and Pune. We also see traffic from search queries such as Dating apps in Delhi, Dating apps in Mumbai, and Delhi apps in Bengaluru.
Recent months were quite good for these apps because they saw an increase in user base from several small cities as well. During the pandemic, several people turned to virtual dating. So, these apps also introduced video calls to offer virtual dating. Tinder also revealed how it saw growth in the female user base. If you are looking to find a partner, you can go and install a good dating app.
Also read: How to stay safe while using online dating apps
Here is a list of the best dating apps in India. Dating apps for India because not all dating apps work well in India. Even if you can download those dating apps, not all got Indian users to meet. So, I have compiled a list of the best dating apps in India. You can sign up for any of these dating apps and start browsing profiles. While making this list of best dating apps in India, I have considered several factors including profile verification, privacy, and security. So, you can download any of these dating apps without thinking much. Dating apps have also added lots of new features to make the app interesting during the pandemic. Some dating apps now offer virtual dating. You can also see vaccination badges and more.
Best Dating Apps in India
Here is a list of the best dating apps in India. All these dating apps work well in India as there are a considerable number of users from across the country. Dating apps are free to download but there are some features reserved for premium members. I have also considered safety as the primary criteria while making this list, you can also see it as the list of the safest dating apps.
1. Tinder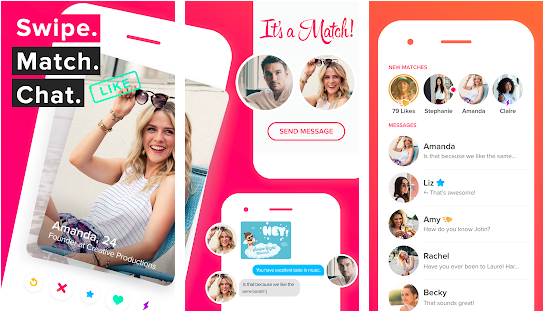 Tinder is the most popular dating app in India with a rapidly growing user base. It asks you to signup using your Facebook account and fetches a basic profile along with your interest. Then it uses the same data to show you profiles with similar interests. In case you do not want to connect your Facebook account, you can enter your phone number and then make a new account from scratch. You have the option to swipe right if you like someone or swipe left if you do not like it. If two people like each other on Tinder, it becomes a match and you get an option to chat in person. Now Tinder also offers video calls. But that can only be done if both people opt for video calls. One can always unmatch a person if he/she doesn't feel comfortable talking to.
Tinder purely depends on look and profile details are secondary. It is because you will be swiping profiles left or right by looking at photos. Very few people read the bio to know about a person.
Also see: Best Tinder Alternatives
In the free account, you can swipe a limited number of profiles in a day around your location. Tinder also offers premium packages with unlimited swipes, options to change location, and options to see who likes you. Tinder has also added a few more interesting features to make the platform even better. Now you can also make video calls if both persons agree to it.
There is no way a person can search by name. You can also use an alias name if you do not want to open your real name until you find a trusted match.
Tinder is the best and most popular dating app in India. If you are looking for the best hooking app in India, Tinder is also an app to find a hookup partner. It all depends on how you use these apps. Tinder has a large user base and lockdown also helped it to grow its user base. Recently, the number of female users grew on the platform. This had made Tinder even more relevant for dating and hookups. Tinder is really popular in Delhi, Bengaluru, Hyderabad, Gurgaon, Noida, Mumbai, and Pune.
Use the links below to download the Tinder dating app.
2. Bumble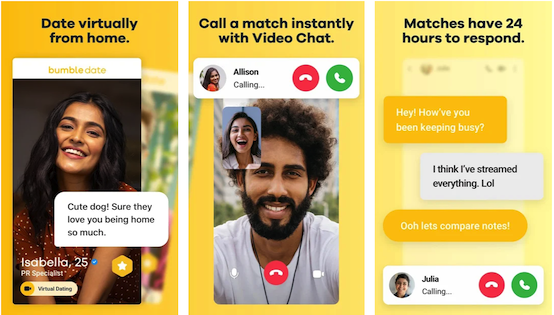 Bumble is also one of the best dating apps to try in India. Now that Tinder has a lot of creepy profiles, I think Bumble will soon become the best dating app in India. This app is unique because it requires the women to start the conversation after the match. In the case of same-sex matches, either person can make the first move. Bumble claims that 60% of matches on its platform result in a conversation. If there's no conversation within 24 hours of the match, the match expires. So, this app makes sure that people are having conversations after they match. Bumble is a free dating app that promises a secure and personal platform to find people to date.
After you start the conversation, you can also have video chats if you both are comfortable. This app also lets people send videos and photos in the conversation.
Like other dating apps, this one also has some premium plans to get more matches and better visibility on the app. Bumble has also recently become popular in India after Tinder became notorious as just a hookup app. As the app keeps Women in the lead, the app is unique. In most metro cities, women are preferring Bumble over Tinder.
Also see: Bumble Alternatives
3. Hinge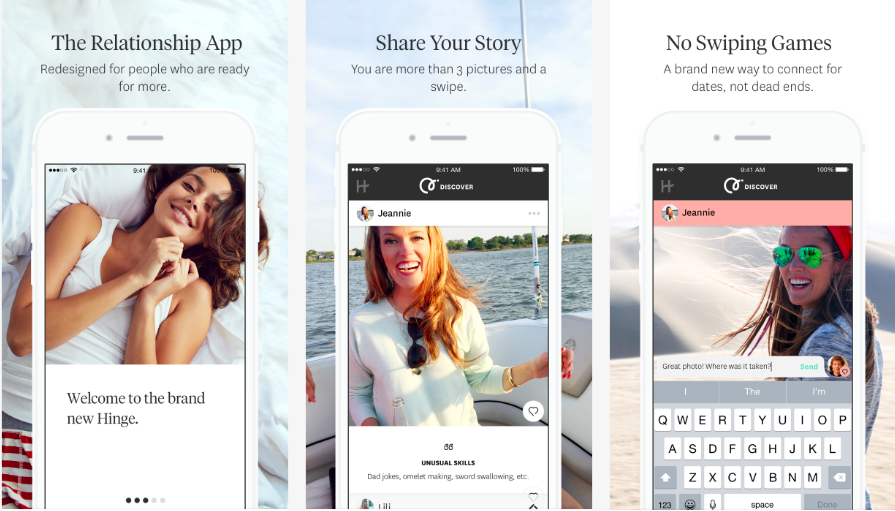 Hinge is the new favorite destination of teens who do not want to use Tinder or Bumble. When you create a profile, it asks you to submit your photos and answer a few questions. Hing prompts play an important role in making your profile unique. Based on your photos and answers, it makes a timeline. You need to anger at least three Prompts to make your account and it displays your answers on your profile. There are too many prompts to pick from. So, explore all the prompts while making a profile.
When you are browsing a profile, you can either comment on the photo added to a profile or comment on an answer to the hinge prompt. People see your timeline and have the option to like something from the timeline. You will be notified when someone likes anything on your timeline or comments on your prompts. When there is a match, you can do a text conversation, audio call, or video call as per your interest. Make sure not to reveal personal information instantly.
The app is free but with a subscription option. A subscription starts at $12.99 per month.
4. TrulyMadly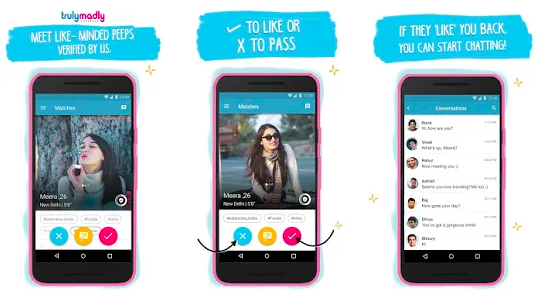 TrulyMadly is also a good dating app in India that takes profile verification seriously. It asks for identity proof documents before making a profile live. When your profile is live, it starts showing your matching profiles. It also shows the trust score based on the things you have verified. The more score, the more trusted profile. In case of any problem due to a profile, another person is always traceable. So, there is no place for fake people on this dating app.
Like Tinder, you can like or pass a profile. If the other person likes you back, you can start chatting. So, this is also a Tinder-like app but its verification is tight, so there is no chance of matching with a fake profile.
No one can take a screenshot of your photos or download them. So, your photos are also safe. I am keeping in second place after Tinder because it is not quite popular, so you have very few options to match and date.
5. Happn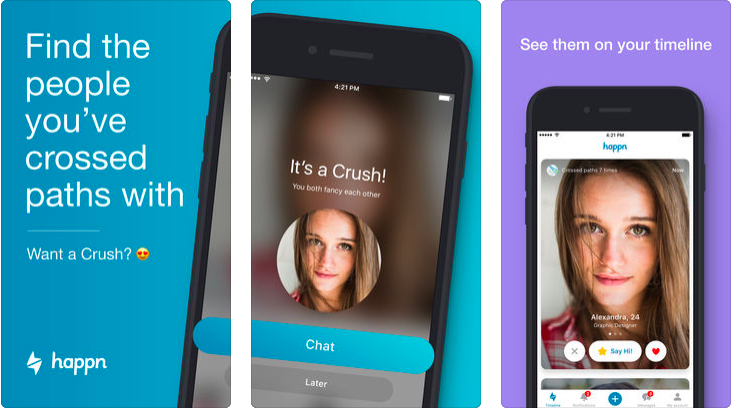 Happn is also a location-based dating app with a unique matching concept. It allows you to find people you have crossed paths with in real life. If you found someone attractive, you can check if he or she is on Happn. While using the app when you see a profile, send the secret like. If another person does the same, you people will be matched to talk. So, this app is not purely based on photos. You are most likely to meet someone you liked with the first appearance but could get the courage to talk to in person.
This profile also allows the making of a basic profile with multiple photos. But seeing someone at a random place and then having a chance to date him/her makes this app different and interesting. Happn has made it to our best dating apps list because of its unique location-based match concept.
6. Woo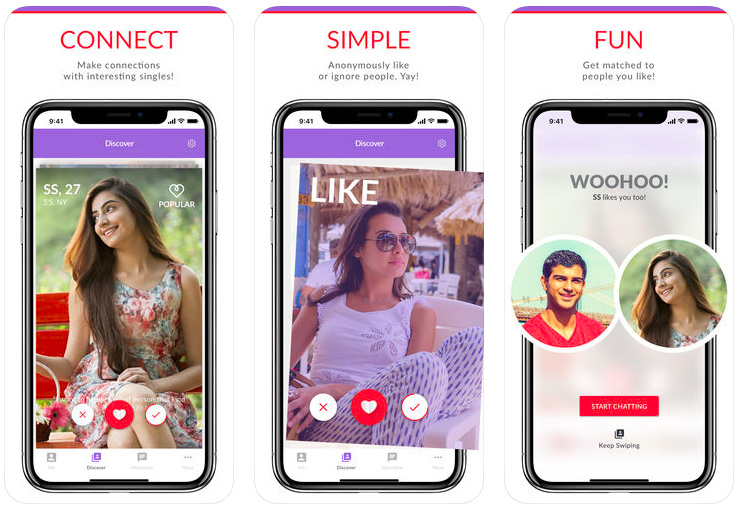 Woo is a dating app that focuses on only well-educated professionals. It offers voice intro, Tag Search, Questions & answers, and Direct Messaging features. Woo claims that it has a unique matchmaking algorithm that helps users find and meet new people. In the profile, users can also add interesting answers to fun questions. This helps in better profile visibility and be discovered even faster. This app even offers a voice call option. So, girls can do voice calls without sharing the numbers. It never shares the name, number, or location of the women. This privacy option makes this app noteworthy.
Woo recommends profiles based on location and interest. It also uses the same kind of like or dislike a profile by swiping left or right. If both like each other's profile, it's a match. After a match, two can talk in a private chat room. There is a limit of profiles per day you can check but Subscribing to Woo Plus gives you access to skipped profiles and also check who visited your profile. The subscription also unlocks Woo Globe.
7. OkCupid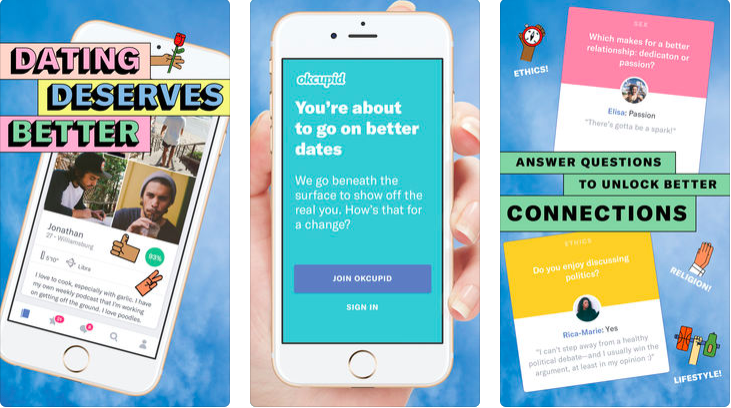 OkCupid is an international dating service available in 113 countries. It is also one of the oldest dating services still available to users. The app asks so many questions so you get relevant matches. These questions are localized to make sure they are relevant to Indian users. You can use the search section to find someone based on several search filters. Soon after you create an account, you need to make a dating profile and highlight what matters to you. You should also set dating preferences for better recommendations. Now the app has also added a virtual dating option.
The app also takes safety and privacy seriously. You can hide your profile from someone or block them. The app also has a robust moderation team that reviews and flags users.
Also see: Best Bodybuilding Apps
8. Coffee Meets Bagel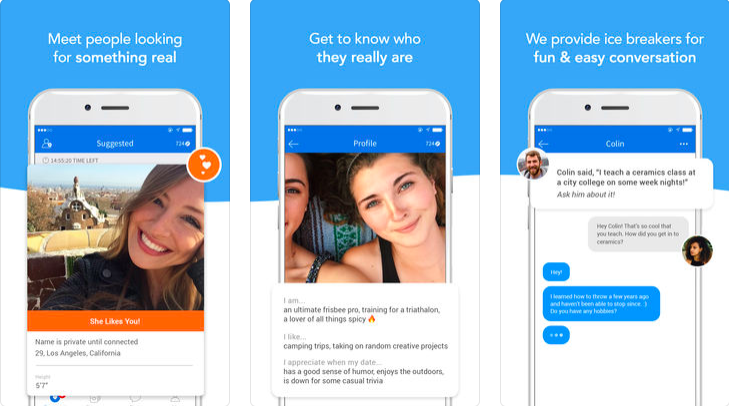 Coffee Meets Bagel is also a nice dating app you can try. It is basically for women and gives them more power than men. Women only receive suggestions from those guys who have already shown an interest in them. Guys only have the option to like or pass on the matches. The company claims that the app is mainly for people who are looking for a serious relationship
Users on the app get suggestions once a day. So, you don't need to waste time browsing through multiple profiles. The app considers several things before showing your recommendations. It also asks users to make a detailed profile. Just come once a day and like the profiles as per your interest. If there is a match, you will get suggestions. The app also has a 7-day chat. This is to discourage ghosting and encourage actual dates.
There is also a Coffee Meets Bagel Premium where you can see all your likes, get 6000 beans a month, get Premium Preferences, get a profile boost, and more.
Also see: Best Stranger Chat Apps
9. Badoo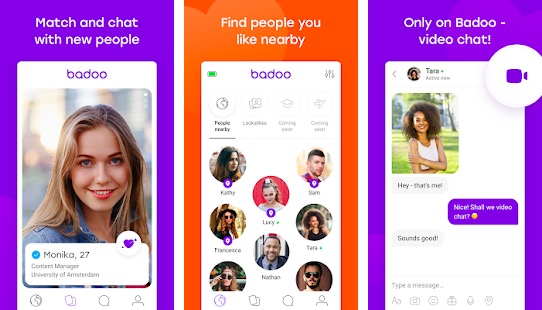 Badoo is also one of the largest dating apps with more than 400 million users globally. The app is similar to Tinder but offers more detailed options of preferences and interests. Then the app uses these preferences to find the best matches for you.
The app uses the email address to sign up but you can also connect your social media accounts. It also requires phone verification. Then you can put your photos to make your profile. The app also has an option "near me" that lists all users close to your location. It also offers an option to live stream yourself and have a video chat that other users can join. The app also lets you send virtual gifts to other users.
If you are looking for a dating app that works well in India, you can also try Badoo.
10. GoGaga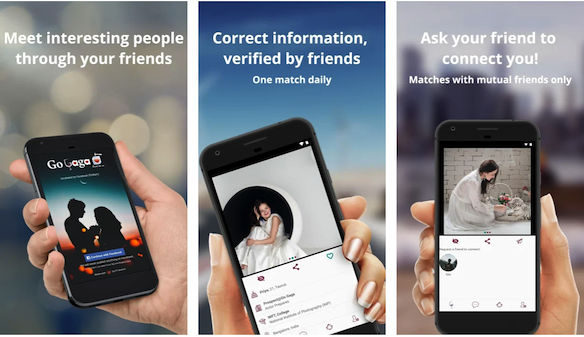 GoGaga is for those who are looking for a serious dating app where you can get your life partner. The dating app is a unique kind of dating app where you involve a friend in finding a dating partner. This app basically lets users find friends of friends for dating. This approach makes it a trustworthy app for dating where you will hardly fall for a fake person. The idea behind this dating app came from the fact that most people couples get introduced through common friends. There are several successful partners who say "They met at a friend's party."
After making the profile, this app lets you view the profile of friends of friends. The app also boasts the use of AI that helps it curate the finest matches for you.
The app is free to use but you need to invite friends for earning flames and getting better recommendations. So, this app basically makes dating social while most people in India want to keep it personal. On the GoGaga, you won't find matches until you invite your friends to join.
11. Azar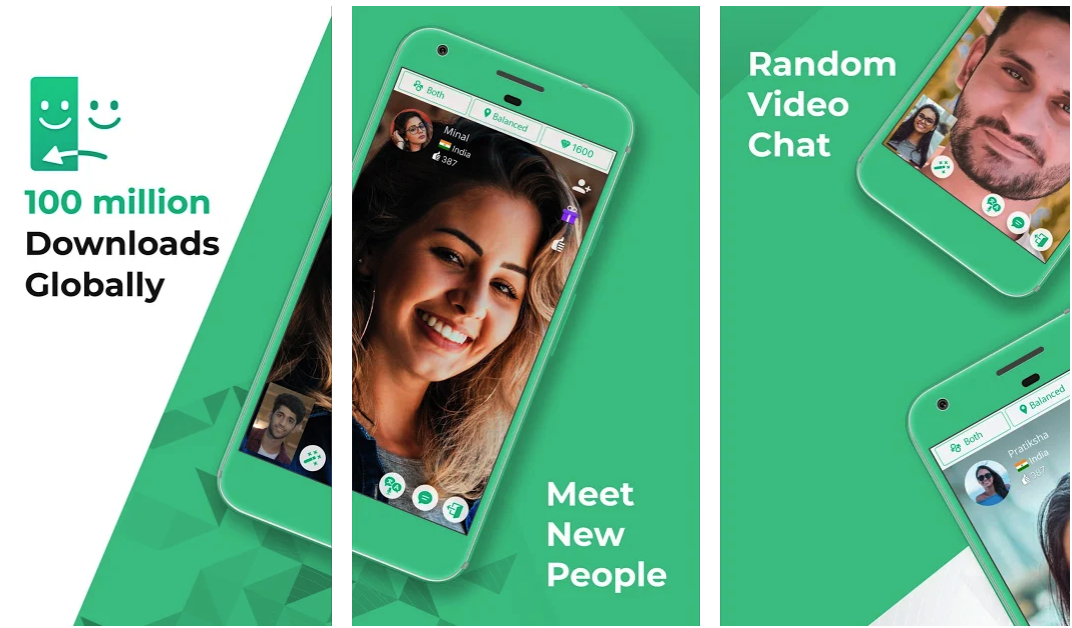 Azar doesn't advertise it as a dating app, but it can also be used as one. The app lets you have video chats with strangers and make friends. The company claims to have already made more than 70 billion matches. It is a free app that lets you talk to people from over 190 countries. So, you can explore new cultures, meet new people, and find people to date. When you are having a video chat, you know with whom you are talking.
Now when you think of talking to people globally, language could be a problem. But Azar has a solution for that as well. It offers real-time chat translation. The company claims that all your personal information is securely stored and they won't sell it to advertisers.
12. Aisle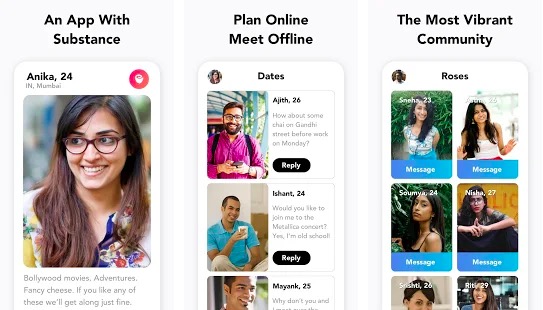 Aisle is also an interesting dating app in India. It uses a different way of finding. Match. You need a Facebook or LinkedIn profile to log in. Before you start using the app, it asks you lots of questions and then you need to submit a questionnaire for verification. Once the verification is complete, you are approved to join and use the app. Aisle aims to offer meaningful dates rather than just focusing on hookups. If you are interested in serious relationships, try the Aisle dating app.
You can use the app for free but there are lots of premium features that you can use only if you subscribe to VIP membership. In the earlier version of the article, this app was higher in our dating apps ranking. Seeing the user reviews on the Play Store, I decided to move the app to the bottom. It seems the company behind the app isn't offering proper support for the premium features.
Final Words
Now you have the list of the best dating apps in India to try. All these apps have millions of users across the country. If you are looking for a dating app that works well in India, you can go with any of these dating apps for India. You will surely get lots of profiles to see and match. If you are lucky enough, you will surely get a person with a similar interest in dating. TryDate, Grindr, Moco, Badoo, and QuackQuack are also a few other good dating websites. But the apps I listed above are good enough to give you a perfect match to date.
There are several dating apps in India. Most of the new apps are just to get user data and show ads to monetize people's desperation. So you should avoid downloading any random dating apps. I have seen some of the apps which do heavy advertisements on Facebook and boast to be the app where girls come to live and talk to people. These apps use bot accounts to send requests and ask you to pay for checking profiles. Once you pay, you won't get anything. There are countless fake dating apps on the Play Store. Use the dating apps listed here on the list.
All these dating apps are trusted and safe to use. I considered privacy as an important factor while listing the apps here. Some people use dating apps for hookups, some look for online friends while several people search for their life partner. You should respect people's decisions and avoid being a jerk.
It is also worth noting that installing and making a profile won't help much if you don't really understand how an app works and what kinds of points you should about yourself. Even if most people make decisions based on just photos, there are a few who read bios and interests. So, you should also focus on making a proper profile with relevant details along with adding your good photos.
How to stay safe and private on dating apps?
If you are planning to install and use a dating app, you need to follow some safety tips to keep yourself safe. Here is the list of safety tips
Don't signup with your social media account
Don't link your social media accounts
Never overshare your personal information
Never share your financial information
Restrict the app's location permissions
Keep conversation within the app for a few days until you finally think your match is genuine
Delete your profile when you don't want to use the app anymore
Don't be in rush for an in-person meeting
Always have your initial meetings in public places
Frequently Asked Questions about dating apps
Q. How to get better results on dating apps?
A. Creating a profile isn't enough. I have seen people who create profiles on different dating apps but didn't get a single match. You need to take several things into consideration while making a profile on a dating app. Girls don't have to care much about getting matches on dating apps but boys need to care about a lot of things. It is important to have good photos and a catchy bio. I know mainly people judge by looks and hardly check their bio. But this isn't the case with every dating app.
Each app works differently. Some apps focus heavily on profile data. For example, Hinge and Bumble show bio and other profiles at the front. Even on Tinder, don't just put any photo where you think you are looking cool. Add photos that give people a sense of your personality. Avoid adding group photos and selfies. Tinder is also a detailed guide on photos for guys.
Q. Is Dating App legal in India?
A. Several people have asked me if dating apps are legal in India. Yes of course it is. A dating app is like any other social networking app. There's nothing wrong here. So, dating apps are legal and you can use them freely. You won't be in trouble until you do something wrong.
Q. What is the Best Dating App in 2023?
A. Tinder is still the best dating app because of its easy-to-use and minimal interface. It also has millions of active users, so you will surely get someone to date. Tinder's approach to dating is very personal and this exactly matches how people usually find people to date.
Q. What is the best dating app in India?
A. Although Tinder is quite popular, Bumble has already made its way to several Indian users' phones. Most people still use Tinder for dating but I recommend you try both Tinder and Bumble.
Q. Which is free dating app in India?
A. You can signup and create an account for free in all of these dating apps, but most dating apps allow you to use only basic and limited features. You need to subscribe for membership if you want to use all the features.
Q. Is the dating app safe?
A. Not all dating apps are safe. So you should always sign up and share your personal detail with a reliable and safe dating app. You can use any of the given dating apps. All these datings work fine in India.
Q. Is Tinder free in India?
A. Yes, Tinder is free. Not just in India, Tinder is free everywhere. The app has a few paid plans offering more features like location passport, rewind, and unlimited swipes. But the free app is enough to use most of the key features.
Q. Is Tinder really a hookup app?
A. Tinder is basically a dating app where you Meer random people. Now it is up to you how you use it. There are several people who use Tinder for random hookups.
Q. Is Tinder gold worth it?
A. Yes especially for men. Tinder Gold is a blessing for men. Tinder gold tells you if someone swiped right on your profile and you get a chance to see and swipe right if you also like. You also get five super likes in a day. If you have Tinder Gold, there are more chances of getting matches on Tinder.
Q. What is the best hookup app?
A. Dating apps are also commonly used for hookups. Tinder is the most popular Hookup app used by most people across the country.
Q. Can I find people just around my area on Tinder?
A. No. Tinder has a presence in over 190 countries. It also has a feature called Tinder Passport that lets you change your location to any city and browse the profile of that area. So, you can swipe for people in Hyderabad by sitting in Delhi.
Q. Can people outside my set age parameters see my profile on Tinder?
A. No, Tinder takes privacy very seriously. If you have set the age criteria, any person out of that age criteria cannot see your profile even if you fall in their criteria.
Q. Is Woo a free dating app?
A. Yes, Woo is a free dating app but there are some in-app purchases.
Q. Do dating apps in India work?
A. Yes. People now actively use dating apps in India. So, you can try to get a match. Millions of people in India use dating apps and it really works. Not just for dating, people also prefer dating apps for talking to strangers and making new friends.
Q. Which Indian city is the most active in dating apps?
A. Dating apps are quite popular in Delhi-NCR, Hyderabad, and Bengaluru. Pune also Mumbai also has a good number of active users on dating apps.
Q. Do girls use dating apps in India?
A. Yes, girls actively use dating apps. As per Tinder, they have a large number of active female users and most are from level 3, and level 4 cities. Lockdown has also brought several new female users to the platform.
Q. Is putting photos on Dating apps safe?
A. As I said, these dating apps are safe to use. You just need to avoid any random dating app available on the Play Store. This list includes dating apps that are safe and responsible. You also need to avoid putting too much personal information on dating apps. Share limited information with strangers and avoid putting sensitive photos.
Q. Can you access profiles on dating apps without signing up?
A. No, you cannot. All dating apps require you to create an account before you can browse for profiles to get a match. This is to avoid misuse of profile data.
Q. How can I get a match on dating apps?
A. It all depends on your profile photos and the content you put in the about section. In most dating apps, photos matter. The better and more attractive photos you have, the more chances of getting matches. This is for boys. Girls don't need to put in much effort. They get matches even with no photos.
Q. Is TrulyMadly worth trying?
A. TrulyMadly's approach is good and it uses a verification process to offer trusted profiles. If you want serious dating, you can browse profiles on TrulyMadly. There won't be fake photos or fake names.
Q. What is the minimum age for using Dating Apps in India?
A. If you are 18 years of age or above, you can use dating apps in India. It means, 18 years is the minimum age for using Dating Apps in India.
Q. Is Bumble free?
A. Yes, Bumble is a free dating app.
Q. Can married people use dating apps?
A. Yes, they can. There is no law that can forbid them from using dating apps. It is their personal choice.