7 Best Stranger Chat Apps for Android and iOS
Talking to strangers can also be fun when you know that another person can never find you back or know who you are. I remember how Omegle was popular in our hostel where fellow students used to talk to strangers for fun. But that website doesn't have any app till date. Not just Omegle, there are lots of other stranger chat apps you can try for talking to strangers. If you are not sure what app to use, here is the list of best stranger chat apps for Android and iOS. You can install any of these apps.
These stranger chat apps offer text conversations. Few of these even offer audio messages and video calls as well. Some of these apps don't allow you to reveal your identity but few lets other people find you if you belong to their area as those apps believe in having dating after meeting a random person. See this list of stranger chat apps, talk to strangers, flirt and have fun.
Best Stranger Chat Apps
Here is the list of best stranger chat apps for Android and iOS. You can read the description of each app before installing. You can either try anyone that suits you or all to have an experience.
1. Stranger Chat & Date
Stranger Chat & Date app doesn't require any signup. Just open the app, connect to a random stranger and start a conversation. The app lets you have a chat with strangers from around the world. You can also share photos along with having a text conversation. Another interesting option is that the app doesn't allow taking screenshots of chat or a photo you shared. All photos shared on the conversation will automatically be deleted when chat finished. So, you get a secure and private chat with strangers.
2. Anonymous Chat Rooms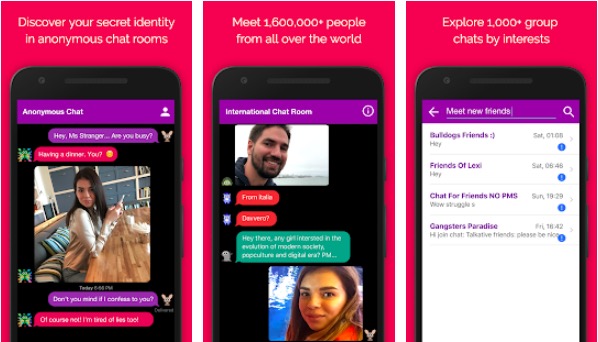 Anonymous Chat Rooms is another interesting stranger cha app where you can have conversations with random strangers, share thoughts, emotions, confessions and more. The app claims to be heavily censored for inappropriate content. Messages are also encrypted and self-destructing. You get an alias for entering into the chat room. There are over 1000 group char rooms in more 32 different languages. 70 skilled moderators are always there to control the messages.
3. Chatous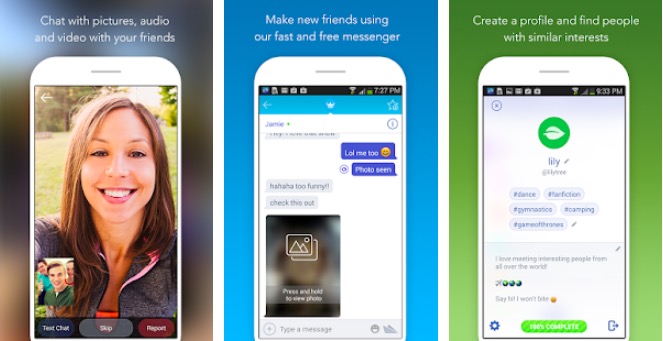 Chatous is another good stranger chat app for both Android and iOS platforms. The app lets you find people with similar interest using #hashtags. It also protects your identity by allowing you to use any random name and change it anytime. The name cannot be searched. Along with regular text conversation, it also lets you share photos, videos, and audio messages. You can also have video calls.
Also see: Best Texting Apps
4. LOVOO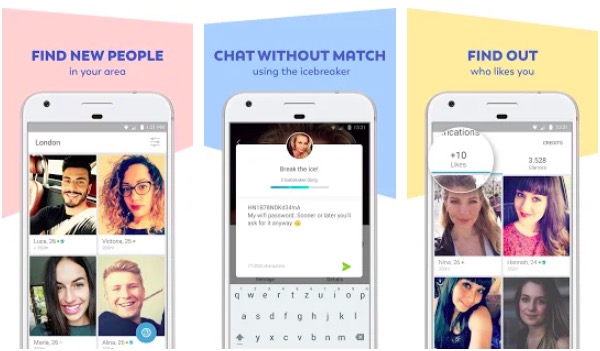 LOVOO is also a popular stranger chat app and has been into existence for around 6 years. The app lets you find random people to chat. It lets you check for people in your area and then start a conversation using the icebreaker feature. This app doesn't make your anonymous.
Along with regular features, there is also LOVOO Premium that makes it even easier for you to find a partner. It also increases your chances of getting a response.
5. Chat for Strangers By FunPokes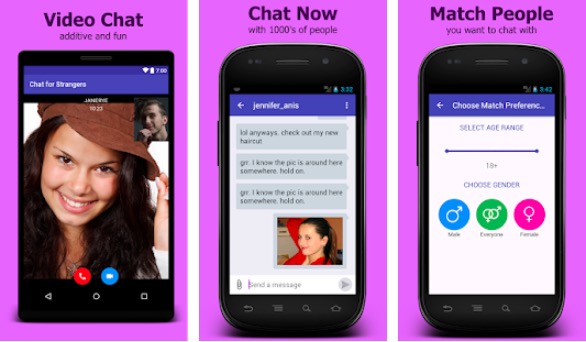 This is also a stranger chat app but offers one-on-one video chat. You can meet new people, ask questions, share secrets and pass the time. The app lets you filter people by age and gender. It also lets you share photos. The filter by Gender is a paid feature for elite users. The app has a clean interface and Also show notifications for new messages.
6. HOLLA Live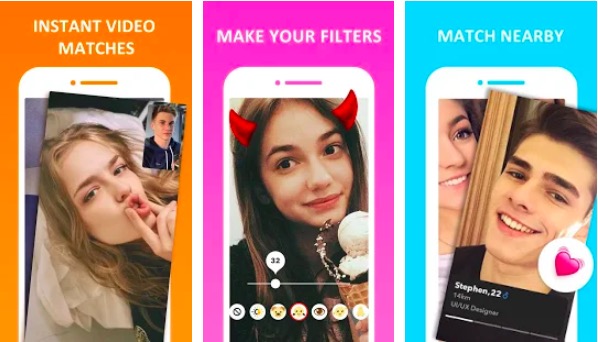 HOLLA Live is basically a random video chat app where you can meet new people and have a video chat. It has swipe option to match new people before you have a live video call. The app is easy to use and contains people from around the globe. One of the best things about the app is that you will never know who will be the next person you will talk. The app also has real people to avoid any kind of spam.
7. Qeep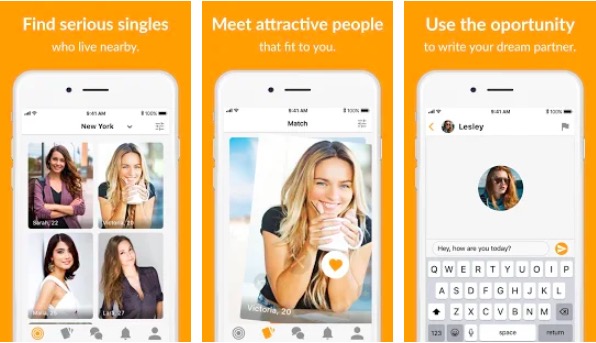 Qeep is also one of the most popular stranger chat apps for Android and iOS platforms. This app calls itself a dating app where you can meet singles in your area. It shows you photos of nearby people and you will have to swipe through those photos for a match to talk. The app claims to be 100% private and secure. It has a community of moderators who keep the Nudity away from the platform.
Final Words
Here are best random stranger chat apps where you meet strangers, talk to them and have fun. You can download and install any of these random stranger chat apps to pass time or meet friends.
I will keep on updating this list when I find new apps worth to mention. If you also know any good stranger chat app for iOS or Android, you can suggest me via comments and I will include that here.