10 Best Weight Loss Apps for Android and iPhone
Obesity and heavyweight is the problem everyone is facing right now. You might be following some diet, weight loss methods and might be doing hours of exercise every day and a lot more things to reduce weight. How about having a diet coach for with you where ever you go who will be guiding you what to eat and what not to eat? Yes, that is possible if you are an Android or iPhone user. There are many weight loss apps for Android and iPhone which guide you regarding the diet you follow, calories present in the food you take and a lot.
Also see: Best Fitness Apps for Android
Best Weight Loss Apps
We bring you the list of the best weight loss apps for Android and iPhone. We are listing down all the free apps for both platforms and there are many paid apps even.
1. Myfitnesspal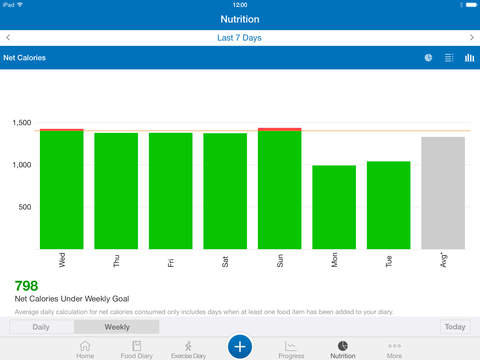 Myfitnesspal is the best diet plan app for your smartphone which helps you reduce your weight by following the plan it has suggested. It requires little input regarding your age, sex, weight, height and some more and it will prepare a chart of what you need to take and how many calories are required per day to have a healthy life. Just record and track everything you eat daily in the app and it will prepare the updated chart for you.
The app claims to have 11+ million foods in the database including food items and cuisines. You can simply scan the barcodes to log more than 4+ million items. The app also has an option to easily import the nutrition information for a recipe you cook. So the app can mostly calculate the calories in your foods, meals, and recipes accurately. It also calculates the macros in your good and tracks Nutrients.
Based on the daily activity, it will change the suggestions for you, but the ultimate aim is to keep you fit. It also allows you to set goals per week or month and it will guide you to achieve them. As of now, 88% of users of this app have lost weight and became one of the best weight loss apps for your smartphone.
2. Calorie Counter
Calorie Counter is the app by FatSecret for counting calories and tracking the diet for weight loss. The app keeps track of your food, exercise, and weight. It gives access to the most accurate food and nutrition database that helps you losing your weight fast.
The app comes with a big database of food items and also lets you scan the barcode to enter the food you are earring. It uses image recognition to track nutrition with pictures. It also features an exercise diary to record all the calories you burn. You also get reminders for meals, weigh-ins, and journals.
It shows a diet calendar where you can see your calories consumed and burned. The app also has a weight tracker to record your weight loss progress. You get detailed reporting of your calories, macros, and nutrients.
The app syncs with FatSecret Professional who can monitor your performance and provide you with feedback and advice.
The app also comes with a premium subscription for enhanced features and capabilities if you want.
3. FoodPrint
FoodPrint (Previously known as Nutrino) helps you in preparing the diet plan and menu which you need to follow. Initially, you need to enter the goal which you are planning for, your details like height and weight including some more information and then it shows the plan. You also need to enter what you eat daily and based on that, it shows the stats of how many calories you need to take daily to reach your goal.
You just need to capture the photo of food and it will sync it straight into your diary. Open the app and fill the item details to log your meal. The app tracks your calories and makes sure you are earring enough fiber. It also motivates you to have 30 minutes of exercise. You can also log your workouts, sleep, and medications on the app.
It also prepares a shopping list for you with items that are needed by you. It allows you to share your progress to any social networking website right from the app. As of now, it is available only for iPhone users and it is on the way for Android users. The app also syncs your data with your devices including Fitbit, Oura, Garmin, and Withings or Apple health.
Download iPhone
4. Calorie Counter by Lose It
Lose it is a simple app for weight loss with clear plan and exercise ideas. As Nutrino you need to enter the goal first and your aim is to achieve that with the help of Lose it app. One of the most important features of this app is, you can get the motivation from your friends by sharing your progress with them. It suggest you some tips which needs to be followed like number of sleeping hours needed, foods with certain calories will be listed and many more like this.
The app has 27+ million searchable items in its food library database along with 25+ macronutrient and health goals to choose from. The app counts calories, tracks your diets and exercises to keep you on track. You can track your macro, carb and calorie intake to reach your weight loss goals. There is a bar code scanner to quickly scan food barcodes or use the camera to capture food. It tracks macro, protein, water, carb, sugar, body measurements, sleep cycles, and more to give you a better plan to lose weight.
The app also lets you setup weight loss, fruit/veggie, and exercise challenges to be motivated. It also gives you personal insights and patterns to check if you are on the right path.
There are several more features from this app which makes it unique from other weight loss apps.
5. Weight Watchers Mobile
Weight Watchers Mobile is the weight loss app which gives you plans which are easy and simple to follow. It allows you to search for foods, recipes and restaurants which are good for you to maintain diet. You can track your weight, activity and more day-by-day. It shows the interactive chart based on your daily activity and you can add items and recipes using the Points plus Calculator.
It also syncs with your fitness trackers to cover your daily steps into FitPoints. You will also get a daily dose of inspiration and positivity on our exclusive social community, Connect.
6. Pact
Pact is a unique weight loss app that can earn you cash for losing weight. In this way, it motivates you. When you sign up, you choose a specific amount of money you pay to other members if you don't reach your goals by the end of week. Weekly payments typically range from $0.30 to $5 USD. If you reach your goals, you receive a cash reward by members who missed their goals.
You can set your exercise and healthy eating goals each week and increase your fitness level. It tracks your workouts via GPS and accelerometer. You can also connect it with RunKeeper, Fitbit, Jawbone Up, MapMyRun, MyFitnessPal or any of our partner apps.
7. Cronometer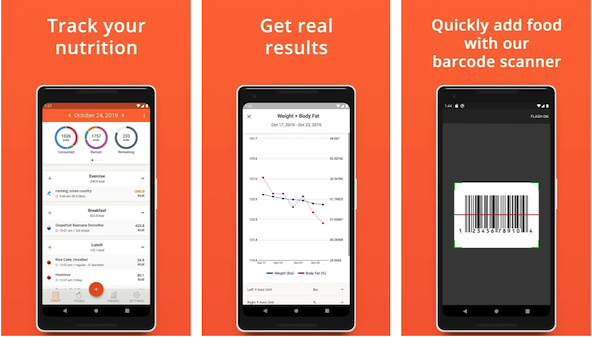 Cronometer is an accurate nutrition tracker app that provides accurate data. It can track up to 82 micronutrients. This is the app is recommended by healthcare professionals. You log your food and exercises in the app and it tracks calories, protein, carbs, cholesterol, and more. You can also use the app to keep track of your water intake. The app has an option to scan food labels using the barcode scanner. You can also add custom foods & recipes. So, it can track your nutrient intake. The data is also synced with devices like Fitbit, Garmin and more.
The app shows insights on calories along with the breakdown of vitamins and minerals. So, you always know what kind of meal you are consuming. This is really helpful for weight loss.
8. Waterlogged
Waterlogged is an app that helps you hit your hydration goals. Drinking a good amount of water is necessary for your energy levels, workout capacity, and hunger levels. If you think you usually forget drinking water, you can start using the Waterlogged app. You can log when you drink water and it will show you water consumption graph by day, week or year. You can also set reminders and the app will keep reminding you to drink water. The app comes with full integration with Apple Health, Fitbit, MyFitnessPal & more health-related apps.
Drinking a good amount of water increases Energy & Relieves Fatigue, promotes weight loss, flushes out toxins, improves Skin Complexion and boosts the immune system. SO, now you know why this app has been added into the list of best health loss apps.
9. Noom
Noom is a really good app if you are serious about losing weight. The app uses a psychology-based approach to understand you in a better way and then help you in achieving your weight loss goals. The app asks a lot of questions about you to know you better before you start using the app. Room app hopes you in seeing a weight loss goal and then see your progress. The app tracks your food intake, your exercise, and your daily out-and-about activities to help you make better choices for your health.
The app also offers custom meals and workout plans to take your progress to the next level. It also identifies your challenges in real-time and keeps you on track. The app also comes with content with over 250 articles to guide you. The app also includes tools to track your weight, food, exercise, blood pressure, and blood sugar levels.
10. MyNetDiary
Losing weight is not an easy task until you are doing it right. MyNetDiary wants you to make a decision based on data. So, the app tracks your calorie and nutrition intake along with your exercise to help you gain control and loss weight. It shows charts and graphs to motivate you. The app makes it easy to record your good and it can automatically identify calories you take automatically. It has a database of 420,000-food items and can track up to 40 nutrients.
The app comes with advanced recommendations suggesting diet tweaks and it also shows weight Forecast. The also shows you reminders to log meals, sleep and more.
Final Words
These are the 1o best weight loss apps for Android and iPhone. You can use these weight loss apps and keep yourself fit. The apps will help you in tracking your food and workout to keep you on track. These apps also come with custom plans and guides, so you know how to achieve your goals. Do you want to add any more apps to the list? Please, do share with us through comments.