6 Best Universal Remote Apps | 2019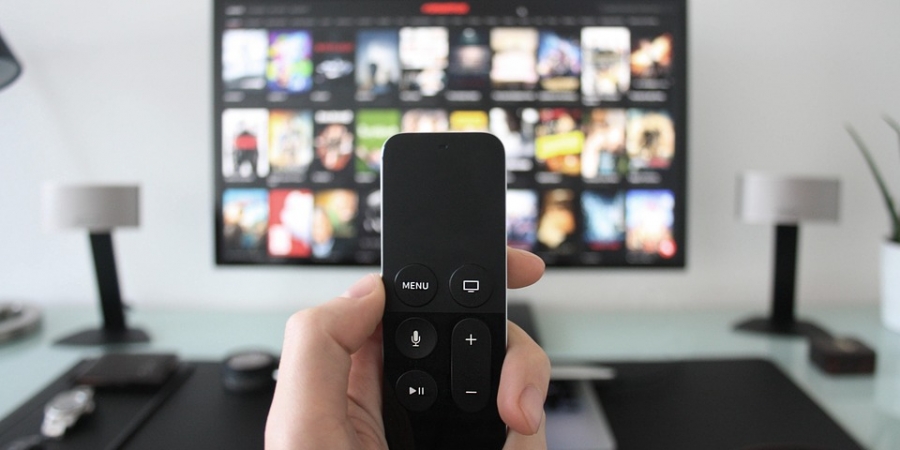 Recent years have witnessed an extraordinary growth in technology. Our homes have been transformed into a more sophisticated way. The introduction of Universal Remote impressively helped to bridge the gap between humans and machines. Fiddling with the old remote is also no more in fashion. The sensors of the Universal remote could easily control the functioning of the TV set, Gaming Console, Sound system, lights and numerous other appliances. No doubt this intelligent innovation transformed our lifestyle. But the thought of turning our smartphones into Universal Remotes seem even cooler. The basic idea is to control everything in just one click.
While all these apps are extremely user-friendly, having IR blaster on your smartphone is the basic requirement. Infrared Blaster transmits signals and equips the smartphone to act as a Universal remote control. Android devices come with inbuilt IR blaster but iPhone does not have the feature. In case, your phone is not having IR blaster, you can look for an external IR blaster or a Broadlink WiFi-to-IR converter.
Best Offer on Mobilephones
MOBILE BONANZA
The first programmable Universal remote control was released in 1987. Ever since then, a noticeable pace of development has been witnessed. Here is the list of top 6 Universal remote apps that you can use to control almost all the gadgets in your home.
Top 6 Universal Remote Apps
These are the best universal remote apps or UR apps for Android. Choose the one that suits your home and you.
1. SURE Universal Smart TV remote control: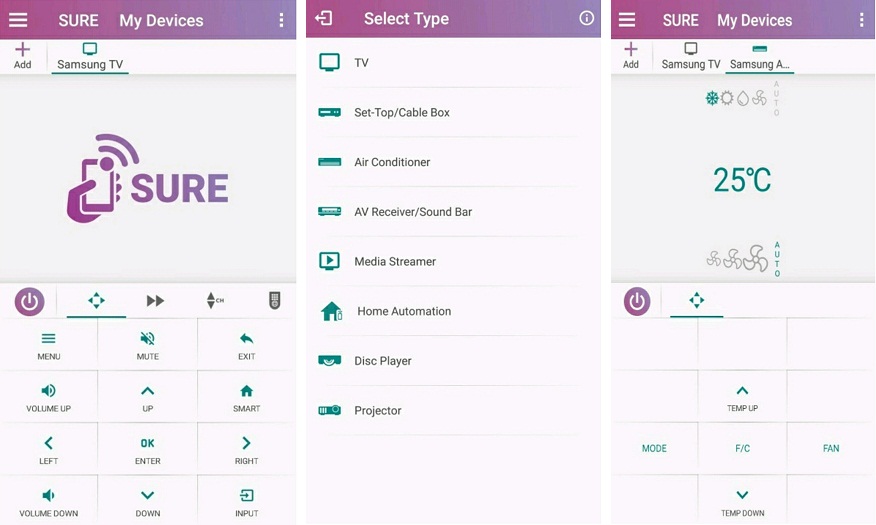 SURE is a Universal Remote app that supports any wireless protocol. This app works efficiently for Android and easily connects to Wi-Fi and IR. Once the connection is stable, one can control the TV, Set-up box, Air Conditioner, DVD, Projector, Media Streamer, Av Receiver, Console and even copy files.
A device can be added by selecting "ADD DEVICE" on the top right of the screen. Selecting it will provide the option of Smart Remote or Traditional Remote, then a list of devices. Once it is chosen, the list of brand names appears on the phone screen. On selecting the brand of your product, you have to test the remote and save the suitable one. Amazon Alexa receives voice commands and works accordingly. This app is available for free on Google Play Store and 9apps Store.
2. AnyMote UR + Wi-Fi Smart Home Control: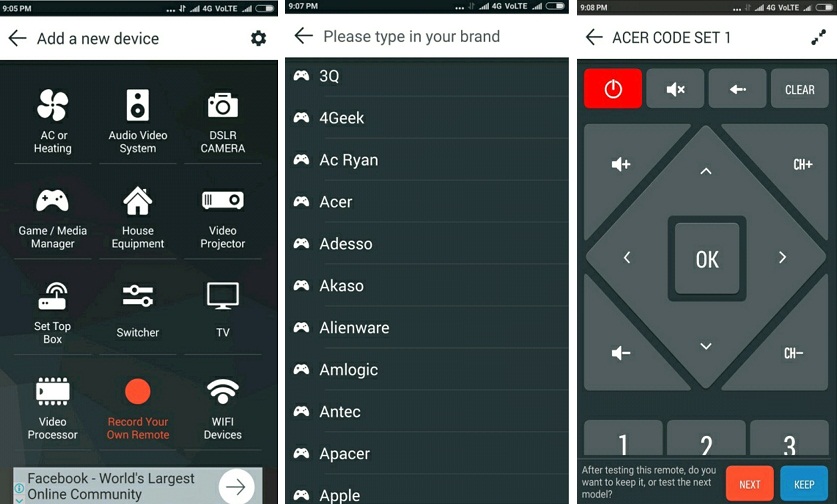 AnyMote app enables the user to effortlessly control their smart home. IR and Wi-Fi devices like TV, Gaming Console, Media Player, Lights, Cameras etc. can be connected to this universal remote app. Amazon eco receives the voice command and does the work. The motto of ANYMOTE "Any device. One remote." explains everything and is very justified.
Once you install the app and open it, a list of options appear from which you can choose your device, then brand and finally check the remote. Once the remote is chose, you can control the device using your smartphone. This app is available for all Android devices.
3. Yatse: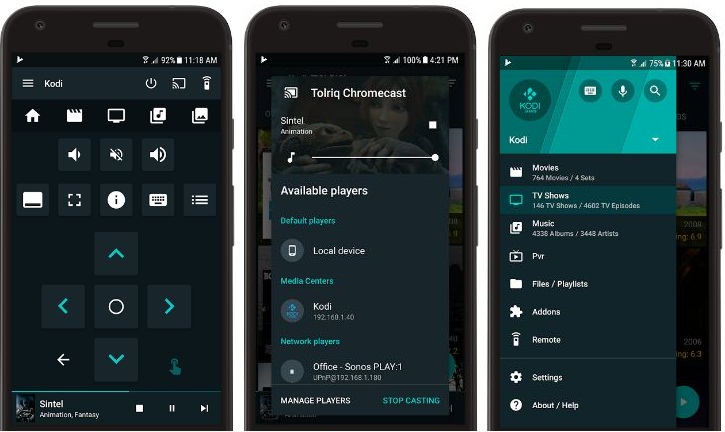 Kodi is smart entertainment software that works for various operating systems. And Yatse is basically a remote control app by Kodi. The app helps to stream media from the local device, AirPlay, and other devices. Like other apps, it is also enabled with the voice command feature. The user can even get access to online library and send media from YouTube, among other advantages. One can buy the premium version to enjoy more benefits.
4. Mi Universal Remote App: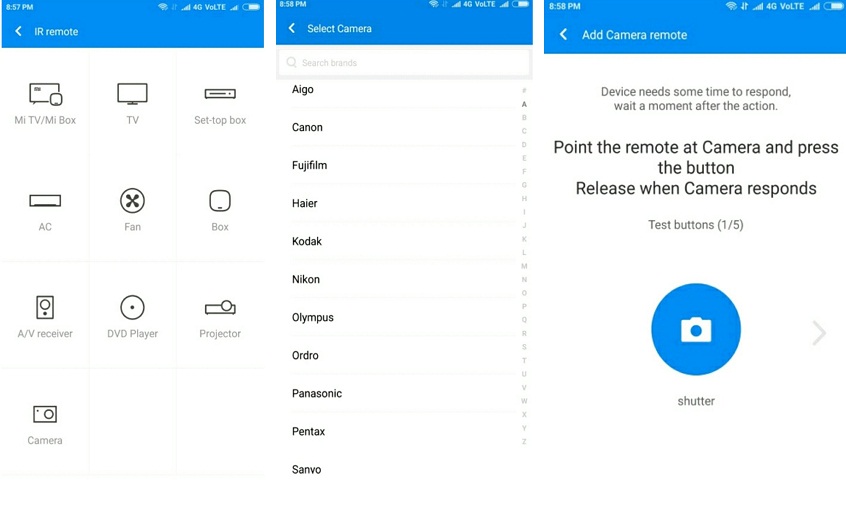 Decked with various features, Mi Universal Remote App can help you to control your TV set, Camera, DVD, AC, Projector etcetera. This app developed by Xiaomi is easy to use and the best thing is no pop-up ads. Just like other apps, one has to select the device, followed by the brand and test the remote for proper functioning.
5. Peel Smart Remote: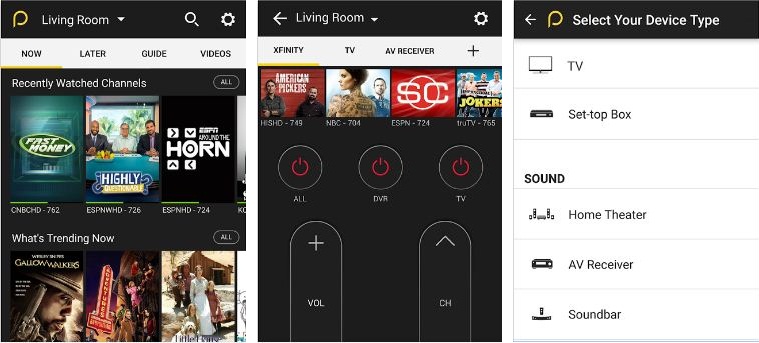 Peel smart is another Universal Remote App that uses the IR blaster to help the user to control their TV, Audio system, Home appliances, DVD, etcetera. With some simple taps on the phone screen, one can control all the smart appliances in the home. There is also the feature of personalizing the list and selecting your favorite channel.
6. Free Roku Remote – RoByte: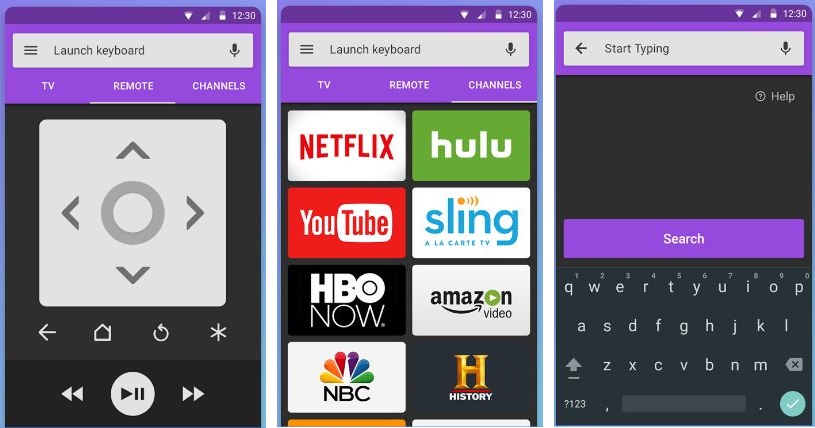 Roku app assists you to control your Roku player and Roku TV. Available on both Google Play and App Store, this app gives you the advantage of seeing pictures, videos and music on the big screen. You can also stream across more than 500 free channels, while the other channels and customizable widgets can be unlocked as the user purchases it. The voice control receives the voice command and gives you the privilege to control everything with your voice. Along with that, there is a Private Listening feature. So, one doesn't really need to bother about the remote on the Netflix night.
Read more: Best Apps to Fake GPS Location on Android Device
These are the best universal remote apps for Android. You can use any of them as per your choice. Do tell us your experiences in comments after using one.