10 Best Truth or Dare Apps for Android and iOS
Let the truth spill out!
A classic game of Truth or dare game is the perfect source of entertainment for a huge noisy party or a small get-together with friends.  This game helps you know your friends in a fun way, wherein you embarrass each other without hurting anyone. This is the only game that breaks the ice between friends and helps them connect more.
There are many truth or dare apps that have many modes and categories for kids, friends, and adults. These apps have hundreds of truth and dare questions and tasks that make the game more interesting. Here we have for you some of the best truth or dare applications which you should try out ASAP!
Best Truth and Dare Apps for Android
Try any of these truth and dare apps and make your party more interesting. Play this old game in a new style.
1. Truth or Dare: Party Game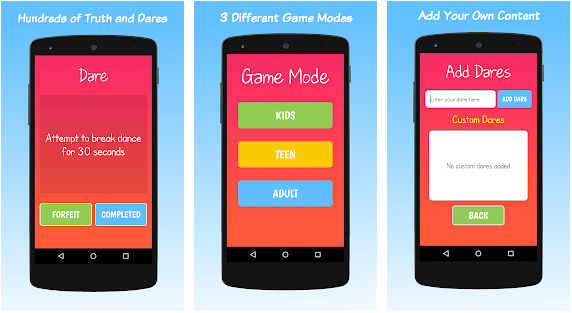 This game offers an extremely simple interface and makes it convenient for to you play the well-known game: Truth or Dare on your mobile phone. Get to know you're your friends for real, with this ideal game of truth and dare. With hundreds of Truth or Dare questions and with three different game modes which include kids, teens, and adults; this game qualifies to be number 1 on our list.
If you are not satisfied with the type of questions the game provides then you can add your own set of questions and dares, be it clean or dirty, into the app. With all this said, what are you waiting for? Grab your friends for a quick game of Truth or dare. Also, this game is compatible with iOS so hurry up!
2. Truth or Dare: Spin the Bottle
Here is a truth or dare application which will help you play anywhere without any requirement of the base or the bottle because that has been looked after already! With one tap you will be able to spin the bottle and play this classic game. Like the previous application, this game also offers three modes: one for kids, the second for teens, and the third for adults.
This application has to offer more than 2500 Truth and Dare questions, and lets you set player names. The major feature of this game is the bottle, which you spin to start playing the game. Along with being very simple to use, this game is free of cost so hurry up and download it quickly.
3. Truth or Dare? The Dare Game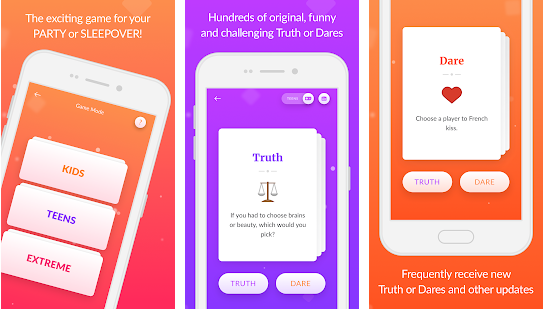 Always wanted to know your friend's first date? Or the most embarrassing moment? Welcome the spiciest party games of all times, now in the palm of your hand. This application by Tiggel will surely take your party to another level, more than getting to know the other person, get three or more people around the phone and get ready to ask and be asked the most embarrassing questions of all times.
Pass the phone around, and choose between answering a question or doing a challenging dare — it's fun, lively, and totally unrestricted! Work your way through three categories: for beginners, experienced players, and experts looking for something even more challenging!
4. Spin the Bottle by Ciliz Co. Ltd.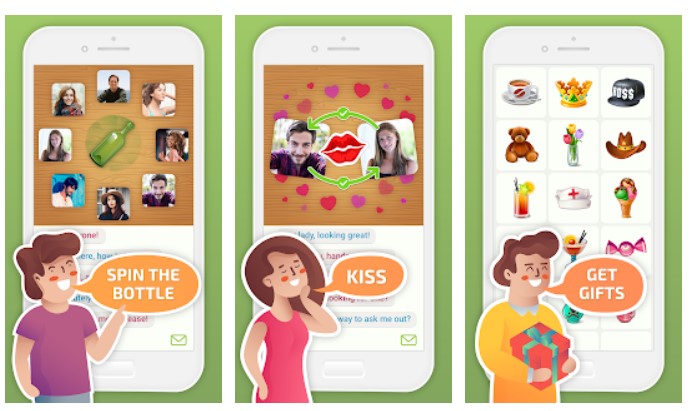 Do not confuse this application with the previous one because here we have something entirely different for you. Previously, it was one of the most popular games among young people without complexes. It is an online version of the popular game 'spin the bottle'. You can play for free with friends or strangers and send animated gifts: kisses, cocktails, and hats to each other.
You can log in to the game by using your Facebook or Odnoklassniki account. You will find yourself at a table where other players are also there in the game. Each player takes turns to spin the bottle and play the game.
Download Now: Android
5. Truth Or Dare by Simya Solutions Ltd.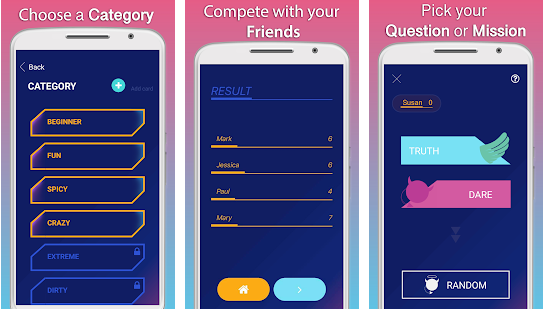 With the help of Truth or Dare, you can easily kill free time, as well as spend time with your friends, knowing many fascinating details about them. The game is created not only for the sake of laughter but also for rapprochement.
This version of the game has hundreds of different tasks and questions. In the game, there are three levels: Easy, Medium, and Difficult. As usual, if you're not satisfied with the type of tasks, and questions then feel free to add your own. The rules are very easy. You and your friend need to take turns to ask questions or give tasks to each other that you will have to do. Even though it's a very simple game, it lets you have a great time.
Download Now: Android
6. Truth or Dare by Vanilla b.v.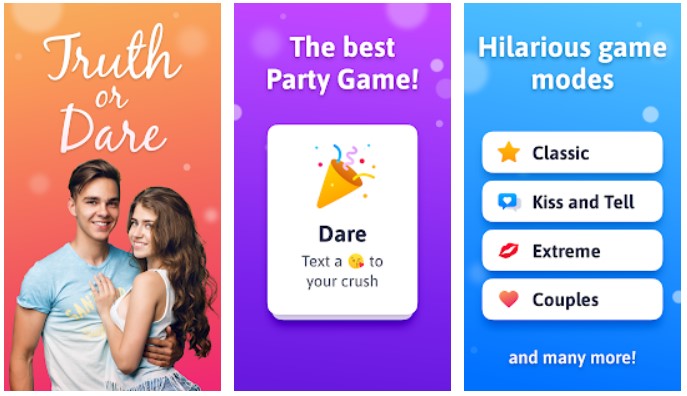 Truth or Dare by Vanilla b.v. has many games mode like Classic, Kiss and Tell, Extreme, Couples, and many more. Choose the one that induces more fun at your party. You need at least three people around the app to play and get ready for embarrassing questions and fun challenges. There are also three categories in this app that are beginners, experienced players, and experts who are looking for something even more challenging. There are hundreds of original, funny, and challenging Truth or Dares in this app.
7. Truth Or Dare for Adults & Couples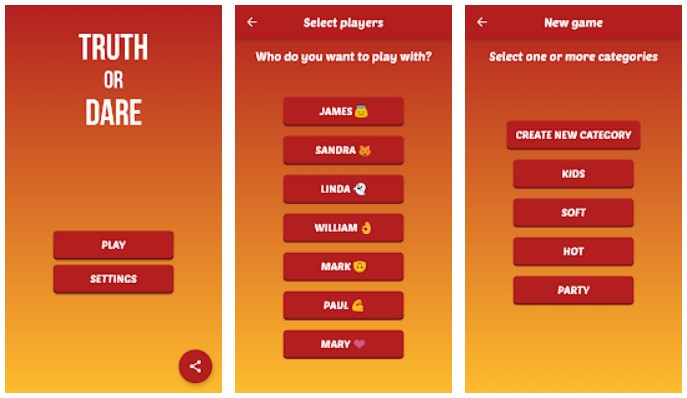 This truth or dare app is for couples, Adults, and friends. It has hundreds of truths and dares for you to enjoy on any occasion. You can create your own categories and custom truths and dares in this app. There is no limit to people in this app. You can play with as many people as you want. Install one of the best Truth or Dare Apps on your mobile and make your party more fun.
Download Now: Android
8. Truth Or Dare Kids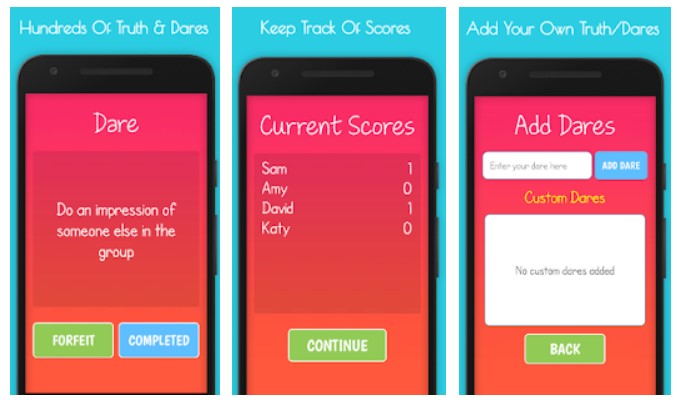 There are many apps for playing truth or dare but all of them have many categories for kids and adults. But this Truth or Dare app is only dedicated to kids. This is the ideal kids' Truth or Dare kids app for parties, dates, sleepovers, and breaking the ice. This app is clean and suitable for all children of all ages making this a great family group game. There are hundreds of fun and challenging Truth and Dares aimed at Kids and You can also add your own custom truth or dares. You can play with up to 8 players in this app.
It is completely free to play and has a scoreboard to keep track of who is winning.
Download Now: Android
9. Truth or Dare 🌶️ Dirty by Nijo Software
Truth or Dare is the ultimate party game for teens, couples, and adults and this app has some dirty truth and dares to make the game more interesting and intense. There are three modes in this app namely, Casual mode, Party Mode, and Dirty Mode. You can choose any of them as per your choice. The casual mode is for friends looking to have fun and explore each other's secrets, party mode turns the app into a party game to help you fire up the mood and the dirty mode is for adults for an unforgettable evening.
Download: Android
10. Truth or Dare Game For Couples and Friends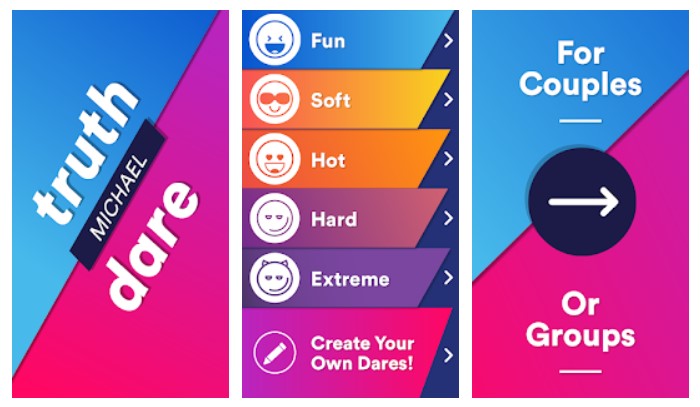 This truth or dare game app is for couples and friends. There are more than 1000 dares that you can choose from to play truth or dare the whole party for a fun night. In this app, the dares are arranged into 5 levels: Fun, Soft Hot, Hard and Extreme, you can choose any difficulty level according to the fun that you need in your party.
Download Now: Android
Also, Read Best Football Games for Android
So, with the above-mentioned applications, you can have a really, really good time at any party. These are the best Truth or Dare Apps that you can use to play fun games at your party. Just install one of the offered variants on your smartphone or tablet, and be sure to play it when you do not have something to do!