5 Best Truth or Dare Apps for Android and iOS
Let the truth spill out!
A classic game of Truth or dare game is the perfect source of entertainment for a huge noisy party or a small get together with friends.  This game helps you know your friends in a fun way, wherein you embarrass each other without hurting anyone. So, here we have for you some of the best truth or dare applications which you should try out ASAP!
Best Truth and Dare Apps for Android
Try any of these truth and dare apps and make your party more interesting. Play this old game in a new style.
1. TRUTH OR DARE: PARTY GAME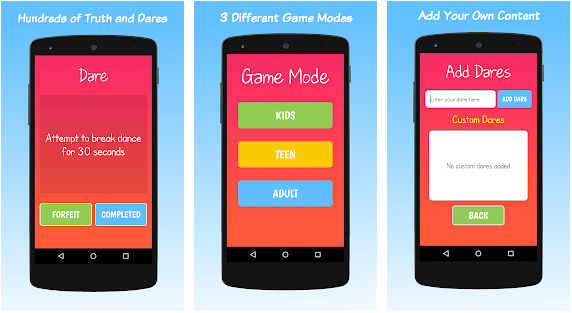 This game offers an extremely simple interface and makes it convenient for to you play the well-known game: Truth or Dare on your mobile phone. Get to know you're your friends for real, with this ideal game of truth and dare. With hundreds of Truth or Dare questions and with three different game modes which include kids, teens, and adults; this game qualifies to be number 1 on our list.
If you are not satisfied with the type of questions the game provides then you can add your own set of questions and dares, be it clean or dirty, into the app. With all this said, what are you waiting for? Grab your friends for a quick game of Truth or dare. Also, this game is compatible with iOS so hurry up!
2. TRUTH OR DARE: SPIN THE BOTTLE
Here is a truth or dare application which will help you play anywhere without any requirement of the base or the bottle because that has been looked after already! With one tap you will be able to spin the bottle and play this classic game. Like the previous application, this game also offers three modes: one for kids, second for teens, and third for adults.
This application has to offer more than 2500 Truth and Dare questions, and lets you set player names. The major feature of this game is the bottle, which you spin to start playing the game. Along with being very simply to use, this game is for free of cost so hurry up and download it quickly.
3. TRUTH OR DARE? THE DARE GAME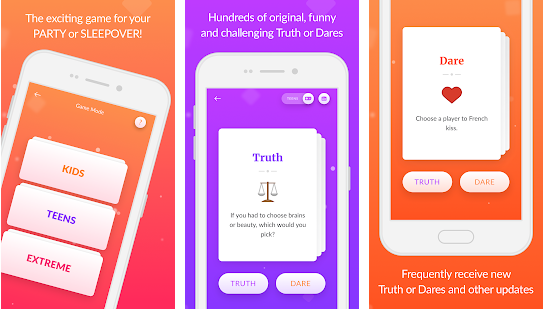 Always wanted to know your friend's first date? Or the most embarrassing moment? Welcome the spiciest party games of all times, now in the palm of your hand. This application by Tiggel will surely take your party to another level, more than getting to know the other person, get three or more people around the phone and get ready to ask and be asked the most embarrassing questions of all times.
Pass the phone around, and choose between answering a question or doing a challenging dare — it's fun, lively and totally unrestricted! Work your way through three categories: for beginners, experienced players, and experts looking for something even more challenging!
4. SPIN THE BOTTLE: TRUTH OR DARE
Do not confuse this application with the previous one because here we have something entirely different for you. Previously, it was one of the most popular games among young people without complexes. Now you can play a bottle on your mobile phone thanks to the dynamic game Spin The Bottle: Truth or Dare. The game can be played by a few people. The total number of players can reach eight people.
In addition to spinning the bottle, the loser has to carry out various tasks. And if standard tasks seem too easy for you, you can always add your own ones to the game. You can change the app's backgrounds and themes as well as sound effects. The game will bring much fun to every party. There are more than one hundred questions which can be so crazy!
5. TRUTH OR DARE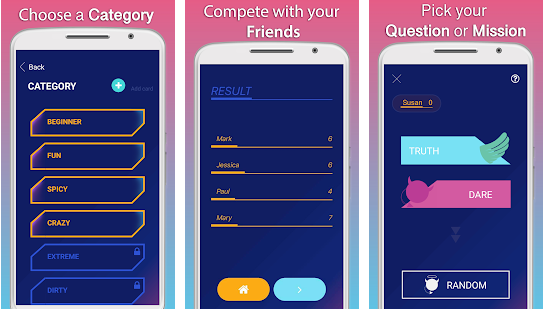 With the help of Truth or Dare, you can easily kill free time, as well as spend time with your friends, knowing many fascinating details about them. The game is created not only for the sake of laughter but also for rapprochement.
This version of the game has hundreds of different tasks and questions. In the game, there are three levels: Easy, Medium and Difficult. As usual, if you're not satisfied by the type of tasks, and questions then feel free to add your own. The rules are very easy. You and your friend need to take turns to ask questions or give tasks to each other that you will have to do. Even though, it's a very simple game, it lets you have a great time.
Download Now: Android
Also, Read Best Football Games for Android
So, with the above mentioned applications, you can have a really, really good time. Just install one of the offered variants on your smartphone or tablet, and be sure to play it when you do not have something to do!