15 Best Offline Shooting Games for Android
Shooting games are quite popular and the reason is that most gamers like shooting games. As most people have moved to mobile devices, gaming on the small screen is much more popular. So, many good shooting games are now available for Android devices. But most of those games need an active internet connection. If you do not have a proper internet connection, you can enjoy gaming. But don't worry, there are lots of games that you can enjoy without the Internet. In this article, I am listing the best offline shooting games for Android. So, download any of these offline shooting games and enjoy the gaming on your phone.
Also see: Best WiFi Multiplayer Games For Android
Best Offline Shooting Games for Android
If you were searching for shooting games offline, you can have a look at these offline shooting games for Android.
1. Cover Fire
Cover Fire is one of the best offline shooting games for Android devices. So, you just need to install it and enjoy it anytime you want. Your duty in the game is to lead your team of hearts and fight against Tetracorp corporation. Build your strategy to kill your enemies. Your opponents will have elite soldiers, lethal special units, mechs with impenetrable shields, and powerful tanks.
The game has excellent graphics to enjoy. Go and shoot over a train, shoot on helicopters, control drones and more. It is also free to play but with an in-app purchase option.
2. Into the Dead 2
Into the Dead 2 is also an impressive shooting game for Android that you can also play offline. This game is the sequel to the popular Android game Into the Dead. You get 7 action-packed chapters with 60 stages, and hundreds of challenges to complete. You also get powerful weapons and guns. The game has good graphics and nice sound effects. Even if you do not have an active internet connection, you can play this game
The game is free to play but you can purchase different items in the game using in-app purchases. The game also supports ads.
3. N.O.V.A Legacy
N.O.V.A. Legacy is another shooting game that brings 3D sci-fi FPS experience. The game offers enhanced 3D graphics and gameplay. You can play a single-player campaign offline to protect Earth anytime. You can enjoy the game without needing an active internet connection. I am sure you will love the immersive offline shooting experience.
The game also brings a multiplayer arena where you need to be the last shooter standing in the online multiplayer battlefield for 8 combatants.
The game is available for free but shows ads and offers in-app purchases.
4. Lone Wolf
Before you read about this game, make sure you are 18 years old or older than that. Lone Wolf is an intense game that tests your morals. It is also a recommended game if you love sniper games. It has an amazing storyline that keeps you engaging. The challenges in the game will improve the overall experience. You have more than 20 weapons to unlock and dozens of Mini-games to enjoy.
5. Mad Bullets
Mad Bullets is also an interesting action game that tests your reflexes. This game offers high-speed action and lets you be a hero to shoot your enemies. You get around 200 missions, 50 levels, 3 locations, and 4 minigames. You can also upgrade your equipment and unlock achievements.
6. Dead Effect 2
Dead Effect 2 is an impressive shooting game for Android that comes with a great story and amazing graphics. This is a horror-themed shooting game that brings around 20 hours of a single-player campaign. The game has a challenging storyline, with tons of upgradable weapons, gear and high-tech body implants.
7. Kill Shot Bravo
Kill Shot Bravo is a sniper game where you need to kill your targets. This is a first person shooter game where you need to move your sniper skills. You can use sniper weapons, machine guns, and the latest military gear to complete different missions. Your ultimate duty is to save the world, kill terrorists, zombies, and other enemies. There are over 2400 million to finish.
8. Hitman: Sniper
Hitman: Sniper is another sniper focused game where you have to kill people through a sniper rifle. You will be playing the role of Agent 47 who will own a sniper and kill people. For completing the game, you need to eliminate all your enemies. The game ha more than 150 levels and 16 unique sniper guns which you can collect as rewards as you complete the stages. The game is not free and costs $0.99
9. DEAD TRIGGER
DEAD TRIGGER is an award-winning shooting game where you have to kill zombies one by one. As the game progress, you will get different guns to kill Zombies. There are 13 characters to unlock. You will also receive free updates with missions, weapons, gadgets, characters, and more.
10. Bullet Force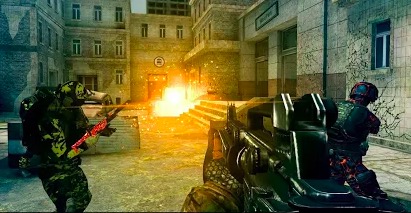 Bullet Force is also an interesting online or offline first-person shooter game where you can fight alongside your teammates in a massive 20-player war using a variety of iconic weapons. It is a 3D shooting game that you will surely love. Even if you do not have an internet connection, you can play the game with bots in skirmish and campaign mode.
11. Overkill 3
OverKill 3 is also an action game that can be played offline. You will have to lead the Resistance into victory over the evil Faction force. The game offers an amazing gameplay and nice graphics. You will have to fight and survive.
12. Into the Dead
Into the Dead is also an offline shooting game where you have to kill zombies. The game offers intense gameplay with amazing graphics and good sound effects. With the game, you will be unlocking an arsenal of powerful weapons and perks to help you stay alive. You will have to beat challenges and progress in the game.
Read More: Best Free Shooting Games for Android
13. Major Mayhem 2
Major Mayhem 2 is a fun action game where you need to aim and shoot. This action game is offline and you can play it without the internet. You will get hundreds of enemies to shoot and dozens of hostages to save. The game comes with good graphics and great animation. You can unlock new levels and guns.
14. Gun War
Gun War is another good offline shooting game that even works on low-end devices. The game comes with more than 124 exciting shooter tasks including 6 special game types. It has more than 50 featured scenes and maps along with 50+ weapons, epic weapons, and more. This shooting game is optimized for mobile devices. It offers smooth control and a nice experience.
15. Modern Sniper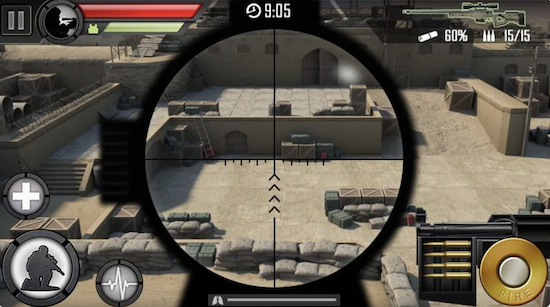 Modern Sniper is a good Sniper game for Android. This game offers a modern sniper shooting experience. The game has good graphics and sound effects. You get more than 50 crime shooter missions to complete. There are 7 different real-world weapons and 6 unique maps. You can upgrade your weapons with this game progress.
Final Words
There are lots of other shooting games that you can play without having an internet connection. I have not yet tried all. So, I will keep updating this list when we have a new game to share. In this list, you have the best offline shooting games for Android. You can download these games and keep on enjoying games without having an active internet connection.
If you know of any other good offline shooting game, you can share it with me.