5 Best private browser apps for anonymous and safe web browsing
December 18, 2018

in

Tools
Advertisement
I am sure many of you were wondering what does a private browser do. So, before talking about the best private browsers, I am going to explain about the private browser.
Internet web browsers have been around for around 28 years. The web browser allows us to browse the web and it also keeps browsing history, download history, cache, cookies, and bookmarks. Even after closing the browser, it keeps these data that can be seen by anyone having access to your computer. To avoid someone seeing browser data like history or bookmark, we have clear it manually or remove entries from history that we don't want others to see.
There can be so many reasons why one doesn't wish others to see browsing history or other browser data. I am not going to talk about that here. This is the reason, browsers now offer an incognito mode to avoid these things. But that adds one more step in web browsing.
You have an option to manually delete your browsing data or use incognito mode but there is another thing that is not in your control. I am talking about the trackers. Most of the websites and advertising networks keep trackers on your system to know more about you. So, your browsing behavior is actually known to some advertising companies.
So, there are few Private browsers or anonymous browsers that help you in keeping your web browsing private. These browsers block trackers and remove your browsing data as soon as you delete your browser. In this article, I will tell you the best private browsers you can install on your phone and start private browsing without worrying about your privacy.
Also see: Best Browsers for Android
Best private browser apps
Here is the list of best private browsers for Android and iOS. These browsers do not keep your browsing history and download history. Most of these also block tracking scripts and even offer the safety-related feature. The default search is also not the Google to keep your search behavior anonymous. Check this list of cool private browsers and start using one.
1. DuckDuckGo Privacy Browser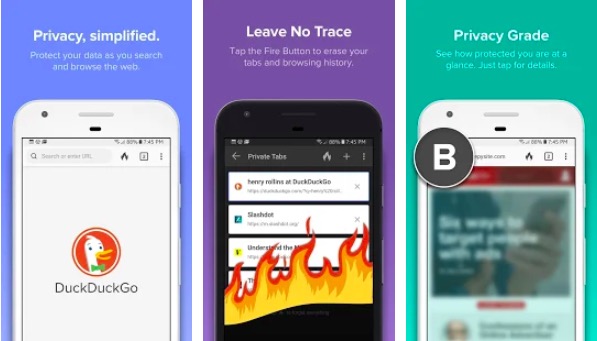 DuckDuckGo is a known name. DuckDuckGo is a search engine that doesn't track you. The company knows the importance of privacy, hence it also released a private browser for both Android and iOS. The app helps you escaping advertisers as it blocks all hidden third-party trackers. It also forces websites to use an encrypted connection. It supports the DuckDuckGo search that doesn't track your queries and search behavior.
The app provides standard browsing features including tabs, bookmarks and autocomplete, so your experience will be the same as with other browsers.
If you really care for your privacy, you should switch to DuckDuckGo browser.
2. Ghostery Privacy Browser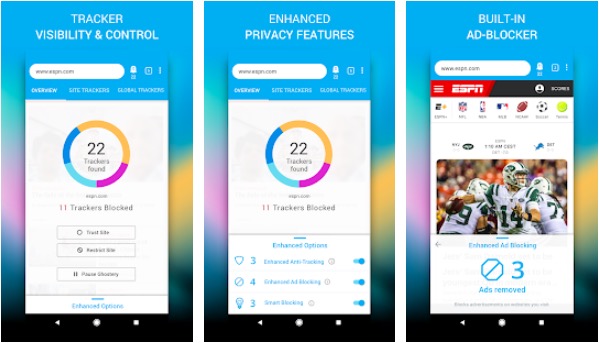 Ghostery Privacy Browser is another private browser that offers a private, fast, tracker free and ad-free mobile browsing experience. It claims to feature the largest tracker database to block them all. It also shows that a website is trying to put what kind of tracker. It also comes with a built-in ad blocker to offer ads-free browsing experience.
For searching, it offers Ghost search that is a private search engine powered by Cliqz. It also offers Ghost mode that offers enhanced privacy protection. It also comes with security features like phishing protection to keep you safe while you browse the web.
This browser is also available for both Android and iOS.
3. Orfox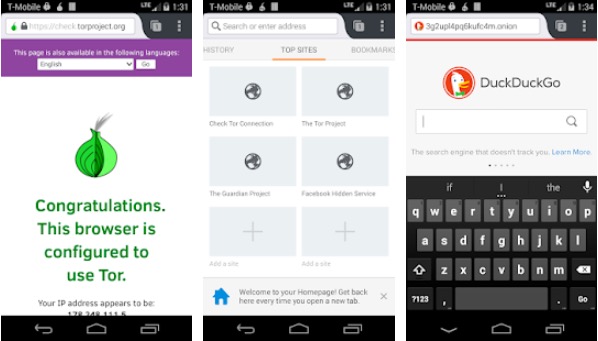 Orfox web browser is built from the same source code as Tor Browser that is further built on Firefox. This browser can also be blocked using a password. When you are using the private browsing mode, it disables all trackers automatically. It also has a feature called HTTPS Everywhere that forces a website to use HTTPS. It also disallows you to take screenshots anywhere in the browser. It also comes with an option to clear all data on exit and allows you to install add-ons for more functionalities.
This web browser is only available for the Android platform.
Download: Android
4. Firefox Focus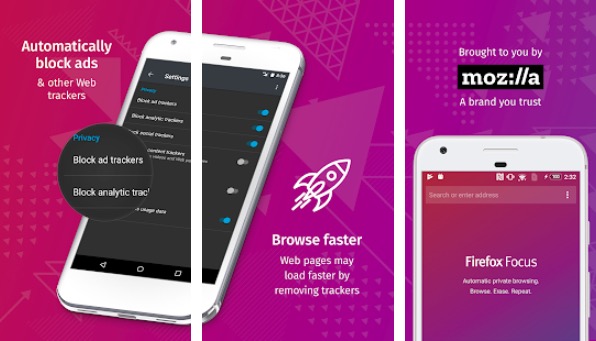 Firefox Focus is also a good private browser for safe and anonymous web browsing. It comes from Mozilla, so it is reliable. It lets you delete the browsing history and cache with a single tap. It also blocks all trackers including advertising, social, and analytics. Blocking trackers setting is enabled by default. You can also choose to block the content trackers but it may break some web pages.
There is also a Stealth Mode that is enabled by default. It prevents you from taking screenshots within the app. In case you want to take screenshots, you need to disable this feature first.
The only issue with this browser I could find was the support for the single tab at a time. So, there is no multi-tab option.
5. Dolphin Zero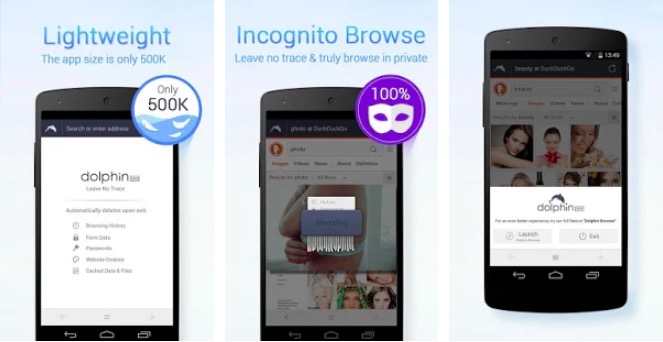 Dolphin Zero is also a similar web browser that includes privacy features. This browser doesn't offer much and is similar to the incognito mode found in other browsers. It deletes everything, including the browsing history, passwords, cookies, and cache, after you exit the web browser. It also a very lightweight browser with only 500K app size. It also has a cool interface and is fast with a strong kernel for the browser.
This mini-browser is available for both Android and iOS platforms.
Also see: Best Antivirus Apps for Android
Final Words
These were few good private browsers for Android and iOS. I will keep finding more to make this list even bigger. Until then, you can enjoy any of these to keep your browsing safe and private. If you know any such good private browser, you can let me know and I will surely try that to see if that can be the part of this list.
Private browsing is now really important, especially when you are browsing something you don't want other people to see. I hope you found this article interesting. If you did, don't forget to share it with your friends.