7 Best and Free Android Antivirus Apps for Android | 2018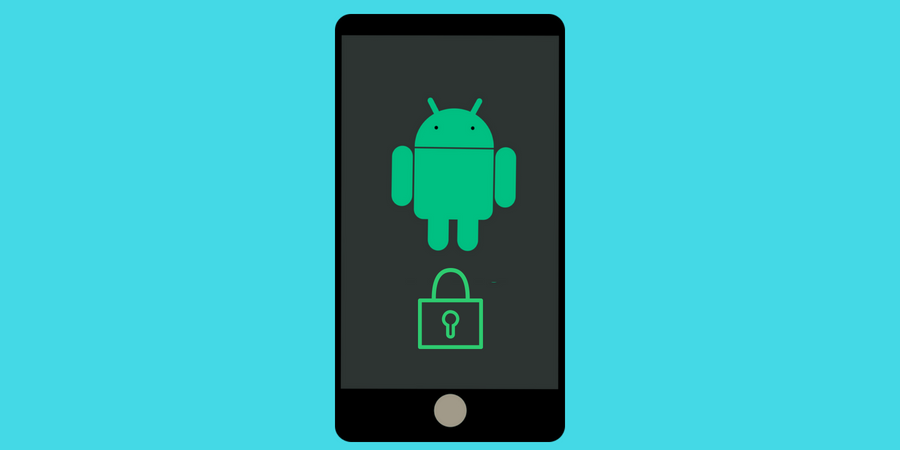 Android is now one of the most popular operating systems with over a billion devices running on it. So, There are many cybercriminals who are targeting Android devices. In order to protect your Android smartphone from several security threats, you must have a good antivirus app in your smartphone. Before going to select an antivirus app for your smartphone, you must take care of the following points which antivirus app must have:
Antivirus Engine: Antivirus app must be able to protect your device from all the latest threats. It must be able to detect and clean infected files.
Up to Rs. 8000 cashback on MacBook Air
Up to Rs. 8000 cashback on MacBook Air
Internet Security: We all use our smartphones for internet, social media and chat. So antivirus app must be able to secure you from threats which come for the internet. It must be able to block phishing and other malicious websites while browsing.
Anti-theft: This is the most important feature which everybody wants to have on their smartphone. Most of the antivirus app also provide this feature. So always select antivirus which has this feature. It helps to protect/find / block / recover your phone if lost or stolen.
Privacy: Antivirus must be able to reduce privacy risk. It must detect what apps are exploiting the permissions and trying to get access to your personal files when they should not.
We have made this list based on these factors.
Top 7 Free Antivirus for Android Phones
Here is the list of the best antivirus for android phones that you can use for free. Try to use a security app which suits your daily needs of security.
1. Avast Mobile Security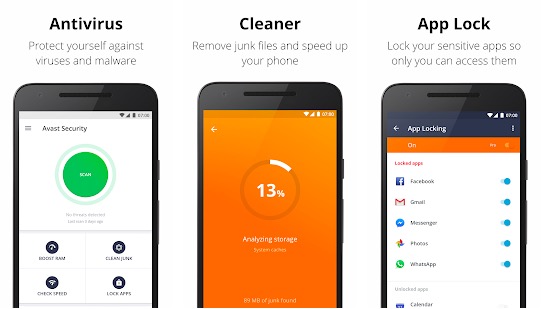 Avast is one of the most popular antivirus companies. It also offers a free Antivirus app for Android that has over 100 million downloads on Play Store. It keeps your device safe from phishing attacks, infected websites or SMS messages. Along with the Antivirus engine, it also comes with lots of security features like AppLock, Call Blocker, Anti-Theft, Photo Vault, power saver, firewall, RAM booster and Junk Cleaner. Few of these features are only available in premium version.
2. Bitdefender Antivirus Free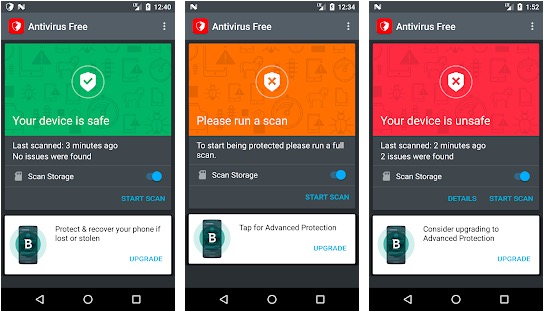 I personally use Bitdefender Antivirus and I have even posted the review of Bitdefender family pack. It offers protection against all major Android threats without putting a load on your system resources. It has super-fast scanning ability but never slows down or affect battery life.
Along with protection from threats, it also brings other features including account privacy, Internet protection, App lock, VPN, battery saver and more. So, your device is protected from several threats.
3. AVG Antivirus Free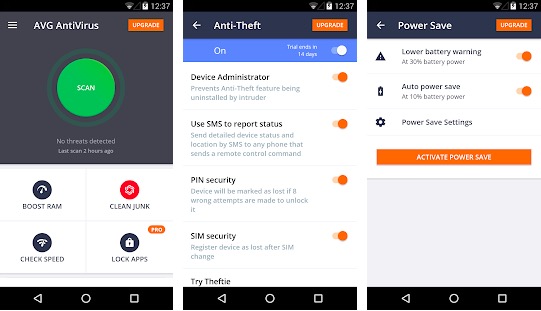 This is also a popular free Antivirus app for Android. It can detect most of the security threats and remove it from your phone. It scans apps, games, settings, and files in real-time to see if there is anything wrong. It also helps in cleaning unnecessary files to free up space. The app can also boost speed by killing tasks that slow down your device and it can extend battery life with Power.
Other features of the app include anti-theft, mobile tracker, hide photos, Wi-Fi Scanner for network encryption and more.
4. Kaspersky Mobile Antivirus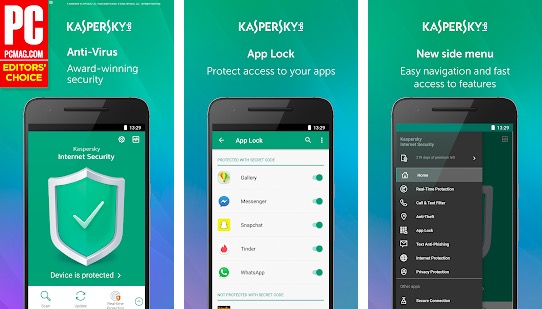 Kaspersky Mobile Antivirus is also free to download Android antivirus that keeps your phone safe. The app keeps running in the background and scans your phone for viruses, spyware and Trojans. It automatically blocks any malicious task and protects your phone.
Along with antivirus feature, it also offers app lock, find my phone, Anti-theft, anti-phishing, call blocker and web filter.
It also supports Android Wear to control your security status. So, you can activate the 'Find my phone' function, run a scan for viruses, spyware, malware and other threats from your smartwatch.
5. Sophos Mobile Security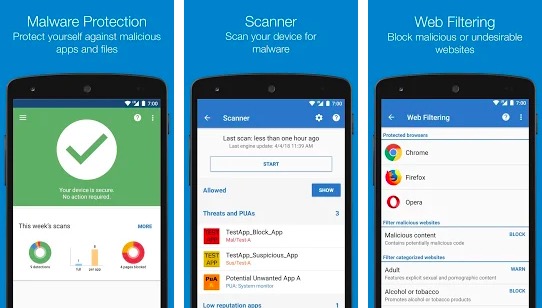 Sophos Mobile Security is also an excellent app to keep your phone safe from several threats. This app is free and offers all the features without charging anything. It offers malware protection, theft protection, web filtering, Wi-Fi Security, Privacy Advisor, Security Advisor Call Protection, Secure QR Code Scanner and more. It can also detect a malicious URL and block it if you visit it. So, it protects you from several internet threats.
6. McAfee Mobile Security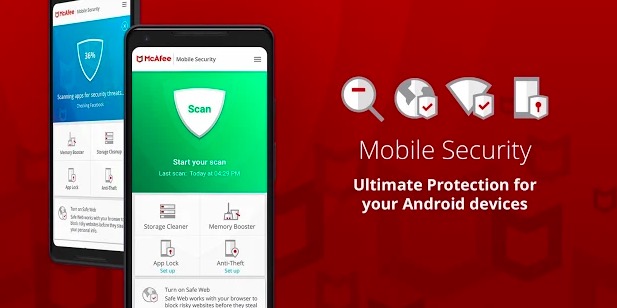 McAfee is also a known name in Antivirus field. It also offers an app called McAfee Mobile Security to keep Android devices safe. It claims to offer 99.5% malware detection rate. You can schedule the scanner to run every day at a particular time, weekly or keep it running in the background.
The app comes with features like anti-theft features, security lock, Wi-Fi security, battery optimizer, memory cleaner, etc. All these are available in free version of the app.
7. Norton Security & Antivirus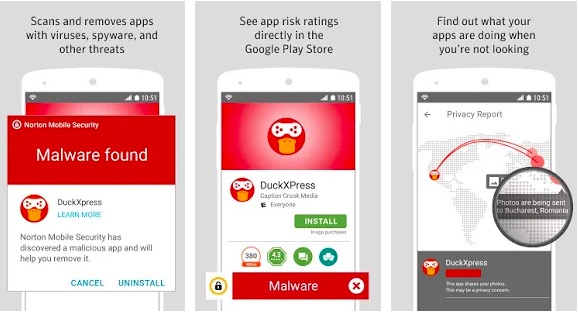 Norton also offers an all-in-one mobile security and virus protection app for Android. The app scans and removes malicious apps. It allows you remotely lock your lost phone and avoid data theft. You can choose to automatically lock your device after 10 failed unlock attempts. It can also locate your lost device and give you the exact location.
The app also offers a call blocker, at a protection, and privacy features.
Read More: Best Ringtone Maker Apps for Android
Final Words
There is no need to make a long list as these 7 are enough to select one best for protecting your Android phone. Now you have a list of best antivirus app for Android. Get one and keep your phone safe. Also, let us know what antivirus app do you use to keep your phone safe from threats. Comment and let us know.