10+ Best Free Data Recovery Software Of 2019
February 16, 2019

in

Tools
Nowadays, everything is digital and we keep most of our important documents and files on the computer. But there could be different reasons for losing it. It can be accidental delete, a software bug or a virus. In that case, we instantly think of the best data recovery software or data recovery tool to recover the important file we lost. There are several tools available that claim to be the best data recovery software. I tested many and now I am listing the best data recovery software.
Also see:
While creating this list of best free data recovery software, I considered various important factors including recovery from the Unallocated partition, Formatted Hard Disk or from a Corrupt disk.
Best Free Data Recovery Software
1. Recuva

Recuva is one of the best data recovery software available. This software comes for free and has the ability to restore files from hard drives, memory cards, external drives, CDs and DVDs. This tool has advanced deep scan mode to scan deeper and get better results. This tool can also recover files from damaged or formatted disks. It also has a secure overwrite feature that uses industry & military standard deletion techniques.
It supports all available Windows version and supports both FAT and File NTFS systems.
2. Puran File Recovery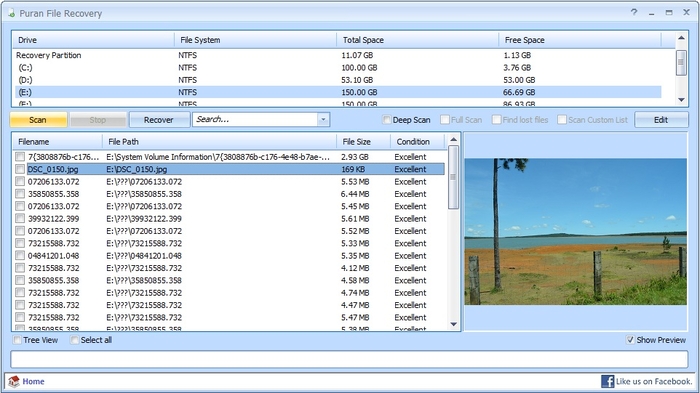 Puran File Recovery is also one of the best free data recovery software that can help you recover files from different storage devices. It works on three different recovery modes. You can try any of the given modes depending on your use case. It identifies most of the deleted files and shows you the list to recover. This tool identifies deleted files more than any other tools. It will also recover lost partitions if they haven't been overwritten.
It works well on Windows XP, Vista, 7, 8 and 10. There is also a portable version for both 32-bit and 64-bit Windows. It is free to use but only for personal use. For commercial use, get the commercial license.
Also see: 100+ Best Free Proxy Server Sites
3. Disk Drill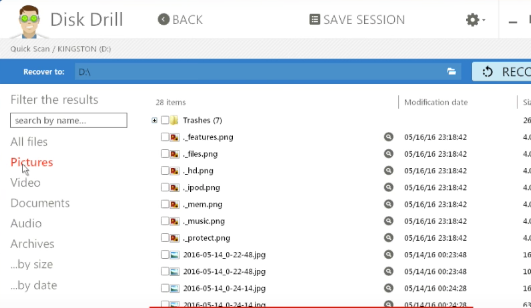 Disk Drill is another excellent data recovery program with awesome features and a good user interface. It can recover up to 500 from virtually any storage device. It also shows the preview of images before you recover it. It also allows you to pause and resume a scan and perform partition recovery. You can filter the files by size and file type. It can save the recovery session for later use. It also has Deep scan mode that can recover even older files.
It works fine on Windows and MacOS. You can recover up to 500 MB of data in free version, but you need to pay for full version.
4. Stellar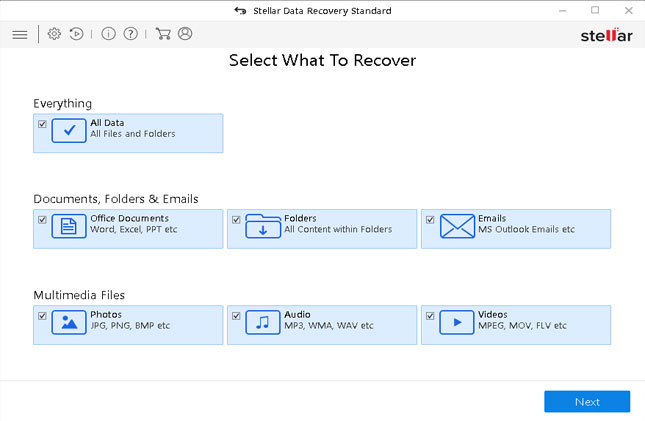 Stellar is one of the best companies offering data recovery software. All-in-One Free Data Recovery Software from Stellar can lets you recover data that you lost due to accidental deletion, drive corruption, and deleted partitions. It can also recover data from unbootable system, corrupt drives after Windows crash and from corrupt and RAW drives. The software can recover photos, videos, documents, emails and other types of data.
The free version of Stellar data recovery software lets you recover just 1 GB of data. If you want to recover more, you ca go with paid software that costs just $49.99.
5. TestDisk
TestDisk is an open source software to recover lost partitions and fix non-booting disks. This tool is packed with good features and gives good results. It allows you to recover and rebuild the boot sector.
It is a command line tool and not all people can use it. But you must try this if you are familiar with commands. It is available for Windows and Mac platforms. It can also be found on various Linux Live CD's.
6. Undelete 360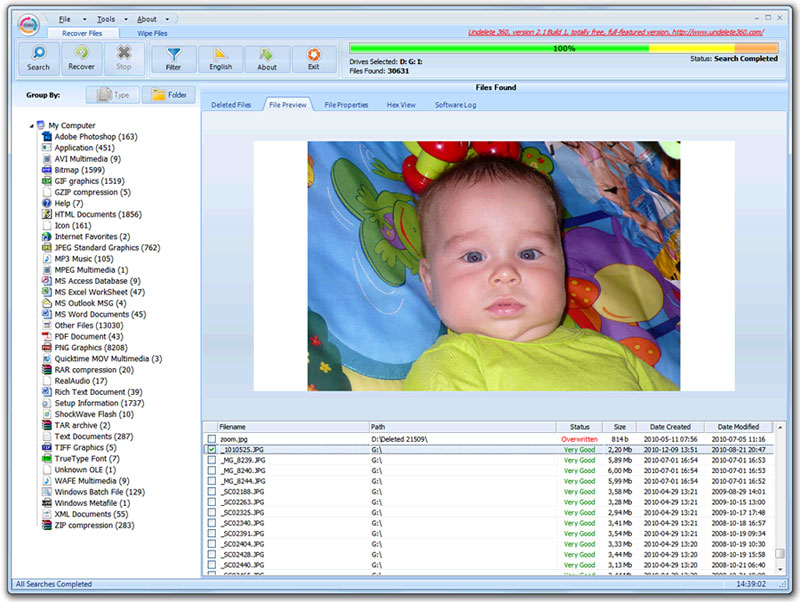 Undelete 360 is also a fast and efficient software that can recover files from digital cameras, hard disk, USB storage devices, and memory cards. It also offers the preview of files before recovery. It works with a wide range of devices including Digital cameras, memory cards, smartphones, computer hard drives, USBs etc.
It can recover a wide range of file types including DOCX, HTML, AVI, MP$, MP3, JPG, PNG and more.
It supports most of the available Windows platforms including Windows 8, 8.1, 7, Vista, XP, and older versions.
7. PhotoRec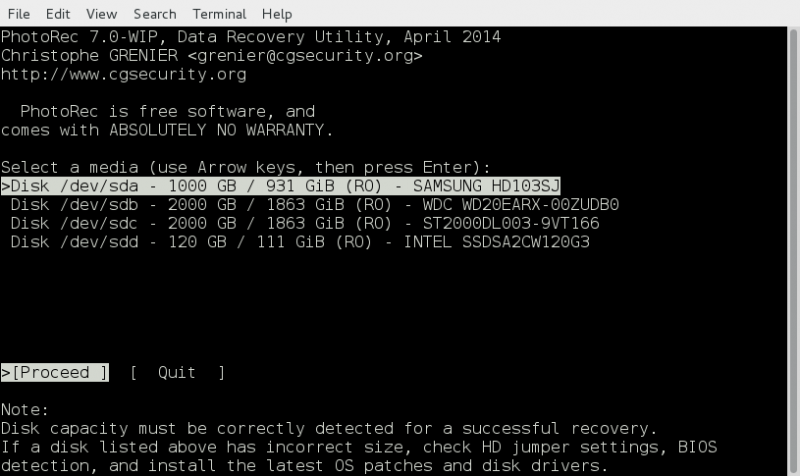 PhotoRec is another nice tool to recover data from storage devices. As the name suggests, this program was designed to recover lost photos but now it also supports videos, documents and archive files.
PhotoRec is a free and open source tool and is a companion to TestDisk recovery software we added in the list above.
PhotoRec supports Windows, Linux, MacOS X, Sun Solaris, and FreeBSD platforms.
8. EaseUS Data Recovery Wizard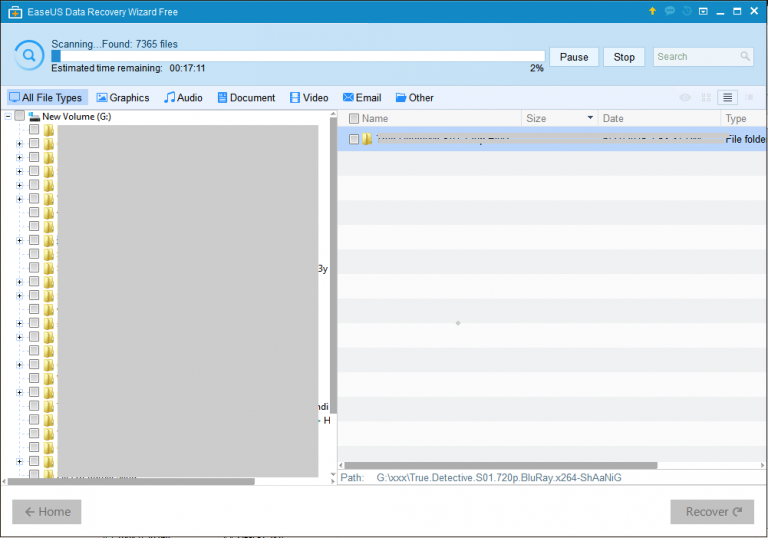 EaseUS Data Recovery Wizard is also a nice tool and allows you to recover up to 2GB of data using the free version of the tool. This software works file, offers nice features, deep scan and more. It supports external hard drives, internal hard disks, memory cards, mobile phones and different kinds of other storage devices.
This tool comes for both Windows and MacOS.
9. Glary Undelete
Glary Undelete comes with a clean interface and powerful features. It offers a quick and deep scan, multiple filters to narrow down your search, preview, multiple language support and more. It supports a wide range of file formats and works on the range of storage devices.
The issue with this software is that it tries to install the companion software from the vendor and does not show the original folder names.
10. Pandora Recovery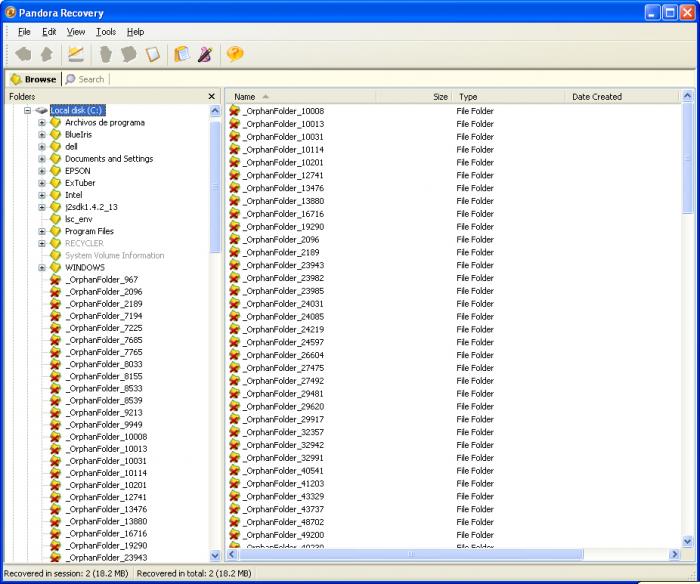 Pandora Recovery is also an excellent file recovery software. It can recover most of the recently deleted files. It supports hard drives, memory cards, and more storage devices.
It also shows the preview of certain file formats without performing recovery. I am listing this tool at the end of the list because I was not impressed with its file detection system. It has top-notched algorithms including Quick Scan, Deep Scan, Lost Partition Recovery and many more.
It supports all available version of Windows OS. The free version of the software can recover up to 500MB. But you can upgrade to Pro version if you want to recover more data.
11. SoftPerfect File Recovery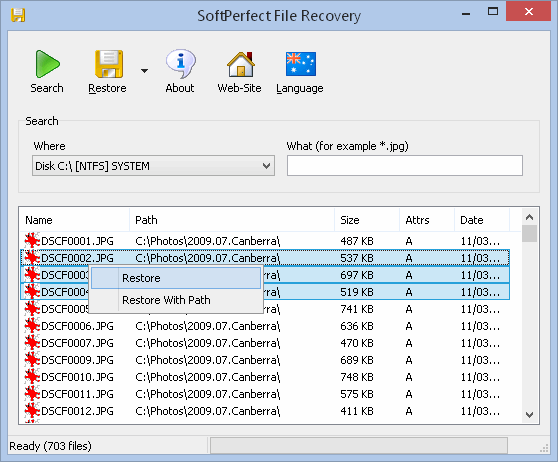 SoftPerfect File Recovery is very small software and comes in just 0.5 MB of size. It is a less powerful tool and cannot recover corrupted or overwritten files. It supports multiple languages. It lacks Preview, does not show the health of the files to be recovered and Doesn't allow restoration of recovered files on the same disk.
It works with both FAT and NTFS file systems. It also supports compressed and encrypted volumes. It is portable and doesn't require installation.
Final Words
These are free software for data recovery. I tested many software for data recovery and listed here based on my personal experience. Data recovery software should be an important tool to always have in your system. Many times, we accidentally delete data and then spend hours searching for a good data recovery software. It is better to have one already in case of need.
If you know any good suggestion to be listed as Best data recovery software, you can suggest us in comments.
Recommended Videos