7 Best Web Browsers for Android devices | 2019
Android devices are the most popular gadgets these days. Android is the only mobile operating system which is available in a large range of devices. These android gadgets come with lots of applications for chat, music, web, photos. But you can also download and use some more apps to make your work better and fast. Android market is full of millions of mobile applications to choose but it is not easy to choose which one to use.
Nowadays, Smartphones are the best and easy way of net surfing. If you are a daily internet user and want some more web browser for your device, you can download any of the given mobile web browsers to enjoy on your Android device.
Also see: Best private browsers
Best Android browsers
1. Google Chrome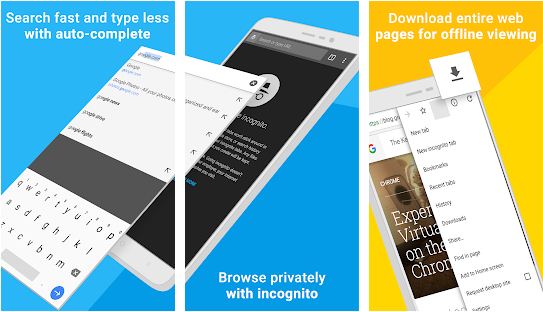 Google Chrome is the default browser of Android devices. It is a fast, easy to use, and secure web browser. When you sign into Chrome, your bookmarks, passwords, and settings will be automatically synced across all your devices. Turn on Chrome's Data Saver and save up to 60% data to browse and navigate the web while using fewer data. It also now offers a dark mode.
2. Opera

Opera is the fastest mobile web browser which is available for all type of mobile browser. This mobile browser uses Opera server to compress the web page to load fast on the device. It has built-in ad blocker that Block ads for faster browsing. Thus, it also saves money on data charges. This fast browser is the ultimate for browsing on slow Internet connections or while paying per megabyte of data used. This mobile browser is available for free.
3. Firefox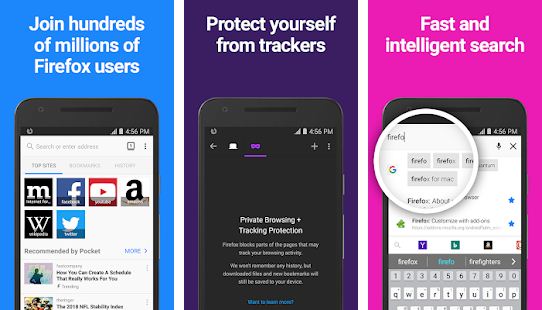 Firefox is the popular web browser for computers and also available for Android devices. It's fast, easy to use and customizable, with the latest security and privacy features to help you stay safe online. You can use add-ons to customize the browser and also have easy sharing buttons to share the data with the popular social networks. The most important part of this browser is tabbed browsing which provides tabbed browsing in mobile devices.
Firefox anticipates your needs and intuitively provides multiple suggested and previously searched results across your favorite search engines.
4. Dolphin Browser

This mobile browser is the top-rated mobile browser available for Android devices with the fast loading speed, HTML5 video player, AdBlocker, tab bar, sidebars, incognito browsing and flash player. It is also ranked top in many technology websites rating. It provides more than 100 add-ons to customize the browser. Users can enjoy tabbed browsing for faster access to websites.
Dolphin remembers your most recently used apps to help you easily share content to Facebook, Twitter, WhatsApp, Skype and more.
5. DuckDuckGo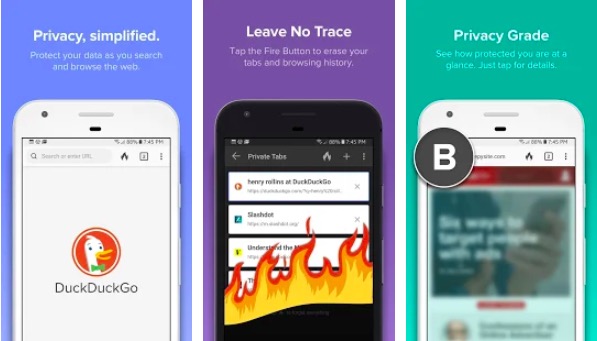 DuckDuckGo doesn't come with the best features but it is known for privacy. This browser blocks all the hidden third-party trackers and also forces websites to use encrypted connections. DuckDuckGo browser comes with DuckDuckGo search by default that doesn't track your queries and behaves. There is a button at the right of the address bar that wipes all your activities.
6. Kiwi Browser
Kiwi is a Chromium and WebKit based browser, so it is basically the Chrome with some additional features. Kiwi is a fast web browser that also includes an ad blocker and protection against cryptojacking. It also comes with a night mode. You can also block annoying notifications and pop-ups. It also gives you an option to disable AMP if you want. This browser also blocs slow and invasive trackers to protect your privacy. It also has a good bookmark manager.
7. Tor Browser
Tor Browser is relatively new but is for those who need primacy and online freedom. This is the official mobile browser supported by Tor Project. It isolates each website so none of the trackers can find you. It also clears all cookies automatically when you close the browser. Your traffic is relayed and encrypted three times as it passes over the Tor network, No website can access information about your or your browser.
These are the best web browsers which are available for free in the Android market. You can use any of these web browsers to improve your web surfing. I will personally recommend you, Opera web browser app for Android which is the best of all.