12 Best French Learning Apps for Android and iOS
French is the most popular language that sounds very melodious to the ears. Learning French is necessary if you going to France for a vacation or for a job. Many people also want to learn French for increasing their knowledge of languages or just for fun. But it is not feasible for everyone to take offline French classes. So, Mobile Applications come here to rescue.
You can learn French easily and quickly with the best French learning apps. There are many apps out there that are best for learning any language. Here we curated the list of best apps to learn French. You can download any of these French Learning apps and learn this beautiful language with fun.
Best apps to learn French
Here is the list of best French Learning Apps for Android and iOS:
1. Duolingo
Duolingo is one of the most popular language-learning apps on any mobile platform. You can learn English, Chinese, Japanese, Korean, Spanish, French, German, Italian, Russian, Portuguese, Turkish, and many more languages. If you want to learn the french language, this is the best french learning app. You can learn vocabulary, conjugation, reading, writing, pronunciation, and listening skills on the app in a way that is competitive and fun.
The app claims that the 34 hours of Duolingo classes are equivalent to a semester of university-level education. The short lessons in this app help you practice speaking, reading, listening, and writing to improve your vocabulary and pronunciation of French.
2. Busuu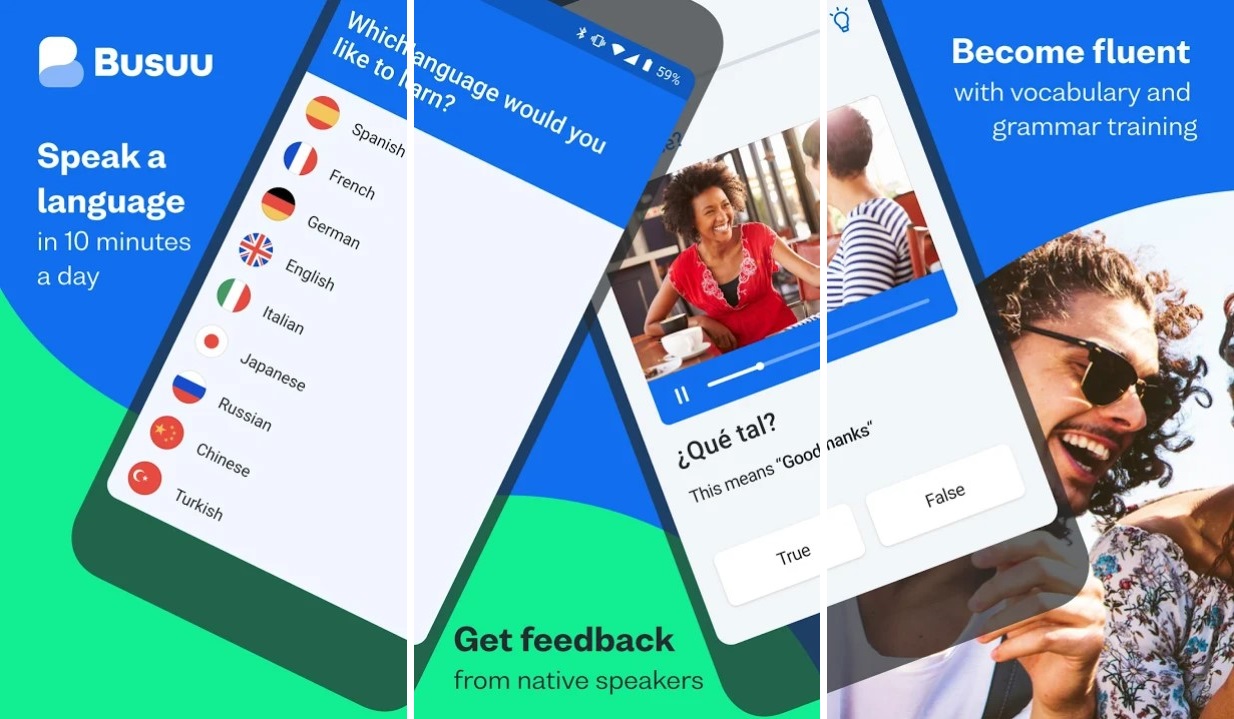 If you are looking for the best way to learn french on your smartphone, the Bussu app is the one to download. It is better than Duolingo but a little bit expensive. You can start learning for free but if you want full access to this app you have to take the membership. Busuu costs $69.99 per year if you want every available feature.
The app includes vocabulary and grammar lessons, audio dialog, games, quizzes, and more. It focuses mainly on grammar exercises and traditional ways of teaching French that may feel boring.
The Bussu app has more functionality than Duolingo but has similar French practice activities as Duolingo. This app is the best way to learn French for business or travel.
3. Drops: Learn French
The Drop french learning app has beautiful graphics and quick mini-games that make learning fun. You have to just invest only 5 mins per day and you can become good in french in just 100hrs. But you have to practice daily for learning a new language.
Drops app is free for casual learners. It has more than 1700 words in 99 topics that are all available for everyone. If you want to become fluent in French, you can subscribe for a premium to progress faster with unlimited learning time. The subscriptions for this app start from $2.99 / month.
4. Learn French Offline
If you want a French handbook of essential phrases, and sentences that you can use offline, the Learn french offline app is the one. You can practice Speaking French as a beginner and learn phrases and sentences that are very important to learn. It contains over 1000 commonly-used French phrases and vocabulary for travelers and beginners in 18 categories.
If you want to learn french and want to become fluent, use this app as a secondary app. Duolingo and Bussu are better than this if you want to become fluent in french.
This Learn French Offline app isn't expensive either at $1.49 for the premium version.
Download: Android
5. Memrise
Memrise is an all-in-one language learning app. Along with French, you can learn Mexican Spanish, Spanish, German, Japanese (Kanji), Italian, Korean, Chinese, Portuguese, Russian, Arabic, Dutch, Swedish, Norwegian, Polish, Turkish, Danish, Yoruba, or even English. Memrise has a "Learn with Locals video clips" feature where they have real native speakers who can teach you their language from the streets of their hometown.
The app has very smart tech that lets you record yourself and that smart tech will tell you if you got it right or need to try again. This will improve pronunciation.
The app is free with many lessons but if you want to get fluent in French do take the membership. You can get a membership of this app for $9 per month or $59.99 per year.
6. Mondly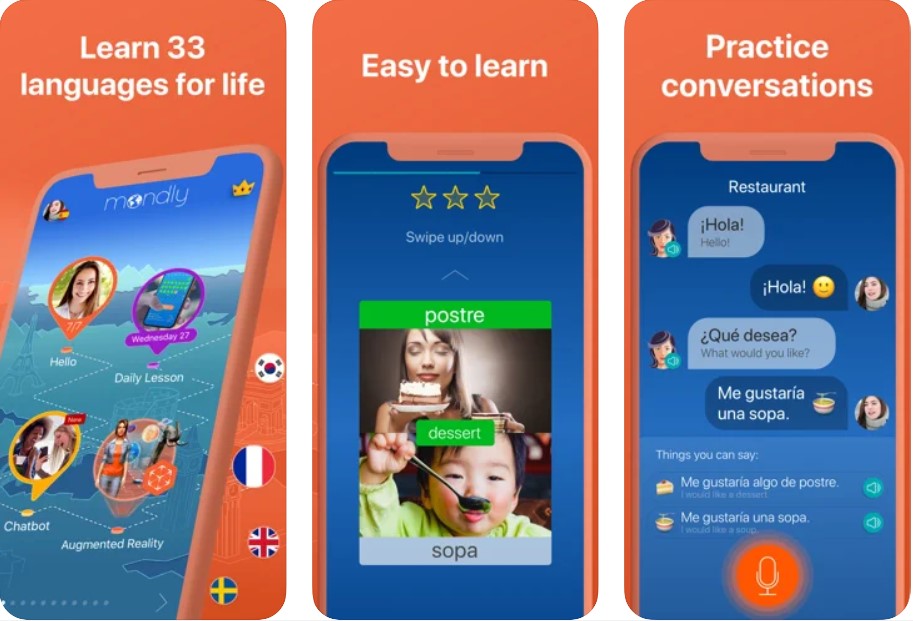 Mondly app is good for memorizing core words, forming sentences, learning phrases, and taking part in conversations. It has fun language lessons that improve your vocabulary, grammar, and pronunciation like no other language learning method. You can learn over 33 languages like Spanish, American English, British English, French, German, Portuguese, Italian, Russian, Norwegian, Danish, Dutch, Swedish, Arabic, Korean, Japanese, Chinese, Greek, Romanian, Vietnamese, Indonesian, Hindi, Hebrew, Polish, Bulgarian, Ukrainian, Hungarian, Czech, Croatian, Finnish, Persian (Farsi), Thai, Afrikaans, and Turkish.
7. Quizlet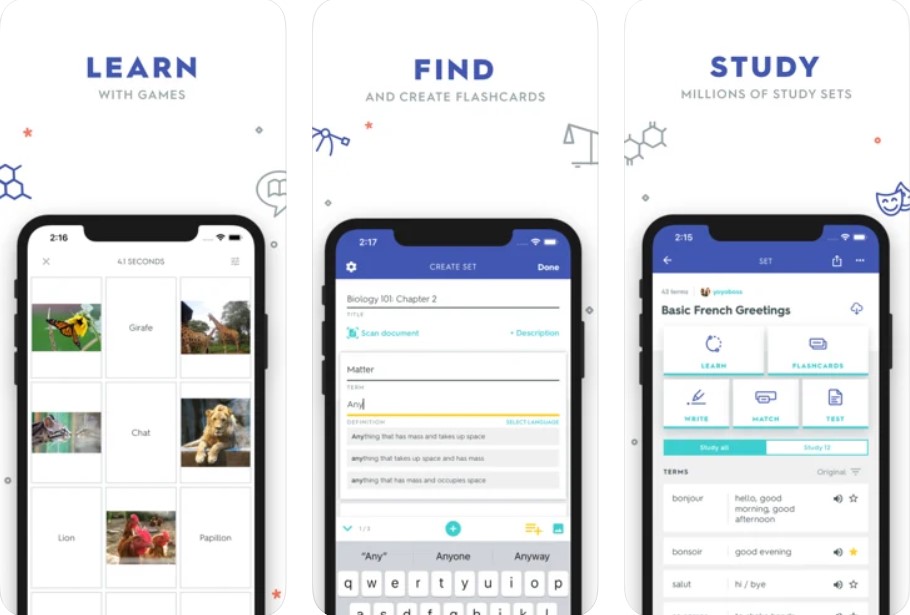 Quizlet app is the easiest way to practice and master the languages like English, Dutch, French, German, Indonesian, Italian, Japanese, Korean, Polish, Portuguese, Russian, Simplified Chinese, Spanish, Traditional Chinese, Turkish, and Vietnamese. In this app, you can create your own flashcards and study sets or choose from millions created by other students to learn different languages.
8. Rosetta Stone
The Rosetta Stone app has its own method for language learning. it has effective memorization, grammar lessons, vocabulary, phrase learning, and more that help in learning quickly. But it is an expensive but very effective language-learning app compared to other french learning apps mentioned here.
9. Simply Learn French
Simply Learn French Language App assists you to speak French quickly and effectively. It has all French phrases and words presented to you in both phonetic and original French writing. They are recorded by a native speaker from France. It is a good French phrasebook to survive in France as it has all-important survival phrases included.
The app has high-quality audio and a spaced repetition learning system that helps learners to learn better. The French quiz reviews your skills and you can track your learning progress in this app. You can also save your favorite phrases and words in this app and quickly use it whenever you needed.
10. Tandem
Tandem is the largest language exchange community where you can team up with a native speaker to practice languages. On this app, you can find your Tandem partner, start chatting and speak your way to fluency. You can learn 160+ languages, including Spanish, English, Japanese, Korean, German, Italian, Portuguese, Russian, Simplified, and Traditional Chinese, and 12 different sign languages, including American Sign Language.
It has an in-app translation feature that can help you compose a message or translate an incoming one. You can improve your pronunciation using voice notes, audio, and video calls.
11. Babbel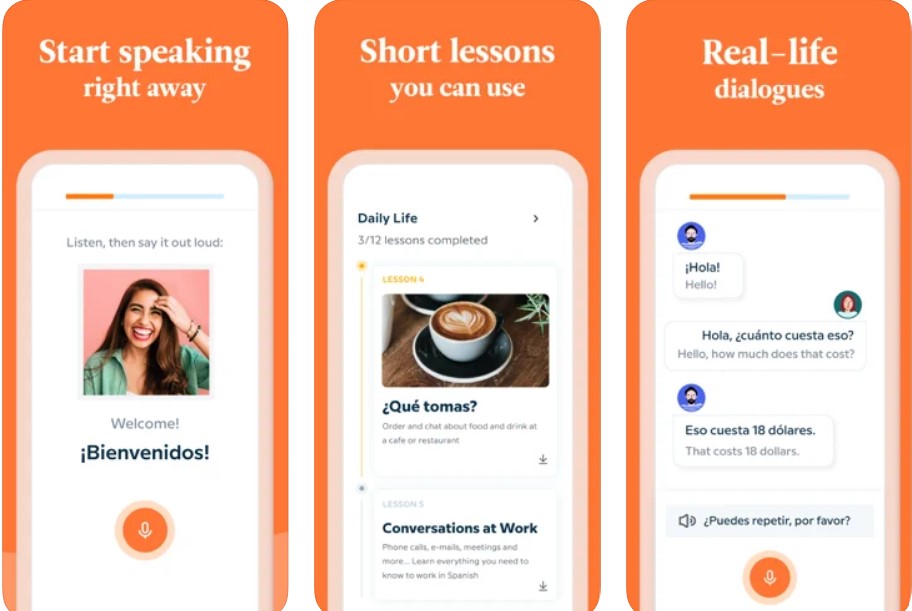 Babbel is a popular language learning app that offers courses in French, among other languages. Babbel's French course is designed for learners of all levels, from beginner to advanced.
The app uses a variety of interactive learning methods, including dialogues, grammar explanations, and vocabulary exercises. Babbel's courses are structured around real-life scenarios, such as ordering food in a restaurant or booking a hotel room, to help learners build practical language skills.
Babbel's French course includes lessons on a variety of topics, such as greetings, numbers, food, travel, and more. The app's content is regularly updated and includes both formal and informal language, so learners can feel confident speaking French in a variety of contexts.
12. Lingodeer
Lingodeer is a great app for French learners who want to build practical language skills while having fun. Its focus on grammar and gamification makes it a unique and effective way to learn French.
Lingodeer's French course covers a range of topics, including greetings, numbers, food, shopping, travel, and more. The app uses a variety of interactive learning methods, such as dialogues, grammar explanations, and vocabulary exercises, to help learners build practical language skills.
Read More, Best Free Language Learning Apps for Android and iOS
These are the best French learning apps that you can use to learn French fluently. If you want to learn french for any reason, try to use any of these apps as per your need.