6 Best Apps for WhatsApp Status Downloads
WhatsApp is the most popular messaging app that also has a Stories section called WhatsApp Status. People now use this section to share funny videos, GIFs, wishes, photos, and quotes. It really needs a lot of effort to find content to share on WhatsApp Status. You need to find content, download it, and convert it into a short format for sharing on WhatsApp Status. But there are some good WhatsApp video status downloader apps to download interesting WhatsApp Statuses. Video status downloader apps let you explore thousands of interesting videos to download and use as WhatsApp status. In this article, I am adding some good WhatsApp video status downloader apps for Android and iOS.
Also see: Best Funny Video Apps for Android
Best WhatsApp Video Status Downloader Apps
Are you looking for an app for status for WhatsApp? You can choose one of these apps for WhatsApp Status. Here is the list of the best Whatsapp video status downloader apps.
1. ShareChat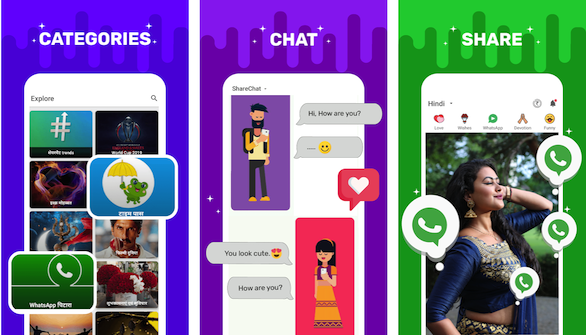 ShareChat is one of the best apps to download WhatsApp statuses & Videos. The app lets you download videos for WhatsApp Status or Instagram Stories. You can download funny short videos, jokes, Motivational Quotes, Bhajans, Devotional Songs, and GIFs to add to WhatsApp status. The app has thousands of viral and interesting videos to download. So, this is a good app for WhatsApp status.
The app also gives you an option to create videos and edit using the given editing tools including Magic Music Filter and 3D Camera Stickers. It also lets you make Dubbing & Lip Syncing videos. Then you can use these videos on any social media platform.
ShareChat also lets you create WhatsApp Stickers of any photo. It also offers daily Horoscopes and Astrology by birth date.
The app offers WhatsApp status in 14 Indian Languages. It also boasts to have more than 100 million users. If you want an app for status for Whatsapp, use the links given below to download ShareChat.
2. Helo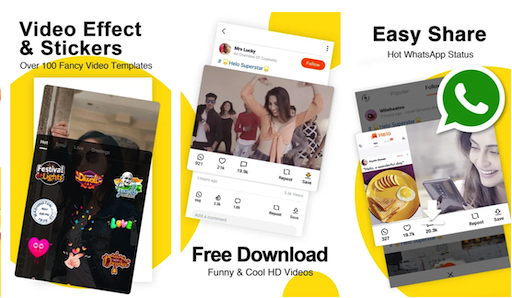 Helo is a social networking app that also lets you download videos and images to use as WhatsApp Status Videos. The app offers WhatsApp Status Videos, Wishes & Quotes, Comedy Videos, Love Quotes, and more. You can use the app to watch different kinds of trending and viral videos, but also as a WhatsApp video status application. Along with being a social networking app, it is also a good app of WhatsApp status. You can download status videos in just one click.
Helo offers multiple sign-in methods, so it is really easy to sign in and use the app. It offers editing tools for photos and videos. So, you can also create content to share with your friends on the social media app. So, you can also be a famous star on the app by sharing interesting content.
3. VidStatus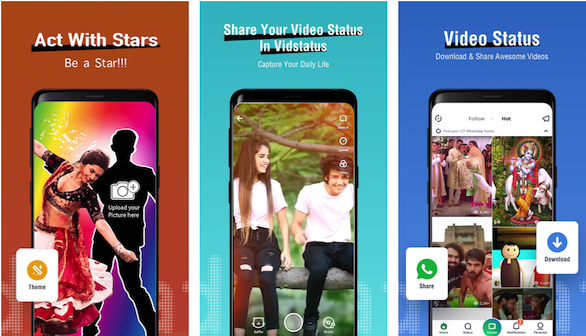 VidStatus is only available for Android and is one of the best WhatsApp Video Status Downloader apps. It is available in 15 Indian local languages and you can download WhatsApp status videos in all supporting languages. The app shows a collection of free trending status videos for WhatsApp. You can download, edit, and share trending videos on WhatsApp status.
The app is available for free and offers all kinds of videos like love, attitude, Friends, Comedy, Motivation, Religion, and more. It also offers the latest Bollywood videos and songs to use. The built-in editing tool lets you trim, cut, copy and merge videos. You can also add animated texts, themes, posters, filters, and transitions.
VidStatus also has lyrics video editing where users can select a video from the gallery or record a video directly to create a lyrics video.
VidStatus is a good free app to download the status video for WhatsApp. If you want a good status video app, try VidStatus.
Download: Android
4. Status Save To Gallery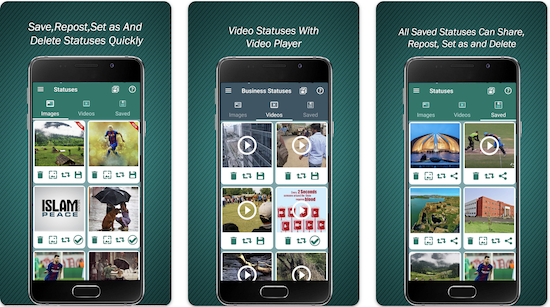 Status Save To Gallery is a good app that lets you download status and save it to your phone's gallery with a single click. The app can download status from all types of contacts including businesses. You can also choose to repost your status without saving it to your phone. The app also lets you share these status videos on other social media apps. It also includes a built-in media player to play status videos. You can also manage all the downloads within the app and delete unwanted statuses that you no longer need.
Download: Android
5. Video Status – Share Story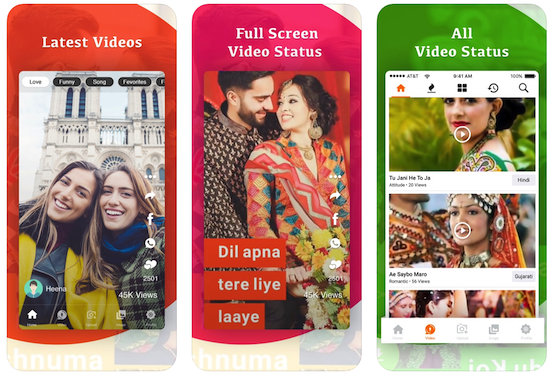 Video Status is an iOS only app that comes with a large collection of status videos to download and set status in social apps. The app has status videos in several categories including Love, Funny, Festival, Song, Sad, Attitude, Shayari, and Bollywood. The status videos are available in 6 Indian languages.
The app is really easy to use. You can select and set any video to social app status easily. In case you like a video, you can mark it as a favorite and access them quickly from the favorite section. If you want a good Whatsapp video status application for iPhone, try Video Status.
Now the app also lets users create an account and upload videos for other users to download. So, you can not just download, but also share your creations with other people.
Download: iOS
6. Hot Shot Video Status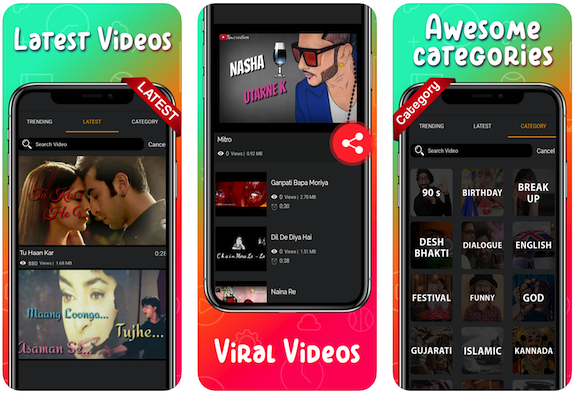 Hot Shot Video Status is also a good WhatsApp status video downloader app only for iPhones. The app provides all types of video statuses including trending videos, 90's Videos, Punjabi status videos, Bollywood Dialogue Status, Sad Status, festival video status, and more. All the status videos are free to download and use. You can use videos on different social media platforms including on WhatsApp status.
The app keeps on updating the collection of status videos. So, you will mostly get a refreshed collection to use as WhatsApp status. The app claims to offer a small size of videos to save your mobile data and storage of the phone.
Bolly is available in 10 different languages and status videos are also available in these 10 languages.
Download: iOS
Also see: Trending Social Video Apps
Wrap Up
If you ask me for the best app for status, I will recommend ShareChat. This is my favorite status video app. Helo is also good. This article was about the Whatsapp status app download. So, All the apps in this article can be used as video status downloaders. You can use any of the Whatsapp video status apps to download video status and use it on WhatsApp. There are a lot of people who search for status video applications. They now have several options to choose from.
Let me know what status downloader for WhatsApp do you use. Share your app of WhatsApp status with us using the comments section below.