7 Best Free Bowling Games for Android and iOS
September 13, 2022

in

Games
In Bowling, a player rolls a ball toward pins with a target of knocking over all the pins. If you knock down all the pins on the first roll, you achieve a strike. If you knock down all the pins in a second roll, it is called spare. Bowling is an indoor game but requires a big setup and space. So, one needs to visit Bowling alleys for playing the game. In some countries, Bowling is also called lawn bowls.
In the digital era, you can also play bowling on smartphones using gaming apps. If you want to play bowling on your phone and are looking for good bowling games for Android and iOS, keep reading. In this article, I am listing the best bowling games for Android and iOS smartphones. We are listing only bowling games that are free. So this is basically the list of free bowling games.
Also see: Free Cricket Games For Android
Free Bowling Games for Android and iOS
1. Bowling King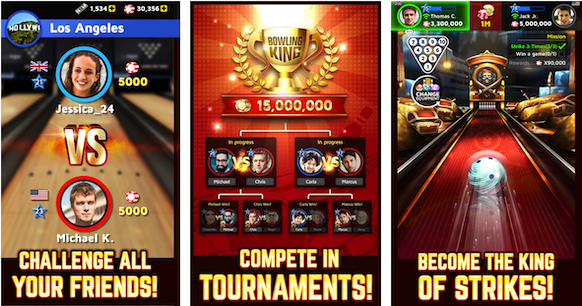 Bowling King is the most popular bowling game available for both Android and iOS. The game is by a popular gaming company Miniclip. The Bowling game app offers a 1-on-1 Multiplayer Bowling experience with tap-and-swipe control. It offers 60+ Bowling Balls, 27 Pins & Lanes. You can play a 1-on-1 multiplayer match or take part in Tournaments. There is also a challenge mode and you can also play with your friends. You can also play bowling games at different venues including Las Vegas, New York, Sydney, and Paris. It is available for free with ads and in-app purchases. This game needs an internet connection to play.
2. World Bowling Championship
World Bowling Championship is also an excellent Bowling game available for both Android and iOS. It offers touch and slide gameplay to strike pins. There are over 1000 stages. This game can be played without an active internet connection. If you are looking for an offline bowling game, try this one. The game comes with a Multi-play mode where you can play against a real player. This game is also available for free but contains ads and in-app purchases.
3. Let's Bowl 2
Let's Bowl 2 is also a popular bowling game for both Android ad iOS. Developers behind the app have taken care of 3D physics and effects. It also has stunning 3D graphics. So, you will really love playing this game. The game is suited for. kids, boys, girls, men, and women of all ages. It is easy to learn and master. The game also keeps getting new content regularly. Your aim is to get the highest score possible in ten frames. You can enjoy online Multiplayer up to 4 people and redeem tons of achievements.
4. Bowling Game 3D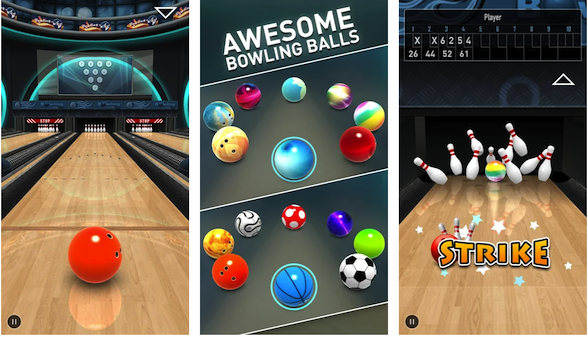 As the name suggests, Bowling Game 3D is a 3D game where you can enjoy bowling the game offers 4 different models including single player, pass n play, Time Trial, and VS. CPU. There are 16 different games with realistic physics. Each player can choose their ball and enjoy a bowling game. Pick the ball and throw it on the track to know down the pins. Swipe across the screen to add spin to the ball. The game is really good and is highly rated by people across the globe. This bowling game is also available free but contains ads and offers in-app purchases.
5. Bowling Crew — 3D bowling game
Bowling Crew is also an interesting bowling game where you can enjoy several kinds of Bowling games. You can play with players from around the world online in real time. You can also upgrade your balls and unlock new competitive series with the time. The game offers a good bowling system. You can earn promotions in weekly leagues to unlock premium bowling balls. This is also a good bowling game available for free. It contains ads and offers in-app purchases.
6. PBA Bowling Challenge
PBA Bowling Challenge offers Multiplayer, Quickplay, and Career modes. You can take part in several PBA Tournaments and bowl against 24 of the best PBA bowlers. The game comes with 3D bowling graphics and you can choose from hundreds of different bowling balls. There are also bonus challenges in every tournament. You can either play one-on-one multiplayer matches or bowl against your friends in real time.
7. Bowling Paradise 3
Bowling Paradise 3 is also one of the best bowling games for both Android and iOS. The game supports realistic physic and flick and swipe gameplay. You can play bowling at several natural locations including beach, undersea, space, forest, desert, sky island, etc. You can play solo, multiplayer pass, and play up to 4 players or against CPU with 3 levels. There are many beautiful balls and pins. There are 50 levels of difficulties and Endless Bowling challenges. The longest lanes includes 10 sections with 100 pins to knock down. You can also test your skills to achieve the highest score.
Wrap up
These are some good bowling games for Android and iOS. These are free bowling games with amazing graphics and good gameplay. Some of these bowling games need an active internet connection while some can be played offline. So read the description to know what game suits you before downloading one.
If you know of any other good bowling games that should be on this list, let me know using the comments section below.