5 Best Chess Games for Android and iOS
September 10, 2022

in

Games
Chess is a popular indoor game that several people like to play. It is a board game played between two people. Now this board game is also available to play on computers and smartphones where you can play it against a computer player or against friends. Some online games offer a multiplayer experience where you connect with a random person to play chess. If you are bored at home and want to enjoy chess, you can download a good chess game on your smartphone to play. If you are not sure about a good chess app, this article is recommending a few. Here is the list of best chess games for Android and iOs devices. You can download any of these chess games to play chess online on your phone and enjoy the game.
Also see: Best Ludo Games for Android and iOS
Chess Games for Android and iOS
Have a look at the list of best chess games for smartphones. This list contains chess games for Android and Chess games for iOS. You can download any of the games to play chess online using your phone. Read the description to know more about a game.
1. Chess – Play & Learn
This Chess app for Android and iOS lets people enjoy Chess on their smartphones. The app not just lets you play Chess, but also teaches you so that you can improve your skills. You can use this chess app to play chess with online players around the world or with your friends. You can also play against computer players to improve your game. It also gives you an option to analyze your game and learn where you went wrong. It has thousands of videos and interactive lessons from top Grandmasters along with interactive tutorials.
The game comes with 20+ themes for boards, pieces, and backgrounds for customized play options.
2. Lichess – Free Online Chess
Lichess brings free online chess on your phone. The app claims that there are more than 150000 individual users on the app to play with. You can find players and challenge them for a game. You can also take part in arena tournaments. The game comes with bullet, blitz, classical, and correspondence chess. You can practice with chess puzzles. When you do not have an active internet connection, you can also play offline with computer players.
This app is open-source and free to download for all.
Also see: Best Carrom Games for Android
3. Really Bad Chess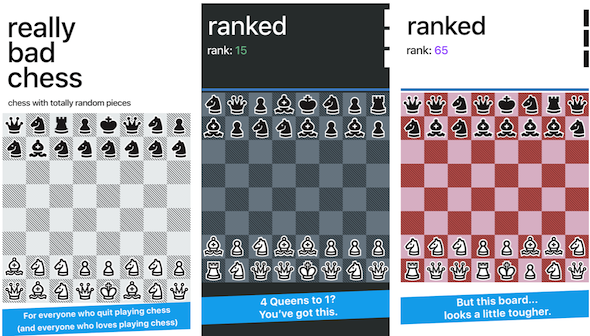 Really Bad Chess is a different kind of chess game you must try if you love playing chess. It lets you play with totally random pieces. When I say random, it doesn't mean pieces at random places. It means you could get 8 Knights, 4 Bishops, and 3 pawns. It may look weird initially but you will surely like playing this random chess thing. Try this game if you think you are good at chess. If you are still learning, try other chess games on this list.
4. Play Magnus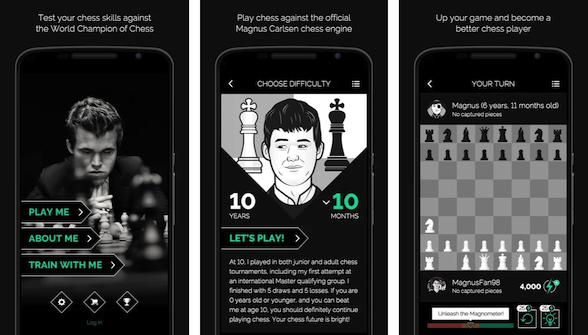 Play Magnus is also an interesting chess game for iOS and Android. This game gives you an opportunity to challenge World Champion Magnus Carlsen. No, he will not be playing against you. You will be playing against a computer player trained by Magnus Carlsen. If you perform well, you also get a chance to qualify to Play Magnus Live. The game also offers detailed statistics on your performance. You can also track your rating and unlock achievements.
5. Chess Free
Chess Free is also an interesting free Chess game for Android and iOS. It supports 1-player and 2-player gameplay. So, you can play against your friends or challenge a computer opponent. The game claims to have a good AI engine with a configurable difficulty level. It also features board rotation for two-player games. When you get a call or exit the app, it saves your game so you can always resume. The game has good graphics and nice sound effects. You can configure your name and score tracking. The AI engine is also good where you can configure difficulty level.
Wrap Up
This was the list of best chess apps for Android and iOS to play chess online. If you want to learn chess and there's no one to help you, you can try installing a good chess app on your phone. This list has some good chess games for Android and iOS. If you are an expert in chess, I recommend you to try Really Bad Chess. Other games are also good for playing a regular chess game.
If you have any recommendations that I can add to this list, let me know using the comment. I will update this list to add a few more good Chess games.