10 Best App Lock Apps for Android
January 19, 2021

in

Tools
Android is the most popular operating system for smartphones. It comes with many great features and it can be customized according to the user's needs. Though Android is considered as a very much secured OS, it lags behind in a few aspects. The latest Android smartphones are coming with great security features like fingerprint scanners to lock and unlock the phone but it is not possible to lock individual apps in stock Android. Few smartphone companies with custom UI now offers an app lock option and allows users to lock their app with a passcode or pattern or fingerprint. But most of the smartphone lack in-app lockers for the Android option.
Also see: Best Data Recovery Software
The smartphone is a personal gadget and the security of the data in it is very important. A person would want to lock his apps for various reasons. Few people don't lock their phones entirely because they think it can be a life savior for someone in an emergency. Nevertheless, they want to protect some apps which contain private information. Whatever the reason is, there must be a solution to how to put a lock on apps. Now we don't have to worry about this problem anymore because there are many third-party App Locking applications or privacy guard apps available on the Google Play Store which we can download and use very easily.
Best App Lock Apps for Android
Here is a list of the best app lock apps for Android, available on the Play Store. See this list for locking apps to prevent unauthorized access and solve your query of how to put a lock on apps.
1. AppLock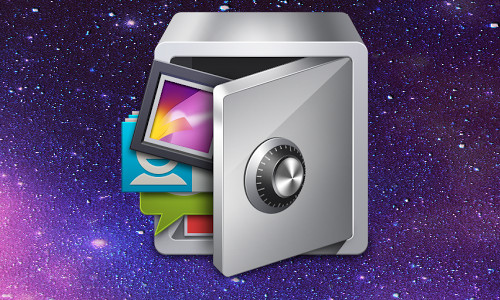 AppLock is the most famous app lockers for android by DoMobile. DoMobile recently launched a new locker app with upgrade features. The old app has over 100 million downloads. It can prevent unauthorized access and guard privacy to ensure security. It supports 45 languages. It has a simple interface. The users can lock any app with this as well as they can lock WiFi, Bluetooth, mobile data, etc.
This domobile AppLock also comes with an inbuilt vault to lock and hide all your private videos and photos, and it can also lock Facebook, WhatsApp, Gallery, Messenger, Snapchat, Instagram, SMS, Contacts, Gmail, Settings, incoming calls, and any app you choose. It has a random keyboard and an invisible pattern lock. You can add your recovery email id in the app so if you forget your password, it will send you an email to recover it back.
If you install the Advanced Protection plugin, nobody can uninstall the Applock. You can unlock the premium features of the AppLock either by enabling ads or paying for the premium version via a donation.
2. Smart App Lock by SpSoft

Smart AppLock is another great app lock that has some really nice features. You can set a pin, password, or a pattern to lock the apps. One of the best features of this app is its ability to take a picture of anyone who attempts to open the app with a wrong password and mail the picture to the owner who puts in his email id in the starting. It can fool the intruder by showing that the app has crashed too.
You also have the ability to lock WiFi, Bluetooth. It also allows you to lock outgoing or incoming calls. You can restrict the unlock attempts in this lock screen app. So, the app offers good options for your privacy. You can also lock or unlock your device remotely just by sending an SMS. The app size is just 3MB and it works very well.
3. AppLock by SailingLab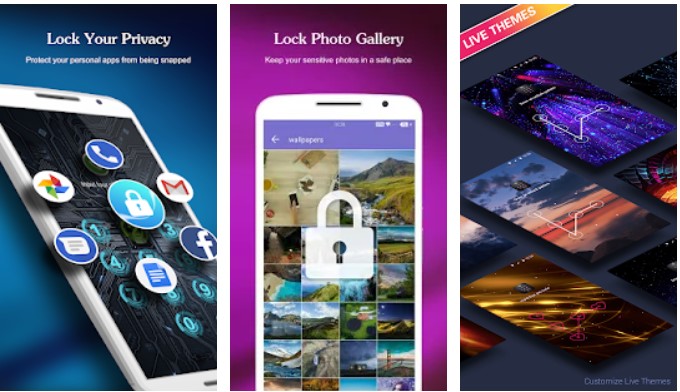 AppLock is a protector app by SailingLab that protects your privacy in mobile apps. It can lock Social apps like Facebook, Whatsapp, Messenger, Instagram, Tumblr, WeChat, and mobile features like Gallery, SMS, Contacts, Gmail, Settings, incoming calls, and any app you choose. It prevents unauthorized access and guard privacy with multiple lock options like PIN Lock, Pattern Lock, and Fingerprint Lock.
This Applock also has a photo vault that keeps the gallery safe and hides your photos, videos without worrying about what others see.
3. AppLock by IVYMOBILE
AppLock has the same name as the first app on the list but it is from a different developer. This app gives you the ability to lock apps, photos, videos, and other private data with a password or pattern lock. This is a free app. You can download it and start using it. This app can also lock system apps including Contacts, SMS, Gallery, Videos, Email, and so on. You can also use it to protect your social media apps like Facebook, WhatsApp, Messenger, Vine, Twitter, and more.
4. Apps Lock & Gallery Hider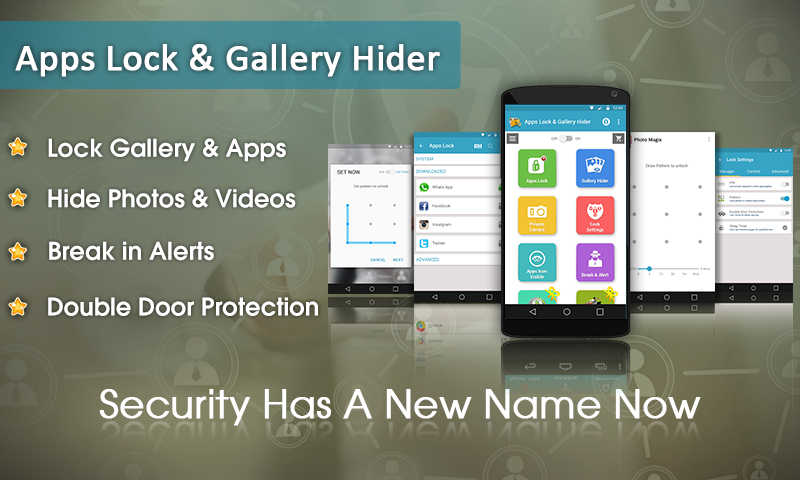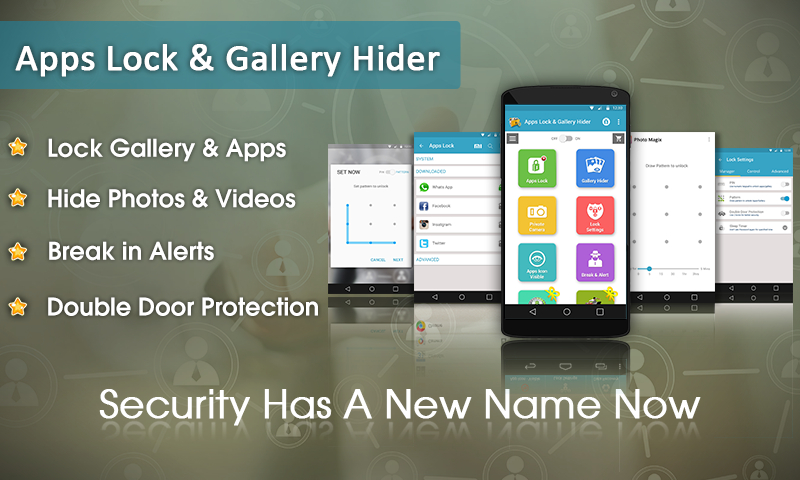 Apps Lock & Gallery Hider is another cool app that can lock any app on your android smartphone. I can even lock apps such as the dialer and the phonebook with this app locker app for android. It encrypts media, hides photos and videos, Cannot be uninstalled or killed by intruders, and much more.
Apps Lock & Gallery Hider can even lock features like- Settings, Incoming call, Task manager, etc. This app has double door protection.
5. Norton App Lock:
The popular Antivirus maker Norton made the app lockers for Android. With Norton App Lock, you can protect your apps and private data by using a password, pattern, or fingerprint. Norton App lock allows you to add 4 digit passcode. There is also a sneak peek feature that captures the photo of the person who entered the wrong PIN or pattern 3 times. It is a free & ad-free app locker App for you.
6. Super Security by DUALSPACE studio
Super Security is a professional mobile security app with applock and antivirus software for free. It provides features like speed booster, phone cleaner WiFi security and AppLock. This app protects your device from potential threats, detect virus, locks sensitive apps and snap intruders with camera permission to protect your privacy.
You can lock apps and save your data by using pattern, PIN password and fingerprint lock. It scans and removes junk files automatically.
7. LOCKit – App Lock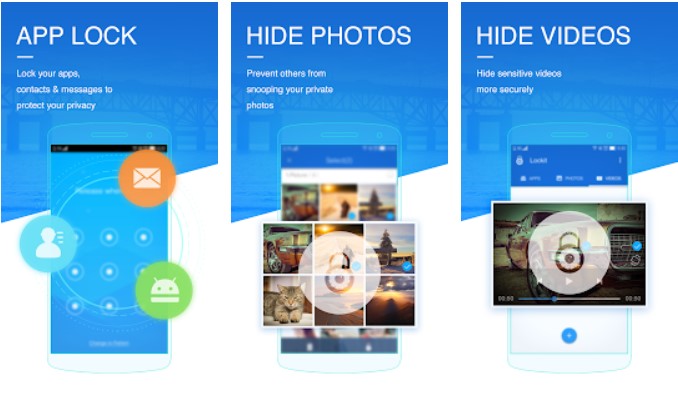 The LOCKit is a applock for android that save private pictures, secret videos or photo albums falling into the wrong hands or being deleted. No one can change your phone's setting, delete or see data without your permission if you use LOCKit app in your smartphone. You can lock your private content by using pin, pattern and fingerprint. The app has feature name intruder selfie that clicks photo of intruder when any unauthorised access takes place.
8. AppLock by Best Free Video Editor & Video Maker Dev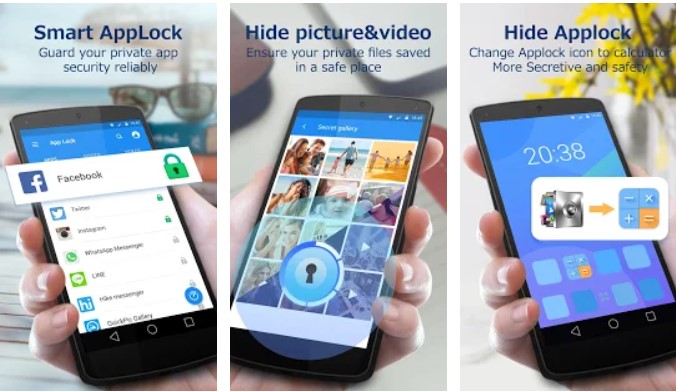 This Applock is one of the best and free lock software for android that guards your privacy security with a private vault, safe lock screen, hide icon. It can lock Facebook, Snapchat, Whats app, SMS, and any other mobile applications to provide you a privacy safety guard. You can Lock photo & video, hiding your personal pictures, and secure the phone from intruders with PIN and pattern lock security.
9. Apps Locker Master
Apps Locker Master is also a nice app locker that works on your smartphone. With a simple and user-friendly interface, it makes it very easy to safeguard your apps without any hassle.
It comes with many nice features to lock and unlock your apps with pattern and PIN passwords. As this app works perfectly fine in the landscape mode too, it makes it an ideal app to be used on tablets.
10. Perfect AppLock(App Protector)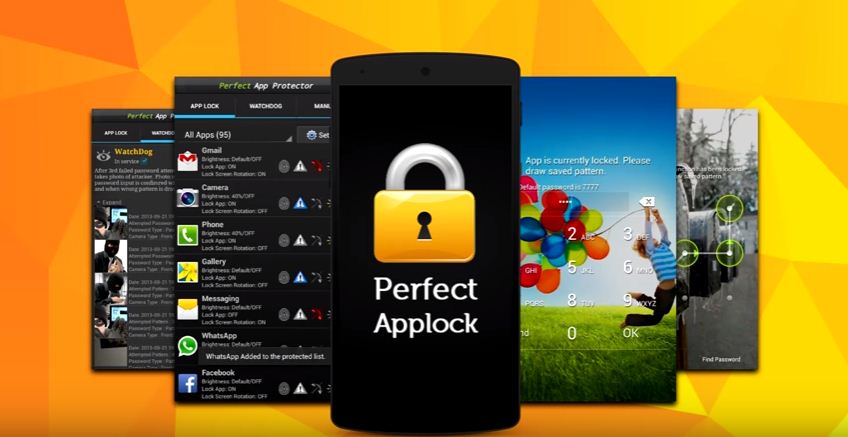 This app also has the same feature as the other locking app. But it has a unique feature named Stealth Mode that can hide the app from the Launcher or App menu. It provides a lock by using a pin, pattern, and gesture. It also provides the fake fingerprint, Rotation lock support, Watchdog.
The watchdog takes the picture of the attacker after the third attempt at the failed password. It also locks the Wi-Fi, 3G data, Bluetooth, Sync etc. It has a feature of remotely start AppLock service using SMS command.
Also read: Best Android Apps to Lock Apps using Fingerprint Scanner
Final Words
Now, you have the list of best App lock apps for Android. If you want to keep a few of your apps protected with a password or fingerprint, you can use any of these apps. We recommend you to use Domobile AppLock. But you can try any of these apps to keep your apps protected. No one else can access your personal data and app without your permission. By locking apps, you can make sure that you are the only one who is updating your status.
Tell us about your favorite App Locker in the comments down below. We will test that and compare it with the existing list. If that is good enough, I will surely add that to this list.
Stay Secured!