SHAREit beats Facebook to become the third most downloaded Android app in India
A few days back, Mary Meeker published its annual internet trend report 2017. Just like reports of previous years, report for 2017 also focuses on India and revealed few interesting facts about Indian internet space. It shows that India's internet market is growing very fast, India crossed US in Android app downloads and more.
The most interesting page of the report was the one that listed Top downloaded apps for Android platforms. As expected WhatsApp was the most downloaded app followed by Facebook Messenger and SHAREit that were ranked second and third. Here, they considered last one year's data to prepare this report.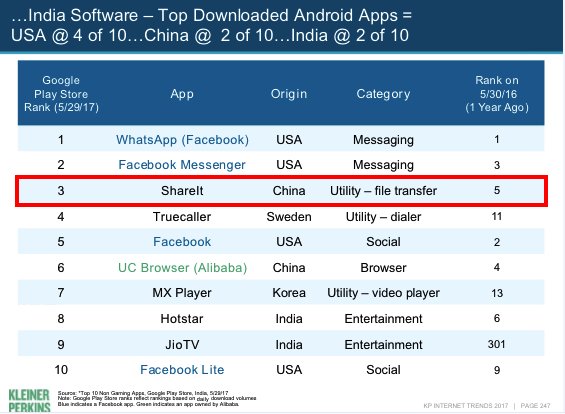 If you compare this list with the list of most downloaded app published last year, top three positions were held by WhatsApp, Facebook, and Facebook Messenger. SHAREit was ranked at 5th place. It managed to jump two places and beat Facebook to get into the top 3 most downloaded apps in India last year. Considering the social media addiction, beating Facebook in app downloads is a significant milestone.
Also read:  SHAREit Review
SHAREit is a cross-platform file transfer and sharing app. It surpassed 1 billion users back in January this year and claims have users from around 200 countries. It also has over 300 million users in India. Here, the company is talking about users who have been using SHAREit on different platforms. In 34 countries, it ranks at number 1 on Google Play. This app managed to show better growth than analysts expected. The primary reason for this exceptional growth is that the app solves the challenge of sharing files with faster speed.
Over the years, this app has improved a lot with improved performance and features. It also aims to add more features in coming days. It also says that it is working hard to understand Indian user habits, and will update the app accordingly to attract more Indian people.
SHAREit is one of the must have apps that I always recommend. It provides faster data transfer with the peer-to-peer connection. You can share photos, videos, movies and even apps in a secure manner. This app does not require any data connection for data transfer and supports cross-platform sharing.
If you think you already have Bluetooth to transfer files, you should know that the app offers 200 times faster transfer speed than Bluetooth. It offers transfer speed of up to 20 Mbp/s. Transferred files never lose quality. It also provides dual channel transfer that transfers multiple files at the same time.
Most interesting feature of SHAREit is the "App sharing". You can get apps from another phone having SHAREit if you do not have an internet connection to download from Play Store. The notable thing is that it takes less time in getting an app from your friend's phone using SHAREit than the time required to download & install from Play store.
See the screenshot below. It took just 4 seconds in sending an app of size 16.2  MB. When you have multiple photos to share, it saves much time in transferring photos. This is the reason I prefer it over the Bluetooth transfer.
As I already said, this is a cross-platform sharing app; you can enjoy it on multiple platforms. The app is also available for Android, iOS, Windows Phone, Windows, and Mac.
If you have downloaded SHAREit on your system, you can quickly transfer files from phone to your system. You can even browse photos of your phone on the system. So, taking backup of your sensitive data on the mobile device is much easier now. However, to connect to the computer your SHAREit for PC must be v4.0 or above.
Not just transfer to an individual device, you can select multiple devices to share files. So, you don't have to select files multiple times for sharing with multiple people.
There is another notable feature that you will surely like. It allows you to replicate your phone in one tap. If you just bought a new phone, you can easily transfer your contacts, messages, and apps from old phone to new phone in one tap.
SHAREit also has Share Zone. This feature allows you to select anything from your friend's share zone. Your friends can also do the same. In coming days, Share Zone will become more interesting with networking feature. It will allow you to follow your friends and check their updates on Share Zone even without data connection. So, it makes communication much easier.
I just talked about what this app can do, and I am sure this is enough to convince you why you should install this app.
You can download SHAREit from the official website.
Do you use SHAREit? If yes, what are your views about this excellent file transfer app? If you are not using it, download and try this app to transfer files.
Recommended Videos