SHAREit Review: A Must have app on your mobile phone
A few days back, I wrote about SHAREit's achievement. This file transfer app was ranked before Facebook in the list of most downloaded apps of last year. After that article, I decided to write about this app in more detail to give you an idea why this app is so popular among its users.
SHAREit is a cross-platform file sharing app and it is available for Android, iOS, Windows Phone, Windows and Mac platforms. So, you can transfer files between any devices running on supported platforms. If you combine users of all platforms, SHAREit boasts of having over 1 billion users. This number is big and this article will explain this app has been trusted by a billion users globally.
If you do not use SHAREit, how do you transfer files from one device to another? You can use Bluetooth, cloud storage or external media. If I only consider mobile phones, Bluetooth is the primary option. However, sharing large data over Bluetooth takes time. What if you have more than one friend asking you for the files? Here is where SHAREit comes into the picture. It helps to solve your problem of data transfer.
SHAREit is a file transfer app that allows you to transfer files from one device to another at a fast speed. It uses Wi-Fi Direct to transfer files and transfer speed can go up to 20 Mbp/s. This makes it 200 times faster than Bluetooth transfer. With dual channel transfer, it can also transfer multiple files at the same time. You can also transfer files to more than 1 device at the same time. In this way, you can save time and makes file transfer simpler. Group share is not something you can do using the Bluetooth transfer. SHAREit allows you to transfer files to multiple devices at the same time. So, you can save both time and effort.
Have a look at the below snapshot. It took 27 seconds in transferring a video of 266.1 MB.
The most notable thing is that you can transfer files of any size or any type. You can even transfer apps. It is also helpful if the app size is too big. You can save your mobile data.
The app transfers files without loss of quality. SHAREit comes with a video player that supports most of the known file formats. So, you do not need to install any other video player. If any of the video file formats are not supported by your phone, this app has a solution for this problem as well.
SHAREit also allows you to connect your phone to your computer. You can transfer files, browse photos of a system from the phone, control PPT and backup files.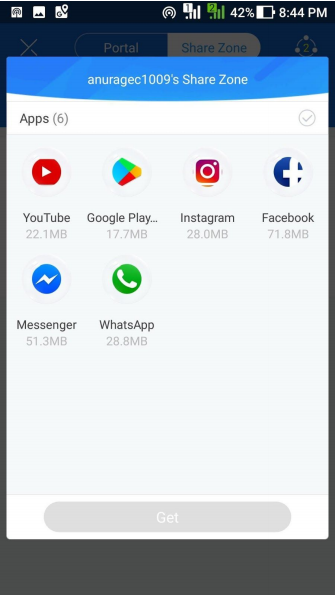 SHAREit also comes with a Share Zone. It allows you to share few files with friends. All files you put on Share Zone will be available to your friends. You can also access files on your friends Share Zone.
SHAREit also comes with a nice utility app called CLONEit. With this app, you can clone an Android phone in few taps. If you have bought a new Android phone, you can transfer all files, apps, messages, and contacts in few minutes without the need of mobile data. This is something every android user must know.
Pros
Cross platform sharing

Support to any file size

No file size limit

File transfer at faster rate
Cons
Not all features are available on all platforms
Excellent cross platform file sharing App with a peer-to-peer transfer at fast speed.
The app is available for free of cost. Download links are below
Final Words
File transfer is something we do every day on a regular basis. SHAREit is a must have app to save time. SHAREit is a single app but offers multiple benefits. I personally use SHAREit and strongly recommend it to everyone. With SHAREit, I don't miss AirDrop on Android or window to transfer files. Cross-platform file transfer is not just easier but faster, and you do not need an active data connection.
I am sure this app will make its way into your smartphone and laptop. What do you think about SHAREit? Share your views with us in comments.