HTC Offers Rs. 2,500 off Under Buyback Scheme for Desire X and Desire U
Finally, HTC has also jumped into buyback scheme after all other smartphone giants including Samsung, Apple, BlackBerry, Sony, Nokia and LG. But HTC is giving less discount as compared to other buyback schemes.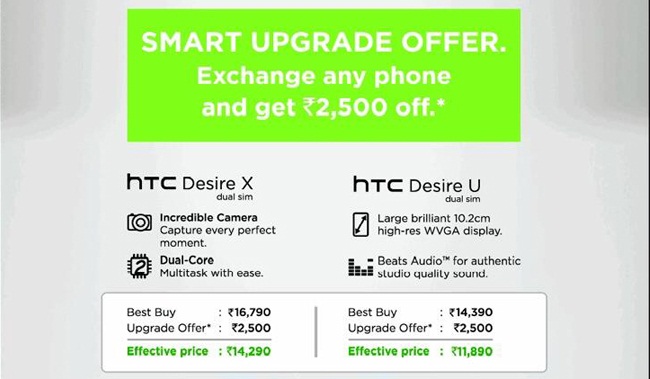 HTC is offering discount of Rs 2,500 when you exchange your old smartphone and buy a Desire X and Desire U. Under this offer, you will get Desire X only for Rs. 14,280 that has best buy price Rs. 16,790. And Desire U has best buy price of Rs. 14,390 but under this offer, you can get it for Rs. 11,890.
Also see: Nokia India Introduces Smart Buy Back Offer for Lumia 520 and Lumia 620
Also see: Samsung Starts BuyBack Scheme for Galaxy S4 with 1 Time Display Replacement for Free
When you check the best buy price of these smartphone, you will see that company has offered genuine price. But, Sony and Samsung has raised the best buy price before applying the buyback discount.
The only thing people are complaining that company is offer less discount. It could offer Rs. 4000 discount to attract more customers.
Recommended Videos