Nokia India Introduces Smart Buy Back Offer for Lumia 520 and Lumia 620
Finally, Nokia has also jumped in buy back offer war after Samsung, Apple, BlackBerry and Sony. Nokia India has announced Lumia Smart Buy Back offer for Lumia 520 and Lumia 620 smartphones. In this offer, users will get Rs. 6000 discount on Lumia 620 and Rs. 4000 discount on Lumia 520 in exchange for old smartphone.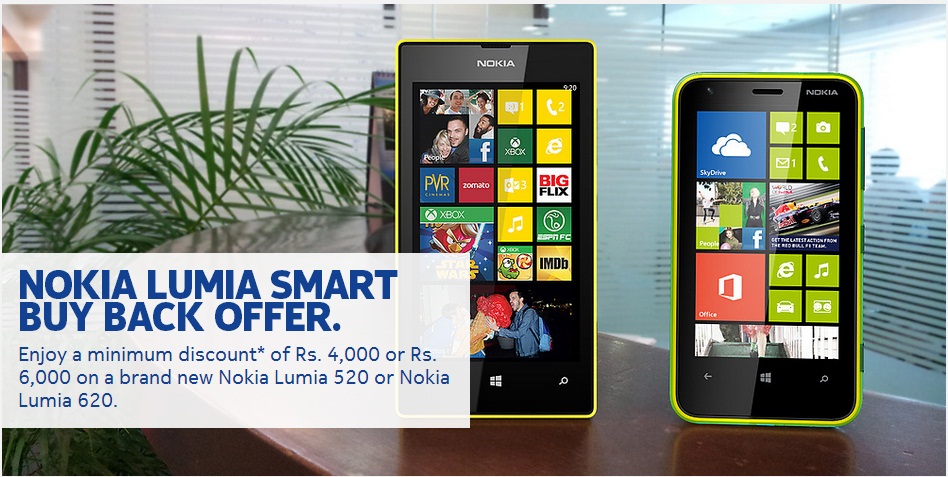 Both smartphones in the offer are one of the most popular Lumia smartphones. Company has also made available the list of the smartphones eligible for buy back via its website.
Also Read: Samsung BuyBack offer for Galaxy S4
Also Read: Sony Offers Discount of Rs. 5000 on Xperia Z/ZL
You can see that Nokia is also accepting Nokia Asha phones under this offer. If you want to go for Lumia 520 or Lumia 620, you can go with this offer to get discount.
To get discount on the purchase of these smartphones, go to nearest mobile store with your eligible phone. You will have to prove the ownership of the smartphone via invoice or undertake with your photo id proof.