5 Best Beard Trimmers For Men – 2021
An electric beard trimmer is now a must-have thing for men. Growing and maintaining a beard is not easy and you cannot maintain it without having a good beard trimmer. The trimmer helps you in snipping strays, maintaining a consistent length, and mixing the neckline. After the covid-19 pandemic, it is not safe to go to the salon for grooming. So, an electric beard trimmer is a must-have thing in your home.
Beard Trimmers for men come in a variety of price ranges, and these trimmers differ in build quality and performance. If you are not sure how to buy one, this guide will help you. In this article, I am putting tips for choosing a good Beard Trimmer along with the list of best Beard Trimmers for men.
Tips for Choosing the Best Beard Trimmer for men
Here are a few important things you need to consider before buying a Beard Trimmer.
Charging time: Not all trimmers charge fast and few may take up to 12 hours in full charge. So, you need to check the charging time before selecting one. Charging a trimmer overnight just to use for half an hour doesn't make sense.
Run time: Run time is the time the trimmer can work with a full charge battery. Get a trimmer with a good run time to get an uninterrupted experience.
Can it be used while charging? 
What is if you urgently want to use the trimmer but it is out of battery? If you cannot use the trimmer while it is charging, you need to wait until it charges. If a trimmer can be used while on charge, it can save your time in such situations.
Blades: Blades are important because they will be in contact with your skin. Get a trimmer with a stainless steel blade with non-scratching combs for extra protection and comfort.
Precision: The best trimmers offer precision up to 0.5 mm. The locking length settings enable you to log the blades at certain lengths. So, keep these things also in mind before selecting a beard trimmer.
After considering all these things, I have selected the best beard trimmers for men. You can buy any of these depending on your budget.
Best Trimmers For Men
Here is the list of best trimmers for men. These trimmers for men offer good performance, cord & cordless operation along with good battery performance.
NOTE: Philips Norelco Multigroom 7000, 23 attachments MG7750/49 is the best but very costly. So, if you can spend 10000 INR on a trimmer go for this one. BUY NOW
1. Havells BT9010
I am keeping Havells BT9010 at the top because of its excellent run time. It has a digital battery level display. So, you always know when your trimmer is low on battery. It has a Micro USB charging. It comes with 20 lock-in length settings with a step size of 0.5 mm. The Titanium blade ensures smooth cutting. Another good thing is Cord and cordless use. So, you can use it even when you are charging it
Cord/Cordless use
Charging time: 90 minutes
Run time: 120 minutes
Titanium Coated Blades
20 lock-in length settings
Length setting: 0.5 – 10 mm
Price: Rs. 2695
Buy Here: Amazon
2. Braun MGK3080
Braun Beard Trimmer for men is costly but is more advanced. This one has a beautiful but solid build and hence the cost is on the higher side. It comes with two detachable trimming combs offering the flexibility you need, the short is for 1-10mm, and the long one is 11-21mm. It has ultra-sharp stainless steel blades.
It is fully washable under running water. It comes with a rechargeable battery that takes 1 hour in full charging and it offers 100 minutes of cordless trimming. You get both corded and cordless operation.
Cord/Cordless use
Charging time: 1 hour
Run time: 100 min
Stainless Steel Blades
2 combs, short: 1-10mm, Long: 11-21mm
25 length settings
Price: Rs. 3,251
Buy Here: Amazon
2. Philips Beard Trimmer QT4011/15
Philips QT4011/15 is a good trimmer offering everything you look for in a Trimmer. It can be used even when it is charging. It takes 1 hour in fully charging and offers 90 minutes of cordless run time. The detachable head makes it easy to clean, but make sure to dry the head before putting it back. It has an ergonomic design that offers a stronger grip and makes it easier to hold.
It has a Skin-Friendly Performance to prevent irritation. It comes with advanced titanium blades for superior cutting performance. There are 20 different length settings. Turn the wheel to select and lock in the length settings.
It is not waterproof but you can wash the blades. The company also offers a free travel pouch that keeps it safe during traveling.
Cord/Cordless use
Run time: 90 minutes
Charging time: 1 hour
Self-sharpening titanium blades
Skin-friendly rounded tips
27 lock-in length settings
Length setting: 0.5 – 10mm with 0.5mm precision
Price: Rs. 1999
3. Philips Series 3000 BT3215
This one is also a good corded & cordless beaded trimmer for Men. It not just looks good but offers good performance. It comes with titanium Coated Blades that are better than steel. The comb attachment lifts and guides the hair to the level of blades for offering even trimming. It has skin-friendly blades and the DuraPower technology reduces the friction between the blades. It comes with 21 length settings from 0.5 mm to 10.
It comes with the durable build quality. It is easy to hold and use. It doesn't need any oiling for maintenance. It has a rechargeable battery that offers 60 minutes of cordless usage and the battery takes 60 minutes in charge.
Cord/Cordless use
Charging time: 60 minutes
Run time: 60 minutes
Titanium Coated Blades
21 length settings
Length setting: 0.5 – 10 mm
Price: Rs. 1800
5. Havells BT6201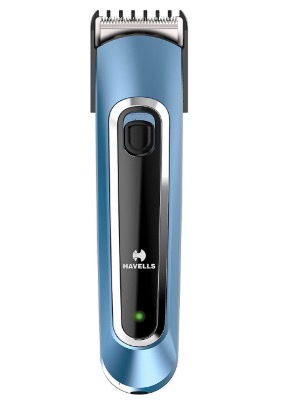 Havells BT6201 is also a good trimmer that can be used as both Corded & Cordless Trimmer. This beard trimmer for men also offers good performance. It has U-shaped hypoallergenic blades that glide smoothly across your skin. It has an Ergonomic Design that looks good and makes it easy to use. It can precisely trim hair as short as 0.5mm. It offers 4 settings. One can detach the head and run it under the running tap water for cleaning.
This beard trimmer for men comes with a rechargeable battery. The battery takes 90 minutes in charging and it runs for 90 minutes with a fully charged battery. You can always use it when it is charging.
Cord/Cordless use
Charging time: 90 minutes
Run time: 90 minutes
Stainless Steel Blades
4 length settings
Length setting: 0.5 – 10 mm
Price: Rs. 1899
Final Words
I didn't make the list of best Trimmers For Men long, just to avoid trimmers with long battery charging time. I included only less charging time, good run time, and value-for-money trimmers. I also didn't include a bread trimmer that cost high price. All the beard trimmers for men listed here offer excellent performance and value for money. I personally use Philips QT4011/15 for keeping my beard in shape. This is also my recommendation as the best trimmer for men.
If you have any questions about beard trimmers, you can leave them in the comments.