5 Best Voice Changer Apps for Android and iPhone
Smartphones can do a lot of things with one click. This also includes changing your voice in a call or in a video. If you want to make a prank call in a different voice or record a video mimicking someone else, you can use a good voice changer app. Voice changer apps are available for both Android and iOS platforms. If you are not sure what voice changer app to download and use, keep reading. In this article, I am listing the best voice changer apps for Android and iOS. Some of these are only available for a single platform. Read the description to know more about the app.
Also see
Voice Changer Apps for Android and iPhone
These are some of the best voice changer apps for Android and iPhone. You can install any of these apps on your phone and make prank calls to your friends.
1. MagicCall
MagicCall is the best voice changer app available for both Android and iOS. If you want a good voice changer app for calls, this could be a good option. The app is easy to use and has a nice UI. It comes with several background effects and different voice modes. You can select from Male, Female, Elderly Male, Robot, & Kid voices. The background sound options include Rain, Concert, Traffic, Birthday, Racecar, & Mount Everest.
The app asks for your phone number to register before you can use it. You earn some free credits to use for calling. Once you exhaust your free credits, you are required to purchase the credits. The minimum subscription plan is $1.99/week and you can 100 calling credit if you purchase this one.
The app also records calls and keeps them in the Recordings section. You can play it without the app and also share it with your friends using the share option.
2. Celebrity Voice Changer
Celebrity Voice Changer is an impressive voice changer app that lets you change your voice to any celebrity voice of your choice. This app not just changes pitch or speed but actually makes changes in the audio to feel like the voice or the celebrity. The app has a huge selection of voice filters. You can record your videos in a voice of any celebrity. It feels like you are mimicking a celebrity's voice. You can save and share your videos.
You can also request new voices if you want the sound of a specific celebrity that isn't available on the platform. The app is free to download and offers a free trial. But you need to purchase the subscription for effectively using the app.
3. Call Voice Changer
As the name suggests, Call Voice Changer basically changes your voice in phone calls. You can change the pitch of your voice in real-time and sound creepy or funny. So, You can use this app for prank calls and have fun with friends. During a call, the app displays a control panel that lets you change your voice or add more audio effects. The app requires a good internet connection for working properly.
The app is not free. It is just free to download and offers free one-time credit for the demo only. After that, you will be charged for credits.
4. Call Voice Changer Allogag
Call Voice Changer Allogag is another simple app that you can use to change your voice while making calls. The interesting thing about the app is that you can keep changing your voice while you are already in call. Not just your voice, you can also change background noise during calls. It also offers really good sound quality. You get several voice effects including Male, female, Alien, Chipmunk, Helium, Child, Dark Vador, and Monster.
Like other voice changer apps, this app also offers free installation and free credits. After you have used your free credits, it asks you to purchase credits.
5. Snapchat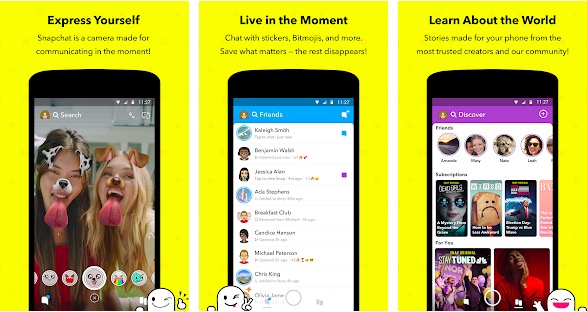 Snapchat is popular for face filters but the app also has voice filters. By using these voice filters you can change your voice. For accessing voice filters, long-press the Loudspeaker icon at the bottom-left after recording a video. There are multiple audio filters including robot or alien. You can also use speed modifiers and see how your audio sounds. If you already have Snapchat, don't forget to try the audio filters.
Wrap Up
This was the list of best voice changer apps for Android and iOS. Some apps are used for recording videos with a different voice while some are for changing voice during phone calls. Download a good voice changer app depending on your need. I have also added the description of each app. This will help you understand how the app works and what are the features. I will keep updating this article and add more apps if I find any other good voice changer app.