7 Best Prank Apps for Android and iOS – Prank Calling Apps
Do you want to bring out your inner child and goofiness, but don't know how to? Do you ever feel like having fun with your friends but in a different fashion? Have you ever thought about the 'wickedly funny' side of your smartphone?  Do you just feel like laughing around with your mates? Oh, then you have come to the right place for inspiration. Build up your game with these best prank applications of all time; after all our mobiles could be evil too. In this article, we are listing some good prank apps for Android and iOS. This list also includes prank calling apps.
Best Prank Apps
Here is the list of best prank apps that you can try for fun. But do not use these to torture, someone. One can take legal action if they feel offended.
1. Crack & Break It
Wouldn't it be hilarious to convince your friends that they broke your phone's screen? This is the perfect screen prank that you could pull out on your friends. It adds cracks and breaks on your phone's screen which appear so real that anyone's gut would wrench.
Nothing is more terrifying than breaking someone's phone, is it? Moreover, the breaks and cracks have amazing sound effects and this app supports multi-touch.  Interestingly, as it seems, this application is also a great stress buster, so what is more that you need?
If you have ever dreamt of breaking glasses and windows then this app is just for you and it's FREE.
2. Fake Call Plus
Get out of awkward situations, impress your friends, and prank your foes with this application. It is the best application for faking an incoming call from your boss, your partner or even a celebrity just at the click of a button. Import your favorite audio as a ringtone, or use the built-in ringtones; it is up to you.  Goof around with your friends with the help of this awesome prank calling application, because who expects a call from Donald Trump? At least I don't. If you want a good prank calling app for iOS, download this one.
P.S:- It's for free!
Download for: iOS
3. Fake GPS-Change GPS
I know Mars would have been a great idea, but for now, let's just keep it till California. This is one of the best GPS faking/changing applications which allows you to change your current GPS location. What's even better that it lets you share your picture and then save your location for future use.  Prank your relatives and friends by making them believe that you're on a world tour; just sign up and you are set to go anywhere, London, Paris, New York; just name it buddy!
One thing that has to be kept in mind regarding this application is that it is only for iOS users, but similar applications are also available on android's play store.
Download for: iOS
This app is not available for Android. Here are two similar Apps on Playstore: Android1  |  Android2
Also see: Best Fake GPS Apps
4. Voice changer prank recorder
If you want to speak like a man, then go for it; if you like to speak like a robot; then also go for it.
This is a super cool application that lets you change your voice in fun and amazing ways, and guess what? It is for free.  Astonishingly, there are dozens of hilarious sound effects that you can use to fool your friends with. The most interesting part of this application is its ratings and reviews.  With a rating of 4.6 and commendable reviews, this application comes under the category of 'top entertainment applications'.
5. Lie detector prank app
Before I start telling you all about how awesome this application is, please know that it is solely for entertainment purposes only and does not provide true lie detecting or scanning functionality.
So, if you want to trick your friends and family and see if they can pass a lie-detecting test, then this application is your one-stop app. What's interesting about this app is that you can either rig the results or let them occur randomly.  So let the lies spill out, or the truth. Who knows?
Read More: Best Fake Incoming Call Apps for Android
6. Prank Caller – Prank Call App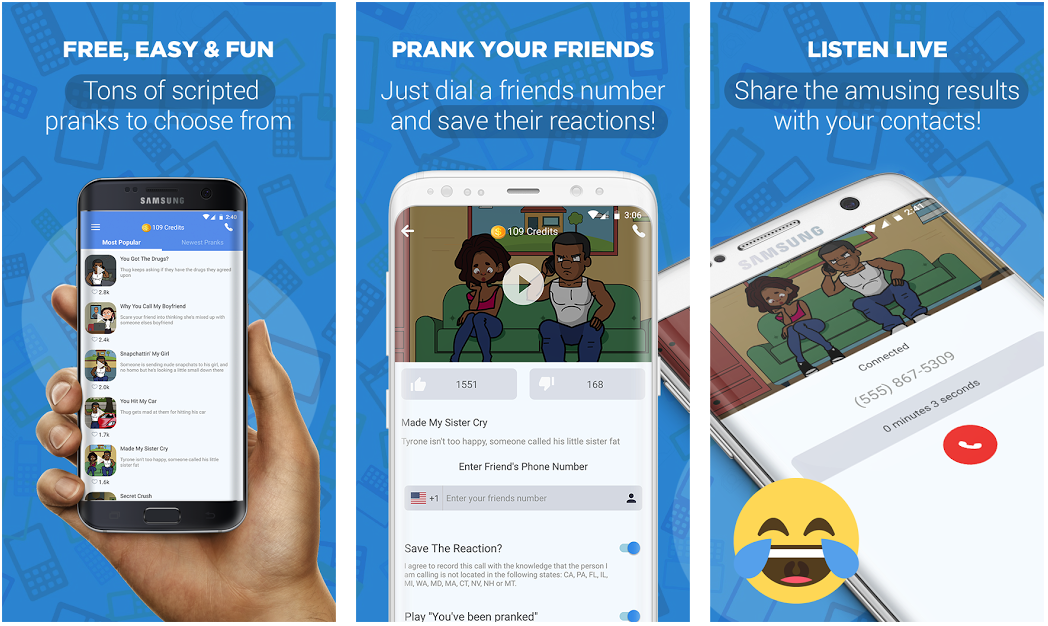 Prank Caller is a good prank calling app for Android. It lets you make scripted pranks and no-one will know if its a real person or a fake call. You just need to select a prank, dial a friend's number and listen to the friend's reaction. In this free version of the app, you get 3 FREE calls a day. You also have tons of pranks to choose from and the app keeps adding new pranks regularly. All the pranks also get recorded. You can share the recording with your friends anytime later.
7. Bee Swatter Prank Game
This is an interesting prank app for iOS. This app is about a prank game where there are several levels to catch or hit bee. At one level, it asks to hit hard on the display. When hitting hard, it shows cracks on the screen and stops responding. The person using the phone will think he has broken the phone.
So, it is 2020 and you have to pull up your pranks with these good prank apps to keep up with changing times, and keep fooling around with your friends and family, because why not?
Be it 1st April or not, you are always allowed to have fun.
Recommended Videos