5 Best Google Trips Alternatives
Google has announced that its Travel app Google Trips won't be available after August 5th. If you have been using this app for planning your trips and explore unfamiliar territory, you will have to switch from something similar. One thing to note that many of the features of Google Trips have already been added to Google Maps and Google search. You can search for any place and Google shows relevant information like "what to see" and "things to do". Here is the dedicated travel page on Google to look for places, flights, and hotels.
If you are looking for a good app that can replace Google Trips on your phone, we are adding a list of best Google Trips alternatives. You can look at these best Google Trips alternative apps and select one to use.
Google Trips Alternatives
1. TripIt
TripIt is a popular travel app that organizes your trip plans and puts every necessary detail at once place. No matter where you book a flight, hotel, car or other reservation, it adds to your master itinerary on your request and then you have access to it. It helps in planning a trip, finding a better deal, reminds to check in, tells you when to leave for the airport, send real-time flight status alerts and more. It also lets you share plans with others.
Most of the features are free but few of these are only available if you go for a paid plan. premium service starts at $49 per year.
Also see: Best Travel Apps
2. Sygic Travel Trip Planner
Sygic Travel Trip Planner is another good alternative to Google Trips. The app can build a complete day-to-day itinerary for your trip and shows estimated travel times and walking distances. It has information of over 50 million places including Sights, museums, parks, cafés, restaurants, hotels, beaches, waterfalls and more. The information includes descriptions, photos, opening hours, admission fees and more. It also has an exclusive 360° videos of several places to give you a better idea of the place.
There is also a detailed map based OpenStreetMap.org data. Built-in search and GPS-based walking directions. So, you get everything you need to explore a place.
You can also use the app to find the best sightseeing tours, hotel, hostel, apartment and more information that you need during your trips.
3. Tripoto
Tripoto is also a popular Trip Planning App backed by a community of Travel Bloggers who share their experience of different places. So, you not just get information but experiences. The app gives you travel guides, information on places to see & things to do for any location. You can also earn credits for posting photos, videos, and blog posts. These credits can be used to Redeem tour package bookings.
The app also has a travel forum where you can ask questions about places and people who have already visited those places will answer. It also does tour package aggregation. So, you also find relevant tour packages to book.
4. Tripify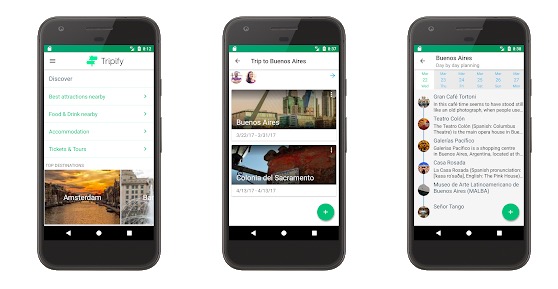 Tripify is also a similar app and one of the best alternatives to Google Trips app. The app helps you in discovering amazing destinations and get information like the best things to do in each place, check photos, and reviews. The app also shows nearby places like restaurant and park on maps. You can use this app to plan your itineraries step by step and bookmark places. You can also add notes to each place and register expenses related to it.
The app gives you access to your planned trip information completely offline. So, you will be able to see your favorite places of a trip and check the details of each place. Map of the app is also easy to use and lets you explore places.
5. Guides by Lonely Planet
Guides by Lonely Planet is the app that curates city guides by experts. The experts who are writing city guides are those who have experienced these places and lived there. So, they are better people to give you essential tips and advice. Use this app to know everything about the map, get information, maps and phrasebooks. Everything on the app works offline.
Recommended Videos