5 Best Music Apps for Apple Watch
This indispensable productivity tool has been on a roll ever since it was out. It has so much more to do than just assisting you in little tasks. Apple watches are known to perform well under stress. They give accurate feedback about one's day and even perform complicated medical tests. Apple watches just never fail to amaze me. This little watch holds so much to itself that it is delightful to see how far we have come. It was quite a journey!
But, it was always a question, "Can Apple watch play music?" and the answer to this question for those skeptics is, Yes! You can play music on your Apple watch. From a little over 500 songs on iPod to 60 million songs on your wrist.
Also see: Best Apple Watch Games
However, to accomplish the best results, one needs to use the right tools. So, here I am to help you find the right music streaming app for your Apple Watch!
Apple Watch Music Apps
Lets Begin:
1. Apple Music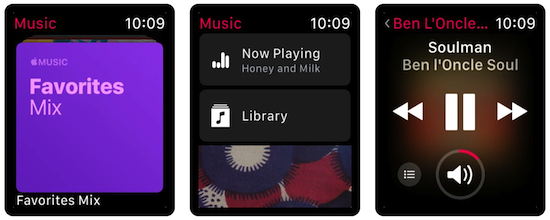 Home sweet home!
The default Apple Watch Music app is the right place to try streaming for the first time. It has every feature one can imagine in simple music streaming application. It even syncs your music with all other Apple devices which, eventually lets you use the same playlists.
Apple watch music app gives the users a pretty good baseline experience but, if one is exploring a more feature-rich segment, he should try Apple music Radio on the watch!
Every feature that baseline music app has plus oceans of great content! Including the excellent Beats 1 radio makes the Apple Music Radio!
2. Spotify
We all know how good is Spotify. It is one of the biggest music streaming platforms. And it lets you use it on the Apple watch too but, here is the catch! Spotify app for Apple Watch does not come with a ton of features, like the original application packs in rather, it is simple to use and lets you control music playback on connected devices. You can pause, rewind, forward, add favourite and switch songs. It does not have sync yet but, is expected to come soon. A relief is, you do not have to pay for the music app if you can bear some ads in between.
 Apart from this, everything in Spotify works just fine. You know it has a vast library and all the artists you stan. You can make playlists and edit them. I would highly recommend using it.
3. OverCast

Not everyone just wants to hear music from their watch. Some people also believe in listening to others. They are sure of learning from other mistakes or experiences. For that specific class of the population, I would like to introduce Overcast!
Overcast is a podcast streaming app designed for the Apple watch. It lets you hear podcasts from around the globe!
It packs delightful features like volume-boosting of dialog, sleep timers, distortion-free playback speed increases, and the ability to test podcasts for free.
Overcast has an annual subscription plan which costs $9.99. But, then again, if advertisements do not get the best of you, you can enjoy Overcast for free! One pro of Overcast is that the Apple watch allows you to play podcasts without the need to keep your phone on always!
If you like to listen to podcasts, this is a must-have on your Apple watch. It does what it says and, that too pretty efficiently.
I would recommend this to anyone who likes to gather as much experience and information they can in their free time to make the perfect use of the 4th dimension since the sole purpose of the Apple watch was to boost productivity.
4. Shazam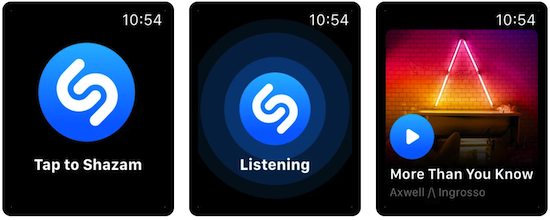 Playing your favorite song and adding them to your playlists is what most of the Apple watch music apps do. One can not choose which app to choose but, what if I tell you that you can do all the basic stuff plus recognize the song playing anywhere and add it to your playlist?
Amazing right? Shazam saves the trouble for you.
Shazam is more than a music streaming app. It helps you discover new songs. It identifies the songs playing in your neighborhood or anywhere that is loud for the application to do its magic. Meaning, you do not have to hum to Google whenever you do not know or understand lyrics. Shazam has the ability to preview the identified songs and integrate them into your Apple watch music playlist which means it can easily integrate songs into the Apple watch!
I have had a hard time discovering new music. I remember playing guess the gibberish with Youtube. Shazam helps me to find songs and add them to my playlist pretty neatly.
5. TuneInPro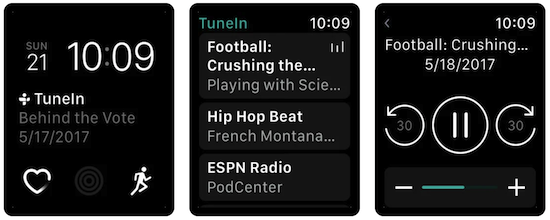 Now that I covered the needs of every class of the population. There's still one category left that is sports! All my readers who like to listen to commentary or live talk shows, I have something for you. Tuneinrpo brings the best of basically everything!
It has over 100,000 stations to choose from. I assure you it covers everything that you could fancy.
And if you do not mind paying a little fee, you can enjoy exclusive commercial-free music stations and live play-by-play for MLB and BPL games.
This application comes in handy for people who would like to have a taste of everything. News, sports, music, live talk shows. With a hundred thousand stations it brings a lot to the table!
Wrap Up
That's it for the top 5 music streaming apps from the Apple Watch. I hope you have got what you were trying to find. They are the best music streaming apps that I encountered. They all do their jobs perfectly. Simple to use and feature-packed applications that let you stream or identify music on your move. If you like to add anything to the list, feel free to comment. I will be updating the list as soon as some new app comes to my attention.