7 Best Matrimonial Apps in India to find Perfect Life Partner
Matrimonial Apps help you find a perfect life partner with all the qualities that you want in your life partner. In India, marriages are not as easy as in other countries. Due to lots of cultural differences among communities, people prefer a partner of the same culture, religion, or caste for marriage. This is why Matrimonial Apps play an important role. One can make a profile, set the desired criteria for a partner, and Strat exploring the profiles.
It is also worth noting that these apps also have sub-apps dedicated to different regions and castes. But all those profiles will still be available on parent apps. And you always have option filter profiles and set the desired profile filters to find someone based on interest, culture, caste, region, or education.
Best Matrimony Apps
Here are the best and most popular Matrimonial Apps in India:
1. Jeevansathi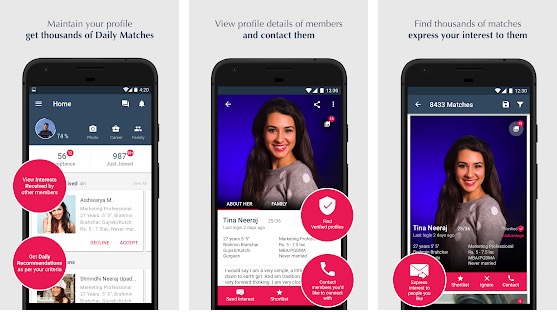 Jeevansathi is the most trusted and oldest matrimony service in India. The website exists for around 12 years and it has a presence on all leading mobile platforms. You can create your profile, upload photos, enter the Desired Partner Profile and then start searching for a life partner. You can check photos, profile details, and phone numbers to contact.
The service has millions of users from across the country belonging to different cases and religions. You can use available filters to narrow the search results. The app also shows recommendations under 'Match Alerts' and sends matches in emails.
Also see: Best Dating Apps in India
2. Shaadi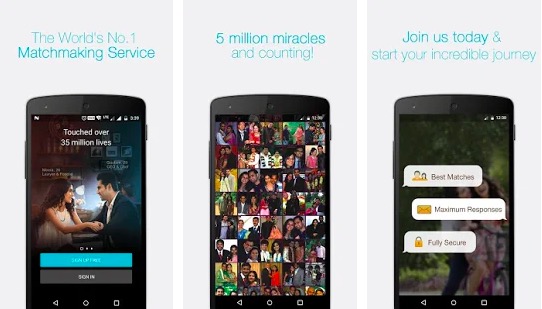 Shaadi.com is another popular service that claims to make a new match every 2.4 seconds and bass of 5 million success stories. It also offers services similar to Jeevansathi. The App allows you to create your profile and browse profiles based on several criteria. You can control your profile data as well. The app has an instant messenger to talk to someone you find interesting.
The app is not just available in India, but also brings people from other countries. So, you can even have an NRI match. The app has people from all states and religions. If you are looking for a good matrimony app, you can download the Shaadi.com app.
3. BharatMatrimony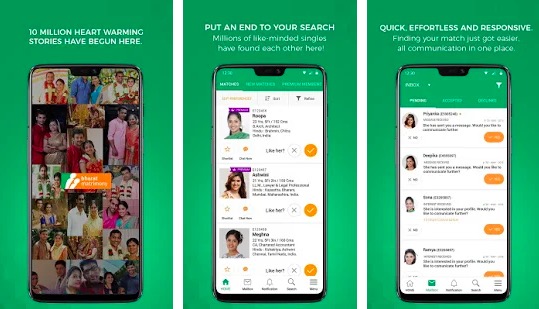 BharatMatrimony app is the official app of BharatMatrimony.com. It is also a popular matrimony portal in the country. With this app, you can register and create your profile. Then you can search for suitable matches, refine results, and save favorites for future viewing. The app uses GPS to find people near your location. You get a notification when there is something matching your criteria.
Like previous apps, this app also has people from all states, cultures, and religions. So, you will surely find a trusted partner here to live your life with.
NOTE: BharatMatrimony also has apps that are dedicated to specific religions or regions where you can find the brides or grooms of your own religion or cast. You can also download those apps but we recommend you this version.
4. CommunityMatrimony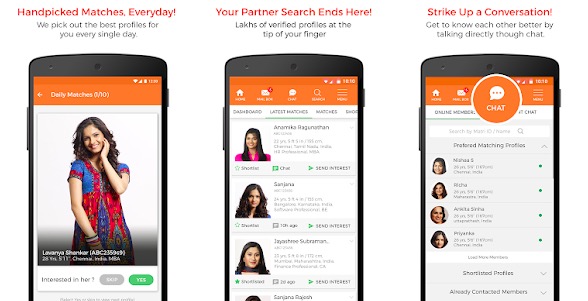 CommunityMatrimony is also one of the best apps for marriage on the list to add. It is also a good matrimony app with thousands of people from different Indian communities. The app lets you register and creates your profile. Then you can use the search filter to find your life partner. The app is user-friendly and allows you most of the things you can do on the website.
You can search, use filters to narrow results, and shortlist a profile if you find someone interesting. It also shows who viewed your profile to know who is taking the internet in you. It is also one of the best Matrimony apps in India.
5. Divorcee Matrimony

It is an exclusive Divorcee Matrimony App for those seeking to remarry. Divorcee Matrimony app enables you to find the perfect life partner. DivorceeMatrimony has a wide range of profiles from different religions, castes, and sub-castes for those who want to remarry or want to marry at their late age. You can find your life partner at your convenience
This app has free Registration and the company claims that it is a safe and secure app with 100% privacy guaranteed.
6. Free Matrimony
If you don't want to pay money for the premium feature of any matrimony app then choose Free Matrimony. As per its name, this app is committed to providing all premium matrimony services to everyone free of cost. They never ask you to pay to use any feature. This is the main USP of FreeMatrimony.org that is working well among the users.
Download: Android
7. LifePartner.in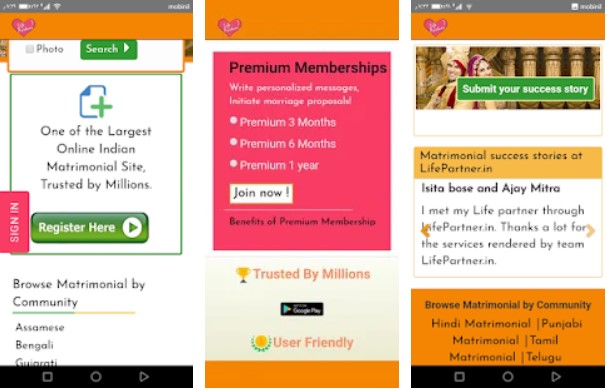 The LifePartner is the Official App of LifePartner.in. It is one of the largest online Indian matrimonial apps and sites in India. The company claims to provide a secure, and easy-to-use matrimonial matchmaking experience to the users. Whether you are Bengali, Gujarati, Kannada, Marathi, Punjabi, Urdu, Malayalam, Hindi, Tamil, Telugu, Assamese, Marwari, Bhojpuri, Oriya, Konkani, Sindhi, Parsi or you are looking for specific religion like Hindu, Muslim, Christian, Sikh, Jain, Buddhist this app have specific categories for everyone where you can find the perfect match for you.
Download: Android
Final Words
Bharat Matrimony app also has app for many states and caste and culture. But I don't think you need to download those sub-apps. The same thing goes with the services. So, you do not need more than these best matrimony apps to find a good partner for you. You can use these apps to a good life partner.