10 Best Apps to Make Posters
Smartphones can now do a lot of tasks that were once possible only with a computer. Graphics editing is one of those tasks that can now be done on smartphones easily. There are also several apps that make the designing process easy. In this article, I will be talking about the best poster maker apps. If you were looking for good apps to make posters and banners, you should not miss this article.
You can create amazing Posters, Travel Docs, Social Posts, Collages, Grids, and Layouts by using the photo editor app. Poster maker apps are actually graphics editing apps that let you make several kinds of graphics including posters. So, I will be basically covering graphics editing apps where you can easily make posters.
Also see: Apps to Make Beautiful Instagram Stories
Instead of just posting your regular photos on social media, you can use poster making app that will make the regular photos stylish and designer photos. This can help you in growing your social media reach as well as your business.
Best poster making apps for Android and iOS
Here is a list of the best apps for making posters. If you are looking for poster market apps for iOS or Android, check this list.
1. Adobe Spark
Adobe Spark is the best app for making stunning graphics and posters without having design skills. The app is really easy to use and offers easy tools to make posters and banners. You can select the layout, add photos, text, and elements for making eye-catching posters. The app has several text effects, dynamic layouts, design filters, and more for making your poster design work easy.
Adobe Spark is also available for the web, so it syncs your data to the cloud. You can access your saved design from any device at any time. The app also lets you share your designs directly to Instagram, Facebook, or any other social platforms in one click.
The app can also be used to make social media posts, photo collages, Memes, Slides & presentations, ads, YouTube thumbnails, Profile covers, and Instagram Story. That means Adobe Spark should be your choice for any kind of graphics need if you do not want to use photoshop like heavy tools.
2. Canva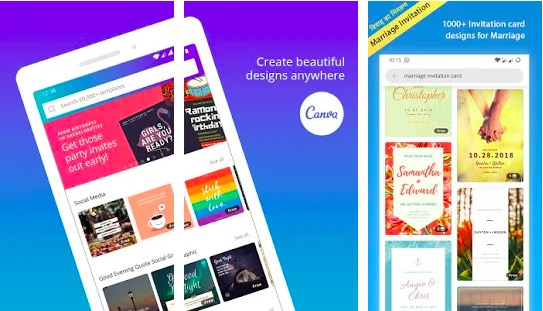 Canva is my favorite graphics editing app that I use to make YouTube Thumbnails, Blog's featured photos, social media posts, and logos. I personally use and recommend Canva. It is similar to Adobe Spark and lets you make a logo, book cover, posters, banners Photo collage, Instagram Story, motivational quotes. Party invitation, video banner, social media posts, resume, business cards, brochure, and more. The app comes with several ready-made templates to use. As per claims, there are more than 60,000 FREE templates created by professional designers. You just need to change elements and you are done.
The app lets you easily add photos, texts, and more design elects for making posters. You can either select a predefined size or enter the custom size for the poster. The app also lets you apply several photo filters or you can manually change brightness, contrast, transparency, and more.
When you are done with making a poster or any other graphics, you can either download it to your device or share it on social media apps. You can also collaborate with the team if you want multiple people to work on the same design.
3. Desygner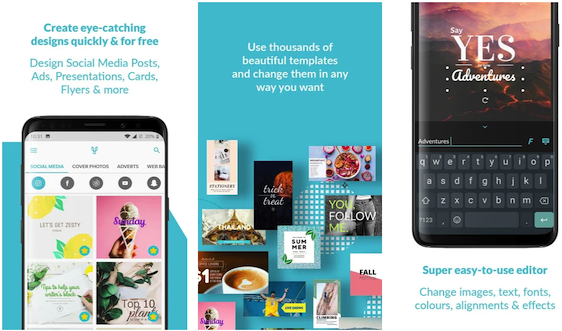 Desygner is also a similar poster maker app that has an easy-to-use UI and a powerful editor to make awesome graphics. The app comes with more than 1,000,000+ layouts to choose from. It also has the integration of royalty-free images, so you can use free images in your posters.
You just need to select what you want to make, then start working on your graphics. You can add photos, texts, or other design elements. It is easy to change the alignment or add effects.
Like Canva, you can use the Desygner app for making posters, banners, social media posts, YouTube thumbnails, blog post images, Google ads, business cards, EBook covers, Certificates, Email Campaigns, and more kinds of graphics. You can also make Photo Collages, Resumes, and more.
4. GoDaddy Studio
Over app is now become GoDaddy Studio. It is also a similar kind of app that lets you make minimal posters using professionally designed poster templates quickly. You do not need photo editing skills for using this app. This poster-making app also comes with easy to use photo editor that lets you add photos, add effects to photos, add text and other graphics to the poster. You can also make logos, banners, and flyers with a selection of over 500 fonts as per your needs. The app can install transform your photos into stylish posters or cores depending on your choice.
5. Poster Maker, Flyer Designer, Ads Page Designer by Photo Cool Apps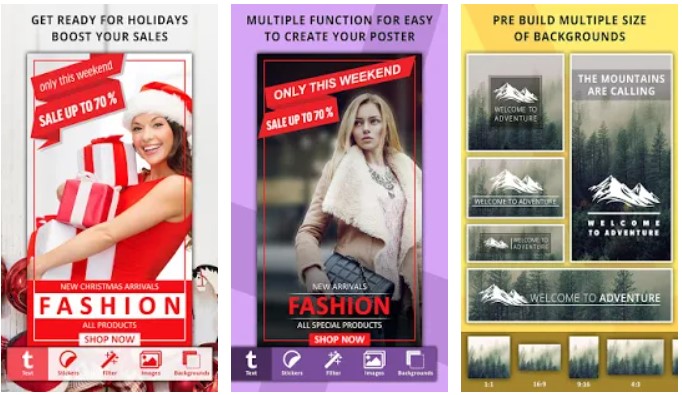 Poster Maker by photo Cool Apps is an easy-to-use app. You just have to select the background you like in the ratio as per your need and add your text, stickers, your pictures, and create the perfect poster any time you want. You can create promotional posters, advertisements, offer announcements, cover photos with amazing backgrounds, texture, effects, fonts, and stickers.
Download: Android
6. Flyermaker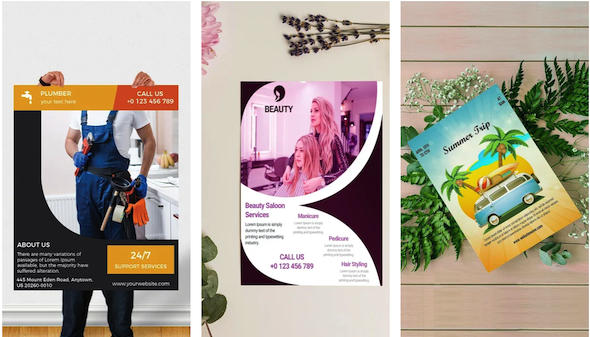 Flyers is also an interesting banner, graphic design, and poster maker app available for both Android and iOS. This app comes with more than 5000 ready-to-use graphic design templates. You can search for templates, pick one and customize it by adding stickers, photos and text. You can work on multiple layers, drop images, add shapes and text cards to make your poster beautiful.
The app is useful for making Event Poster, Motivational Poster, Typography Poster, Infographic, Storyboard, and several other kinds of graphics. You can also use it to make social media posts and ads banner for your company.
7. VanillaPen – Poster maker
VanillaPen is also a worth trying poster maker app for iOS and Android. This app can transform your regular posts into creative posters easily. You use this app to write a quote, design a poster, or social media post. The app has more than 200 custom-made and perfected posters that you can customize by changing the photo, background, and text. It comes with 86 Fonts, 360 designs & decorative elements, and several texts & artworks for use in posters.
You can add unlimited elements of text & artwork in your poster, move, crop, resize, change color, and more. When you are done, you can explore the high-resolution poster to share on social media or for printing.
8. Flyersr Maker by Apps You Love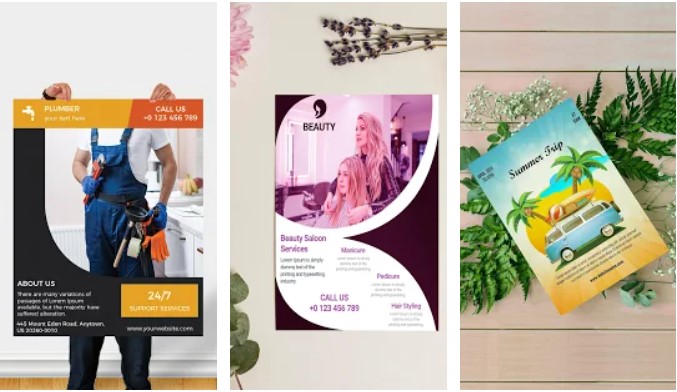 This app is worth noting in the list of apps to make posters. It has 5000+ flyer templates. Just select a flyer from the templates collection and customize it. You can add backgrounds, photos, select the frame, add text, add stickers if you want and then change their positions depending on your choice.
9. Poster Maker by stylish app world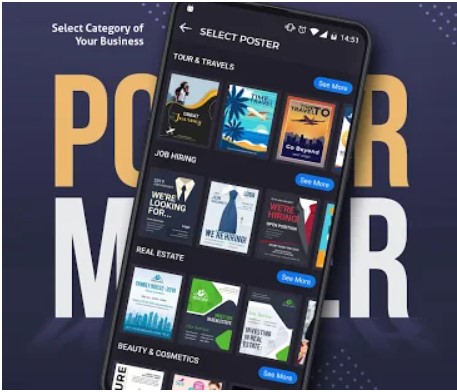 This app is a good poster maker, flyer designer, ads page designer, and banner maker. It makes designing posters, banners, flyers, and cards easy. With just a single click, you can select sizing to scale your poster on this app, no need to resizing an image. It is also useful for digital marketing, branding, marketing experts, social media marketing, digital printing, advertising, graphics designing, creating ads, designing offer announcements, cover photos, typography, and artwork.
Download: Android
10. PostLab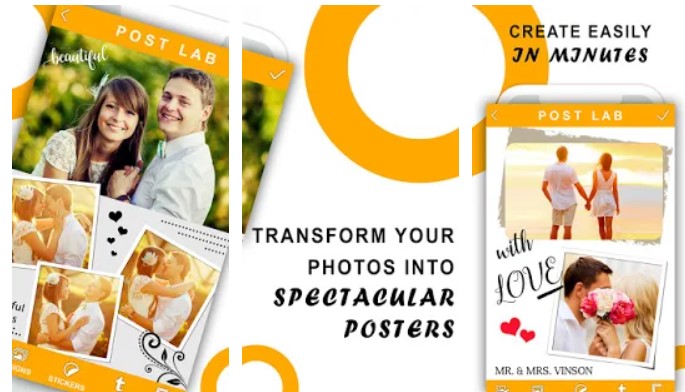 This app is only available for android users. It has professionally designed poster templates that allow you to create eye-catching posts. There are almost 100s of templates to create amazing Posters, Travel Docs, Social Posts, Collages, Grids, and Layouts for social media or for your business. You can apply Effects, Overlays, Crop/Resize, adjust contrast, brightness, saturation, and much more in this app in order to make a perfect poster.
Download: Android
Wrap Up
If you were looking for some good apps to make posters, now you have a list to select from. All of these best poster-making apps are good. If you ask my recommendation, I will recommend Spark and Canva. I personally prefer Canva because I have been using it for years. The app is really wonderful and the best poster-making app.
If you have any poster maker app suggestions? You can let me know using the comments section or contact me using the contact details on the contact page.