6 Best Apps to Make Beautiful Instagram Stories
After the introduction of Stories and video upload options, Instagram is now more popular than other social media platforms. Unlike Posts, Stories give users more ways to be creative and put better impressions on followers. One can add a photo or a short video in stories and this post will be online for the next 24 hours. Stories also allow users to add links, so it also plays an important role for influencers and affiliate markets.
Instagram has added so many stickers to give you lots of ways to be creative. But there are also some third-party apps that let you make some cool stories. I have tested several apps to see what gives better options for making Instagram Stories. So, here is my pick of the best apps to make beautiful Instagram Stories.
Also see
Best Apps to Make Instagram Stories
1. Mouve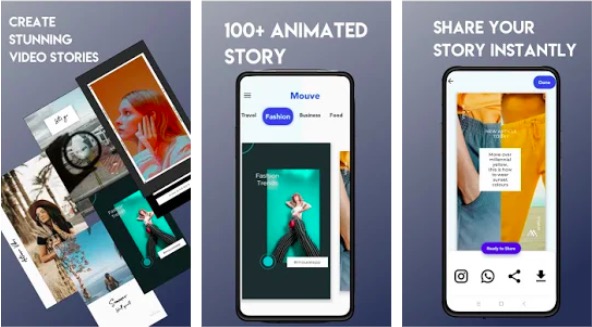 Mouve is a relatively new app but is the best one. The app has several beautiful editable story templates that you can easily edit. You can select from available video collage layouts, add your own photos videos and then share it on Instagram. I personally liked the animation and effects of templates. There are more than 100 templates to try. The developer behind the app also promises to keep adding new Layout & New Story Templates every Week. So, you will never run out of creative story ideas. The interface of the app is clean and minimal. It is really easy to use. You can also add your own music and text if you want. Not just on Instagram, you can also out the same story as WhatsApp statue or Facebook Story.
The app is free to use and doesn't show any ad, but it puts a watermark on Stories. If you do not want to show watermark, you can get a monthly subscription that is too less compared to the features it offers.
2. Story Maker
Story Maker is also a nice app that offers 50+ creative templates for making interesting Instagram stories. You can select any of the given templates, add your own photos & text and share the story. There are cool templates and backgrounds to use. It also has a minimal interface and the app is easy to use.
The app has lots of free templates but it also includes several paid templates packages. You can check the available packages and purchase if you need more templates. I checked several packages and I must say that premium templates are worth paying for. You can check the preview of premium templates before paying.
This app is also ad supported but ads usage is minimal and it will not ruin your experience.
Download: Android
3. StoryArt
StoryArt is also one of my favorite story maker app. It is available for both Android and iOS. The pp is no different but has a huge collection of templates specially designed for Instagram stories. Most of the beautiful templates are paid, but there are lots of free to try, Paid templates also come with a free trial, so you can check it before spending money on it. You can also purchase filters, fonts collage and more things if you need.
You also get several tools including photo filters, text editor and color adjustment tools. This app is free and shows no ads. So, there is nothing to ruin your experience.
4. Canva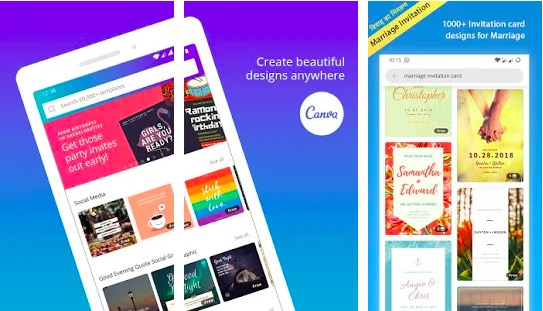 Canva is basically a graphic design app that lets you make different kinds of banners online. I personally use it for making featured posts for my blog posts and YouTube thumbnail. This app also has a dedicated section for stories where you can pick a ready-made template and customize it for making beautiful looking stories. You can pick any template, add your photo, add text and other elements. When you are ready, you can export and share the story from your Instagram profile.
This app is free but offers in-app purchases where you can buy paid photos if you want.
5. Instastory
Insta Story is also a similar Instagram story maker app available for both Android and iOS. It comes with several free and paid templates to select and edit. You can directly add your photos and make Stories. There are Dozens of images and background story colors to choose from. There is also a free collage maker for combining multiple images. You can also add stickers, text and apply filters.
The app is free to download and use, but offers in-app purchase to buy premium templates.
6. Story Maker
Story Maker is also a good app for making beautiful stories to share on Instagram. It also comes with 50+ templates to edit for making beautiful stories. You can also add photos and videos in ready-made templates to make good looking stories. Unlike Mouve, this app lacks animated stories. You can add videos but there won't be any moving element or animation.
This is also a free app but shows too many ads. It also lacks any option of removing ads even if you are ready to pay. Ads irritate a lot and that's the reason I am putting it at the end of this list.
Download: Android
Final Words
Now you have a list of some cool apps for making beautiful Instagram stories. You can use any of these apps, choose the desired template and make cool beautiful-looking Stories. I personally recommend Mouve that offers awesome animated templates for making stories. Other apps are also good to try.
In case you know any other good app for making Instagram Stories, you can let me know using the comments section below. I will surely try the app and add to this list.
Recommended Videos