If you are bored from seeing the same kind of photos on your iPhone background, you can try changing the wallpaper to something very interesting. There are lots of attractive and beautiful photos you can try on your iPhone's background and see how it changes the way you see your phone. If you own an iPhone, there are lots of apps in App Store that lets you explore thousands of wallpapers and download one to try on your phone.
These wallpaper apps for iPhone offer high-quality images optimized to use as iPhone's wallpaper. There are also few apps that offer Live Photos for offering a different kind of experience. Take a look at our list of best wallpaper apps for iPhone or you can say best iPhone backgrounds.
Up to 50% off on Hard Disks
Up to 50% off on Hard Disks and storage devices
Best wallpaper apps for iPhone
Below is the list of apps that offer best iPhone backgrounds. You can install any of these wallpaper apps for iPhone and make your iPhone look more attractive.
1. Vellum – Artistic Wallpapers and Backgrounds
Vellum is one of the most popular apps for downloading Wallpapers for iPhone. The way of presentation is awesome and it also allows you to preview how the wallpaper will look at Lock and Home screen before you download it. The app offers minimalist design.
You get 18 categories to look for iPhone backgrounds and each category offers 30-50 wallpapers. If you are looking for beautiful HD wallpapers for iPhone, you must check this app.
2. WLPPR – High Res Images for Home and Lock screen
WLPPR is the ultimate wallpaper app for iOS that contains satellite images of our lovely planet. The app also includes the sources to confirm who is the owner of that photo. New images are updated weekly.
This app also offers preview and blur feature along with the option to bookmark wallpapers. This app does not offer any advertisement. The app earns by offering an in-app purchase for premium packs.
3. Retina Walls – HD Wallpapers & Backgrounds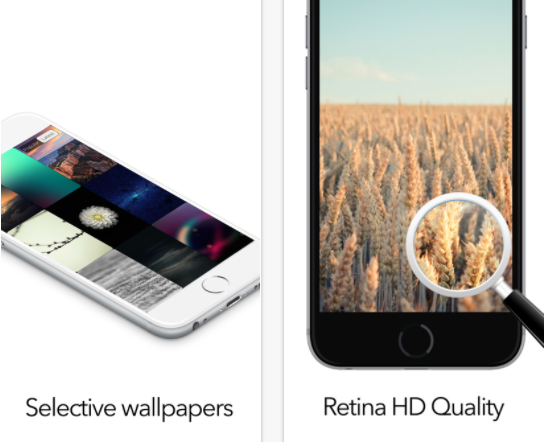 Retina Walls is also a nice app to explore beautiful wallpapers and iPhone backgrounds. The wallpapers are neatly arranged. You can also bookmark similar iPhone wallpapers. You get wallpapers for all iPhone devices. There are lots of categories including Nature, Flower – plants, Abstract, Life and more to explore. This wallpaper app for iPhone is free but offers in-app purchase to remove ads.
4. Everpix – HD Wallpapers and Backgrounds
I personally like Everpix for their awesome photos. They have wallpapers in categories including animals, flowers, nature, space, animals, food, sports and more. The app is also very simple and user experience is great. They show ads, but it is not as irritating as it becomes on other apps. You still have the option to get ads-free experience by paying just $0.99.
5. Live Wallpapers for Me
If you are interested in Live wallpapers, this app is for you. I do not recommend the use of Live Wallpapers because it consumes more battery of your phone. In case you are still interested, you can try Live Wallpapers for Me app for iOS. It offers Live wallpapers in the categorized manner. If you do not want to see ads, you can start ads-free experience just from $2.99.
Final Words
Try these wallpaper apps for iPhone and let us know what app you liked most. There could be lot more other iPhone backgrounds apps where you can find good wallpaper for iPhone. If you like any other that should be on the list, do not forget to leave that in the comments below. I hope you liked the list of best wallpaper apps for iPhone.
Do not forget to share this article.
---
Advertisement
---